Parity in rainfall?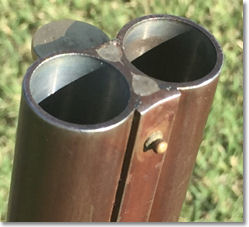 Ever hear the story about a double-barreled shotgun as an illustration for how spotty the rains can be in west Texas? Seems a hunter leaned his shotgun up through a barbed wire fence, then forgot he'd done so. A year later he remembered and when he retrieved the shotgun, one barrel was rusted and the other clean and dry. Thus far this year, the midrib of that double-barrel is U. S. Hwy. 70. And the RPQRR barrel (10 miles west of Hwy. 70) is shiny, unfortunately.

Not much is more frustrating than (always) being on the wrong side of the "dry-line." Take May 18-19 for example. As I headed towards Oklahoma for the weekend on the morning of May 19, I drove through a toad-strangler from Sweetwater to Roby. The terraced cotton fields were filled to the brim as this area had received two inches the evening of May 18. Friday morning added another three (some places up to 5) inches. As I monitored the storm on my iPhone I was prepared for bad news, and when I spoke to Brad Kubecka at RPQRR's headquarters (10 miles west of Roby) he confirmed my disgust—less than one-tenth of an inch. Surely you jest!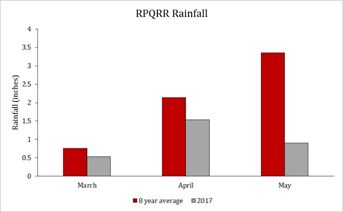 The advent of smart phones has prompted more radar-watching than any technology I suppose. Mine can get me excited about a rain prospect, only to find out it skirted the Ranch, or turned out to be a dud. Can't tell you how many times I've watched what appeared to be a significant storm (via the radar) then ground-truthed it with a phone call to find out the radar had embellished the rainfall.

IF you you're shaking you're head affirmatively and saying "right on!" perhaps you'll join me in a political quest for quail. I seek to re-name the towns of Roby and Rotan as "Broby" and "Brotan." After ten years of rainfall "patternology" I contend it always rains more in towns that start with "Br", e.g., Bronte, Brady, Brownwood, and Breckenridge!

On my most recent trip to the ranch (May 24), the landscape reminded me more of mid-August than mid-May. Later this summer (Aug. 17) I will be in a point-counterpoint debate with Paul Melton (chair of RPQRR's advisory committee) at the Statewide Quail Symposium in Abilene. Our topic is "can we insulate a bumper quail crop?" The irony here is that I will argue the point "yes, we can" while Paul will argue "no we cannot." Paul's ranch is 3 miles east of Hwy. 70—he's probably received twice as much rain as we have at RPQRR. Our initial nesting results (see below) suggest the "Iceman ain't going to cometh" to RPQRR (very low nesting success at this point). Hopefully June will be a blessing.

To some degree it's déjà vu 2011 all over again (thanks Yogi!). But there is one BIG difference. In 2011 it wasn't raining anywhere, now it is—just all around us. I know our turn will come eventually.

---
Song of the month

I wish it would rain by The Temptations.

---
Got broods?

Brood reports began pouring in to me over the past 10 days. Christine spotted our first brood of 2017 (of blue quail) on one of our recent burns and Lloyd followed that with a bobwhite brood a week later. Tommy Holt of Big Lake reported several broods of blue quail, as did R. L. Orth from the southeastern corner of New Mexico. We observed our first hatch of a radio-marked bobwhite (with a mixed clutch of eggs) on 29 May. As you see your first brood, let me know (drollins@quailresearch.org).

---
Nesting update from RPQRR

by Brad Kubecka



Thirty-six bobwhite and 21 scaled quail hens were alive and accountable on April 19 when nesting activity was first documented at RPQRR. Breeding season survival and nest success have been lower than average this year. As of May 25, only 27 bobwhite and 13 scaled quail hens remain. Eight bobwhites and 6 scaled quail have initiated nests. As of May 29, 11 nest fates have been recorded– and all but one were depredated.

March to August rainfall is extremely important for juvenile production of quails in Texas, but recent weather conditions at RPQRR are looking bleak. Though areas around the ranch are receiving amazing rainfall, the last few months are the driest we've been since the drought of 2011. Along with rain, heat is known it inhibit production of quail also. Fortunately, frequent cool-fronts have kept our noses just above water. We wait on pins and needles (anxiously optimistic) for what June and July have in store.

---
Nesting update from Knox County
by Becky Ruzicka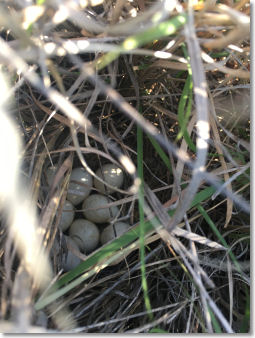 We documented our first nests initiated by the scaled quail we translocated this year to the Knox County study site in mid-May. It was slow going at first. We documented only two nests that first week and both were depredated almost immediately. The following week we saw a relative nest explosion: 13 newly-initiated nests. Given the behavior of the birds this year, I expected to see nests much earlier. Most of the quail we trapped later in the season were already paired and in fact they seemed to be paired almost immediately after release from their surrogators. That was in contrast to last year where the birds remained in coveys for 10-14 days post-release. As a side note, we have documented lower hen survival this year compared to last and I speculate that that may be due in part to differences in behavior. In any case, the earlier pairing did not result in earlier nesting.

Hens so far this year have followed the same general blueprint for nest site selection. Nests are placed in grass or even on bare ground with overhead shrub cover. The shrub cover is generally large, but not what I would call loafing cover, i.e., it is not open at the bottom. The most common species is juniper, although one hen this year has nested underneath a squat hackberry. The hens have also continued the trend of nesting on the edge of cliffs or very steep slopes. These nests pose a bit of challenge for us (to say the least) in terms of locating and monitoring, but I imagine that's kind of the point. There are times when I wonder if I am studying cliff swallows rather than a quail species. The nest pictured was found in grass under the boughs of a juniper. So far, she has been successful, but she has a long way to go.

---
Nesting in Notrees?

Ever been to Notrees? It's named pretty aptly. Billy Cole, who serves on RPQRF's Blue Quail Advisory Committee, ranches near there. Last week he sent this pic of a blue quail nest situated against the wall of his garage. Talk about having your back up against the wall! The clutch had 20 eggs in it, which is the largest blue quail nest I've ever heard of. Stay tuned as to its fate.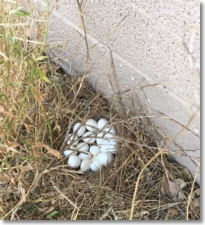 ---
Sasser to serve as Media Specialist

Heralded outdoor writer Ray Sasser of Meridian was hired recently to serve as Media Specialist for the Rolling Plains Quail Research Foundation. Sasser is perhaps the best-known outdoor writer in Texas, especially where quail are concerned. He has served as the outdoor Editor for the Dallas Morning News since 1986 and is a frequent contributor to various outdoor magazines. He was honored with the T. Boone Pickens' Lifetime Sportsman Award in 2010. I've had the pleasure of hunting quail on several occasions with Ray, and he appreciates, and articulates, our message as well as anyone can. Welcome aboard Ray!

---
Statewide Quail Symposium slated for Aug 16-18

Make plans now to attend! For registration details and schedule, see http://statewidequailsymposium.com.

---
8th National Quail Symposium to be held in Knoxville, TN

Registration for the Joint Quail Conference of the National Bobwhite Technical Committee (NBTC) annual meeting July 25-26, and the eighth national quail symposia, July 27-28, is now open. Both will be at the Holiday Inn Knoxville Downtown in Knoxville, Tennessee. Registration information for both can be accessed at https://www.quailcount.org/quail8/home.html and discount pricing is available through March 31.

Quail 8, a science symposium for biologists around the nation and beyond, will feature 94 presentations and posters on various aspects of quail management and research, and is expected to attract 300 or more attendees. RPQRR's Brad Kubecka and Becky Ruzicka will be among those presenters.

---
Sponsor Spotlight






The Cross Timbers chapter has been an important partner for RPQRR, most recently with our efforts with blue quail restoration in Knox County. They came through with a check for $25K from their annual fundraiser! These funds will be used to initiate a new study of nest predators at RPQRR. Thanks for your continued support! FMI see http://crosstimbersquail.com/.

---
From our Facebook page

See Brad Kubecka's post on 11 May for a nest that contains eggs from both bobwhite and scaled quail. This was also our first (and thus far only) nest that has hatched. Several instances of mixed clutches have been observed. See http://facebook.com/rpqrr for details.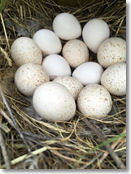 ---
RPQRR's Wish List – Can you help?

Our support for quail research comes almost exclusively from private donors. Perhaps you would like to help us help quail. We have need for various pieces of equipment. If you would like to donate, RPQRR is a 501(c)(3) nonprofit foundation, so your donations (cash or in-kind) are tax deductible. Alternatively, if you'd like to make a cash donation and have it earmarked for one of these items that's great too. Here's our current list of needs:

| | |
| --- | --- |
| Item | Need |
| ¾ ton pickup truck | Pulling trailers, carrying pumper unit for prescribed burns |
| 100-hp tractor | Food plot preparation, shredding |
| 15' batwing shredder | Shredding |
| Flagpole | Demonstrating our pride |
| Rear-tined PTO tiller | Renovating spreader dams |
| 12-ft tandem disc | Discing field prep |
| Sea container | Storage of equipment |
---
Quail calendar
June 10-14, 25th Batt. Rolling Plains Bobwhite Brigade, Valera; fmi see texasbrigades.org

August 16-18, Statewide Quail Symposium, Abilene; fmi Amanda Gobeli, agobeli@tamu.edu; see more details of the schedule at http://statewidequailsymposium.com/index.html ; it's going to be a great meeting featuring a lot of research updates and 4 topical "point-counterpoint" arguments (I just love these!)
---
Intern diaries

Our internships give budding professionals a chance to get some OJT and a taste of quail research. I require each intern/seasonal technician to leave me with an essay describing their experience at RPQRR. This month's essay is by Taylor McNutt. He did a great job and will make someone a fine employee someday. -- DR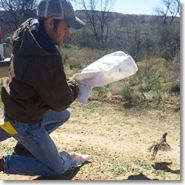 My name is Taylor McNutt and I am from southeastern Oklahoma. I graduated this past December from Southeastern Oklahoma State University majoring in Fisheries & Wildlife. I was fortunate enough to be able to work at Rolling Plains Quail Research Ranch for my first temporary job out of school, and I could not have asked for a better place to start for my first job. As an Okie, I of course was a bit skeptical about moving down to Texas because I thought at the time that it was the last place on earth where I would want to work. Boy, was I wrong! I may have only got to work there for 3 short months, but during that short time I sure had a lot of fun and adventures. There was nothing short about the experience and knowledge I was able to gain. During my time there I learned many valuable things, from learning how to trap and band quail to tracking them using telemetry. Each and every day brought a new adventure.

One of the most interesting and fun things I was able to witness while I was at RPQRR was watching bird dog's work for the first time. I have never seen anything like it before in my lifetime. The way they are able to run as fast as they do and be able to stop and point so quickly is unbelievable to me. Being able to watch the dog's work the first week I was there made me even more excited to get my hands dirty and start learning more about quail. I am forever grateful for RPQRR for giving me the opportunity to be part of their team. As I said, the last place I ever pictured myself working at was in Texas, but after all was said and done I am so glad that I was able to work there. The main reason that I had so much fun there was because of the people at RPQRR. If I said that they treated me like a friend I would be lying, because they didn't. Instead, they treated me like I was part of their family! From the moment I arrived to the day I left they made me feel like I was at home. So, thank you Dr. Rollins, Lloyd, Brad, Skyler, Christine, and all the others at RPQRR for making my first job one that I won't ever forget and will always miss!

---
45 - that's the approximate number of days a quail has invested in a nest that hatches. Here's the math: takes about 20 days to lay 14 eggs, incubation is 23 days, and perhaps a day or 2 to shape the nest bowl.
Congrats to Wild Wings Ranch!
"Atta boy" to Rod and Mary Hench and the Wild Wings Ranch for being named the 2017 Lone Star Land Steward for the Rolling Plains ecoregion. Rod serves on RPQRR's advisory committee.
New interns report for summer
Four new summer interns joined our team recently. The new troops include Trevor Dragon of Beeville, Lexi Hamous from Amarillo, Alec Ritzell from Alpine, and Nathaniel Yost from Wisconsin. Trevor and Alec will be at RPQRR while Lexi and Nathaniel will be at the Knox Co. study site tracking blue quail. Welcome aboard!
peregrinate - (verb); to travel, especially on foot. Did you know the muscles of a bobwhite's legs are darker than its breast muscle? Do you know why? Because they walk more than they fly, and as a result the leg muscles have more myoglobin in them for greater oxygen transport.
Got a new e-mail address? Please [Click Here] to update your information if you wish to continue receiving e-Quail.
Forwarded from a friend? Please [Click Here] to sign up for the RPQRR e-Quail Newsletters!