Scaled Quail Restoration to Historic Ranges in the Rolling Plains: Project Update
by Becky Ruzicka, Research Associate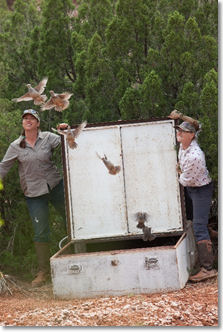 Our scaled quail translocation project in Knox County is in full swing. From February 29th to March 15th we trapped 388 scaled quail from 7 different ranches across the Rolling Plains and Edwards Plateau. These birds were aged, sexed, weighed, and leg-banded. A subset of the birds (120) was fitted with necklace style VHF radiotransmitters then transported to 'Surrogators' on the release sites in Knox County. The Surrogators are stocked with food (milo and a commercial layer ration), and water that allow us to hold the birds for an extended period of time before releasing them. This technique is known as a "soft release" and has improved site fidelity and survival for other translocated species.

Prior to the release of any birds we conducted an occupancy study to confirm that there are few scaled quail on the study site. The goal of this research is to determine effectiveness of using translocation as a tool to reestablish scaled quail populations within the Rolling Plains. Specifically this study is designed to identify best practices for translocation. We will be testing holding periods ranging from 4 to 8 weeks to find the optimum amount of time (within that range) to hold scaled quail prior to release to increase site fidelity and survival. We will also be comparing site fidelity, survival, and nesting success between quail translocated within the Rolling Plains and from the Edwards Plateau.

We started releasing quail on April 11th and completed the final release on April 28th. To date survival has been impressively high with only 2 mortalities out of 100 released radio-collared quail. Five out of the 100 birds (5%) have gone missing between the two sites in the 20 days since we began releasing birds. Much, much more is left to do, but we are off to a good start. This summer we will continue to monitor the radio-collared hens. We also plan to conduct trapping this fall on the release sites to get estimates of production and juvenile survival going forward.

For more information about this research, e-mail me at beckyruz13@gmail.com.

---
Song of the month

Please release me - by Engelbert Humperdink

---
Density Dependence

by Brad Kubecka, Graduate Research Assistant, Texas A&M University-Kingsville



(Last month I was already tendering my 2016 hunting forecast, noting several factors that appear quite promising. But I ended the discussion with skepticism that we'd see the same level of production this summer as last, largely for concerns over "density dependence." To delve into the concept further, I asked grad student Brad Kubecka to summarize density dependence as it pertains to bobwhites. – DR)

Beginning in the 1940s, research in quail science began to take a new form. Early research focused heavily on developing our library of life history information (e.g., food habits, habitat needs, behavior). In 1945 Paul Errington, a famed bobwhite biologist, wrote a monograph that would change the way wildlife managers thought about quail population dynamics. His work was one of the first in-depth quantitative approaches in quail ecology.


Though some of what Errington wrote in the early 1940s has since been disproved, one concept that still persists is the "principle of inversity," or "density-dependent" production. Density-dependence is the concept that population parameters (e.g., survival and reproduction) are a function of density. Errington's research suggested that production and spring densities in Wisconsin were inversely related (similar to Figure A). In Texas, this relationship would seem to be more correlated with density-independent factors (e.g., rain). In fact, research in south Texas has suggested that most variation in quail production and survival was a function of weather (Kiel 1976, Rice et al. 1993, Hernandez et al. 2005). Moreover, bobwhites tend to be "good survivors and poor producers" in southern latitudes and "poor survivors and good producers" in northern latitudes. Thus, it seems density-dependent production is more apparent in northern latitudes where populations are more driven by intrinsic factors (e.g. competition, predation), than southern latitudes where extrinsic factors may be more important (e.g., rain; Roseberry and Klimstra 1984, Guthery 2002).

Is Density-Dependent Production Significant at RPQRR?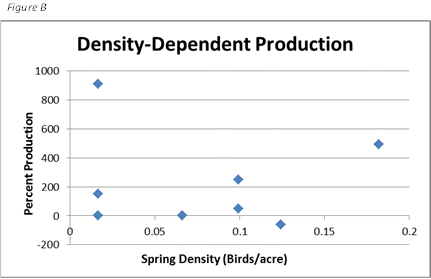 Determining the strength of density-dependent production at RPQRR requires a relatively long-term dataset that exhibits variation in spring density and subsequent production. RPQRR's demographic data spans from 2008 to 2015 with spring densities ranging from 0.02 (in 2012) to 1.08 birds per acre (in 2016). Correlations between percent gains to spring density are weak and insignificant at RPQRR (Figure B).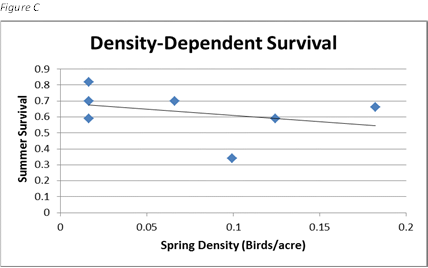 As spring density increases, however, our summer hen survival tends to decrease very slightly (Figure C). This would be an example of density-dependent survival. As we continue to collect population data, these phenomena may become more ascertainable in relation with other variables that we measure at RPQRR, such as rainfall and predator abundance.

(For the literature citations referenced, contact Brad at bradley.kubecka@students.tamuk.edu).

---
Fire Appreciation Day scheduled for May 24 at RPQRR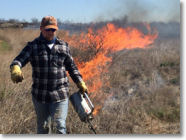 I've made a career out of "appreciating" things, ranging from quail to predators. In the sense of "judging with heightened awareness" RPQRR will host a "Fire Appreciation Day" on May 24 starting at 9 a.m. The agenda will highlight most of the fire-related research we've conducted since 2008, and will also include speakers from Texas A&M Agrilife Extension Service, Texas Tech's Fire Ecology Lab, TPWD, NRCS, and others. See the RPQRR website for a copy of the agenda. Pre-registration (due May 18) is $10/person; $20 thereafter. To pre-register, call Mary Lynn at 325-653-4576.

---
Camera-trapping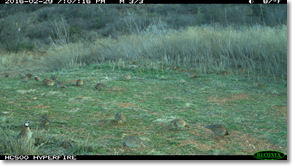 At RPQRR we use camera-trapping to estimate/monitor seasonal abundance of various "predators" ("mesocarnivores"). We deploy cameras at 12 of our 25 "mile-markers" and leave them for 3 weeks. As you can appreciate, we "catch" a lot more than just mesocarnivores. Here is a covey of bobwhites (I count 19) "out on a stroll" last month. Note the "lookout" in the front, left corner.

---
Mark your calendar

6 May: Quail Appreciation Day, Montague Co. http://today.agrilife.org/2016/04/27

13 May: Wildlife Field Day at Wild Wings Ranch; FMI contact Barrett Koennecke

19 May: "Getting to Know Your Quail" noon webinar with Texas Wildlife Association's Wildlife for Lunch series; FMI see http://www.texas-wildlife.org

24 May: Fire Appreciation Day, RPQRR; see quailresearch.org for agenda and FMI.

---
Want RPQRR's printed newsletter?

Quail hunters are, as a rule, an older lot. Older men don't always use the internet for their communications, e.g., e-Quail News. So, we decided to offer a quarterly printed newsletter as a supplement to the e-version. If you'd like to be put on the mailing list for the printed newsletter send your name and mailing address to Russell Graves at PO Box 68, Childress, TX 79201.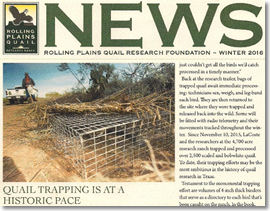 ---
3.46". That's the amount of rainfall received in April; that puts us at 5.22" for the year.
We're working on some! We noted our first nest (a blue quail with 12 eggs) on May 29. Keep me posted over the next month as you confirm broods.
belvedere; noun; a building, or architectural feature of a building, designed and situated to look out upon a pleasing scene. For example, the "Pavilion" at RPQRR serves as a belvedere to overlook the western half of the ranch. It's a great place to watch a thunderstorm roll in from the northwest.
Got a new e-mail address? Please [Click Here] to update your information if you wish to continue receiving e-Quail.
Forwarded from a friend? Please [Click Here] to sign up for the RPQRR e-Quail Newsletters!