Reflections on a Jubilee Year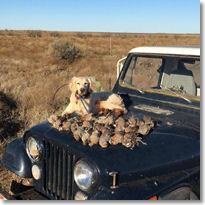 "We are blessed men" my hunting buddy Steve Sherrod often reminds me. As tired quail hunters, never more blessed than this year. As I draft these comments on this, the last day of a Jubilee quail season, I am content—completely satisfied. A bit like the feeling I remember as a teenager after a long day of hauling hay, that is when the last bale was stacked. I'm proud of my dogs, and of their tireless effort to please me—they succeeded in spades.

Guess how many bag limits of quail I tallied for the season? Truth is, none, no not one, and I'm okay with that. I hunted 42 days alongside a total of 48 different guests. I exceeded my "bucket list" by hunting alongside 4 gentlemen in their eighties, 3 ladies, 4 youths, 4 grad students, and 4 TPWD biologists among others. My only regret is that my date-wires got crossed with Chuck Ribelin—"helluva deal." I hope there's another chance next year.

I reckon my dogs, especially Tracer and Shaggy, must have made a thousand points between the 2 of them; perhaps not all perfect, but all indelible. I gave up on perfection many years ago. Surely I missed some easy shots too. I reveled on several occasions when Babe (now 13) found coveys, singles, and wounded birds when her junior students had passed them by.

I saw roost discs the size of dinner plates, "rolling thunder" flushes on at least four occasions, and four "Scotch doubles" (2 birds with one shot). (See our Facebook page for one of these documented at RPQRR www.facebook.com/RPQRR/videos/10153098113090834/.) I hunted with Chip Ruthven (TPWD) who introduced me to a blackpowder shotgun, and therein planted a seed for my next shotgun purchase. Cool.

My last quail of the season was one of my better shots, and a good one to end the season on. I've been relegated to chauffeur (mostly) for the past month after wrenching a knee (yes, while hunting!). Last Thursday, my party of 3 was making their way back to the jeep. I stood there with my 28-gauge closed, just in case they flushed anything my way. Sure 'nuff they did. As the bird (a rooster) came in low, hard, and perpendicular to my post, I said to myself "double your lead" . . . I did, and it dropped. Shag made the retrieve. All is good on the western front.

I hope I live to see a year better than this last one. Who knows, maybe this November.

---
Song of the month: "My Back Pages"

"My Back Pages" by Bob Dylan. A year ago last Sunday this music video came across on my Facebook page. I deemed it then, and proclaim it again now (here on the last day of the 2015-16 quail season) as a spiritual anthem for an aging quail hunter and the dogs he cherishes. It's "My Back Pages" by Bob Dylan. The refrain "I was so much older then I'm younger than that now" just nails it for me. The all-star line-up here includes Roger McGuinn, Tom Petty, Neil Young, Bob Dylan, Eric Clapton, and George Harrison. All legendary rock-n-rollers who anyone can see the age in their eyes, but that doesn't stop them from shining again, if only for a day or two. My "quail band" would include my own legends, headlined perhaps by Timmy McGee, who served as "The Fonz" of my formative years. Coondog Cary would be on "lead guitar" and Steve Sherrod would be the band's spiritual advisor. The band would consist of Bam, Okie, Reload, Suzie, Doc, Li'l Annie, and Deuce, along with survivors Babe, Tracer, and Shaggy. Suzie would play the role of Stevie Nicks and Li'l Annie that of Reba McEntire. "We'll meet on edges soon said I . . ." until then savor your own memories of what may be the best quail season of our lifetime.

---
Through the Looking Glass

I queried my quail forecasters last month and asked them to rate their ability as quail forecasters from last September's forecast). I asked them to assess whether their forecast was (a) "too low," (b) "too high," or (c) "pretty darn close." Below are some noteworthy comments.
"I was a little low here in central Fisher County, my preseason prediction of 9.5 was indeed low. If ever there is going to be a 10 on this ranch it occurred this year. Rivals or maybe exceeds my memories of 1987-88. Remarkable to me is the number of birds, and the large coveys still being encountered in mid-February." (P. Melton)
"I would say my forecast was a little low for areas that have maintained exceptional cover/habitat. My prediction seemed to be pretty darn close for areas of marginal habitat and places that have been grazed excessively." J. Lewis, Dickens Co.
"Best year for total numbers of quail on the ranch. All attributed to a 10+ spring (1st of June) hatch. Our normal "monsoonal hatch" was about a 6 (high pressure never let the super El Nino flow in…in time). Nevertheless still a banner year! (G. Strickhausen, Culberson Co.)
"The rear view mirror observation was pretty darn close to the forecast....about a 9 or 10. Really good. Although no commercial hunts were done due to the lack of bird dogs, observation showed probably the best population we've ever had. Now if we can get some good rains again this year, things might get back to normal. I do believe broomweed played an extremely important role. How could a predator of any kind, both ground or avian, get to the birds in all that thick cover? They all had an excellent chance for maturing." R. Hailey, Shackelford Co.
"I predicted a 10 in September and maybe that was too optimistic, but it has certainly been at least a 9." S. Mayer, Runnels Co.
"Our assessment of our forecast "was way low". The covey sizes were pretty amazing! We cannot wait to see what next year brings!" R. Wilson, Jones Co.
"My prediction was pretty darn close. While we had a banner season, J:A is about 2.5:1 and covey finds are averaging 13-14 for a 3-hour outing. This is almost as good as we have ever seen. Great year—but it could have been a record setter." R. Howard, Brooks Co.
"Forgot my original estimate but it was at least a 9 year." (T. Waddell, Truth or Consequences, NM)
"My forecast for this quail season was an 8 and think my estimate was pretty close. My unscientific observation is that my Bobwhite population increased more dramatically last year than my blue quail population but I have more blues than I have ever seen on my property. This year has been really special." (A. J. Brune, Glasscock Co.)
"We are a little surprised our numbers are as strong as they are. A January helicopter survey put us at 0.73 quail per acre or about 4500 birds. On a relaxed day hunt with first year dogs we are pushing up about 22 coveys and the count in each covey seem to be at least 15 birds. A second spring like this past one and it could really be a bumper year." (R. Hench, Scurry Co.)
"I believe I graded a 9 out of 10. That estimate was right on target. Based on a five day observation we have averaged 24 covey rises per day with the lowest day at 22 and the highest at 29. The coveys range from 15 to 25 birds. But the amazing phenomenon is that we have a 15,000 acre area that we hunt and have only been able to cover about 1,200 to 1,300 acres because of the density of birds. We feel the population is very consistent over the entire ranch and are excited about this fact." (J. B. Daniel, Knox Co.)
"I'd say my forecast was "a little low." We've had a great season." (B. Baldridge, Kent Co.)
"I was pretty close. I would rate the year at an 8; about the same as last year. However, we had a good year last year. You didn't rate the High Plains, but I will tell you that the area north of Amarillo was a 10. Last year on the Canadian River breaks there weren't huntable numbers and this year was a bonanza. Blue quail were back in numbers. Hundred bird coveys were not unusual. We even saw bob coveys that were 40 birds or so. Bobwhite numbers were better than the seventies north of Amarillo and blue numbers were as good. I will hate it when season closes." (J. O'Brien, TX panhandle)
"Although I believed it would be a good quail year, I did not make any predictions prior to the season opening. Any such forecast would have been well below the mark. At my ranch in Stonewall County this year the quail population and the quail hunting are the best I have ever seen. Never have I experienced days that consistently yielded mornings in excess of 30 coveys and afternoons that even exceed that number. These memories of stylish dogs on point and the flights of covey after covey I will carry for the rest of my days." (L. Whiddon, Stonewall Co.)
"I think I was way too high (fewer birds than I predicted). This summer, I ranked it a 9.0+. Right now, I would rank it a 3. Throughout the winter I just have not seen many coveys. However, having said that, I have about as much cover as I ever remember having on the Ranch, and it is quite possible the quail are there, but we are just not seeing them." (C. Hendrick, Tom Green Co.)
"Pretty darn close. Covey sizes were even bigger than I could ever imagine (30 to 35 birds). Had one group of hunters move 27 coveys in a 200 acre trap one morning!" (B. Nuding, Stonewall Co.)
"Been hunting quail 50+ yrs. Last 10 in W Texas. Hunting south of Snyder, saw more large coveys of blues and bobs than I have ever seen." (R. C. Phillips, Scurry Co.)
"I am glad to say way too low. I think my prediction was for a 5 should have been a 7 or 8. Biggest surprise is the size of the coveys; some are 20 to 25 birds. I think we will have a good carryover so let's pray for spring rains." (G. Allen, Archer Co.)
"I suppose the 7 I predicted proved to be too conservative an estimate.......in spots on this ranch, it just could not be any better. A 10 if there ever was one. What does one say about 10 different, half-day hunts producing. 40+ coveys?" (R. Snipes, Stonewall Co.)
"Pretty close. I don't know the date of my forecast of "7" but if memory serves it was early September. So with the vision of "hind sight", I call this season an "8". I have seen three "10s" in 47 years and all were the result of two or more consecutive years of strong "El Nino" cycle. The million dollar question is: Will El Nino prevail? If so, the current high quail population and relatively low predator population could give us another "10"." (B. Bates, Midland Co.)
"From western Tom Green County, a little low but pretty darn close; from Howard- Mitchell counties, pretty darn close. (S. Sherrod)
"Through today we are running at about 13 minutes per covey on my country in Albany (8-9) and 9 minutes per covey out west (Borden Co.), which I would call a 10. (J. Trail)
---
How long has it been since you heard this?

by Justin Trail



I am blessed to have spent some memorable time in great country, with really good folks, bringing on some young dogs over the past 3 months. Boys, girls, ladies, granddads, biologists, game wardens, pastors, ranchers, and various other willing accomplices were my companions this season. Along the way I heard some things that I have not heard in years....maybe never. All quips or brief conversations that made me pause to give thanks for what all lovers of quail and bird dogs have been praying about for the past few years. Deep down I wasn't sure they would make a comeback..... I'm glad I was wrong.

"I never thought I'd see that again". (After a day in Borden county where a friend and I pointed 22 coveys and killed 2 limits of birds in 2 hours and 10 minutes).

"My bird dogs need a day off"

"How many coveys does that make? ..... I have no idea, I lost count"

"We need to stop and count our birds"

"Where do you want to start? ..... It doesn't matter".

To my wife..."don't wait on me for supper .... I've got birds to clean"

"What are we going to do this afternoon?" (With the implication that we killed a limit of birds this morning)

"I don't want to shoot any more....." (Leaving the ranch at about 4:30 pm after a 4 hour hunt, we flush a covey off the road and as I turned to ask my passenger and hunting partner for the day if he wanted to put a puppy down to go work those birds, he blurted out the aforementioned quote.

---
Mark your calendar

3 March - Park Cities Quail banquet (see http://www.parkcitiesquail.org/ for details); this year's recipient of the T. Boone Pickens Lifetime Sportsman Award is renowned dog trainer Delmar Smith.

15 March - Application deadline for 2016 Texas Brigades youth leadership camps; see www.texasbrigades.org for details. Are you tough enough to accept my challenge to be an adult Covey Leader? Please encourage your children or grandchildren to apply—you'll be glad you did! We also need sponsors for cadets; if you'd like to contribute $400 to sponsor a cadert, please let me know (drollins@quailresearch.org).

21 April - "Getting to Know Your Quail" noon webinar with Texas Wildlife Association's Wildlife for Lunch series; FMI see http://www.texas-wildlife.org/images/uploads/Wildlife_for_Lunch_2016_flyer.pdf
---
A New Way to Look at Quail Habitat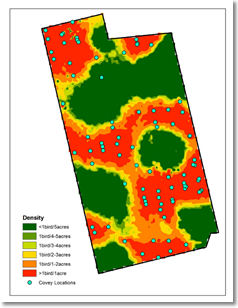 It's called "density gradient modeling." Think of it as a radar image depicting thunderstorm intensity. In this case being "in the red" is a good thing. Recently John Edwards, a PhD student at Texas A&M University-Kingsville conducted helicopter counts at RPQRR and 3 other area ranches to construct maps illustrating the spatial distribution of bobwhites across the property. The counts at RPQRR are part of a CKWRI research project studying the effects of habitat, climate, and raptors as factors in the quail decline. The map depicted here is a density-gradient map, which uses the covey-detection information provided from the survey such as covey size and location plus additional habitat variables to create a map of bobwhite density across the property. This allows us to evaluate bobwhite density spatially across the landscape. RPQRR's Brad Kubecka, who is currently pursuing his MS degree at TAMU-K under Dr. Hernandez and me, will be analyzing similar data to better understand how habitat factors (e.g., brush density) affects such density-gradients over the course of the past seven years. Stay tuned; neat stuff.

---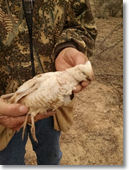 Weird Quail

Jimmy Teston of Big Lake shared this picture of a blue quail shot last month in Reagan Co. Given what I've learned from similarly-colored bobwhites, I'd call it a "leucistic" scaled quail. First one I've ever seen . . . how 'bout you?

As readers can attest, this past year was a banner year for "weird" quail, likely just a function of low probability X abundant quail. Just an "odds" thing. "Oddly" enough Reagan-Sterling counties seemed to be an epicenter for weird blue quail.

---
From our Facebook page

See my post of 19 Feb for a herald of an early spring, and perhaps an early start to nesting in west Texas. Steve Snell (QM '15) noticed this "early" gonadal development in several roosters he shot. Note especially the testes of the bird at far right . . . he's ready to start whistling! Field reports also confirm what appeared to be "pairs" flushed the last ten days of the hunting season. Bodes well for some early hatches.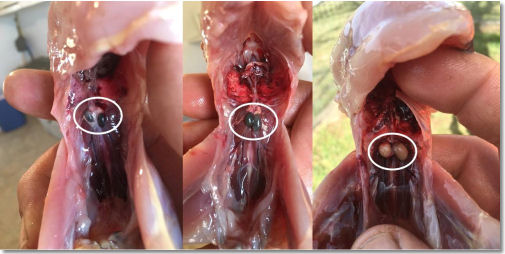 ---
Want RPQRR's printed newsletter?

Quail hunters are, as a rule, an older lot. Older men don't always use the internet for their communications, e.g., e-Quail News. So, we decided to offer a quarterly printed newsletter as a supplement to the e-version. If you'd like to be put on the mailing list for the printed newsletter send your name and mailing address to Russell Graves at PO Box 68, Childress, TX 79201.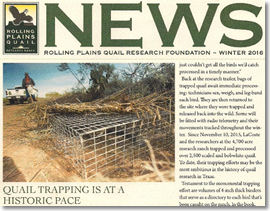 ---
87% - That's the percentage of hatch-year ("juvenile") bobwhites at RPQRR based on a hunting tally of 131 birds bagged during January and February. A total of 15 adults and 116 juveniles was harvested; the J:A ratio was 7.7:1; pretty remarkable production/survival. Also of note, 73 were banded (55.7%)—looks as though our estimate of trapping from last November was a good bit low. We like to think we catch 80% or so of our birds with our trapping effort. Spring trapping has begun and will continue through March.
indelible; adj., "never to be forgotten"; see for example this past quail season in west Texas.
Got a new e-mail address? Please [Click Here] to update your information if you wish to continue receiving e-Quail.
Forwarded from a friend? Please [Click Here] to sign up for the RPQRR e-Quail Newsletters!