Quail License Plate now Available!

Eureka! Check that one off of my quail bucket list. Thanks to Texas Parks and Wildlife Foundation for making the plate a reality. For every license plate purchased, $22 will go to Texas Parks and Wildlife Foundation for quail conservation efforts in Texas, including habitat conservation, education, and capacity building. A committee of representatives from quail conservation groups will select projects to receive funding. You can order yours from the TxDMV website and conservationplate.org for $30; $40 for personalized plates.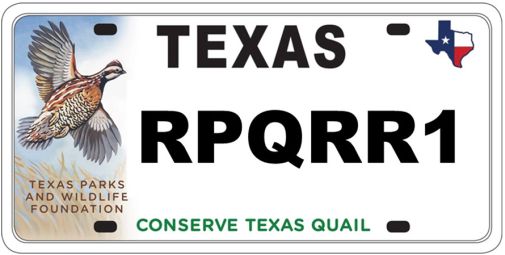 ---
Latest Episode of Quail CSI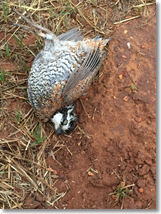 New RPQRR technician Tait Rassel went turkey hunting a week ago. While the gobblers did not cooperate, he did come across a strange occurrence. Here's his account of the incident: "As I was walking around one of the pastures, I stumbled upon a dead quail in the middle of the road. Finding a dead quail is not out of the ordinary here, as they are a tasty meal for many of the predators that call the ranch home, but there was something different about this bird. To start, there was no evidence that a predator had caught this bobwhite--there was no feather evidence left at the scene, just this intact carcass. After getting a closer look at the rooster, it showed absolutely no signs of trauma and looked to be in good health. It was in the road that runs along the TT and Lucy CRP fence line. I bagged up the bird and brought it back to headquarters so the rest of the staff could see this find. Our necropsy specialist,
Jennifer Newkirk, will now continue the necropsy (our version of quail CSI) in the lab to try and discern this bird's peculiar demise."

Jennifer's necropsy results: "After Tait found this male bobwhite dead in the road with no obvious explanation for what killed it, he brought it to me to see if I could uncover something during a necropsy. My first step was to look for eyeworms. I found 24 in the right eye, and 20 in the left. This represents a "moderate" infection; of the 300 birds I've necropsied thus far, the highest number of eyeworms I've found in one eye is 80, and the lowest is zero. During August and October 2011–13, 348 bobwhites from the Rolling Plains were examined for eyeworms with an average intensity (mean ± SE) of 7.1 ± 0.6. After skinning out the bird and not finding any notable signs of trauma, I proceeded to search for cecal worms. This particular bird had 476 cecal worms, which is the most I've found in any bird I've necropsied so far. A study at RPQRR during 2009-10 (Villareal 2012) noted a mean of 134 (± 11.2; range 2-518) cecal worms and 5.6 (± 0.7; range 1-23) eyeworms.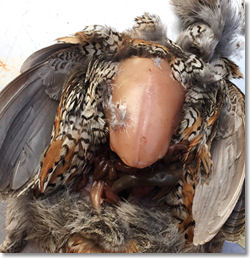 After skinning out the entire bird, I found no signs of trauma, broken bones, or anything of the sort. It seemed completely healthy—it wasn't malnourished and had no noticeably affected internal organs." --JK

So, the necropsy results didn't confirm any specific cause of death. Given the location of the carcass (i.e., in road near fence) flying into the fence (e.g., trauma) would be my diagnosis, but why weren't there any feathers at the scene or visible trauma-related injuries on the breast? Perhaps it broke its neck. Were the eyeworms and/or cecal worms involved? Reduced vision and/or fitness could have been contributors. No way to know for certain, but intriguing.

---
Reminder: Field Day set for May 4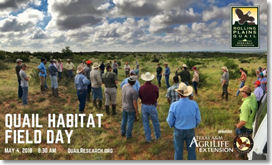 Join us to see what we've learned over the past decade that will help you be a more successful quail manager. Registration is $20 per person at the door. Long-range forecast suggests a chance for rain; in case of inclement weather, we'll move to the Hobbs schoolhouse (3 miles north of RPQRR on FM 611).

---
Song of the Month



Don't Fence Me In by Gene Autry

---
Word of the month

redolent - adj., exuding fragrance: aromatic

---
Ask Dr. Dale

As I look at the weather.com site (something I do daily) it appears things might be looking up for some rain chances in the Rolling Plains. Hopefully this is the shift in the weather patterns we have been looking for. Question: Is the rainfall coming too late to get the hatching process started? If it starts raining and continues as normal from now (late spring) into summer what impact will it have on the hatch. I realize everything is hypothetical, just curious what your thoughts were on it. – SB

In short SB, I don't know. No doubt we're off to a rough start rainfall wise; we currently set at 1.88 inches for the year, and perhaps more problematic was 2017's dry fall (Sept- Dec rainfall was only 2.97 inches; only 14.5 inches all year). No fall rains mean no (or few) winter greens like filaree and tallowweed, and poor germination for summer staples like broomweed. A tour of RPQRR in April was déjà vu 2011, and we know how that played out (hottest, driest year in Texas' recorded history). Oddly enough, our radio-marked hens had the highest survival we've seen here at RPQRR? Why? Because they weren't nesting, i.e., raising a family is hazardous to your health.

We've just begun to hear whistling activity ("bob-whiting") here at RPQRR—we're almost a month late in that respect. Whistling is stimulated via hormones that cause the gonads (testes in roosters) to enlarge (they should be about the size of a .45 caliber muzzleloader ball right now and "creamy" in color). We have not sacrificed any roosters to see if their testes (or the hen's ovary) are in "reproductive" condition at this time. But I'd speculate things will be slow to develop. Our "pre-reproductive" period (Sept-Mar) left us high and dry. A brown caste to the vegetation here on May 1 doesn't bode well for reproduction.

In changing environments, birds time reproduction to optimize survival of young. Selective features of the environment (i.e., "ultimate factors") favor those individuals that breed in reasonably close synchrony with the changes occurring in the environment. These ultimate factors include food availability, weather, competition, predation, or any other feature of the physical or biotic environment that has direct effects on the success of a reproductive attempt. Animals prepare for changes in ultimate factors by responding to "proximate factors," or cues, from the environment (possibly the color of the surroundings, i.e., green vs. brown." These cues provide reliable information either in the long or short term about the suitability of the environment for breeding. Proximate cues, then, are the features of the environment that actually influence the physiology, morphology, and behavior of individuals.

I offer a perspective from an often frustrated spring turkey hunter. Dry falls and winters will humble even the best caller. The birds are "henned up" and no amount of smooth talking will get the toms to stray very far. This behavior suggests the hens aren't "ready", physiologically speaking.

I think it would take "substantial" rainfall to trip the trap pan here, on the order of 3+ inches for May. Just what kind of "latent" period will be required thereafter I cannot say.

I did a quick literature search and found a couple of related (albeit possibly outdated) abstracts:

Lehrman, D. S. 1959. Hormonal responses to external stimuli in birds. https://onlinelibrary.wiley.com/doi/full/10.1111/j.1474-919X.1959.tb02405.x

Marshall, A. J. 1952. The interstitial cycle in relation to autumn and winter sexual behaviour in birds. https://onlinelibrary.wiley.com/doi/full/10.1111/j.1096-3642.1952.tb00778.x

Keast, J.A., and A. J. Marshall. The influence of drought and rainfall on reproduction in Australian desert birds; https://onlinelibrary.wiley.com/doi/full/10.1111/j.1469-7998.1954.tb07790.x

Thomas et al. 1997. Environmental regulation of the reproductive system in a flexibly breeding Sonoran Desert bird, the Rufous-winged Sparrow, Aimophila carpalis; https://www.sciencedirect.com/science/article/pii/S0018506X07000050.

Perhaps some of my colleagues (and e-Quail subscribers) can offer some opinion here.

---
RPQRR hosts Quail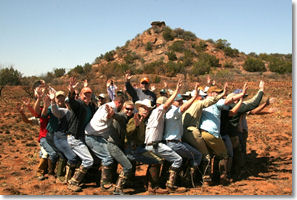 The quail odyssey for the 2018 QuailMasters class began April 22-24 at the RPQRR. A bumper crop of 41 students are signed up for the course. Last Monday morning we toured RPQRR and got hands-on practice at evaluating habitat, conducting whistle counts, setting dummy nests, and other aspects of "the quail equation." Here the group participates in a "habitat lap-sit" with Mammary Mountain in the background to illustrate the importance of interspersion. Participants are tasked with some intensive homework assignments, including conducting the "Texas Quail Index" on their respective properties. Future sessions will be held in the Breckenridge, Pampa, and Hebbronville areas.

---
RPQRR's Wish List – Can you help?

Our support for quail research comes almost exclusively from private donors. Perhaps you would like to help us help quail. We have need for various pieces of equipment. If you would like to donate, RPQRR is a 501(c)(3) nonprofit foundation, so your donations (cash or in-kind) are tax deductible. Alternatively, if you'd like to make a cash donation and have it earmarked for one of these items that's great too. Here's our current list of needs:

| | |
| --- | --- |
| Item | Need |
| 100-hp tractor | Food plot preparation, shredding |
| 15' batwing shredder | Shredding |
| Shop-style drawer toolbox | Tool storage |
| Sea container | Storage of equipment |
| 12-ft tandem disc | Discing, field prep |
| Moveable hog trap | For trapping feral swine (they've been quite problematic over past month.) |
---
Calendar of events
4 May - 10th annual Field Day at the Ranch
10 May – Quail Appreciation Day; Mesquite; contact Liz Rudd (elizabeth.rudd@ag.tamu.edu)
12 May – Half-cutting mesquite day for Midland Chapter of Stewards of the Wild
20-22 May – Session 2 of QuailMasters; Abilene area
---
Parasitology in action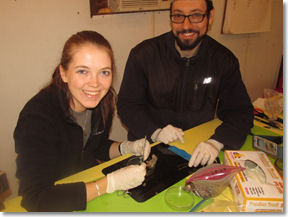 As you may recall, RPQRR solicited quail heads and carcasses during the last half of quail season to screen them for eyeworms and cecal worms. Thanks to a grant from RPQRF director Joe Crafton of Dallas, we hired a technician last month for the task of dissecting the thousand or so quail heads we received. Jennifer Newkirk recently assumed the role of Parasitology Technician here at RPQRR. Jennifer is from Tampa, Florida and graduated last May from the University of Florida with a bachelor's degree in Wildlife Ecology and Conservation. She received training recently (thanks to Matt Brym with Texas Tech's Wildlife Toxicology Laboratory) and very quickly got the hang of it! If you have quail heads for this analysis, please get them to us soon. See our website for details (www.quailresearch.org).

---
From our Facebook page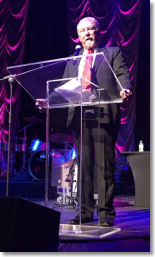 April's top post was Phil Lamb's note on my induction into the Texas Parks and Wildlife Foundation's Conservation Hall of Fame. Suffice to say I was greatly flattered and honored by this recognition. Many thanks to all who've contributed to my education and career . . . it's a long list indeed! I was especially pleased to be recognized alongside the Texas & Southwestern Cattle Raisers Association . . . after all, a rancher with bird dogs is a quail's best friend! Thanks also to the TPWF for throwing a great shindig. FMI, see TPWF's website https://www.tpwf.org/happenings/conservation-hall-of-fame/.

---
Field trial review

RPQRR hosted the Region 7 of the American Shooting Dog Championship field trial on Mar 9-11. Here's a copy of the thank you note we received from the organizers.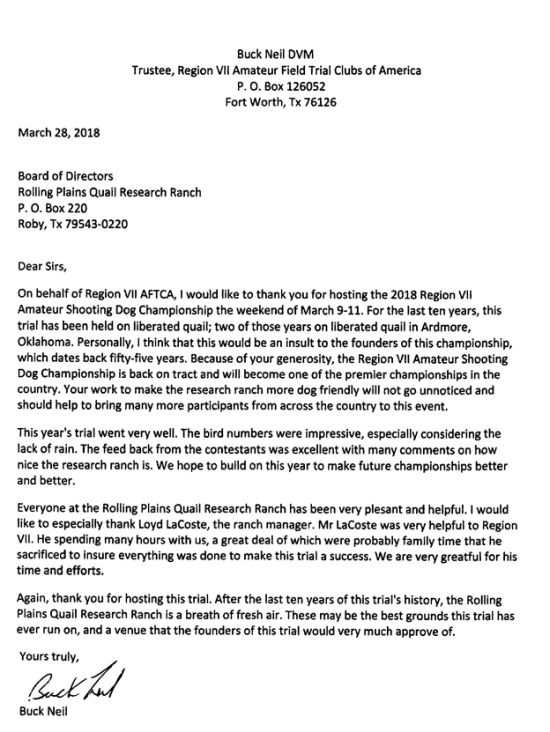 ---
Intern diaries

Our internships give budding professionals a chance to get some OJT and a taste of quail research. I require each intern/seasonal technician to leave me with an essay describing their experience at RPQRR. This month's essay is by Casey Weissburg She did a great job and will make someone a fine employee someday. She's the most talented photographer we've employed here to date. – DR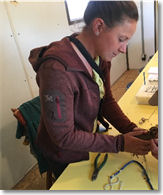 As a seasoned field technician with three years of diverse experience (from all over the country and abroad) already under my belt, I know very well that there is always something new to learn. With this in mind I accepted a position as Quail Technician at the RPQRR this winter. With graduate studies hovering in my thoughts, I was excited to finally work with game birds and gain some new field skills.

Within days of arriving, I was independently tracking radio-collared quail via telemetry, triangulating locations, identifying mortalities, and getting to know the daily and weekly habits of "my birds." Despite heavy mortalities this winter, it was great fun following these birds around on a daily basis. In addition to the valuable radio telemetry skills, in my time at RPQRR, I gained new experiences that ranged widely from small mammal trapping to aerial helicopter surveys to prescribed burns and even to cleaning harvested birds and safely handling and firing a shotgun and rifle. I also had the opportunity to analyze trends in our datasets. Finally, in preparation for the upcoming breeding season, I trapped quail to be banded and deployed with new radio-collars for nest monitoring.

By the time this newsletter is published, I'll be on the long road north, driving to one of the wildest lands of our country: Alaska. Although I'll be missing out on the exciting spring research here at the RPQRR, I am thrilled to soon be working with the U.S. Fish & Wildlife's Alaska Region Migratory Bird Management program on a long and fascinating season of monitoring arctic-breeding shorebirds, songbirds and seabirds. It's definitely been an interesting winter and I am so grateful for the opportunities I had and the skills I learned at RPQRR, but as always, I find myself looking towards to the future, and I can't wait to see to where this next job leads.

---
15,512 . . . that's the number of birds that have been leg-banded at RPQRR since 2008.
Field day (May 4) will consume our first week. Three of our four summer technicians/interns are on board—they will begin conducting our spring whistle counts on 15 May. We're set to host the Midland Chapter of "Stewards of the Wild" for a service project (half-cutting of mesquite to enhance mid-day coverts) on 14 May.
Got a new e-mail address? Please [Click Here] to update your information if you wish to continue receiving e-Quail.
Forwarded from a friend? Please [Click Here] to sign up for the RPQRR e-Quail Newsletters!