RPQRR offers free screening for eyeworms / cecal worms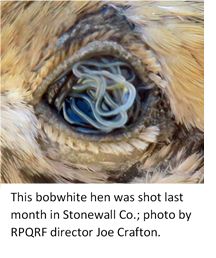 With less than a month of quail season remaining, you have a homework assignment. We are soliciting quail heads/specimens to screen them for eyeworms and cecal worms. If you've been following our Facebook page you're probably already on task. If not, it's time to hit the field.

We believe the eyeworm has reached epidemic status over this past season, at least across much of the Rolling Plains. By screening quail across the state we hope to learn just how widespread the problem is/was.

See our website for the protocol and data sheet for handling/shipping specimens to us for this free service. We anticipate receiving perhaps 2,000 specimens so be patient for your individual results; it may be June before we get all of the specimens necropsied.

Jess Newsome (QM '17) provided this report (and tip) from Kent Co. last month.

"Encouraged by the eyeworm focus of your January RPQRR newsletter, I made my first attempt at eyeworm inspection this week on six bobwhites harvested in central Kent County. All six birds were infected, ranging from 5-27 worms. I only collected worms from the front of the eye, under the nictitating membrane; I did not remove the eyeball. The inspection was done approximately 2-6 hours after harvesting the birds. I observed worms from 1/8" to 7/16" long; some still wriggling. I also found that a soft pick (with tiny barbs) used for dental cleaning was a particularly handy probe for collecting the eyeworms especially for an old man with bifocals and shaky hands."

Any questions, please e-mail d-rollins@quailresearch.org or call me at 325-653-0311 or RPQRR manager Lloyd Lacoste (325-660-6551). Instructions for submitting samples are found on our website (www.quailresearch.org).

---
Song of the Month

These eyes by The Guess Who.

---
Word of the Month

retrodict (verb); to utilize present information or ideas to infer or explain (a past event or state of affairs). I wonder what we'll be saying about eyeworms and cecal worms a couple of years after we have a medicated feed for their control in wild quails? Will those findings retrodict the "habitat, habitat, habitat" mantra as the end-all, be-all explanation for quail abundance??

---
APB on "Strange" Mortalities



Here at RPQRR we have a standing "All Points Bulletin" (APB) for any "unusual" field sightings regarding bobwhite and blue quail. Over the past month our FB page has featured several "blobs" (blue X bobwhite hybrids), a ptarmigan-like plumaged bobwhite from south Texas, and a blue quail (seen here) with some type of strange growth on its wing. Whenever you flush a hawk from a kill site do a little "Quail CSI" investigation. Your camera is in your pocket (i.e., smart phone).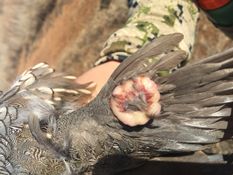 ---
QuailMasters to muster April 22 at RPQRR

QuailMasters 2018 has opened registration for its final run, its founder said. The series, co-sponsored by the Texas A&M AgriLife Extension Service and the Texas Wildlife Association, starts in April.

The series is an intensive, hands-on training designed to introduce participants to the best quail habitat in Texas, thus making them "masters" of the art and science of quail management, said Dr. Dale Rollins, statewide coordinator for Texas A&M AgriLife's Reversing the Decline of Quail Initiative at San Angelo and series founder.

"I started the QuailMasters program as an offshoot of the Bobwhite Brigade Youth Leadership Camp," Rollins said. "QuailMasters offers landowners, biologists and graduate students an opportunity to get immersed in quail management. We meet four times for two and a half days each time, and tour some of the finest quail properties in the state.

"I've said for the last two years that 'this is the last time' so some gig me, but this time it really is," he said. "So in honor of this particular program's final chapter, I'm referring to it as the 'When Quail Freezes Over' tour."

The sessions are:

-Session 1, April 22-24, Roby.

-Session 2, May 20-22, Breckenridge.

-Session 3, Aug. 5-7, to be announced based on class feedback at Session 1.

-Session 4, Sept. 30-Oct. 2, Hebbronville.

Individual tuition is $500 and $250 for college students, which includes most meals and educational support materials. Three hours of graduate college credit is available for additional fees as dictated by the participating university.

For more information or to register, contact Lisa Flowers, Texas Wildlife Association director of programs, San Antonio, at 210-826-2904 or lflowers@texas-wildlife.org; Amanda Gobeli, Texas A&M Natural Resources Institute associate, Dallas, at 720-33-6224 or agobeli@tamu.edu; or Rollins at 325-653-4576 or d-rollins@tamu.edu.

---
Covey rise videos sought

If you enjoy a good covey rise (and who on this mailing list doesn't??), see a compilation of good rises shown last March at Park Cities Quail's annual banquet at https://youtu.be/puOGVAD6PbY . They are soliciting good covey rise videos for this coming March's banquet. Sounds easy, but getting a decent covey rise on camera is a tall order. I prefer to stay about 10 feet behind "my" hunter as if I'm looking down the barrel of his shotgun, and not zoom in too closely. Your goal is a covey rise against blue sky, else the birds are basically invisible. Carry your camcorder for a while, and you'll better appreciate the above compilation of covey rises.

---
RPQRR's Wish List – Can you help?

Our support for quail research comes almost exclusively from private donors. Perhaps you would like to help us help quail. We have need for various pieces of equipment. If you would like to donate, RPQRR is a 501(c)(3) nonprofit foundation, so your donations (cash or in-kind) are tax deductible. Alternatively, if you'd like to make a cash donation and have it earmarked for one of these items that's great too. Here's our current list of needs:

| | |
| --- | --- |
| Item | Need |
| 100-hp tractor | Food plot preparation, shredding |
| 15' batwing shredder | Shredding |
| Shop-style drawer toolbox | Tool storage |
| Sea container | Storage of equipment |
| 12-ft tandem disc | Discing, field prep |
| Moveable hog trap | For trapping feral swine (they've been quite problematic over past month.) |
---
Calendar of events

Feb 9-11: Texas chapter of The Wildlife Society annual meeting; Sheraton Hotel, Dallas; FMI on the papers to be presented, see http://tctws.org/wp/wp-content/uploads/2013/12/2018-Short-Program.pdf .

Feb 25: Quail season closes.

Mar 8: Park Cities Quail T. Boone Pickens Sportsman of the Year banquet; FMI see http://parkcitiesquail.org/ .

Mar 9-11: Region 7 American Shooting Dog field trial, RPQRR; FMI contact Chip Martin (325-660-3599.

---
In the News

We've enjoyed some great publicity over the past few weeks; check these out:

Lone Star Outdoor News (Jan. 26 issue); read Craig Nyhus' front page feature on the RPQRR and its mission. Read all about it at https://issuu.com/lsoneditor/docs/lson_1_26_18_v8 (note: we pointed 39 coveys that day!).

Covey Rise Magazine (Feb-Mar issue): see the feature on Rick Snipes as "The Consummate Quail Hunter." Snipes is past-president of RPQRF and will be honored as the T. Boone Pickens Sportsman of the Year award next month at Park Cities Quail annual banquet.

Texas Wildlife Magazine: See https://www.texas-wildlife.org/resources/publications/the-rolling-plains-research-ranch for TWA's feature story on the Ranch.

See my article in the February issue of Texas Wildlife Magazine on "The Eyes Have It" where I summarize RPQRR's parasite research over the past 8 years.

---
RPQRR to host its first field trial Mar 9-11

Region 7 of the American Shooting Dog Championship will host a field trial on RPQRR Mar 9-11. For more information, contact Chip Martin (325-660-3599). I've never been to a field trial so I'm anxious to see how this goes. One concern that I've been told some may grouse about is "y'all have too many quail." If that happens, I'm just going to smile and savor the comments!

---
Intern diaries

We've had two departures over the past month, technician Skyler Henderson and grad student Brad Kubecka. I ask that departing techs/grad students provide a brief essay on their tenure at RPQRR.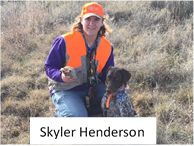 I first learned of the Rolling Plains Quail Research Ranch in the summer of 2012 when I attended the Rolling Plains Bobwhite Brigade camp, one of Dr. Rollins' many successful programs. My time and experiences at this camp were stepping stones that ultimately put me on the path I am on today. I left the Bobwhite Brigade with a newfound passion for wildlife, one I felt worthy of making a career. After graduating with a Bachelors in Wildlife Management I was looking for a technician position to diversify my resume and perhaps learn some new skills. It just so happened the Research Ranch had a technician position open up at the right time so I decided it would be a good position for which to apply. Not to mention I had a bird dog pup and there were more quail in west Texas than mesquite trees.

I started at the RPQRR in August of 2016, what was at the time considered one of the greatest years for quail in quite a while . . . only to be outdone the following year. A wonderful place and time to raise an ambitious German Shorthair. My first couple of weeks I was in charge of all the remaining radio-collared birds that were on air, approximately 70 birds. It was quite a bit to handle right out of the box but it was very enjoyable being able to just ride around the ranch looking for birds and enjoying the time alone. Though tracking birds becomes a monotonous task, work always had its perks, particularly during quail season. During hunting season the ranch hosted several guests for hunts including donors, auction winners, members of Parks Cities Quail and members of the quail management industry. I was fortunate to be able to tag along on several of the hunts to help with logistics, collecting data of the harvested quail, and occasionally getting to run my dog, one of the biggest perks of the job.

Each year the research ranch conducts its annual trapping efforts in which we extensively trap the entire ranch. After capturing the quail we equip each quail with a uniquely numbered leg band. With these leg bands we can figure out longevity of quail and occasionally dispersal. One of our largest annual endeavors, we use these data to compute adult:juvenile ratios, sex ratios, annual survival and more. Following the trapping season (which will usually run about 4 weeks in December) we will begin hunting on the ranch as a means of double sampling. If we harvest enough birds during the season we can compare ratios from our trapping to estimate population size.

On December 13 of 2016 I was able to tag along with a couple of gentlemen from North Carolina who let me run my dog Koda for a bit. After putting her on the ground she very quickly went on point just south of the Babe CRP field. She held a beautiful point on a wolfberry bush as the two hunters walked right past her and kicked the covey up. Both hunters shouldered their shotguns and fired, both dropping a bird from the covey. To all of our surprise Koda marked the downed bird closest to her, retrieved it and brought it to the hunter's hand. Her first hunted point, a tremendous success by any measure. Luckily for me the bird she retrieved had a leg band from the previous year, 15403 was the band that I now keep on my keychain as a memento.

During my time at the ranch I got the experience and learned new skills like I was wanting when I signed on. I left though with new passion for all things quail hunting and bird dogs. Things I will always cherish.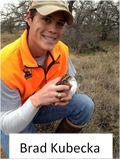 If you've been following the Ranch, you may have noticed that this is probably my 3rd "exit" essay. But frankly, the truth is that I never left. I recently graduated in December from Texas A&M University Kingsville (TAMUK) with my Master's degree and immediately moved to Tallahassee, Florida to begin my PhD working through Tall Timbers and the University of Georgia, but a piece of me still hasn't left… as cliché as it may sound. Nevertheless, hopefully this essay isn't plowing the same ground thrice.

I want to start by saying thank you. Thank you to all who support the Ranch by reading their material whether it be through Facebook posts, newsletters, or reports. The sense of enthusiasm I shared with the Ranch followers inspired me to keep giving 110%. Thanks to all who have helped me, and more importantly those who have helped the Ranch, either monetarily or through other forms of munificence. The personal accomplishments I have achieved are largely owed to the Ranch, and I can't express enough how much of an impact your support of the Ranch has been for the development of not only myself, but countless interns, technicians, and graduate students.

I first started at RPQRR in 2013 as a summer intern. After the conclusion of that summer, I offered to stay on as an off-site technician to monitor translocated birds in Breckenridge, TX (as it was relatively close to Stephenville where I was pursuing my undergrad). During the summer of 2014 I returned to RPQRR, in part, to conduct a study on wild turkey diets and continue where I left off – conducting telemetry, trapping, call counts, helicopter surveys, raptor surveys, nest checks… the whole 9 yards. In the past 4.5 years, I've been involved with so much at the Ranch that I'll spare you the boredom of commenting on it all.

Through my tenure at RPQRR, I've met countless people. These interactions have probably meant the most to me in terms of my development as a person and wildlife professional. Ben Franklin once said, "Every person I meet is in some way my superior; if I just listen, I can learn from them." Not everything I learned at the Ranch was about research, and in my opinion, the management side of the coin was probably more important (if I had to prioritize).

Management, however not in the sense of habitat or populations, but people management. Most young men lack well-developed judgement—I was, and am, no exception. However, as they say, "good judgment comes from experience and experience comes from poor judgment." Or as Oscar Wilde put it, "Experience… is merely the name we give to our mistakes." I like to think that through my tenure at RPQRR, I became quite experienced. In the wildlife field, you meet people from all over world (we had one technician originally from Germany!). If you have any intolerances or biases, you simply won't fit into the wildlife community. Through my "experiences" of teaching research skills to others and working with stakeholders, I developed humility, tolerance, and contentment. Concomitantly along the way, I've made a good few friends (and perhaps, but hopefully not, some adversaries). In 2015, I met my best friend and newly engaged fiancé, Christine Palmer, at the Ranch. You could say that I hit my stride on the whole personal development quite hastily, and I'm a better person because of her.

They say a place is just a place until you share it with someone special in which it becomes much more. I was fortunate to spend my time at the Ranch with many fine people, not just the RPQRR crew, but others whom I met through QuailMasters, the Brigades, or Quail Coalition. In 2014, I met Lil and Sue, or "the girls" as I call them. The girls are my dear 4-legged friends– English setters who I adopted at 7 years old because they were dying… predominantly of boredom. Quail populations were in a lull, in Texas, during that time. Dr. Rollins mentioned that he knew a guy with bird dogs looking for a good home where they would have the opportunity to get on birds. The stars must have aligned, and the last 3 years the girls and I (and my black lab, Lucky) have enjoyed many joyous, covey-filled days afield. We're fortunate to have lived in one bird dog utopia (Rolling Plains of TX) and moved to another (Red Hills of FL/GA).

Indeed, the Ranch is a special place not only to myself but to conservation. The Ranch's first 10 years have been extraordinary in developing an institution of knowledge for applied management of quails in Texas, and I look forward to seeing what is in store for the Ranch in the next 10 years. I challenge you, the reader, to involve yourself by whatever means possible to help continue the Ranch's mission of conserving wild quail and quail hunting in Texas for this and future generations. As a 501(c)(3) organization, the Ranch relies on the support and goodwill of others. Whether it be lending your ears for call counts, birds for translocation, sharing a post on Facebook, or monetary donation, every little bit helps in continuing a legacy of excellence in wildlife research. It's through your enthusiasm, support, and my personal convictions that I consider my raison d'etre wildlife conservation with quails leading the way.

---
Coming soon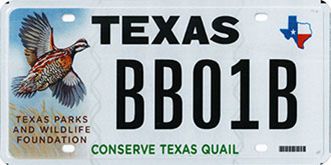 (details to follow soon!)

---
68.1% - Out of 116 quails (114 bobwhites, 2 blues) shot at RPQRR over the past 6 weeks, 68.1% were leg-banded. Going back to our trapping data, it was noted that our minimum known populations (MKPs) for bobwhites and blues were 2,126 and 156, respectively. Using this and a "Chapman modified Lincoln-Petersen estimator", we estimate that we have 4,841 bobwhites and 470 blues on the ranch (a little more than 1 bird/acre). The 95% confidence interval for these estimates are still quite large (997.5 and 433.8, respectively). To get a stronger estimate, we need to harvest another 60-80 birds. Plans are underway to achieve that goal. Last year at his time, my mantra for 2017 was "can we Yeti-ize" our quail, i.e., save our "ice cubes" beyond what conventional wisdom would dictate . . . I'd say we have! At a time when most hunters are asking "where did all the quail go?" we're celebrating a pretty spectacular achievement . . . harrrrumpppphhhh!
February is going to be a busy month. We have several more hunts lined up, a field trial to be held in March, and additional trapping to increase our number of radio-marked hens as we enter the nesting season (May 1).
See Casey Weissburg's post from January 24 of a surprise catch in a "Sherman trap", i.e., a small live-trap used to catch rodents. Turns out this past week they've caught several of these in the live-traps.
Got a new e-mail address? Please [Click Here] to update your information if you wish to continue receiving e-Quail.
Forwarded from a friend? Please [Click Here] to sign up for the RPQRR e-Quail Newsletters!