Field Day set for May 4: Focus on Habitat Management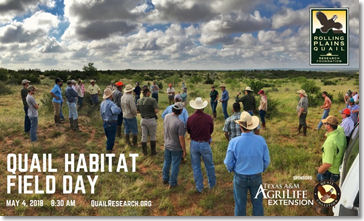 "The central thesis of game management is this: game can be restored by the creative use of the same tools which have heretofore destroyed it—ax, plow, cow, fire, and gun; Management is their purposeful and continuing alignment." ~ Aldo Leopold

Breaking stride from the past decade, RPQRR will host its 10th annual field day in the Spring this year. Mark your calendar for Friday, May 4 for our first Spring field day. Why the switch from late-September? If for no other reason to make the tour and talks cloaked in Technicolor with Surround-Sound. I hope attendees have to crane their ears to hear the speakers above a constant chorus of "poor-Bob-white!" Join us to see what we've learned over the past decade that will help you be a more successful quail manager. Pre-registration is $10 per person if received by 25 April; $20 thereafter (and at the door). To pre-register send your check payable to RPQRR, P.O. Box 220, Roby, TX 79543. See agenda below; FMI see www.quailresearch.org or contact Dr. Rollins at 325-650-0311. Two CEUs for Private Applicators will be available.

Agenda:
Axe

Quail-friendly Cacti management

Surgical strikes with herbicides

Brush sculpting for quail
Blueprints of "Quail Houses" & "Storm Shelters"
Half-cutting regrowth mesquite
Plow

Food plot plantings
Seasonal discing to manage plant succession
Post-CRP: promoting heterogeneity

Cow

Patch-burn-grazing & bobwhites
Cows and Quail: where's the beef?
LUNCH (courtesy Quail Coalition)

Translocation efforts
Eyeworm update
Quail Forensics
Coyotes & Quail
Fire

Seasonal burn plots to increase forb diversity
Fire: A Crescent wrench for quail managers
How We Burn
Demo burn (weather permitting)

Gun

Trapping-banding results
Decreasing wounding loss
---
Song of the Month

Show Me the Way by Peter Frampton

---
RPQRF's Snipes recognized by Park Cities Quail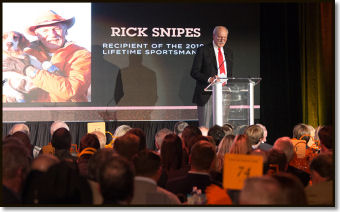 Renowned Outdoor Writer -Tom Davis says it best: "No one I know better personifies upland hunting as an art form than Rick Snipes. Nor has anyone I know raised the bar as high. As he himself observes, "Our role as bird hunters is to bear witness to our dogs' artistry, and confirm their genius with our guns." In that single eloquent sentence, Rick Snipes encapsulates everything I've been trying to say in 35 years of writing about gun dogs and bird hunting.

I've heard Rick described as "the consummate quail hunter," but while that's certainly true it only tells part of the story. To me he's the Renaissance Man of the wingshooting world. In the field there is no skill he does not possess, but he's widely read, too, deeply knowledgeable on a variety of subjects, thoughtful, analytical, insightful, and also howlingly funny. He's at ease in any company, at home in any environment. He has that rare gift, regardless of the setting or situation, for making everyone around him better.

And as he has shown in his leadership role as President of the Rolling Plains Quail Research Foundation—Rick is passionately, even ferociously, committed to the cause of quail conservation. While recognizing that the quality of the habitat is paramount, Rick has tirelessly advocated the creative "outside the box" approaches to solving the problem of quail decline.

The ongoing research into the effect of parasites on bobwhite quail populations, an effort funded by Park Cities Quail and the RPQRF, is a noteworthy example of the kind of groundbreaking work he feels is absolutely necessary if this grand bird, and this great sport, are to survive." – Tom Davis

See Rick's promo video here: https://youtu.be/MgTKze9_qOc and his acceptance speech at https://youtu.be/5XUsE2XTxhk .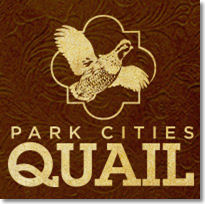 Finally, congratulations to Park cities Quail, which last month shattered their previous fundraising record by netting $1.7 million. Any wonder why they refer to this event as "Conservation's Greatest Night?" FMI, see http://parkcitiesquail.org/2018-dinner-live-auction/.

Park Cities Quail is our largest annual benefactor. To date they have provided almost $4 million in support of our efforts. I praise them often as "the wind under our research wings." Go ahead and mark your calendars for the first Thursday in March for next year's annual gala.

---
Word of the month



cadre (noun; "a group of people having some unifying relationship", i.e., "Students of Quail.")
---
Calendar of events
23 April – Host field portion of QuailMasters
4 May - 10th annual Field Day at the Ranch
10 May – Quail Appreciation Day, Dallas area
---
RPQRR's Wish List – Can you help?

Our support for quail research comes almost exclusively from private donors. Perhaps you would like to help us help quail. We have need for various pieces of equipment. If you would like to donate, RPQRR is a 501(c)(3) nonprofit foundation, so your donations (cash or in-kind) are tax deductible. Alternatively, if you'd like to make a cash donation and have it earmarked for one of these items that's great too. Here's our current list of needs:

| | |
| --- | --- |
| Item | Need |
| 100-hp tractor | Food plot preparation, shredding |
| 15' batwing shredder | Shredding |
| Shop-style drawer toolbox | Tool storage |
| Sea container | Storage of equipment |
| 12-ft tandem disc | Discing, field prep |
| Moveable hog trap | For trapping feral swine (they've been quite problematic over past month.) |
---
Field trial results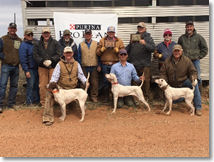 RPQRR hosted the Region 7 of the American Shooting Dog Championship field trial on Mar 9-11. A total of about 30 trainers/dogs participated in the all-age or derby classes. Buck Neal's "Sinbad's Hottie" won the championship while Neil's "Gonna Be a Rockstar" won the derby. All involved were impressed with the RPQRR and hope to make this an annual event.

Organizers remarked that the "RPQRR is a great venue for this championship." Several of us (who weren't on horseback in the gallery) watched with binoculars from "Telemetry Ridge." I overheard one competitor remark over supper that this year's trial afforded the most coveys of wild coveys they'd enjoyed in over 20 years. Or maybe he said "the wildest quail" because the coveys certainly were that at the end of hunting season.

---
From our Facebook page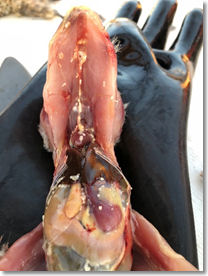 See the post from March 4 featuring a quail infected with (what we believe to be) a rare parasite called Mesocestoides. DH from Borden Co. submitted this photo from the last weekend of the quail season:

"This quail was taken in Borden Co. The bird was a strong flyer with good body fat and represents less than one percent of birds taken on this ranch. I observed 8-10 feather piles on hunts. This is more than in past two years. Average of 20 plus coveys seen per hunt."

Can't diagnose for certain, but it looks like Mesocestoides, a new tapeworm discovered only recently in N. America (it has been reported from Europe). Note some discoloration of the liver.

FMI, see Kubecka et al. 2018.

---
Intern diaries

Our internships give budding professionals a chance to get some OJT and a taste of quail research. I require each intern/seasonal technician to leave me with an essay describing their experience at RPQRR. This month's essay is by Carl Underwood. He did a great job and will make someone a fine employee someday. -- DR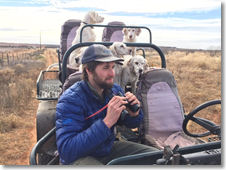 When I accepted a position as a quail research technician I was excited to be able to explore a new part of our country. I have spent several seasons working in various places including Alaska, Oregon, New Hampshire, Wyoming, Florida, and Connecticut. Each has offered new experiences that that I did not anticipate, left me with a new appreciation for the variety of ecosystems, and taught me the intricacies of the multiple cultures found throughout our beautiful country. This chronicle held true for Texas, and the Rolling Plains Quail Research Ranch.

While at RPQRR I have had the opportunity to interact with many people through collaborative research projects, hunts we have hosted, and the prescribed burns that we have conducted. Through these connections many opportunities have opened up for me. I was able to go on my very first hunting trip thanks to a reporter that I met from the Lone Star Outdoor News. To help live a more sustainable life-style, I have wanted to learn how to properly harvest and process a deer for many years. From this deer hunt, and the several quail hunts I assisted with, I gained the knowledge and skills to sustainably harvest animals on my own.

The reason I came to the research ranch was to learn how to use radio telemetry to track quail. I needed this skill to round off my skill set as a biological research technician. Being here has given me ample experience in telemetry. What I didn't realize was that I would be getting many other things too. While here I have learned to use Sherman traps for small mammals, funnel traps for quail and conduct prescribed burns. All of these skills I will be able to use as I progress in my career in wildlife management.

During my free time I have had the opportunity to explore many regions in Texas via its beautiful state and national parks. I once thought all of Texas was rural plains and oil fields, but I was proved wrong. Immense beauty can be found throughout, from the canyons of Cap Rock Canyon State park to the mountains of Big Bend National Park. From here I am departing to my next job in California to study riparian song birds and their response to forest fires. Along my way I will be making one last stop at Guadalupe Mountains National park to explore one more of the diverse ecosystems that Texas has to offer.
---
8 - that's the number of prescribed burns we were able to implement last month. Thanks to all who served on the fireline!
I hope our roads get muddy this month! We'll be busy plowing-planting our warm-season food plots, following our radio-marked hens as they embark on the breeding season, and initiating our dissections of over 900 quail specimens submitted for eyeworm and cecal worm testing. We'll also be hosting the QuailMasters '18 class.
Got a new e-mail address? Please [Click Here] to update your information if you wish to continue receiving e-Quail.
Forwarded from a friend? Please [Click Here] to sign up for the RPQRR e-Quail Newsletters!