Stoking the Fire

"Boyhood improves with age." – Havilah Babcock


(Editor's note: RPQRR's mission is "to sustain Texas' wild quail hunting heritage for this, and future, generations." The other day at lunch, Dallas outdoor editor Ray Sasser quizzed me as to what RPQRR's greatest contribution had been to date. I offered several achievements, and the opportunity to watch the various factors interact in toto over the long haul. A few seconds later I gestured behind me as our current crew of interns wolfed down their lunch of Mexican food. "Someday we might consider the recruitment and refinement of such young leaders as our greatest contribution" I confided to Sasser.) But how does one instill a passion for quail and quail hunting in a lost generation (lost from quail hunting opportunities that is)?

I thought of you Timmy. You too Coondog. Dang, I wish we had more shotgun shells to cram into the pockets of our army field jackets in order to stoke our Wingmasters and Humpback Brownings. And, not to be too critical, but I wish L.B.'s old pointer would do more pointing than flushing. Anybody got $2 for gas for today's hunt? That'll be enough to hunt all day, then drag Main Street tonight . . . if we're not too tired.

Alas, how the time has flown since those days afield in the early 1970s. Time, tide, and wild coveys wait on no man. But the memories will never be lost on me, nor taken for granted. Those days of tramping shinnery and chasing blue quail forged my resolve to focus my career on being a "Student of Quail." Point No. 10 of Suzie's 12-Point Plan is "be thankful if your vocation and avocation are one and the same." Mine are, and I am.

How long has it been since you lost sleep over a quail hunt? I'm talking pent up energy that makes a good night's sleep wishful thinking. I can't remember when—after all, quail hunting is a gentleman's sport. Nine to five. But for at least four quail hunters, this past Thursday night proved to be filled with Zugunruhe.

We've hosted a lot of hunters this season at RPQRR; 32 to be exact. Some were here for P-R purposes, some for fundraising efforts, and some, well a few, just for fun. Staff have followed them all carrying only a pencil and a clipboard, sitting on "the bench" while other, typically much older, players pulled the trigger. They've cleaned birds and washed Kawasaki Mules, toted water and tried to be content as benchwarmers. So, when we had a last-minute cancellation of our last "official" hunt, I rewarded the staff here with the final shot at what's been an epic season. I told them on Wednesday evening they could hunt on Friday. Little did I know, or hardly could I remember, how that offer, in this year, on this property, might fuel an intake like a Holley 850 on my 1970 Chevelle SS.

Sometimes you gotta stoke the fire.

Our interns and technicians are hungry. They work 60+ hours weekly for slave wages in order to (a) gain some professional experience, and (b) garner a good letter of recommendation from me. Aside from the opportunity to be working outside on a unique property (they won't fully appreciate this for another 30 years), perks are few and far between. So, now, on the eve of our spring trapping season, a 5-week ordeal where they will "work" (trap, weigh, leg-band, and radiomark) 4,500 or so quail, and log some 80-hour work weeks, they need to be properly motivated. What better way than to follow one's bird dogs across a rolling west Texas landscape punctuated by 40 covey rises?

The crew of technicians Christine, Skyler, and Taylor, joined by grad student Brad Kubecka, counted down the hours til legal shooting time on Friday morning (I thought only duck hunters were concerned with legal shooting time!). They packed a sandwich lunch so they wouldn't waste any daylight making a trip back to HQ for lunch. O the memories of Vienna sausages and saltine crackers on the tailgate of a pickup truck. O the satisfaction of being "tuckered out" from a long day's hunt.

"I was so much older then I'm younger than that now." - Bob Dylan ("My Back Pages")

They hunted all day, and when the bell tolled, three of the four had bagged their limit of 15 birds. Soon they will fry up a good mess of those quail, and thus complete the circle. As they dine I will feast on my own memories from when I was 21.

May the circle be unbroken.

---
Song of the month
Will the Circle be Unbroken?
---
Word of the month

Zugunruhe - is a German compound word consisting of Zug (move, migration) and Unruhe (anxiety, restlessness). It describes anxious behavior in migratory animals, especially in birds during the normal migration period.

---
Foundation signs Director of Development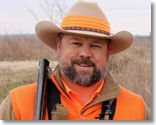 The legal profession's loss is conservation's gain. Dallas attorney Phil Lamb is making a career move from litigation to quail conservation. After 14 years as a successful lawyer in Dallas, Lamb is joining the Rolling Plains Quail Research Foundation as director of development. Lamb cites his involvement with Texas Parks and Wildlife Foundation's Stewards of the Wild program as a catalyst for the career change. Lamb co-chairs the Dallas chapter of the Steward of the Wild, a young professionals program that supports the mission of Texas Parks and Wildlife Foundation (TPWF) and the Texas Parks and Wildlife Department.

"Getting involved with Stewards of the Wild has really been life changing for me," said Lamb. "I've always been interested in hunting, fishing and the outdoors, and getting involved in Stewards of the Wild has galvanized that interest into direct action to support conservation."

Lamb will work out of a Dallas office (in Collector's Covey).

"We're excited to have Phil join our growing team," said Rick Snipes, president of Rolling Plains Quail Research Foundation's Board of Directors. "Our goal is to be the preeminent quail research and conservation organization in the world, and to do that we need the financial support of the quail hunting community. Phil is the perfect person to lead this effort. He is a passionate sportsman and conservationist with a proven track record as a volunteer with Texas Parks and Wildlife Foundation's Stewards of the Wild program."

"We're pleased to see the Stewards of the Wild program successfully engaging the next generation of conservation leaders in Texas," said Kelly R. Thompson, chair of TPWF's board of trustees. "We wish Phil the very best as he embarks on the next phase of his career in conservation. We hope more young people will follow his lead in turning a passion for conservation into action."

Contact info for Phil Lamb: 214.498.1234, plamb@quailresearch.org.

---
Quail Harvest Stats for RPQRR —2016-17

by Brad Kubecka, Graduate Research Assistant



February 26, 2017 marked the last day of a quail season that will be etched indelibly in the minds of hunters for decades to come. A 50-covey day wasn't unusual. In an exceptional quail year in the Rolling Plains, it's hard to encourage enough hunting to prevent an awful waste (Jackson 1969). As such, we took the opportunity to "pay it forward" to various folks who have been influential in the development of RPQRR and collect data, simultaneously.

Ongoing research at RPQRR includes evaluating various population estimates including our trapping data, spring call counts, covey counts, roadside surveys, and helicopter counts. Given our fall trapping session concluded in mid-December 2016, hunting served as an appropriate double-sampling technique for band-recovery. Double sampling, or using 2 different methods of catching and recovering animals, helps relax assumptions often violated in mark-recapture studies. For example, it is assumed in a mark-recapture study that all birds have an equal probability of capture and recapture, and that these capture events are independent of each other. Without getting into the meat of mark-recapture theory, just know, it is hard to meet these assumptions with bobwhites. Thus, harvest data collected immediately after our fall trapping season were extremely valuable. We harvested 528 bobwhites and 31 blue quail this year at RPQRR. Band recovery information and trapping estimates are presented in the following tables. These estimates suggest our density of quail approached 2 birds/acre . . . bottom line, incredible hunting!

2016-2017 Bobs
Captures Events
5960
MKP1
4393
Recaptures
1567
Recapture Rate
0.36
Band Recovery
0.48
Chapman Estimate
9160
Petersen Estimate
9183
1Minimum Known Population (based on trapping)

2016-2017 Blues
Captures Events
420
MKP
335
Recaptures
85
Recapture Rate
0.25
Band Recovery
0.52
Chapman Estimate
619
Petersen Estimate
642
---
Walkabout Quail

by Brad Kubecka, Graduate Research Assistant



Quail are sedentary birds, but in good years, displacement and dispersal are common. Old literature referred to these mass dispersals as "migrations," and noted that they indeed coincided with years of extraordinary population abundance (Bennitt and Nagle 1937). This year we had multiple reports of bobwhites (and scaled quail) banded on RPQRR being harvested by hunters well off-site. Three instances stood out in particular as they were harvested in Kent and Jones counties up to 28 miles away (Figure 1). All of these birds were hatched in 2015, making them about 1.5 years of age upon harvest.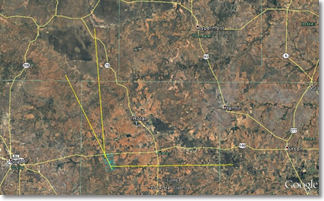 These reports mark our farthest documented dispersals from RPQRR, but aren't unusual in the grand scheme. In 1968, a bobwhite banded by Val Lehmann and colleagues was harvested 65 miles south of the initial banding location only 2 months after being banded. In 1961, Campbell and Harris reported a scaled quail dispersing 61 miles.

Interestingly so, recent studies have found little variation in genetic diversity among 24 subpopulations of bobwhites in South Texas (Deyoung et al. 2012, Miller et al. 2012). This along with similar research findings in the southeastern United States (Evans et al. 2012) suggest that bobwhites have the ability to disperse much better than once thought.

Whether dispersal is good, bad, important, or indifferent depends on context. For example, we might prefer that birds stick around on a translocation site to establish a viable population. In 2013 and 2014, an estimated 90% of translocated bobwhites in the eastern Rolling Plains moved less than 2.5 miles from their release site (Downey et al.). This type of short-term site fidelity is what researchers like to see from a translocation effort. On the other hand, dispersal from productive populations can be extremely important for rescuing declining populations from extinction (Townsend et al. 2003, Sands et al. 2012). Dispersal distances typically depend on age with juveniles dispersing greater distances than adults (Fies et al. 2002). Fies et al. (2002) showed that juvenile males were more likely to disperse than any other age/sex group whereas adult males were the least likely to disperse. Townsend et al. (2003) did not document a differential proclivity to disperse among age/sex classes, but supported that juvenile dispersers moved significantly farther than adult dispersers. Cook et al. (2009) suggested that habitat quality dictated dispersal probability, but this effect depends on age. Old males in this study were more likely to disperse from closed canopy pine stands which are associated with poor quality habitat. Current evidence suggests dispersal does not influence survival, and that dispersers have higher nest initiation rates than that of non-dispersers (Townsend et al. 2003).

Though radio-telemetry technology has been a valuable tool for almost 4 decades, comprehensive dispersal information still lacks for bobwhites. With the arrival of new GPS technology in the past decade, it's only a matter of time before researchers unravel just one more mystery in bobwhite ecology. Until then, we'll rely on a much less expensive technology, i.e., aluminum leg-bands, as our "message in a bottle." Currently we've leg-banded over 12,000 quail since 2008, and each increases our opportunity for a "return on investment."

---
Knox Co. Blue Quail Restoration update
by Becky Ruzicka, doctoral student, Colorado State University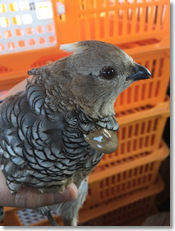 Last week we started trapping again to support the second year of our scaled quail translocation efforts in Knox County. We trapped two sites: one in the Rolling Plains Ecoregion and one in the Edwards Plateau. These birds were transported to the release site where they were placed in surrogators and will be held on site until their release in late-April. As part of this study we are comparing survival, reproduction, and dispersal of birds from different source populations (i.e., Rolling Plains vs. Edwards Plateau). We will also be evaluating the effects of a 'soft release' treatment to find an optimal amount of time to hold quail prior to release. A soft release means the birds are held on site for a length of time prior to release. Previous research has indicated that a soft release is preferable to a hard release (i.e., releasing birds immediately after capture) for scaled quail. For a comparison, this year we will release birds after holding them for 8 and 9 weeks, 4 and 5 weeks, and 1 and 2 weeks.

The scaled quail we released last year (393 in total) have exhibited survival and reproduction comparable to estimates of non-translocated scaled quail in the scientific literature. They have also exhibited a remarkable fidelity to the release site. Hens that had dispersed beyond our study site during the summer returned to the release site in the fall and several of them returned with chicks in tow. The first year's results are encouraging to say the least. This year we hope to duplicate the effort in terms of number translocated.

---
Factors Influencing Nest Success for Bobwhites

by Christine Palmer, Research Technician



A quail's life is dictated by the threat of predation. Other people say a quail spends its life looking for a place to die, and in many regards this is true. Bobwhites have an annual survival rate of around 20 percent, therefore one of the keys to their persistence is recruitment of birds during the nesting season. At RPQRR, we are interested in differences in nest initiation, nest success, and survival of broods in order to sustain high populations.

Many people have speculated certain anthropogenic factors—such as quail feeders and roads—reduce nest success by increasing nest depredation. Predators use roads for travel, which led to the hypothesis that nests near roads may be more prone to depredation. People have also speculated that feeders attract nest predators, and thus make nests situated around them more vulnerable as well. We decided to test these hypotheses along with several other factors, such as: age, sex (of incubating adult), year, and time of nest initiation for nests from 2012 to 2016.

Our results showed no negative effects from the anthropogenic factors we tested. In fact, distance to roads had a positive influence on nest success. Nests situated near roads had a higher probability of survival, with the odds of a nest being successful around 2:1 at the road's edge as opposed to 60 meters away. For quail feeders, when considering nests within a 250-meter buffer of a feeder as "fed", we noted a 70% nest success as opposed to 64% success for "non-fed" areas. This suggests that we aren't having any negative secondary effects by using barrel feeders.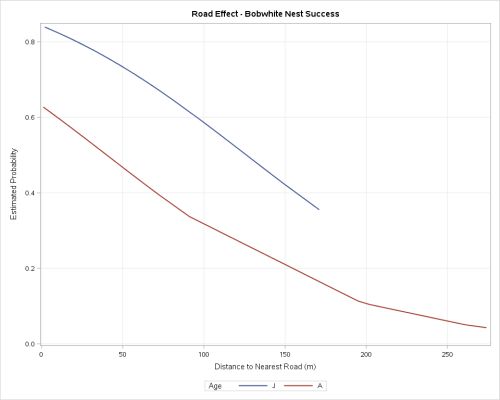 Aside from anthropogenic factors, we found one demographic factor to significantly influence nest success. Age of the incubating adult had an effect on nest fate, yet not in the way we expected. Our "juvenile," or first year breeders, had significantly higher nest success compared to the adults (74.4% and 50.9%, respectively). This "age-specific productivity" (to my knowledge) has yet to be documented with quail. Overall, some of our results were backwards from what we hypothesized, but that is one reason research remains interesting.

---
RPQRR's Wish List – Can you help?

Our support for quail research comes almost exclusively from private donors. Perhaps you would like to help us help quail. We have need for various pieces of equipment. If you would like to donate, RPQRR is a 501(c)(3) nonprofit foundation, so your donations (cash or in-kind) are tax-deductible. Here's our current list of needs:

| | |
| --- | --- |
| Item | Need |
| ¾ ton pickup truck | Pulling trailers, carrying pumper unit for prescribed burns |
| 100-hp tractor | Food plot preparation, shredding |
| 15' batwing shredder | Shredding |
| Rear-tined PTO tiller | Renovating spreader dams |
| 12-ft tandem disc | Discing field prep |
| Sea container | Storage of equipment |

Thanks to Dave Caddell for donating a grain cart!

---
Seed Appreciation Day set for May 3

As you know, RPQRR has been soliciting crop contents of quail harvested across the Rolling Plains (TX & OK) in an attempt to compile a comprehensive seed collection of plants eaten by quail. If you have crop contents for our effort, please send the contents to RPQRR, P.O. Box 220, Roby, TX. The crop content analysis from these samples will constitute our "Seed Appreciation Day" which is scheduled for Wednesday, May 3 in Abilene (more details to come).

---
Weird Quail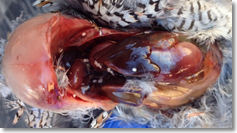 As you cleaned quail this season did you notice any that had white "flecks" in the body cavity? We discovered several like this one at RPQRR, and have had others reported from Borden Co. Preliminary analyses they are a small tapeworm (Mesocestoides sp.), and that quail may represent a new "host record" for this parasite. Last time (prior to this year) that I'd seen these was in 2005 on a ranch about 10 miles south of RPQRR. Both those birds were "visibly weak flyers" so that's why I was curious to look at their innards. Those birds had about 3X more worms than the one pictured here.

---
In the News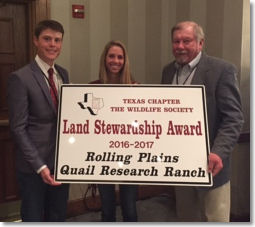 The RPQRR was recognized last month with the "Land Stewardship Award" by the Texas Chapter of The Wildlife Society at its annual meeting in San Antonio. The TCTWS is the professional organization of wildlife conservationists, and is the largest state chapter in The Wildlife Society. Always humbling to be recognized by one's peers. Thanks to Ricky Linex for the nomination, and to all of the folks who have toiled to make the RPQRR a showcase for quail, and for good land stewardship. Pictured with me here are Brad Kubecka (grad student) and Christine Palmer (technician).

---
Sponsor Spotlight

Look what came in the mail last week! Six brand new Garmin Rino 750 radios that Garmin loaned to us to help further our research here at RPQRR. These radios are especially useful for our Rx burning operations. We can't wait to get to use them next month and try out the new features they have. Thank you Garmin! Garmin has been a willing partner with RPQRR since 2008 when they loaned us 20 of the Astro GPS collars for some evaluations of how well bird dogs "count" quail. We appreciate their impressive technology and continued support!

---
Camera-trapping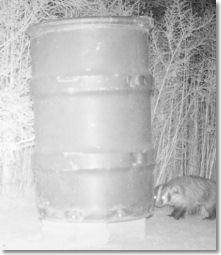 A badger is seen here visiting a quail feeder in our effort to determine whether the presence of barrel quail feeders increases predation of quail in the vicinity of feeders. The badger may be at the feeder but likely not in search for quail—most likely seeking a cotton rat. Interestingly, our cotton rat abundance has decreased 97% from January 2016 numbers. Badgers are not seen frequently (anywhere) but we have a good many here at RPQRR.

---
Quail hunter origins at Matador WMA

Congrats to the staff of the Matador WMA (Cottle Co.). Their quail harvest exceeded 10,000 birds . . . a record harvest! As one of the few public hunting opportunities in the heart of the Rolling Plains, the Matador is a popular destination for quail hunters. The map here depicts where the hunters originated. Note any patterns? Obviously, it's a popular destination for those on both sides of the Red River. I'm surprised to see how many hunters came from Houston and corpus Christi areas. Also, note the number of hunters from the Carolinas. One from AK and two from HI . . . how 'bout them pineapples?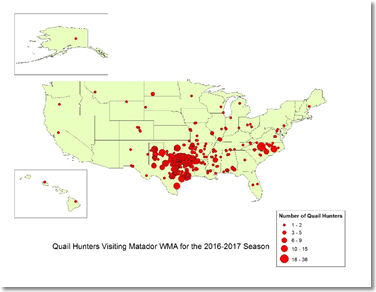 ---
11,873 - The number of quail (bobwhites and blues) leg-banded since 2008 at RPQRR.
I've taken lots of covey rise videos over the past several months. None I'm any more proud of than two taken during a hunt with Texas Brigade's new Executive Director Natalie Bartek; see my posts of 8 Feb to share the fun.
Mark your calendars for encore efforts on tap for 2017
Two efforts are slated for 2017: (a) "QuailMasters-Encore!" will be the last opportunity to experience the "adult version" of Bobwhite Brigade. Over a course spanning 4 sessions and 4 months, participants will tour some of Texas' premier quail properties and learn from landowners and professors alike. Sessions have been set for (1) Snyder (RPQRR), (2) Hebbronville, (3) Vernon, and (4) Abilene. For more information, contact Clint Faas (cfaas@texas-wildlife.org) .

The other effort will be a redux of the Statewide Quail Symposium on August 16-18, 2017 in Abilene. The agenda should be firmed up by next month.
Got a new e-mail address? Please [Click Here] to update your information if you wish to continue receiving e-Quail.
Forwarded from a friend? Please [Click Here] to sign up for the RPQRR e-Quail Newsletters!