A crescendo of covey rises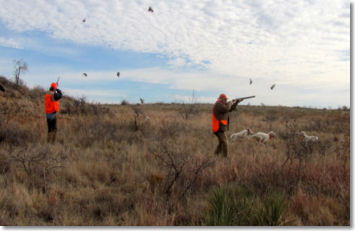 It's said a quail hunter's year is divided into three "phases." The "participation" phase runs from November through February, and what a phase these last couple of years have been for those of us in west Texas. But alas, it's over (March and April are months of decompression for me and my dogs). Then comes the "recollection" phase (March-July), a time where we re-live the season's highlights via photographs, articles, and social media. Finally, somewhere in July we slip into the "anticipation" phase where we keep our eyes peeled for any news of quail forecasts and our antenna up for rain reports and bargains on shotshells. We organize our gear and take a sniff off of any spent shotshells we find. We hope our forecasts and Zugenruhe propel us through the Dog Days of August into the first cool mornings of October.

As we're coming off of a "quail high" (interpret that as you wish), it's time to reflect and savor. At the recent Park Cities Quail banquet last month, the committee had prepared a video of covey rises ("Wild Quail Hunting in Texas") as a videographic appetizer to get the crowd in the right mood. See it here. Well done Park Cities, and thanks for the memories. Many of the scenes were taped at RPQRR . . . what better way to highlight our "results."

---
Sponsor Spotlight: Park Cities Quail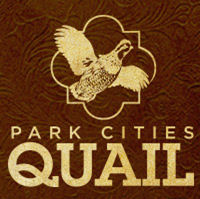 Arising from the ashes of Quail Unlimited's implosion in 2007 like the mythical Phoenix, a group of sportsmen in Dallas formed Park Cities Quail, which proved to be RPQRR's largest donor (over $4 million to date). Park Cities is one of 14 chapters of Quail Coalition. It's annual banquet features the T. Boone Pickens Lifetime Sportsman Award, which was bestowed this year to venerable TV news anchor Tom Brokaw. Later this spring, they will be disbursing almost $600,000 in grants for quail research. See www.parkcitiesquail.org FMI.

---
And they're off!

In our part of Texas (at least) we seem to be 2-3 weeks "ahead of schedule" season-wise. A warm winter (let's just say "hot") had the mesquites breaking bud here at my house on March 15, when they "normally" don't do so until Mar 24-27. We haven't documented any hens nesting at this point, but we've observed pairs for nearly a month now. A trip to my lease in Howard Co. on March 17 was greeted with bobs and blues whistling with anticipation.

Must admit I'm a bit wary of such warm winters, and hope they don't signal a hotter than average May—August. Many of you were blessed with a good rain (2+ inches last week) last Tuesday which should have you looking good. The rain clouds did what we call the "RPQRR split" at the last minute and we received 0.68", but it was much appreciated.

Our range conditions are looking good, and we've been blessed with a salad bar of greens all winter long. But if April rains don't come, all those winter annuals will be straws depleting our soil moisture quite rapidly.

---
QuailMasters "covey up" at RPQRR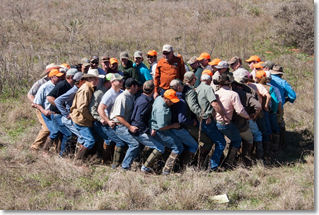 The QuailMasters '17 class held their first of four workshops at RPQRR last week. The group, a record-setter of 46 "Students of Quail" spent Monday morning learning how to conduct whistle counts, evaluate habitat, and discussed salient points of quail management. The session was topped off with a lunch of Mikulik sausage. Subsequent tours in Hebbronville, Vernon, and Abilene are planned over the next three months. In this photo (courtesy of C. Faas), I convene a "Habitat Lap Sit" which demonstrates the basic needs of quail (food, water, shelter, space) and proper interspersion. Good job guys and girls!

---
How many coveys did you say??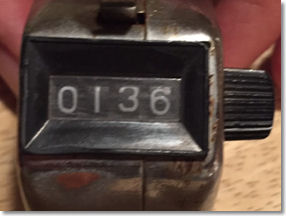 When was the last time you had a 136 covey outing . . . in only 3.5 hours???? That's how many I saw last month at RPQRR! Oh, I should add . . . from a helicopter. We fly helicopter counts in Nov and Mar as one of our "census" techniques. This was the highest spring count we've ever tallied, and down just 13% from last November's record count. And, for the record, we shot 556 birds during the season. Looks pretty incredible right now as per spring breeding capital. Going to be an interesting summer to monitor nesting.

---
RPQRR overgrazed??

Yep, it's true. I didn't think I'd ever see it—especially since I've harped on the sins of overgrazing as a chronic issue in quail management for most of my career. How can it be? After all, we haven't had a cow on most of the ranch since 2007. But when you fly over it in a helicopter (as we did March 9 for our annual spring count) or as you try to entice the flames of a prescribed fire across a discontinuous fuel load, it's painfully obvious. What can I say but "rats!"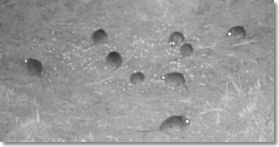 Starting in the summer of 2015, we had a huge boom in our cotton rat population. We caught more "newly captured" cotton rats in the first week of trapping that summer than previous trapping seasons had caught all year. The population increased through the summer of 2016, and we had the largest cotton rat population on record. Why do we care? Cotton rats and other small mammals may act as a buffer for quail predation. They also have similar diets as quail, in addition to eating foliage and stems of plants. This led to the question, about how many rats did we have per acre? As an attempt to answer that question, I tasked technician Christine Palmer to estimate our "standing crop" of cotton rats during the boom. The following is her algorithm and logic.

When we trap at RPQRR, we set out a 5X5 grid of Sherman traps spaced about 10 meters apart (a grid encompassing about 1,600 m2). We put 5 of these grids in 8 different habitat types: CRP, food plot, riparian, prickly pear, rocky outcrops, sandy soil, old field, and mesquite woodland. To estimate how many "rats per acre" we had across the ranch, we first had to estimate how many rats we had per habitat type by using the Schnabel mark-recapture method. Then we had to determine the area we were sampling. The average home range for cotton rats is around 0.35 ha (0.86 acres) (Cameron and Spencer 1981), which equates to a 60-m buffer around the grid. Using this buffer and the known area of the grids, we calculated our effective survey area of 31.6 acres. We then estimated the number of cotton rats per acre, as follows:

| | | |
| --- | --- | --- |
| Habitat Type | Rats per habitat (mark- recapture estimate) | Rats per acre |
| Mesquite Woodland | 127 | 4.0 |
| Old Field | 256 | 8.1 |
| CRP | 194 | 6.1 |
| Food Plot | 34 | 1.1 |
| Prickly Pear | 298 | 9.4 |
| Riparian | 102 | 3.2 |
| Rocky Outcrops | 110 | 3.5 |
| Sandy Soil | 203 | 6.4 |

After calculating the acres of each habitat type on the ranch (with ArcGIS), we extrapolated these estimates to indicate how many rats there were across the RPQRR (4,400 acres). Based on this methodology, we estimated 5.6 cotton rats per acre over the whole ranch. This allowed us to put into perspective just how high our rat numbers were. At 5.6 rats per acre, we estimate about 24,640 rats on RPQRR in the summer of 2016.

What role do these rats play on our quail populations? Are they a buffer species? Or could they be competitors of quail at these high numbers? In a way, cotton rats "graze" the landscape. They weave paths into the grass that became conspicuous in a "boom" cotton rat year. In theory, they may be reducing cover for quail or competing for food. However, little is known about the interactions between quail and cotton rats here on the "western front," especially in years where both the quail and cotton rat numbers exploded. This would be a good topic for continued research­— to be able to fully understand if cotton rats have a positive influence on quail survival or mortality, or if in fact they have a negative impact.

Reckon how many "animal-units" that 25,000 rats equates to? I couldn't find any conversion factors from rats to AUs, so I arbitrarily said 100 rats/AU, which gives a "stocking rate equivalent" of 250 AUs, or a stocking rate of 1 AU per 17.6 acres. "Proper" stocking rate for cattle on this type of rangeland might be 35 acres/AU. With these assumptions, the RPQRR was "overstocked" pretty severely. Now, I hadn't seen a rat boom like this one since 1992, so the overgrazing is acute, not chronic . . . a High Intensity – Low Frequency grazing system I reckon.

May be a moot point for time being, as our cotton rat abundance decreased by 97% from January 2016 to January 2017. Up to this point, our bobwhite abundance has tracked rodent abundance in a linear fashion . . . now that the cotton rats have crashed, we hope the quail don't take a nosedive too. Stay tuned.

---
Word of the month

perpend; verb, "to reflect on carefully", "to ponder." Do you perpend the vagaries of quail management as you drive down the road? I do.

---
Song of the Month

"Danger Zone" by Kenny Loggins; reckon a quail perpends on the thought of being in the "danger zone" as nesting season approaches? Raising a family is hazardous to one's health!
---
Seed Appreciation Day – Postponed!

Our "Seed Appreciation Day" which was scheduled for Wednesday, May 3 in Abilene has been postponed for time being. Stay tuned for new date.
---
Weird Quail

Each year we have reports of quail being shot that have breasts resembling that of a duck with "rice breast." Rice breast in ducks is caused by a protozoan (Sarcocystis rileyi), whereas the culprit in quail is a nematode roundworm of the genus Physaloptera. These nematodes occur in quail at the larval stage and form a cyst around themselves creating the appearance of a rice grain. Identification to the species level has yet to be determined. Definitive hosts (i.e., host in which sexual maturity and reproduction occurs) have been reported as canids, felids, reptiles, and other mesocarnivores. The intermediate host is an unknown arthropod. Physaloptera rarely causes harm to quail. Although unappetizing, infected quail are edible granted the meat is thoroughly cooked. (Photo courtesy B. Jones)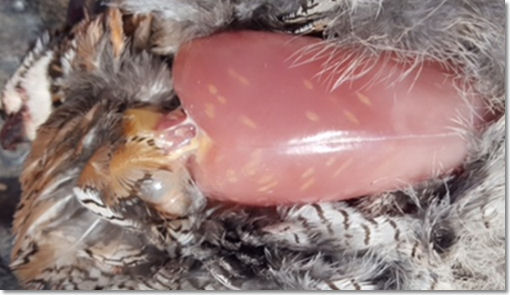 ---
RPQRR's Wish List – Can you help?

Our support for quail research comes almost exclusively from private donors. Perhaps you would like to help us help quail. We have need for various pieces of equipment. If you would like to donate, RPQRR is a 501(c)(3) nonprofit foundation, so your donations (cash or in-kind) are tax-deductible. Here's our current list of needs:

| | |
| --- | --- |
| Item | Need |
| ¾ ton pickup truck | Pulling trailers, carrying pumper unit for prescribed burns |
| 100-hp tractor | Food plot preparation, shredding |
| 15' batwing shredder | Shredding |
| Flagpole | Demonstrating our pride |
| Rear-tined PTO tiller | Renovating spreader dams |
| 12-ft tandem disc | Discing field prep |
| Sea container | Storage of equipment |
---
In the News

A quail hunt at RPQRR from 2016 was featured on OutdoorBound TV recently. Thanks to Kurt Walbeck making the trip down from Eu Claire, Wisconsin to tape it! (https://youtu.be/juyL9GDOtTI )

Dallas Morning News' outdoor editor Ray Sasser quoted Dr. Rollins throughout an article entitled "Why quail research still matters." (http://sportsday.dallasnews.com/other-sports/outdoors/2017/03/04/quail-research-still-matters).

---
Quail calendar
April 13, Texas Quail Index training, San Angelo; fmi Amanda Gobeli, agobeli@tamu.edu;
April 29, Texas Brigades 25th anniversary celebration, Fredericksburg; fmi Natalie Bartek (natalie@texasbrigades.org);
April 30 – May 2, QuailMasters, Session 2 – Hebbronville; fmi Clint Faas, cfaas@texaswildlife.org;
June 10-14, 25th Batt. Rolling Plains Bobwhite Brigade, Valera; fmi see texasbrigades.org
August 16-18, Statewide Quail Symposium, Abilene; fmi Amanda Gobeli, agobeli@tamu.edu
---
Intern diaries

This item is being replaced for time being with some essays from Bobwhite Brigade cadets who participated in their first quail hunt last January. Thanks to the Rio 42 Ranch for hosting us. This month's story is by "New Deal" (reminder that I give all cadets a nickname, and being as all are less than 18 years, of age, I'll make reference to their sobriquet. New Deal is fourteen—
she spoke last Sunday evening to the QuailMasters class and duly "wowed" them with her public speaking and poise. – DR

The RIO 42 hunt gave me an opportunity that I never would have had otherwise: the chance to hunt upland game birds. From an early age, I have loved wildlife and the outdoors. My dad grew up quail hunting, and years of listening to the tails of his childhood hunts gradually instilled me with a deep desire to experience the same thing myself. As fate would have it, my obsession with hunting had its genesis simultaneously with the worst years of the drought, and thus, the great quail decline. Because of this, I have never been able to hunt quail, or any other upland game bird. Even when quail numbers made a miraculous recovery, I was unable to find a place to hunt. Attending the Bobwhite Brigade and learning about the gamebird that I had heard so much about only deepened my desire to pursue it in the field.

When I was given the opportunity to hunt quail at the RIO 42 ranch I was ecstatic; for the first time in my life I would be able to hunt upland game birds. The hunt was all I envisioned and more. Not only were we given the chance to hunt bobwhite quail, but also pheasants and chukar. Prior to this hunt, I had never seen a chukar. I had never imagined the size or majesty of the pheasants that I had previously only glimpsed in the field until I had witnessed a rooster flush from beneath my feet and held it in my hand. Now my first pheasant and chukar stand alongside my first deer with equal importance and gravity in my mind. Although I did not harvest a bobwhite quail, I now have the upmost respect for their ability to evade detection and to survive. They outwitted us at every turn, and now I have a greater understanding of what it takes to survive as a bobwhite quail.

I thought that I loved to hunt until I had seen the dogs in action. Every fiber of their being and every fabric of their mind is driven by the urge to hunt. The ease and skill with which they cover a pasture and locate birds is awe-inspiring to me. Half of the pleasure of the hunt is watching them work, for the pursuit would be incomplete without them. No matter the difficulty of their task, there was nothing that the dogs would rather be doing. The only thing as impressive as the dogs was their masters.

Even more valuable than the chance to hunt upland gamebirds was the opportunity to learn from the people who had given us the means and the guidance that we needed to hunt. Each one of them is a scholar in their own right, and the knowledge that they passed on to us about hunting and conservation is priceless by any scale. Without them, we would never have had the knowledge necessary to hunt quail, and I am forever grateful.

Experiencing the impact that this hunt had upon myself, and witnessing the impression that it made upon my fellow Bobwhite Brigade cadets has inspired me to "pay it forward" and help others if I am ever in a position to do so, now or in the future. In closing, I am extremely grateful to Philip Brookey and the RIO 42 Ranch for granting us the privilege of hunting on their property and using their facilities. I never would have been able to experience the thrill of hunting upland gamebirds without their generosity, and now I am hooked for life. After this hunt, I finally have my own story to pass on to my family. I will never forget this hunt nor the people who made it possible as long as I live. From the bottom of my heart, thank you.

---
3,372 - the number of quail trapped during the most recent Spring trapping session. This is a 16% increase from last Spring's record number.
Technician Tierni Chun's post on March 1 of a "CSI" trapping scene of a dismembered dove garnered the most views this month (21.5 thousand). We often post "CSI" photos when we've incurred a mortality or other "crime scene."
Want RPQRR's printed newsletter?
Texas Quail hunters are, as a rule, an older lot. Older men (aka potential donors!) don't always use the internet for their communications, e.g., e-Quail News. So, we decided to offer a quarterly printed newsletter as a supplement to the e-version. If you'd like to be on the mailing list for the printed newsletter send your name and mailing address to Russell Graves, PO Box 68, Childress, TX 79201.
Got a new e-mail address? Please [Click Here] to update your information if you wish to continue receiving e-Quail.
Forwarded from a friend? Please [Click Here] to sign up for the RPQRR e-Quail Newsletters!