Quail Forecast: after further review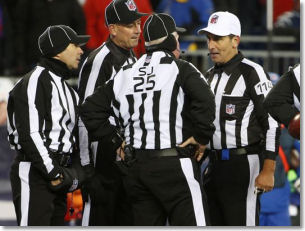 October is a month of anticipation. The caldron of July and September finally eases its grip on west Texas. It's time for college football and instant replays. In the August e-Quail, I referred to the upcoming quail season as "Disappointingly Average." Many disagreed and called for an instant replay. So, upon further review I'm now declaring it to be "remarkably average." Why the change of adjectives?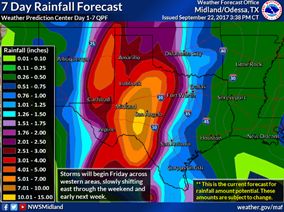 We're still dry—very dry. The YTD rainfall at RPQRR is a mere 13.53 inches; the driest year we've had since 2011. The widespread rains of Sept. 26-29 yielded just over an inch for us—the forecast earlier had hinted of up to 10 inches were possible and that RPQRR was in the "sweet spot." But alas. I'm going to make a long-range (30-day) forecast here: RPQRR's quail density will be about 1 bird per 2 acres, or about 40% of last year's record number. By weather standards, that prediction would have a margin of error of perhaps 1,000%!

So what do other "officials" see? Alan Peoples with Oklahoma Department of Wildlife Conservation told me recently that their counts in "my" part of SW OK were down 62%. TPWD released their annual forecast last week—the Rolling Plains have the highest long-term mean (21 birds/route) and this year's counts were a skoach higher (23 birds). That's down 53% from last year's "superboom." You can see TPW's' forecasts for various ecoregions at https://tpwd.texas.gov/huntwild/hunt/planning/quail_forecast/forecast/ .

Given our dry weather, I think only a 60% reduction at RPQRR is pretty remarkable. We'll conduct fall covey call counts this month, and make preparations for our annual fall helicopter counts and trap-band efforts next month. These metrics will give us our best "instant replays", but our roadside counts have proved to be as accurate as helicopter counts for assessing quail abundance. The results from this year's roadside counts showed an average of 204 quail per day along our 20-mile route (about 10X higher than TPW's average for the Rolling Plains). We repeat our counts 4 times during September. These numbers are down 60% from last year's daily average of 510 birds per 20-mile route. Graduate student Brad Kubecka took these data and he estimates a "minimum known population" (i.e., how many unique birds we'll trap come November) of 2,005 birds at RPQRR (95% Prediction Interval: 1,686 - 2,325).

Don't be too depressed by these numbers—we still have "average" numbers, and average for the Rolling Plains is pretty darned good! The 50-covey days experienced last year were the anomaly, now it's back to 20-covey days, a metric most of us we're proud to achieve most years. Barrett Koennecke (formerly with RPQRR, now TPW biologist in Fisher County) put things in perspective pretty well with these comments. "If you're a young quail hunter like me who only started looking at quail in 2008, then things are looking pretty good. My historic memory is not very long compared to some of the old timers that remember "back in the day". But be prepared for fewer coveys, smaller coveys, and wilder birds (i.e., more "Yogi" quail than "BooBoo" quail). Bird dogs will have to be a bit sharper this year.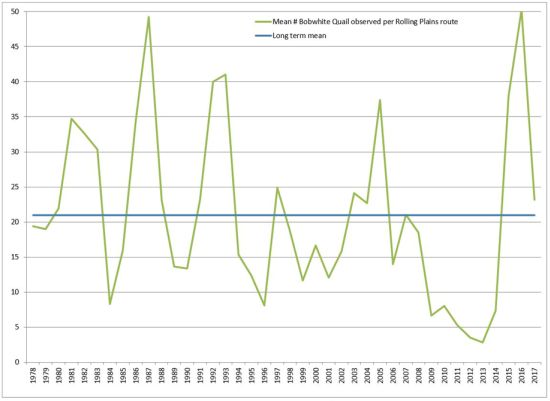 ---
Song of the Month

Here in the Real World by Alan Jackson

---
Word of the month

skoach; had to go to the "urban dictionary" for this one; it means "to move something a tiny distance.
---
BATR (Back at the Ranch)

Busy month ahead here at the Ranch. The crew will be conducting fall covey-call counts (replicated twice) at all of our odd-numbered Mile Markers. They'll be sampling ragweed seed abundance on burned vs. unburned sites, getting the fall food plots planted, and pre-baiting for November's trapping session (we have 296 trap sites).
---
RPQRR's Wish List – Can you help?

Our support for quail research comes almost exclusively from private donors. Perhaps you would like to help us help quail. We have need for various pieces of equipment. If you would like to donate, RPQRR is a 501(c)(3) nonprofit foundation, so your donations (cash or in-kind) are tax deductible. Alternatively, if you'd like to make a cash donation and have it earmarked for one of these items that's great too. Here's our current list of needs:

| | |
| --- | --- |
| Item | Need |
| 100-hp tractor | Food plot preparation, shredding |
| 15' batwing shredder | Shredding |
| Shop-style drawer toolbox | Tool storage |
| Flagpole | Demonstrating our pride |
| Sea container | Storage of equipment |
| 12-ft tandem disc | Discing, field prep |
---
Quail calendar
October 5, first-ever "Urban Quail Appreciation Day"; San Antonio; contact Helen Holdsworth fmi (210-884-3712).
October 28, Opening Day of 2017-18 quail season.
---
From our Facebook page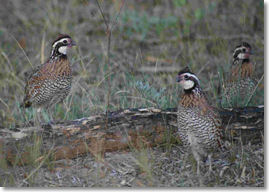 Our top-ranking post for September was Skyler Henderson's note (9-11) on bobwhites with purple-colored faces. "Driving around in the field it is difficult not to notice the many prickly pears covered in ripening tunas, or the pink coyote droppings littering the roads. Prickly pear tunas are a food source relished by many species of wildlife from birds to mammals. The tunas are packed full of pancake-shaped seeds that are dispersed after being passed through the digestive systems of animals. This also makes seeds readily available for quail. Quail will also eat the flesh of the tunas if they are in reach, the result is the occasional sighting of purple-faced bobwhites this time of year."

---
Coming soon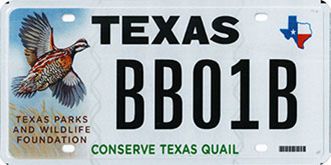 (details to follow soon!)


---
7 -That's the number of radio-marked quail killed by rattlesnakes (thus far) this season; our previous record was 4 (in 2009).
Got a new e-mail address? Please [Click Here] to update your information if you wish to continue receiving e-Quail.
Forwarded from a friend? Please [Click Here] to sign up for the RPQRR e-Quail Newsletters!