Bird dogs, chili, and the quail season forecast?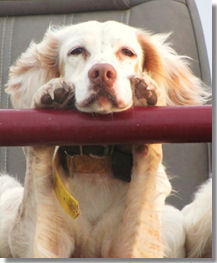 Recently I presented the 2018 quail season outlook to the Park Cities Quail Coalition in Dallas. I began my dirge by proclaiming I had no good news relative to quail season. My pessimism set a somber tone for my comments. I contemplated breaking out into a chorus of "No Quail, No Quail" but thought better of it.

As I made my way back to San Angelo the next morning, I realized I had made a mistake. No, the quail outlook still isn't very good, but I should have sought to put a more positive spin on our situation. We had enjoyed some good chili that evening (thanks Jay Stine!) so I recalled what some folks say of chili: "when it's good, it's really good . . . and when it's bad, it's still pretty good." I submit quail season is the same. I know it is for my bird dogs. They never get down in the mouth about the opportunity to hunt for quail—I reckon we could (should) appreciate the same opportunities.

Point No. 7 of Suzie's 12-point Plan for Success admonishes "be afield whenever possible." A Latin proverb supports the notion with "the dog in the kennel barks at his fleas, but the dog that is hunting does not notice them." Keep your chin up. Despite the quail forecast my health is indeed better in November."

---
RPQRF's New Website Takes Flight

As the end of 2018 approaches and a new quail season begins, we are pleased to announce our updated website has taken flight at QuailResearch.org. Here you will find information about our foundation, Research Ranch, ongoing research projects, and the latest news articles. The new Resources tab includes answers to Frequently Asked Quail Questions (more coming soon), our library of informational "webisode" videos, newsletter archive, and links to other agencies, research groups, conservation organizations and useful publications.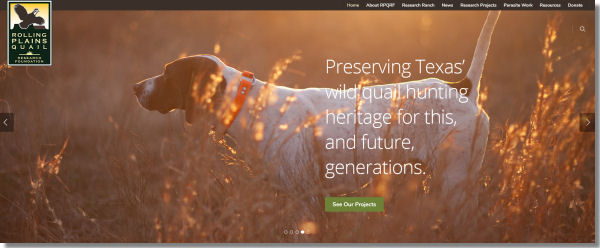 Lastly, we've created a more expansive charitable donations page that includes details on how you can help our foundation continue its important work. As a 501(c)(3) charitable organization, we rely on financial support from private donors to make a huge difference for quail. The hunting season for funding never ends, so please help us solve the quail equation when considering year-end charitable contributions.

Comments/questions about the website or how you can help should be sent to our Director of Development, Phil Lamb, at plamb@quailresearch.org.

---
Babe's accolades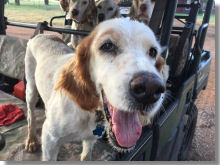 "His master replied 'Well done, good and faithful servant." - Matt. 25:23

Adios Babe....indeed you were a good and faithful servant for nearly 15 years. She suffered a stroke on 10 Oct, much like her littermate Deuce did two years before. She was the only dog I've ever had bitten by a rattlesnake; got her square in the jaw muscle. The toxin scarred her trachea and thereafter she breathed loudly . . . you could hear her coming like she had a set of Glasspack mufflers.

For the past two seasons she's enjoyed "Professor Emeritus" status atop my ranch buggy or Kawasaki Mule. We experienced quail hunting in west TX at its best (2016) and (perhaps its) worst (2012). I've bragged on you often for your pointing prowess in the grouse woods of MN, the prairies of MT, and the mountains of AZ. I will always remember your "coming out party" in January 2005 in the company of baseball pitching legend Nolan Ryan—you were only 9 months old at the time. Your mother Li'l Annie blessed you with a big heart, stalwart work ethic, and a soft retrieve. Whenever there was a pat on the head to be given, you were always there to claim yours first. Sorry I had to be out of town during your final days—I thank daughter Krissa and son Travis for handling your final trip with the dignity you've earned and deserved. My hunting buddy Steve Sherrod is surely correct when he reminds me "we are blessed men" for the times we get to spend with dogs like you. Your legacy lives on in daughter Shaggy.

---
Song of the Month



"Babe" by Styxo

---
When it rains, it pours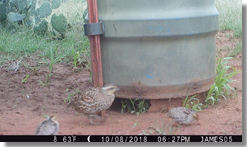 Our rain gauge registered 13.4" (YTD) on 1 Oct. Over the next three weeks we almost doubled our YTD rainfall (we rec'd approx. 10" during Oct). Many have pondered "will the bountiful rains stimulate a good late-season hatch?" My opinion is "no"; we will undoubtedly see some late hatches but IMO they won't "pull our fat from the fire." I hope I'm mistaken. By contrast, areas in south Texas have a better chance to witness a late-summer resurrection. Even if we had some late-broods on the ground, I'm worried that the sustained cold, wet weather experienced this past month may have proved a death knell for young quail (e.g., < 6 weeks old). A juvenile quail needs to be fully-feathered (about 8 weeks of age) in order to properly "thermoregulate" during such cold spells. The three chicks pictured here are perhaps 5 weeks old.

---
Heads sought for Eyeworm Surveillance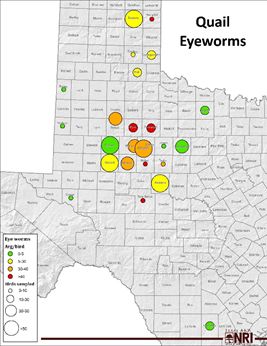 Last January, we solicited heads of bobwhite and scaled quail in order to assess them for the prevalence of eyeworms. Our goal is to produce a "heat map" showing prevalence and intensity of eyeworm infections. We hope to repeat this type of surveillance effort during the 2018-19 season, but recognize samples will be more difficult to acquire (due to low quail abundance). The grant we received from Park Cities Quail includes funds to hire a technician for this effort in 2019.

If you wish to participate, save us 10-30 heads from your county (and a corresponding wing from each). Put each head (with wing) in a Zip-loc bag and include the date and county of harvest. See the attached pdf submission form. Contact me (drollins@quailresearch.org) for shipping details. If you live in the Dallas area, you can drop samples off at Collector's Covey, or if in Houston at Gordy & Sons.

---
Quail donors sought for latest translocation study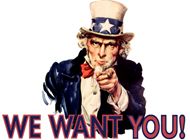 Yep, we need your money, and now we're asking for philanthropy that's equally as important: we need 200 wild-trapped bobwhites for our latest translocation effort in Erath Co. The study, which will be headed up by Tarleton graduate student John Palarsky, is funded by the Park Cities and Cross Timbers chapters of Quail Coalition, Tarleton State University, and the landowner. We need to identify 8 (or more) landowners who will let us trap 25 bobwhites from their property. Trapping would take place in mid-March but baiting would require access beginning about 15 Jan. Given the low abundance of quail this year, a "perfect" location would be a deer-hunting property that has quail, but is likely too thick to hunt them. The closer to Erath Co. the better, but we're prepared to travel further west. Contact me (drollins@quailresearch.org) if you're willing to cooperate.

---
From our Facebook page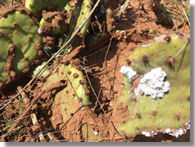 Our top FB post for last month is my post from October 3, featuring "cotton bolls" on prickly pear pads. Actually the white substance is produced by the cochineal insect Dactylopius coccus which, when crushed, produces a wine-red colored stain (a natural dye named carmine). As kids we used to put the dye on our cheeks as "war paint"; perhaps Comanches did as well. The white substance is a waxy substance that helps protect the insect from predation and dehydration.

This post reached 10,694 viewers.

---
RPQRR's Wish List – Can you help?

Our support for quail research comes almost exclusively from private donors. Perhaps you would like to help us help quail. We have need for various pieces of equipment. If you would like to donate, RPQRR is a 501(c)(3) nonprofit foundation, so your donations (cash or in-kind) are tax deductible. Alternatively, if you'd like to make a cash donation and have it earmarked for one of these items that's great too. Here's our current list of needs:

| | |
| --- | --- |
| Item | Need |
| 100-hp tractor | Food plot preparation, shredding |
| 15' batwing shredder | Shredding |
| Shop-style drawer toolbox | Tool storage |
| Sea container | Storage of equipment |
| 12-ft tandem disc | Discing, field prep |
---
Vol. 10 No. 11
78.7% - That's the percent adults in our sample of trapped quail (n = 305) with 3 days' worth of trapping remaining. That computes to a J:A ratio of 0.27:1 . . . reflective of our poor nesting season and/or chick survival. Lots of "old" birds (>2 yrs old) in our population at this time..
We bid interim manager Trey Johnson adieu this week as he embarks for his graduate study at Sul Ross State University. Trey's research (under the direction of Dr. Ryan Luna) will involve parasitism of scaled quail in the Trans-Pecos region. IF you hunt in that area, remember Trey and his research as he will be seeking birds to necropsy. He can be reached at 940-391-8806.
November is a month for inventory for us. We will complete our Fall 2018 trapping session and conduct our helicopter count. We'll also be sampling western ragweed to inventory their seed production as impacted by various Rx burn treatments. Technicians will also be sampling filaree (Erodium spp.) for nutritional analyses . . . a good filaree year (like this one) tends to correlate with good reproduction next spring.
Got a new e-mail address? Please [Click Here] to update your information if you wish to continue receiving e-Quail.
Forwarded from a friend? Please [Click Here] to sign up for the RPQRR e-Quail Newsletters!