Wildly successful . . .

Conservation's Greatest Night—that's what Park Cities Quail's (PCQ) annual banquet has become known as. And they ain't just blowin' smoke! Over the past nine years, PCQ has raised some $6 million on behalf of quail conservation in Texas. The generous, sustained support of PCQ has funded RPQRR's annual operating budget (and in some years even more; a total of $3.3 million since 2008)—they are the wind under our research wings here on the western front. Each year the group celebrates someone as the T. Boone Pickens Lifetime Sportsman Award; this year's recipient was the renowned bird dog trainer Delmar Smith. Congratulations to all the volunteers of PCQ who help pull off this impressive, and wildly successful, event. Hope to see you there next March!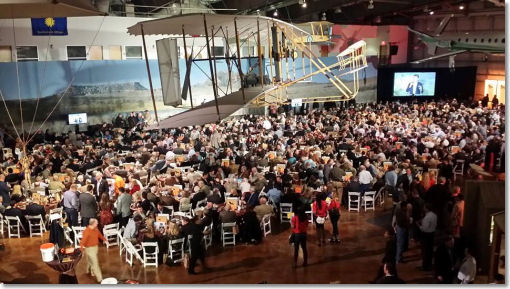 ---
Long-range Hunting Forecast for 2016?

So, what will be the mood of quail hunters come November? Recognizing that there are no old, bold quail forecasters, here's my tale-of-the tape for what may transpire. I've noted the positive factors (+), those less desirable (-), and those unknown (?).

Breeding capital (++)—One of the best predictors for how many quail we'll have this fall is how many enter the breeding season. The momentum afforded by last year's jubilee crop of quail is impressive. A mild winter has parlayed into "good" overwinter survival. May the games begin!
Let's get it on! (+)—Phenologically-speaking, this spring appears to be several weeks ahead of schedule. Pairing of birds was "suspected" prior to the end of hunting season. Refer to the March e-Quail for photographic evidence that the roosters were "ready to rumble" gonad-wise. I've already had one report of chicks on-the-ground from Victoria Co. Here's hoping they nest early, nest often.
Color my world . . . green! (++)—The much touted El Nino weather pattern has been mostly disappointing for those of us in west Texas (as opposed to the quail range in south Texas). Soil moisture is still "good" however, and we're awash with filaree and other cool-season annual plants. A verdant landscape in March usually equates to a good nesting effort. Two of our wetter months (Apr-May) are cued up.
Broomweed my broomweed, wherefore art thou? (??)—Will we see a return of the broomweed canopy that shielded our quail last year? Generally speaking it takes a wet fall-winter for good broomweed germination and establishment. If you see me bent over inspecting 2-inch seedlings over the next month, I'm probably looking for those of broomweed. But at this point I'm not optimistic we'll see a decent stand of broomweed this summer.
Who'll stop the rain? (?)—We should be on par (or ahead) for a good June hatch. And a June hatch makes or breaks us here in the Rolling Plains. How much second (or third) nesting we'll see is a function of weather from July-Sept. Will it be cool and wet, or hot and dry? The former condones summer procreation, the latter condemns it.
The rat race (?)—What will become of the irruptive cotton rat population? Our small mammal trapping in January showed we had more cotton rats than the record catch we observed last June. It appears as if they're eating themselves out of house and home here at RPQRR. In some areas, it appears the Ranch is overgrazed but we haven't had cattle since 2011. I suspect their abundance has provided buoyancy for our quail population (i.e., as an alternate prey source for coyotes and hawks). Predators should enjoy a boom year (again) this year, so more coyotes, bobcats, snakes and roadrunners will be around with which chicks must contend. I've never been a "student of rats" before, but I am this year.
Success in succession? (-)We likely won't see the flush of sunflowers or broomweeds we've observed the past two years. Plant succession marches on, and it's been three years since our landscape-wide "disturbance regime", i.e., the mega-drought of 2011-12. Drought is an unwelcome, and unheralded, part of our quail equation; it "cocks the hammer" and then rain "pulls the trigger."
These factors, and likely others, will act in concert to affect how many quail we see next November. Some are predicting that 2016 will top last year's numbers . . . I hope it does, but I'll take a more conservative stance. I think we peaked out last year (which I'll say was a "9"), so my prediction for this fall would be for a "6" (a little above average). I hope I'm eating crow (and quail) over this forecast come December.

---
Song of the month

Who'll stop the rain? -by Credence Clearwater Revival

---
Which management practices work best?

"I have been asked to come up with a list of the most effective habitat management techniques for quail. Most resources that I have read do not list the effectiveness of management techniques. I am trying to crowd source an answer from land managers with more on the ground experience than myself. In your mind, what are the most effective management techniques to improve management for quail? This topic came from a hunter and was originally "how do I get more quail on my property?" Any on the ground assistance would be appreciated." - JH Amarillo

DR's reply: First, let me invoke what I call the Texas Tech Theory of Relativity, i.e., "everything is a function of 'it depends." (Go easy Red Raiders [of which I am one] this is not an admission of naiveté—au contraire! It's just my way of saying things are rarely black and white in the ecological world. Forget Newton's 3rd law of motion, in the ecological world to every action there are multiple reactions—some of which are apparent, others which are more transparent.) "Effectiveness" as you seek to discern is a relative thing. Commonly recommended habitat management actions involve brush management, grazing management, soil disturbance (e.g., disking), prescribed burning, food plots, land use (e.g., CRP), water supplementation.

While things like food plots are sexy they often falter under our weather patterns here in west Texas. My experience per food plots has remained unchanged since 1988 "when you need them you can't grow them, and when you can grow them, you probably don't need them."

My recommendation is to become a student of plant succession, and to the degree possible (i.e., weather variations), master (well, at least understand) the concept. Use disturbance regimes like disking (Jan-Feb), seasonal grazing, and timing of mechanical brush management (conduct during fall-winter to enhance effects of soil disturbance). "Rollins' Rule of Plant Succession" encourages students to (1) "know your plants," and then (2) "know how to manipulate them" for your species du jour. In our case, know which plants are important to quail and then know which techniques ("axe, plow, cow, fire") foster that suite of plants.

Given the (albeit farraginous) toolbox of options available to the quail habitat manager, I'll take control of the grazing and the brush management as my first two priorities. Stock as lightly as you can afford to do so, perhaps half the NRCS-recommended rate. I seek for the range to be "undergrazed" in general and "overgrazed" in some areas (i.e., "spot grazing" is not the sin it's usually inferred to be by range managers; at least not to a quail—it promotes heterogeneity). While you can have cows and quail at the same time, you cannot maximize populations of both at the same time—seek to know and appreciate the trade-offs involved.

Use mechanical options for brush control as your pocketbook permits (it's more expensive than an herbicide). But the soil disturbance and selectivity afforded by mechanical methods make it my treatment of choice. Heed the advice of the carpenter, i.e., "measure twice and saw once" and the socially-responsible drinker "know when to say when." Appreciate Dr. Guthery's notion of 'slack" in habitat configurations; we're managing for a range of conditions, not a single point along the curve. I can have quail in thick brush with little grass, or in fairly thick grass with very little brush. If quail and bird dogs are high on your list of priorities, err on the side of the latter.

Finally, appreciate the impact that rainfall has as a driver to the quail equation. Practices that "work" in Victoria may not have the same utility in Ft. Stockton. During La Nina conditions anything you do may fail, while during El Nino everything "works." Optimal "range condition" for bobwhites in Goliad Co. (perhaps "Fair" range condition) may not be optimal in Gaines Co. (perhaps "Good" or "Excellent") along a sliding east-to-west (i.e., decreasing precipitation) continuum.

You may be able to better appreciate why various sources don't rate "effectiveness" of the various management practices—it's a moving target!

---
Smoke returns to RPQRR

Drought and burn bans handcuffed our efforts in prescribed burning since 2011. But we were able to become pyromanagers again last month. We burned the northern halves of the Doc and Suzie pastures. Each lays adjacent to US 180 so smoke management (i.e., keeping smoke from crossing the highway) is our top priority. We burned for two days without incident. Thanks to the various volunteers who helped out. The early green-up precludes us from burning any more for this Spring. Stay tuned for a "Fire Appreciation Day" slated for late-May where we will tour recent burns and fire-related experiments. Details forthcoming in next month's newsletter.

---
Ask Dr. Rollins

PB from College Station writes: "My hunting buddies and I have noticed over the past two years that the Bobwhite Quail seem to have become a bit wilder than in years past. They seem to run more and flush much sooner. We hunt with some pretty impressive Brittanies, pointers and Setters, some of which are very seasoned dogs, and there were days that these birds ran those bird finders crazy. Is it possible that what birds survived, were simply the toughest and wildest of the previous lot, or am I just getting older and slower? We hunted in the Hedley, Falfurrias and near Knox City areas. We found covey numbers similar to everything referenced in your latest Newsletter. Every covey of Bob's we found seemed much wilder than in years prior to the drought. The Blues seemed pretty much normal, or as normal as one can expect of Blue Quail. Have you experienced this and if so, what is your take on it?"

DR's reply: Well, most of us would say you weren't imagining things, there is consensus among my contacts that indeed birds were wilder than "normal" from the get-go (i.e., opening day). Some argue it was because of the "offspring were the F1s of incredible survivors" as you suggest, others suggest it was via the large coveys (perhaps 90% juvenile birds) and perhaps they were more "jumpy" than an "older" population. It only takes one nervous bird to make the covey flush. I don't know. Seems especially unusual because of how much cover we had, i.e., you'd have expected them to hold better this year. Regardless such behavior helped us to carry more breeders into this season.

---
Blue Quail Restoration Project launches in Knox County

Scaled quail (or 'blue' quail) in the Rolling Plains of Texas have declined more sharply than bobwhites and populations have remained depressed for about the last 25 years through dry and wet years. As a result, scaled quail have become locally extinct across much of their former range. Translocation could be a powerful tool to reestablish those populations, particularly in habitat isolated either through fragmentation or distance. Previous translocation efforts of bobwhites and scaled quail have met with varying levels of success: positive, negative, and equivocal, but the factors that determine success in a translocation effort are yet unknown. Past translocations have been ad hoc in nature, with limited ability for learning best practices. Identifying factors and understanding what makes a translocation successful is key to being able to include translocation as another 'tool in the toolbox' for wild quail conservation. A better understanding of the factors affecting scaled quail translocation also has implications for the application of this tool to other quail species including bobwhites. If translocation can be shown as an effective means of reestablishing a scaled quail population this understanding would allow biologists and researchers to target areas that have the highest probability of success and long-term viability. Becky has trapped and translocated a total of 388 blue quail that will be released at various times during April; until then the birds are "sequestered" in Surrogators and fed milo and a layer ration ad libitum.

If you would like to receive updates on this effort, or be present at one of the scheduled releases, contact Becky at beckruz13@gmail.com.

---
From our Facebook page

See the post from March 21 showing a covey of quail decimated by a February hailstorm near Pearsall. (Photo courtesy M. Hughes, QM '09)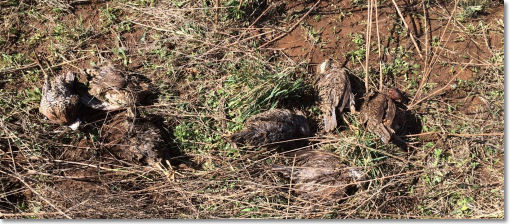 ---
Camera-trapping

Tina Meador from Stonewall Co. sends this picture of a 'potload" of bobwhites (and a few mourning doves) at a deer feeder on her place. How many quail can you count? I see 42. Keep those cameras running year-round—you just never know what you may "catch." Also see Michael Dake's post on the RPQRR Facebook page from Mar 28 where he provides a collage of various critters "caught" during our scent station surveys over the past month. As you get some interesting pictures, please share them with our readers; send them to me at drollins@quailresearch.org.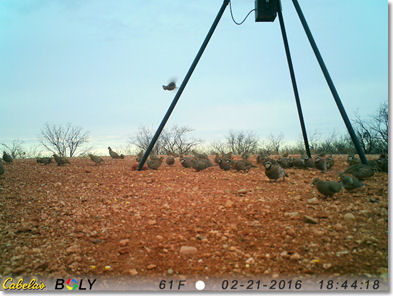 ---
Mark your calendar

19 May: "Getting to Know Your Quail" noon webinar with Texas Wildlife Association's Wildlife for Lunch series; FMI see http://www.texas-wildlife.org/images/uploads/Wildlife_for_Lunch_2016_flyer.pdf.


---
Want RPQRR's printed newsletter?

Quail hunters are, as a rule, an older lot. Older men don't always use the internet for their communications, e.g., e-Quail News. So, we decided to offer a quarterly printed newsletter as a supplement to the e-version. If you'd like to be put on the mailing list for the printed newsletter send your name and mailing address to Russell Graves at PO Box 68, Childress, TX 79201.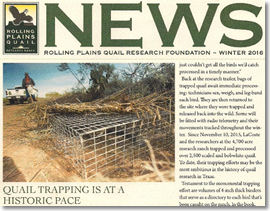 ---
Intern diaries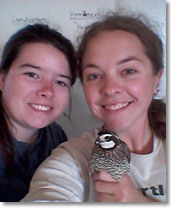 Our internships give budding professionals a chance to get some OJT and a taste of quail research. I require each intern/seasonal technician to leave me with an essay describing their experience at RPQRR. Here is Adrian Cain's story. Adrian (left in photo) is from Mississippi and departs RPQRR en route to a seasonal position in eastern Montana. I tell the recent interns they cannot believe how lucky they are to be at RPQRR during a "boom" as compared to the near-paucity of quail during 2010-13. But sometimes the bonanza comes with a cost, as Adrian comments on below. She handled some 9,000 quail during her 7 months with us. That's lots of long hours, but as Garth Brooks lamented "I could've missed the pain, but I'd have had to miss the dance." -- DR

When I first saw a roadless map of RPQRR, I thought to myself that there is no conceivable way I will be able to find my way around for the first several months. And when I took the wrong turn twice my first night here, I was sure of it. However, to my immense surprise, and several wrong turns later, I have no doubt I will remember my way around these 4,700 acres for years to come.

Coming from working in Oklahoma where the landscape runs from little bluestem to shinnery oak and back to little bluestem again, the ranch was a wonderful surprise, and I have certainly fallen in love with the landscape. From wading through the wintergrass and broomweed to ducking under mesquite trees and to skirting carefully around prickly pear and tasajillo, Texas has been one of my favorite places to work.

Not only have I expanded upon my avian experiences (as expected), but I have also collected new memories for reptiles and mammals. Having never trapped small mammals before, I was a little leery of being bitten and/or processing them in a timely manner. Thankfully, Alison and I make a good team. Even checking 250 traps a day during a record-setting year took us no more than the morning hours. While I will hopefully be able to forget the smell when four adult cotton rats find their way into a single trap, I doubt I will forget the very angry pocket mouse that would not stop screeching at me to put him down. During the trapping season, we were told that a quail had once made its way into a Sherman trap, and we anxiously awaited our chance to document such. Sadly, we never caught one there. We did, however, catch several sparrows, meadowlarks, and a thrasher.

Before my first day of working, I was told there were three "fire-able offenses": Playing rap music on ranch vehicles, not carrying your field notebook, and not wearing snake leggings/boots. This last one unnerved me. While I have worked in areas where venomous snakes are abundant, this would be the first time I saw them while working. That being said, I was incredibly excited about the non-venomous reptiles I could see (and pick up!) in Texas. From bullsnakes to garter snakes to coachwhips, hognosed snakes, horned lizards, and turtles, I had a blast. Anything I could catch was quickly immortalized in pictures. But, enough about that, this is quail ranch! You want to hear about the birds, right?

Before coming here, I believed my telemetry and trapping experiences would easily prepare me for the experience of working on this ranch. I was quite wrong. While trapping quail in Oklahoma and grouse in Nevada, everyone with whom I worked was satisfied, if not ecstatic at our numbers, from 50 grouse to a little over 100 quail. We were excited every time we would approach a trap that held a bird, over the moon when a trap held 10 quail. Oh, how the expectations changed here. This year with our excellent rain, quail cover and insect populations provided for a jubilee quail year, which I have had the privilege to experience at a place like this.

By the time I have left here, I will have helped process nearly 9,000 quail. I can no longer count how many birds I have banded. I can no longer count how many hours I have spent trapping birds. I can no longer count how many I have released. Going to back to being excited at a trap holding 10 quail? Well, my first night trapping here, I pulled 32 quail out of one trap. All told before coming here, I had processed less than 100 birds myself. My first night trapping here? I caught 103. I currently hold the record on the ranch for most birds pulled out of a trap (38), and in one day of working I helped process 378 quail. I selfishly hope this record is not defeated for a long time. Nothing could have prepared me for the amount of time and effort quail trapping entails upon this ranch, but, even if I had known, I would not have forgone the experience anyway.

---
2,936 - That's how many individual birds were trapped at RPQRR over the last month. That compares to 3,149 trapped last November. Nearly half (43.3%; 1,271 birds) were not banded previously. That compares closely to the percent of non-banded birds (44%) shot during January quail hunts (a total of 131 birds). The juvenile:adult (J:A) ratio from last month's trap sample was 6.2, as compared to 7.7 as estimated from the hunt data. As "good" as our trapping totals were, they were still quite conservative. We like to think we catch 80% or so of our birds with our trapping effort, but not this year. We speculate some of the "new" birds were immigrants from adjacent properties, as traps near our boundaries often had a higher proportion of non-banded birds. Based on these projections we're heading into the breeding season with a very good density (0.67 birds per acre based on trap take); if we assume we only trapped 47% of the population, the estimate is 1.4 birds/ac. Incredible! Now if we could just realize the production per hen we observed in 2015. But don't count on it.
farraginous; adj., "consisting of a confused mixture: formed of various materials in no fixed order or arrangement." See below discussion on efficacy of management techniques.
Got a new e-mail address? Please [Click Here] to update your information if you wish to continue receiving e-Quail.
Forwarded from a friend? Please [Click Here] to sign up for the RPQRR e-Quail Newsletters!