Will this year be an encore of 2015-16 quail season?

"For of all sad words of tongue or pen, the saddest are these 'it might have been."
- John G. Whittier

At this point I'm going to say "no." It's going to be a good year, but not quite up to the jubilee year we enjoyed last year. I should put bounds on my prediction . . . at least not on the RPQRR. Had we continued to get the rains we saw in April and May I would be more optimistic. We're setting at 14.2" year-to-date . . . but July has been brutal. Hot, dry weather does for quail reproduction as it does for a crop of milo—it withers. We plant some milo each spring, but a hot July or August leaves us needing just one more two-inch rain.

As of 1 August, we only have one of our radio-marked quail still nesting. Based on my anecdotal observations at RPQRR the average size of coveys is smaller than last year. I'm hearing similar reports from several other ongoing studies, and from some of you as well.

You may argue 'o contraire' as many areas (in just about every direction from RPQRR) have received ten or more inches more rainfall than we've collected. Our blue quail restoration project in Knox Co. has been blessed as have areas like Gail (Borden Co.). The rain clouds just keep doing the "RPQRR split", a phenomenon that I've attracted much of my life it seems.

I will be running my "quail trapline" over the next few weeks for the September e-Quail so stay tuned. Please keep me posted on quail sightings in your area. If you're not on my "official" quail trapline, but wish to proffer a prediction, send me (drollins@quailresearch.org) your idea as to whether the upcoming season will be "Better", "Worse", or "About the same" as last season. Be sure and include the county.

This past week I had two things happen that made me wince. First, as I drove to Santa Anna for the Buckskin Brigade, my mind wandered and I got a speeding ticket in downtown Miles. That'll set me back $264. Then on Thursday evening as I was returning home, just east of Ballinger, I came around a curve to find about 10, 3-day old bobwhite chicks in my lane (no adult in sight which made the chicks "invisible" until it was too late). I tried to straddle them, but took out two of them. I may have to revoke my "I brake for quail" bumper sticker.

---
Word of the month

encore; noun; "a repeated or additional performance of an item at the end of a concert, as called for by an audience." You'll see the term used in this issue on several occasions.
---
Song of the Month

"Once You've Had the Best" by George Jones

---
RPQRR's Wish List – Can you help?

Our support for quail research comes almost exclusively from private donors. Perhaps you would like to help us help quail. We have need for various pieces of equipment. If you would like to donate, RPQRR is a 501(c)(3) nonprofit foundation, so your donations (cash or in-kind) are tax deductible. Here's our current list of needs:

| | |
| --- | --- |
| Item | Need |
| ¾ ton pickup truck | Pulling trailers, carrying pumper unit for prescribed burns |
| 100-hp tractor | Food plot preparation, shredding |
| 15' batwing shredder | Shredding |
| Grain cart | Bulk purchase/storage of milo |
| Sea container | Storage of equipment |
---
Double Clutchin'

by Brad Kubecka, Graduate Research Assistant



Q: "I've been seeing a lot of big broods. Are the birds on their 2nd or 3rd hatch right now?"

A: Well …

First, it is important to distinguish the difference between 2nd, 3rd, and 4th nest attempts and 2nd or 3rd broods (i.e., successful, successive clutches). An average from 2009–present RPQRR data suggest about 12% of radio-collared bobwhite hens attempt a 2nd nest and a small handful attempt a 3rd or even 4th. There is much variation about this estimate for logistic and biological reasons. For example, perhaps a nest is depredated before being found or reproductive vigor is depressed for a particular year. In 2015 nearly one-third of our radio-collared hens attempted > 1 nest, but in 2011 none attempted a 2nd nest (few even attempted 1 nest)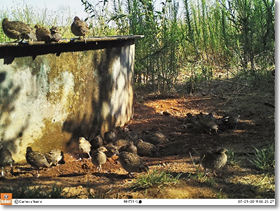 A question of probability

One way to describe the truth to our question lies in probability. Our question now becomes "what is the probability of a hen having 3 successful hatches?" A few parameters we might use to answer this question are 1) proportion of hens that lay a nest, 2) nest success, and 3) proportion of hens that re-nest after successfully hatching a prior clutch. When we calculate this probability, the product is multiplicative. For example, the probability of rolling a 6 on a die is 1/6, but the probability of doing it twice in a row is lower (1 in 36). Likewise, if the national average for bobwhite nest success is 28% (Rollins and Carroll 2001), the odds of having 3 successful nests is much lower (.28 x .28 x .28 = 0.022). Now consider factoring in the proportion of hens that even attempt a 2nd or 3rd nest after a previously successful hatch. And perhaps 20% of hens are killed while nesting. When we keep factoring in all the parameters, we find that the probability of a hen actually having 3 successful nests is very, very low. So where do all the big broods come from?

Putting it all together

We now know 1) not all birds attempt > 1 nest per season, 2) nest success is relatively low, 3) the probability of multiple successful nests is even lower, and 4) as an aside, chick survival is also relatively low. When we see large broods, other dynamics are likely in play. Some of these dynamics such as brood amalgamations have been discussed at length in previous newsletters.

RPQRR Quick Facts for Nests, 2009-16 ( ± SE)
Average Clutch Size: 12.8 ± 0.3
Hatchability (average % of eggs that hatch / clutch): 88%
Nest Success (%): 60.1 ± 3.7.

---
Scaled Quail Restoration to Historic Ranges in the Rolling Plains: Project Update
by Becky Ruzicka, Ph.D. candidate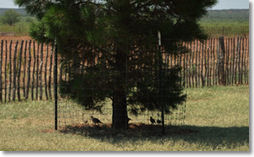 July was "more of the same" for the crew on the Knox County translocation site. We have continued to monitor survival of radio-collared hens and nesting success. Currently, 60 (55%) of the birds we released in April are still alive and on site. That's down from 75% one month ago. Only 10 of the original 112 we released are missing. Although I would rather not have any birds missing, if someone had told me back in March that we would only have 10 missing at this point in the season I would have said "I'll take it!"

The most encouraging aspect for me thus far has been the nesting effort, in terms of the number of broods on the ground right now and successful re-nesters. We currently have 24 hens with broods. Our hens hatched out 9 chicks per successful nest on average. Many of those broods are with hens that failed on their first or second nesting attempts but persevered on successive attempts. For a short-lived (i.e., r-selected) species such as quail, successful reproduction is paramount to growing or even maintaining the population. As such, it is also key for a successful translocation since what we are hoping for is essentially rapid population growth. Of course it's a two-part equation: hens must survive AND reproduce. But I would argue that the second part is likely more important. I hope to be able to answer questions like that empirically as we gather more demographic data from these first-year birds and their offspring.

The photo shows one of the two pairs with broods (dubbed "The Yardbirds") that have taken up residence in the yard outside the house we are staying at while on site. It's nice to have them so close at hand!

---
Mark your calendar for encore efforts on tap for 2017

Two efforts are slated for 2017: (a) QuailMasters-Encore!" will be the last opportunity to experience the "adult version" of Bobwhite Brigade. Over a course spanning 4 sessions and 4 months, participants will tour some of Texas' premier quail properties and learn from landowners and professors alike. For more information, contact Clint Faas (cfaas@texas-wildlife.org) . The other effort will be a redoux of the Statewide Quail Symposium on August 16-18, 2017 in Abilene. Details to come.

---
Camera-trapping



I encourage our students to employ game cameras in "unofficial" capacities (i.e., not related to a particular study) to eavesdrop on various critters. Beginning next week, I'll be posting some of their best pictures on our Facebook page with the winner (most views) earning a $250 prize. Here's a nice shot from a water trough in our East Tex pasture being monitored by Brad Kubecka. One person who commented referred to it as "Ninja blues." See our Facebook page for other neat photos at RPQRR.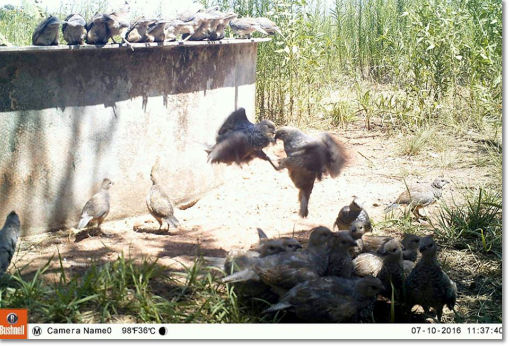 ---
Mark your calendar

3-4 Aug; "Bug Days" at RPQRR; no experience necessary; RSVP with me at 325-650-0311 if you wish to participate; lunch is on us!

24-26 Aug; Patch-Burn-Grazing annual conference, Childress; FMI contact http://www.eventbrite.com/e/patch-burn-grazing-meeting-tickets-25982036972

30 Sept; 9th annual field day, RPQRR.


---
Want RPQRR's printed newsletter?

Quail hunters are, as a rule, an older lot. Older men (aka potential donors!) don't always use the internet for their communications, e.g., e-Quail News. So, we decided to offer a quarterly printed newsletter as a supplement to the e-version. If you'd like to be on the mailing list for the printed newsletter send your name and mailing address to Russell Graves, PO Box 68, Childress, TX 79201.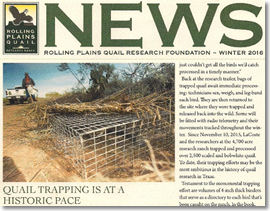 ---
Intern diaries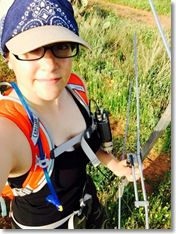 Here at RPQRR, we use inquisitive young professionals to help "put the legs" under our various research activities. This summer's crew has been a memorable one. I hope you've enjoyed their Facebook posts. This month's e-Quail features Alex Bouchard, an intern from the University of Montana. Alex turned out to be a "cover girl" for internships, as I think you'll glean from her comments below. Her major project was small mammal trapping which set another record for us here at RPQRR. She earned the nickname "Ruger" because the first time she ever shot any kind of pistol (in this case a Ruger .22 pistol) she was a "dead-eye." I was especially pleased to see how well she took to being volunteered as a Covey Leader at Bobwhite Brigade—now she wants to take the message back to others in Montana and start a Brigades-effort there. Whenever I watch Alex in action I think of Mark Twain's declaration that "it ain't the size of the dog in the fight that matters, it's the size of the fight in the dog." We'll miss you Ruger!--DR

Planting Gardens at the Rolling Plains Quail Research Ranch

You're probably sitting there reading the title thinking "What are they doing planting gardens at a quail research ranch?", but bear with me, there's a method to my madness. Rudyard Kipling once said "Gardens are not made by singing 'O how beautiful' and sitting in the shade." My career as a wildlife biologist is the garden—I already had the empty plot, and maybe a few seeds, but my internship at RPQRR provided a bag of seeds and the water and sunlight to make them flourish.

I arrived at RPQRR in May with a handful of wildlife biology skills and had expected to learn some new ones and strengthen the existing ones. I got way more than I had bargained for. As far as wildlife-related skills go, I already had some seeds planted for radio telemetry and small mammal trapping, but those seeds blossomed into towering and beautiful flowers. I spent most of my days tracking radio-collared quail - it's hard not to improve when it's a daily activity. Small mammal trapping was quite the experience, over the course of four weeks I handled over 1,700 individuals, 1,140 of those being first time captures and the rest recaptures. It was overwhelming and the hours spent checking traps were long, but you don't build a garden without work.

I learned how to dissect a quail and name all its anatomy, dissect a quail head for parasitic eyeworms, do whistle counts, check dummy nests, do some "quail CSI" work when I found a mortality, and collect arthropods in pitfall traps.

What I didn't expect was how many other skills I'd pick up along the way. I got here with no knowledge of ranch work. I had never driven anything other than a car and an ATV (maybe once in my life), nor had I ever used any sort of tools, not even a hammer. I can proudly say that I now know how to use a hammer (and I only smashed my thumb once!). I also had the opportunity to learn to drive not only all the off-road vehicles at the ranch but the tractor and a bulldozer too. You can't come to Texas and not learn to shoot firearms! During my time here I had the chance to, for the first time in my life, safely shoot a variety of firearms and it was a blast. I'm even thinking a new purchase is in order once I get home to Montana.

Skills play a big part of the seeds in my garden, but people can be seeds too. Being out here I had the opportunity to meet so many wildlife professionals and ask about their careers and the paths they took to get there. I admired the gardens they had built and want to follow in their footsteps. Some of the individuals I met even gave me contacts in Montana to follow-up with when I got home, something unexpected but that I am very grateful for. Other individuals let me tag along as they worked, from there I learned new skills and found some new interests, particularly in reptiles. Though I did have a chance to attempt banding doves, the doves were not cooperative enough to go into the traps. I saw the dedication of many of these individuals to their fields, their passion, and how that pushed them to participate in programs like the Texas Brigades Wildlife Leadership Camps that encourage responsible management of wildlife species, and may even one day influence the next generation of wildlife biologists. As I plant my garden, I lay it out as I have seen them lay out theirs, and I plant similar seeds and spend a similar amount of time out in my garden hoping that one day it will grow as large and beautiful as theirs.

In the opening hours of Bobwhite Brigade (I was drafted as a Covey Leader), Dr. Rollins tells the parents that they should measure their child before they leave, because by the end of camp they will have grown. I wish I had asked my loved ones to measure me before I left for my odyssey. I know they would've laughed and told me I wasn't going to get any taller than 5 feet. But they would be wrong. Physically, maybe I'm only 5 feet tall, but after this whole experience I'd say I've grown several feet.

In an internship you expect to learn work-related skills, you don't necessarily expect to find yourself or improve as a person. It took moving 1,600 miles from home and everything and everyone I knew to face my fears and overcome some of the obstacles life had presented me. I leave here knowing that despite my arachnophobia, I still slept in a room where I had found spiders, including some in my bed, and I survived. I leave here having fully conquered any remaining fear of public speaking or social situations, having to be a good role model for others at Brigades and giving a good war cry will do that to you. I leave having so much more confidence in myself and my abilities than I would have dreamed was possible. I leave knowing I can achieve anything I set my mind to and that when work gets tough, I get tougher. You can't turn a lump of coal into a diamond without heat, pressure, and time. I spent 3 months here in the hot Texas sun (something that us Northern folk don't comprehend), and there were days when the workload was rough and the days were long. But I'm feeling like a diamond now. I just need a little more polishing, but that is all up to me and my future decisions.

I can't stress the importance of internships enough. Everyone should take the opportunity to do an internship out of state or study abroad. Being immersed in a new culture with new people teaches you so much and leaves you with fond memories. It's good to get out of your comfort zone, that's the only way you grow as a worker and a person. Challenge yourself to try something new and fully commit to experiencing it, I tried so many new things out here in Texas and it was an amazing experience. I came here thinking Texas was one big hot desert, I realized during the first week that it does indeed rain in Texas and I probably should have brought a jacket, but I came home that day soaked to the bone with a huge smile across my face because this was an unforgettable experience and I loved my job. I leave Texas feeling a little more Texan, and feeling thankful for all the hospitable and kind Texans that I have met that enthusiastically shared their cultures and good food with me. I also leave knowing that I was fortunate enough to work with a fantastic group of individuals—it's not often your coworkers are also your roommates. It was three months spent laughing and encouraging one another and I am so grateful for that. I get to bring home such fond memories and know that somewhere out there my newfound friends will be benefiting the wildlife community.

As I bid adieu to the Rolling Plains of West Texas, I leave knowing I have grown and that I carry with me a garden that is not as barren as it was when I arrived. One that is beautifully planned out and even has some vibrant and vivacious flowers already in bloom. I will arrive home ready to continue to plant and cultivate a beautiful garden like those I admire. Happy gardening my friends and Carpe Diem!

---
109 - That's the new record for number of eyeworms removed from a bobwhite. We spent 2 days last week dissecting quail heads from various areas across the Rolling Plains. The origin of the new record will remain anonymous for the time being. As Bekah Mullen (a high school intern from Aspermont) declared after participating "makes me lose my taste for spaghetti."
Intern Alex Bouchard's post of a rattlesnake embryo (is that the proper term?) on July 12 had been viewed 21,826 times—a new record for our Facebook reach. Our Facebook page has 4,329 likes . . . I'm hoping for 5,000 by year's end, so check us out and like our page.
Got a new e-mail address? Please [Click Here] to update your information if you wish to continue receiving e-Quail.
Forwarded from a friend? Please [Click Here] to sign up for the RPQRR e-Quail Newsletters!