Early hunting reports suggest "holes in the pattern"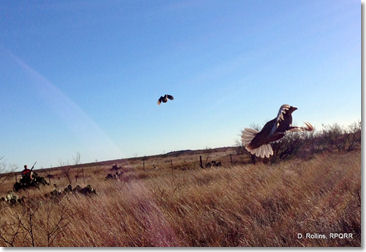 Riding on the coat tails of last month's "quail queasiness", I continue to get reports asking "where did they go?" Reports from my home country around southwestern OK were mostly pitiful, as are some reports from Rolling Plains and South TX. I'm still mostly immobile from knee surgery but limited drives through my own quarter-section of sandy land in Harmon Co., OK, didn't provide much solace to me or my dogs. Last year the quarter held a minimum of 8 coveys; I saw only 2 last week; one of 6 birds and one of 7. An early morning covey count suggested 4 or 5 coveys were nearby, but I didn't find them.

So, as misery loves company, I again polled a sample of my "quail trapline" for their observations, and results were mostly encouraging; not euphoric, but encouraging. Hold these reports up against a backdrop of warm, dry conditions, hence mostly poor scenting conditions. Areas from about Sweetwater northward had experienced at least one decent killing frost.

A.V. Jones of Albany (a Board member for RPQRF; I refer to him as "the Dean" of quail hunters) reports: "we started running dogs the 1st of October. We haven't hunted seriously yet. The covey count in western Shackelford is down at least 50% from last year. A good covey count is 5-6 coveys on a two hour run. Pockets of quail in eastern Shackelford are as good as last year. It hasn't anything to do with rain fall or cover which is good all over the county. We are hearing complaints from hunters all over the Rolling Plains area."

Steve Snell (Gun Dog Supply) is RPQRF's newest Board member and an avid bird hunter. He reports for leases in Mitchell and Borden counties. "We are finding between 4 and 6 coveys per hour. Average covey size is 15 birds. Juvenile vs adult birds seems to be around 50:50. Scenting conditions have been pretty rough. Hot and dry. Most days we are done before 10:00. Need rain and cooler temps."

Larry Gabel is a recent QuailMasters graduate and also hunts Borden County. 'We hunt grained roads from a UTV and are finding plenty of birds (bobs and blues). First hunt of the year we moved 57 coveys in 14 hours on 3 sections with baited roads. Bobs were consistently 10-12 birds and blues 16-40 birds. Observing about 40% juveniles in bobwhites and 26% juveniles in the blues."

Paul Melton chairs RPQRR's Advisory Committee; his property is located SE of Roby (Fisher County). "Only been out three times at the ranch, just mornings last week with temps in the 30's. Dogs with no conditioning, made the hunts short—I am averaging a covey every 15 minutes/finding 4 coveys per hour across the board Covey rises of 11-16 birds are the norm. Shooting just one bird per covey until I know more; limited harvest has yielded a 50-50 age ratio thus far. Paul also relayed statistics from a partner of his who hunts Borden County. "He is not a bird dog guy, but they ride the roads in a Gator and sight hunt using labs to retrieve. They have made about 6-7 trips thus far. Limits for 2 shooters each time, but overall he says numbers are down. They typically start at daylight and are finishing limits in 5-6 hours of hunting vs. 1.5-3 hours last season."

RPQRR grad student Brad Kubecka provides a report from southern Fisher County. "I ran dogs on a ranch 6 miles south of RPQRR and found 15 coveys in 4.5 hours... birds still seem decent here, and of course our bird numbers are still up at RPQRR."

Brad Bates (QM 2007) reports from several sites. "In Central Midland County: covey sizes are 8-40 birds (blues). Moving 4+ coveys per hour. Cover is short and tough to get good dog work. In Borden County late summer rains provided fair to good cover. Seeds of broomweed, snakeweed, filaree greens, and insects in crops. Seeing 3+ coveys per hour. Covey sizes are average. Quite a few young birds early in the season."

Rick Barnett reports from 2 properties in Runnels County. "Our best covey count during November was 36 coveys; our worst was 17. We hunt grained roads over a 4 1/2 hours hunt. On our west property (YTD rainfall 24.6 inches) we've shot a total of 93 birds with 39% juveniles. At our East site (YTD rainfall only 18.6 inches) we've shot 24 birds (29% juveniles)."

Chip Ruthven sends in early hunt results for the Matador WMA in Cottle County. "Hunters have taken 620 quail on the Matador WMA and are averaging about 1 quail/hunter day. Hunting has been somewhat slow. Best reports I have had are 9-10 coveys per day. Hunter success appears to be similar at the Gene Howe WMA. As of today, there have been 382 wings turned in (48% juveniles).

Ernest Angelo reports on blue quail from Midland County. "We have hunted twice. There are a good number of birds but coveys are smaller than usual. The juvenile bird count averaged around 20%. Conditions are good but very dry."

Stephen Howard reports from eastern Glasscock County. "Our numbers are down but covey sizes are way up. I think smaller coveys have gotten together, one covey we counted 30 birds—in the summer the coveys were much smaller. Very dry and poor cover across most of the ranch. There will be plenty of birds to shoot but down from last year."

Stan Kimbell (QM '07) provides this report from Stonewall County. "We have not really hunted that much yet so my observations are mainly through the eyes of an archery deer hunter. Coveys are far less numerous driving our fed roads than last year. Our average covey size appears to be about 10-12 birds even though I see an occasional 14+ covey. Our manager was so shocked by 'sudden disappearance" of birds he called me to drive out about a month ago to see what was wrong. We did a Fall Covey Count (admittedly in one of our better areas) and recorded 10+ coveys. I did observe a lot more birds on roads back in August than I am currently seeing. We will start our annual hunts on December 3rd, I know it will be less bountiful but I plan to savor it even more so!"

Reports are limited for south Texas as most won't begin quail hunting for another month. Irvin Welch (QM 2007) gave an early report for Jim Hogg County. "Five hunts so far (3 mornings, 2 evenings); 73 coveys moved (14.6 coveys/hr; average 11.1 birds/covey. A total of 63 birds bagged (58.5% juveniles). We seem to be fine so far, but I heard a report from a lease holder on the other side of Hebbronville who said their birds had basically disappeared."

Most of my fellow Okies were tuning up for a chorus of "No Quail, No Quail" but there were some more encouraging reports. Derek Wiley with Oklahoma Department of Wildlife Conservation sends this accounting: "This year Oklahoma has been down from the last couple of years. Averaging somewhere around 3 coveys/outing. Some hunters have done better and quite a few much worse. Opening weekend (Nov. 11) the majority of the wings I looked at were juveniles indicating late peak hatching but that was a very small sample size and was from NW Oklahoma, I have not been able to look at any wings from SW OK yet. Covey sizes have varied considerably from large coveys of 20 plus birds to small coveys around 8. Seems to be pockets of good densities around on some of our WMAs, just need to be in the right spot at the right time; those densities are not consistent across any of our properties. Certainly not birds under every bush as there had been."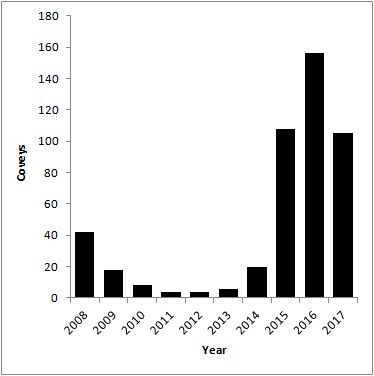 Our various counts and telemetry efforts at RPQRR have not suggested any implosions, though we're always as nervous as anyone about this time of year. So we were especially anxious about what the results of our Fall helicopter survey would reveal. Our survey efforts consist of 19 transects, running north-south, that represent a total 56.2 miles worth of survey effort. While in the air, we count everything from bobwhites to jackrabbits to whitetail deer. We marked positions of coveys using a GPS unit. The data we collected during the survey are used as an index and to help us create a point density map for the ranch. Based upon previous surveys (e.g., our recent roadside counts conducted in Sept), we predicted we would detect between 57-77 coveys. But to our surprise, we detected 105 coveys. While this is still down from the 158 coveys observed in 2016's survey, it is quite similar to our numbers observed during Nov 2015 (108 coveys). Our estimated density is about 0.85 birds/ac, which is quite good. These numbers have allayed our concerns relative to whether an inexplicable "crash" had occurred . . . at least not on RPQRR. Our Fall trapping session began this past Monday and will continue for the next three weeks. Last year we trapped and banded 4,728 individuals (4,393 bobs and 335 blues). Any wagers on what this year's total individuals trapped will be? Stay tuned to our FB page for updates.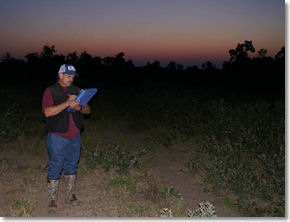 If you're concerned about bobwhite status on your property, it might provide some consolation to do a few early morning covey call counts. Be on location about 45 minutes before official sunrise and listen for the number of coveys calling "koil-ee." See the webisode "How to Conduct a Covey Call Count" (https://www.youtube.com/watch?v=3Bn2p8sCTW4 ). Might want to enlist some "younger ears" with you, as most of us seasoned quail hunters didn't protect our hearing adequately.

---
Song of the Month

High Hopes by Frank Sinatra.

---
Word of the month

harbinger; (noun); one that initiates a major change: a person or thing that originates or helps open up a new activity, method, or technology: see pioneer.

I like to think the RPQRF qualifies as a harbinger in the quail world. As we prepare to enter our second decade, it's always worthwhile to take stock of where we've been, what we've learned, and where to go from here. Our quail odyssey rocked along nicely from our inception (2007) until 2010 when the quail community was rocked by record low abundance over the next 3 years. La Nina weather pattern, some "X" factor, or what? The implosion prompted our most comprehensive research effort to date: Operation Idiopathic Decline with emphasis on "idiopathic", i.e. pathology of unknown origin.

OID was necessitated by the sudden plummet of quail populations in the Rolling Plains in the fall of 2010, despite suitable weather conditions and plentiful habitat. In response, RPQRF urgently assembled a team of a dozen scientists from four major universities and charged the team with examining every plausible theory pertaining to the drop in quail numbers.

Over the next three years, team scientists spread out across 35 counties in West Texas and Oklahoma and studied the influence of pathogens, parasites, bacterial and viral diseases, toxicants, pesticides, and environmental factors on our quail. Then, after spending $2 million and sampling over 2,200 quail, the team made an important discovery: parasites, particularly eye worms and cecal worms, stood out as major threats to our quail populations. RPQRF subsequently partnered with the Wildlife Toxicology Laboratory at Texas Tech University, Texas A&M AgriLife Extension Service, and the Park Cities Quail conservation group to conduct an additional $2 million in research on the impact of parasites on the health of quail. Conclusions were drawn, most notably that high parasitic infection is fatal to quail.

To combat parasitic infections, the Wildlife Toxicology Lab, with funding from RPQRF and its partners, is testing a medicated feed that has proved to be effective in killing parasites in field and laboratory research to date. Studies now being conducted (under the strict guidelines of the FDA) are showing significant positive impacts on quail abundance. You would be hard-pressed to find a cattleman who does not de-worm his stock or a hunter who does not do the same for his bird dogs. Our work will allow landowners and lessees to do the same for wild quail.

To even propose a "non-habitat based" driver of quail abundance has been met with criticism by most card-carrying quail biologists, skepticism by many, and "hmmm, I wonder if" by some of us. Now here we are 5 years later, "full of arrows but still in the saddle." We acknowledge, and support, the importance of rainfall and habitat management as important variables in the "quail equation", but we're not content labeling them as the end-all, be-all answer. The current quail situation, i.e., a population comprised largely of "old" birds (two or three years old) sets up a perfect storm for parasite-induced debilitation. Eyeworms tend to accumulate the older a quail gets, and we've got a preponderance of "old birds" out there right now. Personally, I'm excited to be in a situation (soon) to be able to evaluate a new paradigm to moderating the booms and busts that characterize quail trends here on the western front. Stay tuned for updates as the saga continues to unfold.

---
Eyeworms, Cooper's Hawks, and Ruminations

by Brad Ribelin



I always appreciate feedback from astute "Students of Quail." I don't know anyone more tuned into quail happenings on their property than Brad Ribelin of Aspermont. Brad serves on RPQRR's Advisory Committee. He's not a big quail hunter but is out every day "reading his range" and often submits interesting photographs and queries based on his encounters afield. Consider this recent report from him.

"For the past couple of months I have spoken to rural mail carriers, oilfield pumpers, ranch owners, ranch managers, custom cowboys, and helicopter pilots that all work in this area every day and they all agree that starting in late July, quail started declining rapidly 60 to 80 percent. They have all been surprised at how fast it happened and most of them are now aware of the eyeworms affecting quail, but not so much on the cecal worms.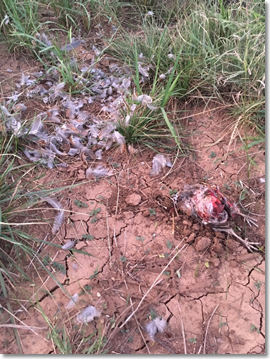 It is encouraging that the parasite infection of quail is getting talked about. I have for the past several years dutifully collected fresh dead quail that I have found either hit by cars or those that have flown into something, put them in zip-loc bags and sent them to the RPQRR for the eyeworm counting day. The reports I get back show that 70 percent are infected with both parasites. I am keenly aware we had very little chick survival this summer but something happened to our adult birds. I was very upset the other day when I flushed a Cooper's hawk eating a quail and I dutifully collected the dead quail and sent it to Dr. Kendall's lab. They found five large eyeworms however, the guts were gone so they were unable to count cecal worms.

Just last week I saw another Cooper's hawk carrying off a bobwhite so I followed it until it dropped the quail. I submitted it, and another recent kill I found near a fenceline, to Dr. Kendall's lab for counts. The one caught by the hawk had 29 eyeworms and the one found dead at the fence had 76 eyeworms. Both were 'loaded' with cecal worms.

There is going to be a bunch of quail hunters show up after deer season and wonder what happened so I think this will be an opportune time to do a media blast on what the studies have found so far. There are still enough birds to hunt but not anything close to last year plus we have several more months to get to breeding season."

---
APB on "Strange" Mortalities

Here at RPQRR we have a standing "All Points Bulletin" (APB) for any "unusual" field sightings (ala Brad Ribelin's observations). Dr. Maurice Hornocker from Idaho is on my quail lease near Big Spring. He shot an "obviously" lightweight bird that was a poor flyer. In this case eyeworms were visible from the outside of the bird's eye socket (a bit unusual in that most eyeworms are found behind the bird's eyeball or under the "nictitating membrane." That bird has yet to be necropsied for a count on eyeworms. See a similar case study observed in a juvenile bobwhite this past July at RPQRR (https://www.dropbox.com/s/pqpryu7jaqfhmow/Video%20Aug%2001%2C%204%2011%2009%20PM.mov?dl=0).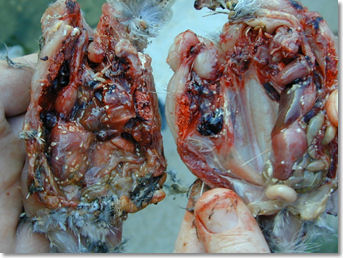 Another parasite that we have our antenna up for is a newly described species of "Mesocestoides"; it was reported last season in a bobwhite from Mitchell County and another from S. Texas. This parasite seems to be found in the body cavity and around the heart. I first saw this one about 12 years ago on a hunt just south of what was to become RPQRR. Two birds were shot that were obviously "weak" and upon field-dressing each had 10 or more of what we'd later learn were Mesocestoides. Keep your eyes open as you open the body cavity when cleaning your quail; these worms (they resemble the "proglottids" of a tapeworm) will be apparent if present.

Please document any such findings by (a) at least snapping some photographs or (preferably) submitting the bird to RPQRR for necropsy. Freeze the bird in a zip-loc bag and label appropriately. Contact me (drollins@quailresearch.org; 325-650-0311) for instructions on transferring the bird to us.

---
Trail to head up RPQRF; Snell is new addition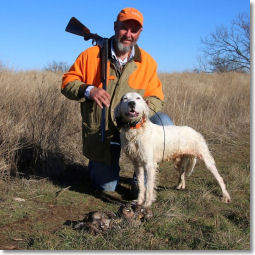 Justin Trail of Albany was recently elected to serve as the Rolling Plains Quail Research Foundation's president, effective November 8. Justin is a go-getter and we look forward to his leadership as we enter our second decade. I've known Justin since 1996 and he's been active on many fronts, including the inaugural QuailMaster class and service as a Covey Leader in Bobwhite Brigade. Watch for Trail's remarks as incoming president in the January issue of e-Quail.

Trail succeeds Rick Snipes who will continue to serve on the Board. Rick had served as president since the Foundation's inception in 2007 and we thank him for his leadership and perseverance. He will be honored as the 2018 T.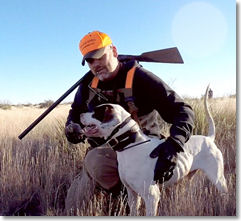 Boone Pickens Sportsman of the Year next March in Dallas.

A recent addition to our Board of Directors is Steve Snell. Steve lives in Starkville, MS, with his wife, 3 sons, and 18 hunting dogs. You likely recognize Steve's name from his company Gun Dog Supply (www.gundogsupply.com). I met Steve when he signed up for the 2015 QuailMasters class and have shared a hunting lease with him for the past two years. Steve's passion for upland gamebird hunting is palpable and we look forward to working with him.

---
TPWD hires West Texas Quail Program Leader

Sometimes I guess the squeaky wheel does indeed get some grease. Many of us in west Texas have lamented to TPWD they need someone on staff to work with quail management issues in our part of the state. The argument being that too much of TPW's quail policy is flavored by South Texas politics. Thanks to some planning (and prodding) from folks like Kelly Thompson (Chair of TPW's Upland Game Bird Committee and also of TPW Foundation), Stan Graff, Chuck Ribelin, Charles Hodges, Joe Crafton, yours truly, and others, we now have such a staff position.

John McLaughlin was hired last month and is beginning to make his rounds. I asked John to provide a brief bio for e-Quail.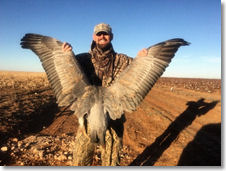 I grew up in rural New England, shepherded through my formative years by my three older brothers, after which I emerged to find a passion for the open rangeland of the West. I received a Bachelor's degree in Wildlife Ecology from the University of New Hampshire and after developing my core abilities through a series of progressively challenging positions, went on to receive a Master's degree in Wildlife and Wildlands Science and Management from Texas Tech University. A significant portion of my career has been spent on gamebird research and management, working with the greater sage-grouse, sharp-tailed grouse, and northern bobwhites. Each of those positions required me to partner with federal and state agencies, NGO's, and a diverse group of agricultural producers in which fostering relationships was at the forefront of my work ethic; collectively those experiences have helped shape my management perspective. My goal has consistently been to try and translate diverse public opinions into benefits for hunters, ranchers, conservationists and wildlife enthusiasts alike. In my roles as a field and district biologist, and as a member of strategic planning teams and national workgroups, I have observed how a cohesive, focused strategy can translate into discernable benefits for wildlife populations. Living and working in over half a dozen states has advanced my understanding of conservation issues across rural America and has prepared me well to work for the people of Texas.

In my personal life waterfowl and upland bird hunting drive me, quite literally. Only this past weekend I found myself up in the panhandle, sleeping bag in the bed of my truck, dog in tow, waiting for a morning crane hunt. I've even had the chance to chase a few quail since I got back. I hear I'll have a new over-under and a "real" bird dog in no time. Perhaps. But first things first. I'm looking forward to the road ahead and to building out the capacity of Texas Parks and Wildlife. With a great group of staff and partners already on the landscape, the push to arrest the bobwhite decline and restore a regional and national cultural heritage has traction.

John's e-mail address is John.Mclaughlin@tpwd.texas.gov. I'm looking forward to his visit to RPQRR later this week. Welcome aboard John!

---
RPQRR's Wish List – Can you help?

Our support for quail research comes almost exclusively from private donors. Perhaps you would like to help us help quail. We have need for various pieces of equipment. If you would like to donate, RPQRR is a 501(c)(3) nonprofit foundation, so your donations (cash or in-kind) are tax deductible. Alternatively, if you'd like to make a cash donation and have it earmarked for one of these items that's great too. Here's our current list of needs:

| | |
| --- | --- |
| Item | Need |
| 100-hp tractor | Food plot preparation, shredding |
| 15' batwing shredder | Shredding |
| Shop-style drawer toolbox | Tool storage |
| Flagpole | Thanks Larry Gabel! |
| Sea container | Storage of equipment |
| 12-ft tandem disc | Discing, field prep |
---
Coming soon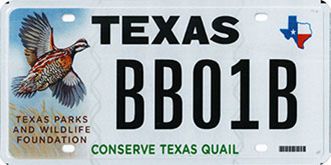 (details to follow soon!)


---
26% - That's the percent of juvenile bobwhites from our first night of trapping (last Monday). A total of 310 birds were trapped that day. The age ratio (percent juveniles) is one of the most telling demographics in a quail population. Obviously we didn't raise many chicks this past year.
Staff will conduct our annual Fall quail trapping regime. Technicians will be tied to a short leash as we hope to handle some 3,000 birds. Check our Facebook page for trapping updates.
Our top-ranking post for November was Trey Johnson's (11-7) summary of our recent helicopter surveys.
Got a new e-mail address? Please [Click Here] to update your information if you wish to continue receiving e-Quail.
Forwarded from a friend? Please [Click Here] to sign up for the RPQRR e-Quail Newsletters!