The Quail Boom: Rain, Management, or Both?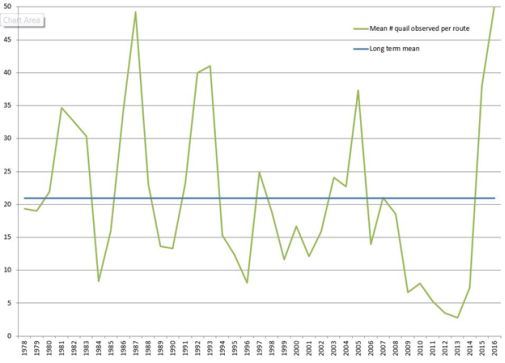 If you live, hunt, or otherwise have a bond with the Rolling Plains of west Texas, give yourself a slap on the back. TPWD just released their annual quail forecast (see https://tpwd.texas.gov/huntwild/hunt/planning/quail_forecast/) and the Rolling Plains ecoregion kicked butt! A 38-year record of 50.2 birds per 20-mile route was recorded, eclipsing South Texas' 14.7 birds/route. We're the Usain Bolt of bobwhites!

So, was it rain, management, or both? Timely rains no doubt get the quail's share of credit. Coffee-shop pundits have always held that "if it rains we'll have quail, if it don't, we won't." So then how can one justify the need for an RPQRR, and for several million dollars invested in the pursuit of "quail decline" from 2010-2014? Is there a return on investment? So let's see how RPQRR's "ROI" compares with the "Dow Jones" (i.e., TPW's counts) since 2008.

Year-in and year-out, RPQRR's roadside counts are higher than TPW's (see table). But the margin between the two counts exploded in 2014—2016. The 8-yr mean for RPQRR is a whopping 712% higher than the "standard." I wish my retirement portfolio could boast such a track record.

Mean Number of Quail per 20-mile Route 2008-2016
Year
TPWD
RPQRR
2008
18.7
96.0
2009
6.6
25.2
2010
8.0
29.0
2011
5.3
8.8
2012
3.5
5.5
2013
2.9
1.8
2014
7.5
52
2015
38.3
315
2016
50.2
512
Mean
15.7
127.5

So, has it rained more at RPQRR than the Rolling Plains as a whole? Au contraire! I'd wager (especially this year) we're perhaps 30% below the ecoregion mean—we're sitting at 17.7 inches YTD (as of 30 Sept). But we've made the best of what rain we've received (habitat- and bird-wise).

While I'm tempted to "claim every bird that falls" and tout RPQRR's performance to superior management, let's compare apples to apples. TPW's roadside counts are conducted a month earlier than RPQRR's (i.e., we've had another month to "accumulate" birds); their counts are done along county roads, ours are along mostly 2-track pasture roads (this might be a plus for TPW). Their route (supposedly randomly-selected) no doubt includes a fair amount of "non-useable space" whereas RPQRR's is all useable space. We do our counts with a driver and 2 observers and repeat them 4 times during September while the TPW biologist is likely by him (her) self and any particular route is only driven one time (a "poor" count on any given day could sway TPW's numbers). So, the two counts (ours vs. TPW) aren't identical . . . but still, 712% greater? We must be doing something right.

Also can't discount our translocation efforts over the past 3 years with blue quail. Our count doesn't distinguish between the two species (we'll decipher that with our trapping data in Nov). But our blues have done "well."

There are no doubt properties that can boast similar (perhaps even higher numbers than RPQRR), but I don't know of any that can substantiate their claims via a similar index, hence the value of our standardized, long-term counts. Brad Kubecka, one of our graduate students, is examining the correlations among various indices so we can see how well spring cock call, covey call, and roadside counts compare with density estimates obtained via helicopter counts and mark-recapture (i.e., trapping data) methods.

Meanwhile, enjoy the bounty that we have on hand. Our next hurdle is a steep one: can we "insulate" (sustain) our current bumper crop? Neither history nor plant succession is on our side. But then, think what the historical paradigm was for ice chests, i.e., keep ice for a day perhaps, but now they have some that can stretch that to five days. Can we borrow from such success on the quail front? We'll delve into that assignment in November.

---
9th Annual Field Day: it's a wrap!

I got nervous about lunch time on Friday . . . I'd told the caterer to prepare for 100 people, and the line was longer that I was anticipating (only had 60 RSVP!). But everyone got brisket and the trimmings, and the weather was as ideal for a field day as one could ever hope for. See (here) for a copy of the abstracts of various presentations.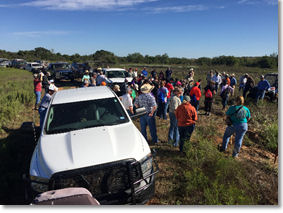 ---
Calling All Quail Hunters: Save Those Seeds!

RPQRR is soliciting crop contents of quail harvested across the Rolling Plains (TX & OK) in an attempt to build a comprehensive seed collection of plants eaten by quail. As you clean birds, dissect out the crop and empty the contents into an empty shotgun shell box so they will dry out, then tape the seams with duct tape. Do not put them in a plastic bag as they will mold. At the completion of your season send the box and contents to RPQRR, P.O. Box 220, Roby, TX.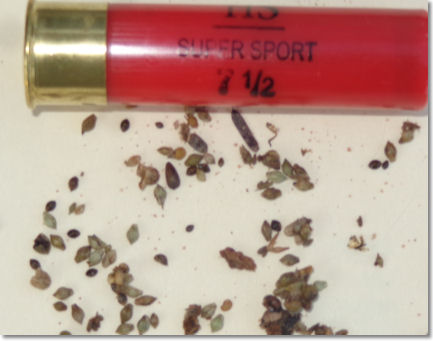 ---
Song of the Month

"We're in the Money" by Ginger Rogers

---
Word of the Month

bevy; (noun) "a group of animals and especially quail."

---
Scaled Quail Restoration to Historic Ranges in the Rolling Plains: Nesting Ecology, 2016

by Drew Ann White, Research Assistant, RPQRR



Our translocated scaled quail in Knox County nested even better than we'd hoped. Of our 89 released radio-marked female scaled quail, 52 nests were detected between mid-May and mid-July. It is important to note that our observations only include hens found incubating the nest. No nests were detected during laying and early nests may have been depredated prior to detection. As a result we observed 47% (N=42) of released hens attempting nests, but predict a minimum of 70% made nest attempts (Table 1). Almost half of first nests (48%; n = 42) hatched, while 6 of 9 second nests, and "all" third nests hatched (only 1 being detected). In total 30 broods were observed; in 3 cases hens were found with young broods but their nests were never located.

Table 1. Observed Scaled Quail Nests in Knox County
Total
Hatch
Nest 1
42*
20
Nest 2
9
6
Nest 3
1
1
Total
52
27
* 1 nest was abandoned by the hen, 1 nest has unknown fate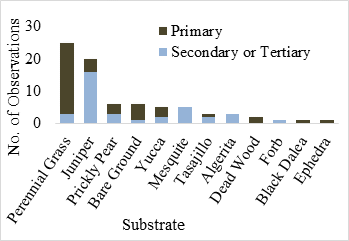 Nesting substrate data were collected at 42 nesting sites. Substrates included: juniper, yucca, mesquite, prickly pear, black dalea, ephedra, tasajillo, algerita, bare ground (including rock), forbs, and a variety of perennial grass species. Perennial grass was observed 52% of the time as the primary nesting substrate (n = 22). Juniper (n = 5) and bare ground (n = 5) were observed as the next most common primary substrates (12%). Juniper was the most common secondary or tertiary substrate (n = 16; 44%) followed by mesquite (n = 5; 14%). The majority of nests were various combinations of the 11 substrates we detected.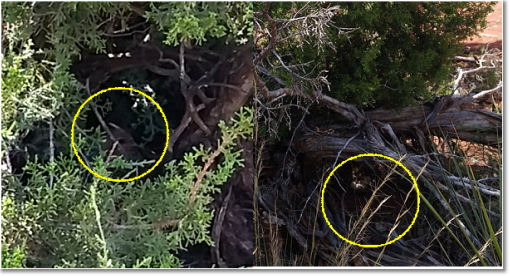 Scaled Quail nests found in Knox County: (left) a juniper with hen on the nest (failed), and a nest on bare ground under a juniper (hatched).

Our first field season helps set the bar and frame the future for scaled quail restoration. Hen survival exceeded expectations, which resulted in more nests (n = 52), more broods (n = 50), and more scaled quail populating Knox County. The utilization of 11 substrates and the variability across nests, in my opinion, shows the abundance of quality nest locations, as well as the richness and diversity present across the landscape. When discussing translocations, "success" cannot be declared with only one year of data. I am, however, pleasantly surprised at our achievements and I am extremely eager for our occupancy survey next year and, of course, nesting season!

---
RPQRR's Wish List – Can you help?

Our support for quail research comes almost exclusively from private donors. Perhaps you would like to help us help quail. We have need for various pieces of equipment. If you would like to donate, RPQRR is a 501(c)(3) nonprofit foundation, so your donations (cash or in-kind) are tax-deductible. Here's our current list of needs:

| | |
| --- | --- |
| Item | Need |
| ¾ ton pickup truck | Pulling trailers, carrying pumper unit for prescribed burns |
| 100-hp tractor | Food plot preparation, shredding |
| 15' batwing shredder | Shredding |
| Grain cart | Bulk purchase/storage of milo |
| Sea container | Storage of equipment |
---
Readers Write



I have been following your research via the Internet and Facebook for several years now. As the son of a lifelong quail hunter from Illinois, I have a true passion for quail. I remember the days of my dad going to central/southern Illinois to shoot lots of quail. I remember shooting my first quail...a memory I will never forget. We no longer have the quail numbers here in Illinois so we take an annual trip to western Oklahoma over Christmas. Last year was a great year and we look forward to another great year in 2016. People always talk about what a great time it is to hang out in deer camp—I look forward to Quail camp! We truly appreciate the efforts you and your staff are doing at the ranch and we have learned many interesting facts by following the Facebook page. Here's to another year of thundering covey rises! --LA.

---
Camera-trapping



This covey of blues is casting a jaundiced eye towards this coachwhip snake as it gets a drink from our guzzler. The subsequent video showed the birds walking cautiously beside the extended snake. The snake seems oblivious to its curious onlookers. I like to set my cameras for one photograph followed by a 10-second video clip.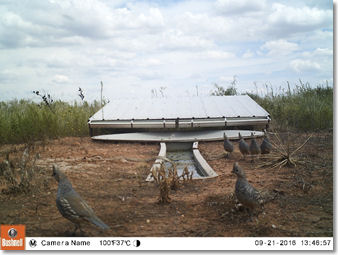 ---
Want RPQRR's printed newsletter?

Quail hunters are, as a rule, an older lot. Older men (aka potential donors!) don't always use the internet for their communications, e.g., e-Quail News. So, we decided to offer a quarterly printed newsletter as a supplement to the e-version. If you'd like to be on the mailing list for the printed newsletter send your name and mailing address to Russell Graves, PO Box 68, Childress, TX 79201.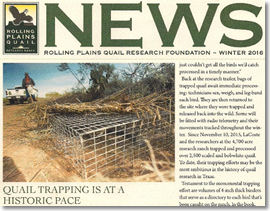 ---
Intern diaries

Here at RPQRR, we use inquisitive young professionals to help "put the legs" under our various research activities. This summer's crew has been a memorable one. I hope you've enjoyed their Facebook posts. This month's e-Quail features Stoney Newberry from Henrietta, TX. Stoney (with beard) is pictured here with his covey at Bobwhite Brigade. —DR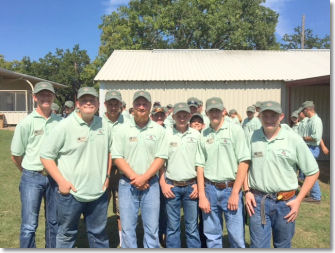 My name is Stoney Newberry, I am a senior at Texas A&M University, majoring in Wildlife Fisheries and Sciences. When I came upon the job posting for the Rolling Plains Quail Research Ranch internship I knew that this opportunity would help me in several ways: gain knowledge of the fauna and flora of west Texas, networking, gain experience, learn more about research methods, etc. There is a saying that goes, "It's not what you know; it's who you know." This statement is sad but true, to get a job it helps knowing several people in that job field. That was a big portion of why I chose this internship, the opportunities to meet professionals in the wildlife field would be numerous. The main reason I chose to apply and accept this internship is that quail, and quail management are the causes of many conversations and job opportunities in Texas. If I want to work in Texas, which I do, I need to know about quail. Interning under Dr. Rollins at the Rolling Plains Quail Research Ranch has given me that opportunity.

Daily tasks at RPQRR include telemetry (tracking radio-collared quail), call counts, raptor surveys, roller chopping prickly pear patches with the dozer, shredding ranch roads with the tractor, arthropod sampling, entering data, fixing broken water troughs, leaky pipes, and other general ranch maintenance activities. Telemetry takes up most of an intern's time on the ranch. The telemetry is used to get a general location on the quail that is collared, to see if the quail is nesting, and if the quail is dead by a faster-paced signal caused by the collar sitting still for an extended period of time (~12-16 hours). Three locations are required on each collared bird each week; these data are used to find the home range of the bird and to see if it is nesting. At the beginning of the summer getting three locations on each bird (30+ per intern) per week is a daunting task to fulfill because the ranch is so large and navigating it can be difficult. But as the summer goes on, the number of birds dwindles due to mortality we learn where the birds tend to hang out.

At the beginning of the internship Dr. Rollins assigns "Major Projects" for each intern. The choices were, Camera Trapping, Dummy Nests, and Small Mammal Trapping. I chose Dummy Nests. In this project there are 24 transects that each have 6 nests with 3 chicken eggs placed in it to simulate a quail nest. The nests were to be checked for depredation at 14- and 28-days. After completing my 14- and 28-day checks I did the calculations and was disappointed in my abilities at being a good "quail momma" (as Dr. Rollins likes to say). While doing my major assignment I did learn a lot. It forced me to learn the names of more plants and their uses, and I learned what good nesting cover looks like.

A major part of internships is dealing with all of the employees. This often means that there are several people with very different backgrounds. Communication is the key to a successful and happy work environment, and with people from varying backgrounds it can prove to be a wonderful learning experience. This type of real world experience is crucial for people entering the job market, and a major part of why internships are so important for young professionals.

This summer I was able to take advantage of opportunities to get experience on a tractor and a dozer. I had experience with tractors from growing up on a ranch and working on a farm. The dozer however was a new experience for me. We were tasked with learning how to service, maintain, and operate the dozer and roller chopper with a chemical spray rig built on to it. The roller chopping and spraying with an herbicide was used to kill the thick prickly pear patches throughout the ranch.

I was fortunate to be able to participate in the 24th Battalion of the Bobwhite Brigade as a Covey Leader. Although the five day camp was tough on my sleep schedule by only getting 14 hours of sleep over the entire camp, it was well worth the loss of sleep for the wonderful time that I had. My covey consisted of 6 high school aged young men. Those boys kept me entertained with constant laughs and extreme pride in their steady improvement and amazing teamwork. We did not win Top Covey but the time spent with my boys was a wonderful experience that I will keep with me for the rest of my life.

If it's not obvious enough this summer has been a wonderful experience for me. Throughout this summer I have learned many species of plants as they pertain to quail habitat, food, and shelter; while also enhancing my knowledge of quail. I have made great friends and made amazing memories by being out on the ranch most of the time and witnessing some of God's beautiful creations in their natural habitat.

---
693 - The number of quail (bobwhites and blues) recorded on our 4th and final roadside counts of the year on Monday, Sept. 19. Yep, that's a record for us.
20 Oct - Coffee-shop Quail Talk: myths and misconceptions. Wildlife for Lunch webinar; for more information: Contact TWA's Clinton Faas at cfaas@texas-wildlife.org or call 1-800-839-9453.

29 Oct - Opening Day of quail season.
Two special events slated for 2017
QuailMasters-Encore! will be the last opportunity to experience the "adult version" of Bobwhite Brigade. Over a course spanning 4 sessions and 4 months, participants will tour some of Texas' premier quail properties and learn from landowners and professors alike. For more information, contact Clint Faas.

The other effort will be a redoux of the Statewide Quail Symposium on August 16-18, 2017 in Abilene. Details to come.
See Skyler Henderson's post of 13 Sept for an interesting encounter between a speckled kingsnake and a checkered garter snake. Hint: the kingsnake won.
Got a new e-mail address? Please [Click Here] to update your information if you wish to continue receiving e-Quail.
Forwarded from a friend? Please [Click Here] to sign up for the RPQRR e-Quail Newsletters!