Making my rounds

Call me a relict. This doctor likes to make his rounds . . . regularly, and I do. Whenever I'm at the Ranch, you can find me early-morning and late-afternoon cruising the dirt roads "checking on things." Often as not my "assistants" (Babe, Tracer, and Shag) travel with me, keeping a close eye on what's ahead. In the seat next to me is my video camera . . . just in case. I find it's therapeutic for me, and hopefully due diligence to the Ranch I've grown to love so over the past decade.

My excuse (if I need one) for these forays is to check the pulse of plants, animals, and their tapestries. I note where, and how many, quail I see. Are those blues up ahead? Why are the limbs on those chittams dying? If I come across a snake, I'll take my snake tongs and drag it out into the road for some pictures or video. As long as I've got a picture or video, I can draft a Facebook post in a minute.

We have mucho roads at RPQRR, so I rarely take the same route twice. If I have a strategy when I mentally map my drive it's to strive and keep the sun mostly at my back, for photographic reasons . . . and I don't enjoy bucking the sun.
Here are some musings from time spent in my Lannom dune buggy last Monday night and Tuesday morning.
Brood survival apparently hasn't been too good. Most of the broods I saw were 3 to 5 weeks old but only had 3 or 4 birds at this point (yes, it's possible not all flushed). But my heart was lifted when I drove through our wheat-sunflower food plot near HQ and flushed 18 birds, about 5 weeks old, and no adult flushed with them.
Still seeing lots of pairs, and we have about 15 active nests, so although our nest success has been low to this point, the birds are indeed trying.
Our sunflowers are being attacked by "Sunflower headclipping weevils" (Haplorhynchites aeneus). I'd been alerted to look for this damage by Rory Burroughs of Rotan; he said his fields have been unproductive for the past 2 years.
It's still very dry, our Year-to-Date rainfall total is only 8.6 inches. Incredibly, I think our range conditions look amazingly good given the past 100 days. But there's no rain in the forecast for the next 10 days (at least).
Over the past several weeks, I've seen more yellow-billed cuckoos (aka rain crows) than I can ever remember. But Tuesday morning I didn't see any . . . I think they decided to move to wetter country in order to protect their reputation.
One bird's song that I particularly noted the absence of is the dickcissel. Last year they were everywhere. And their "dik-dik-sissel-sissel" song was almost more than I could bear, as when I had my hearing aids on it was as if they were sitting on my shoulders!
I came upon a pair of roadrunners in a compromising position, but they declared coitus interruptus before I could get my camcorder fired-up. Alas, I was too slow on the camcorder to "catch" a ¾ grown bobcat crossing the road, and a badger that had paused momentarily a few yards ahead.
I try to watch the sunset from a high spot in the Oscar or Doc pastures. This night it's at Mile Marker 0 in the Doc pasture, beside Doc's burial place (I bury my bird dogs in the pasture for which they're named). The coyotes begin their twilight roll call as I reflect back on hunts afield with Doc. Lastly, I recite my hunting buddy who reminds me often "we are blessed men." Amen brother Steve.
Having soaked it all in like a quenching rain, I fire up the buggy and begin my descent to the HQ. Indeed, all is well on the Ranch.

I always encourage the interns and technicians here to spend some "quaility" time afield near dusk, but they rarely do. They've been working all day and are ready to relax. We just have different ideas of relaxing I reckon. If they're lucky, they'll learn to appreciate my way more as they grow older. I know I have.

---
Song of the month

Looking out my back door - by Creedence Clearwater Revival; on a related note, do you know what I consider as the greatest travesty in the history of rock-n-roll? CCR never earned a No. 1 song . . . unbelievable from the perspective of this teenager of the 1960s.

---
Mobile Parasite Lab debuts at RPQRR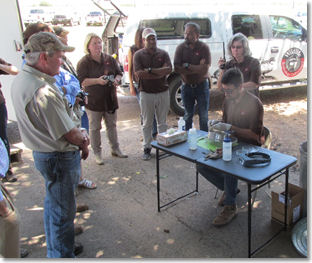 The Wildlife Toxicology Lab at Texas Tech debuted it's "Mobile Parasite Lab" (MPL) last Tuesday at RPQRR. The self-contained lab features a complete molecular laboratory which will be used to detect the DNA of eyeworms and cecal worms in quail. When deployed, a manager would submit quail (alive or dead) from which a fecal sample would be acquired. The sample would be analyzed and two hours later an estimate of how heavily infected the quail was with both species of worms would be available. The new lab will be used as a diagnostic tool to complement the upcoming availability of a medicated feed to treat the nematode parasites. Congrats to Dr. Ron Kendall and his staff for this development. Funding provided by RPQRF, Park Cities Quail, and Texas A&M Agrilife's Reversing the Decline of Quail Initiative.

---
Nesting update from Knox County

by Becky Ruzicka



Since Mid-May on the Knox County study site we have documented 47 nesting attempts by our translocated scaled quail hens. Of the 22 nests that have completed fates, 10 have successfully produced broods in the past two weeks and we should see several more hatch in the next two weeks (barring an increase in predation rate). This year we will be following broods closely to (hopefully) document brood survival. I say hopefully because there are a couple to barriers to being able to successfully calculate brood survival at the end of the summer: low detection of chicks and brood amalgamations. Imperfect detection of chicks is a given (i.e., every time you do a brood count you wouldn't expect to see all the chicks). This can be accounted for by directly modeling detection as well as survival in a probability based model, but if detection is very low then we won't be able collect enough information to run the model. For instance, this would be the case if we were to only observe on average one chick out of a 10 chick brood (i.e., the probability detection is 0.1) Brood amalgamations, or the grouping of unrelated chicks into a single brood, are also problematic. To be able to calculate brood survival in this framework we have to make the assumption that we are starting with a known number of chicks and that the number of chicks we started with will only decrease over time within a single brood due to mortality. Figuring out how many chicks should be in a given brood is as simple as examining the eggshell evidence remaining in the nest bowl, but if unrelated chicks are added to the brood we will arrive at an artificially high brood survival estimate. It is always a good idea to understand the assumptions and potential biases before heading out into the field to collect the data, so that you can be vigilant for potential violations and know where to focus your effort. If we are successful in documented brood survival this year, it would be an important piece of the overall puzzle of translocated scaled quail population dynamics. In fact, it is one of the least understood vital rates for any population for any species.

---
RPQRF's Snipes to be honor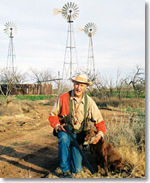 Rick Snipes was announced recently to be the 2018 recipient of the T. Boone Pickens Lifetime Sportsman of the Year award. Snipes has served as RPQRF's president since the Foundation's inception in 2007. The award will be presented on 8 Mar 2018 at the Park Cities Quail awards banquet. The RPQRF is honored to also have two previous awardees (board member A. V. Jones, Jr.) and Ray Sasser (Media Director) on our team.
---
Join us Aug 8 for "Bug Day"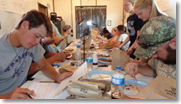 I'll trade you 2 Orthopterans for 4 Coleopterans or a handful of Hymenopterans. Want to learn more about "MRE's for quail", i.e., arthropods? Then join us on Tues, Aug 8 for our annual "Bug Day." We'll be poring through some 1,200 samples of sweepnets and pitfall traps then identifying the insects to Order. Try to be on site by 9 a.m. as it will take most of the day. No experience in entomology required. We'll provide the hamburgers! Contact drollins@quailresearch.org FMI.

---
Statewide Quail Symposium slated for Aug 16-18

Make plans now to attend! For registration details and schedule, see http://statewidequailsymposium.com.

---
8th National Quail Symposium to be held in Knoxville, TN

Registration for the Joint Quail Conference of the National Bobwhite Technical Committee (NBTC) annual meeting July 25-26, and the eighth national quail symposia, July 27-28, is now open. Both will be at the Holiday Inn Knoxville Downtown in Knoxville, Tennessee. Registration information for both can be accessed at https://www.quailcount.org/quail8/home.html and discount pricing is available through March 31.

Quail 8, a science symposium for biologists around the nation and beyond, will feature 94 presentations and posters on various aspects of quail management and research, and is expected to attract 300 or more attendees. RPQRR's Brad Kubecka and Becky Ruzicka will be among those presenters.

---
Sponsor Spotlight

"Agrilife" has been an important partner for the RPQRR. Because of my affiliation with Agrilife for over 32 years, many think that the Ranch is a Texas A&M property, but it's not. Ranch manager Lloyd LaCoste is paid by Agrilife via a grant from (and MOA with) RPQRF. Aside from that relationship, Agrilife's "Reversing the Decline of Quail Initiative" has also sponsored Becky Ruzicka's "Knox County Scaled Quail Restoration Project." I just received confirmation last week that the initiative was funded again during the legislative session. We appreciate their continued support! Join us for the Statewide Quail Symposium in Abilene for more details of how these dollars have been invested for the benefit of quail in Texas.

---
Keep on Eye on Things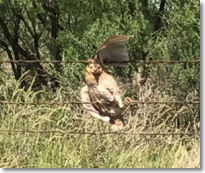 Thanks to Tina Meador, NRCS in Aspermont, for sending this pic of a bobwhite hen impaled on a barbed-wire fence. Was she being chased by a Cooper's hawk (and thus flying low and fast)? Were eyeworms involved? Or was it simply an accident (i.e., "it" happens)? Thanks to smart phones, you've always got a camera handy, so record such scenes and send them my way.

On another note the blue quail nest near Billy Cole's garage at Notrees didn't hatch. Seems it was located in an area with too much traffic (of various kinds) and the hen abandoned her clutch of 20 eggs.

---
From our Facebook page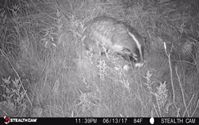 See Trenton Dragon's post of 21 June depicting a badger depredating a "dummy nest." Thanks to support from Stealthcam, Texas A&MK Agrilife, and the Cross Timbers chapter of Quail Coalition, we recently purchased 40 new game cameras to deploy for nest depredation research.

---
RPQRR's Wish List – Can you help?

Our support for quail research comes almost exclusively from private donors. Perhaps you would like to help us help quail. We have need for various pieces of equipment. If you would like to donate, RPQRR is a 501(c)(3) nonprofit foundation, so your donations (cash or in-kind) are tax deductible. Alternatively, if you'd like to make a cash donation and have it earmarked for one of these items that's great too. Here's our current list of needs:

| | |
| --- | --- |
| Item | Need |
| ¾ ton pickup truck | Pulling trailers, carrying pumper unit for prescribed burns |
| 100-hp tractor | Food plot preparation, shredding |
| 15' batwing shredder | Shredding |
| Flagpole | Demonstrating our pride |
| Rear-tined PTO tiller | Renovating spreader dams |
| 12-ft tandem disc | Discing field prep |
| Sea container | Storage of equipment |
---
Quail calendar
July 25-27, 8th National Quail Symposium, Knoxville, TN.
August 8, Bug Day; contact d-rollins@tamu for details.
August 16-18, Statewide Quail Symposium, Abilene; fmi Amanda Gobeli, agobeli@tamu.edu; see more details of the schedule at http://statewidequailsymposium.com/index.html ; it's going to be a great meeting featuring a lot of research updates and 4 topical "point-counterpoint" arguments (I just love these!)
---
7 - the number of radio-marked quail we've had killed and consumed by rattlesnakes this summer; that eclipses the number observed in 2009 (4 for the entire year).
What caused the crash of cotton rats last fall? Our numbers were down 97% from Jan '16 to Jan '17. I've been seeking cotton rat "experts" but can't find any who can say "why." Some speculate disease while others argue predation. I don't think predators in toto could have toppled the rat population, so I'm putting my two cents' worth on disease. But what?
If you watched Walt Disney's Wonderful World of Color as a youngster, check out a 1953 classic in 16 mm called "Quail through the year." The 38-minute movie was produced by Missouri Department of Conservation and written by Charles Schwartz. View it here.
inanition; noun; "the exhausted condition that results from lack of food and water." Reckon the quail hen that just completed 23 days of incubation can relate? Actually, the incubating adult does leave the nest (often turns it over to the attending cock) for brief periods, usually in the late-afternoon to garner some food.
Got a new e-mail address? Please [Click Here] to update your information if you wish to continue receiving e-Quail.
Forwarded from a friend? Please [Click Here] to sign up for the RPQRR e-Quail Newsletters!