I hereby resolve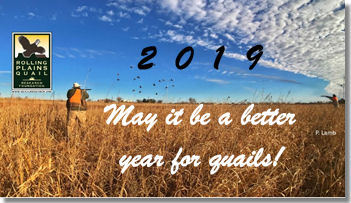 Happy New Year from RPQRR! Made any New Year's resolutions? Here are some that may prove useful to quail for next season:
Appreciate weeds – Given the drought conditions that existed until October over most of west Texas, it's as if someone pulled a tandem disc across the countryside. One of the basic tenets of ecology is that "nature abhors a vacuum", or put in west Texas jargon "Mother Nature is not a nudist." Something is going to grow on that bared soil. Over much of this region, those "weeds" include Texas and California filaree. Later this Spring, the filaree should be accompanied by common broomweed, annual sunflower, and various other "early successional" forbs and grasses. Such flora set the stage for good things for quail reproduction, and then later (e.g., via broomweed) good survival of chicks and adults. I'm anxious to see if the landscape is covered with mare's tail (fireweed) like it was in 2014.
Hang on to what we've got – My #1 concern going into Spring is (what appears to be) a lack of breeding capital given the low abundance of quail over the past year and an above average (for us anyway) predator population. Remember that rodent populations are very low at this time, and what quail are left are quite vulnerable to death from above (e.g., raptors) and death in the (not so) tall grass (e.g., mesocarnivores). We've been losing one to two radio-marked quail per week to predators. I don't usually call for direct control (trapping) but this may be a good time to do so. If you have quail or deer feeders, focus trapping efforts on raccoons at these foci. Set 2 or 3 cage traps and some "dog-proof" coon traps at deer feeders. For bobcats, use a "rooster trap."
Defer on late-season quail hunting – Hunting in the later part of quail season (e.g., February) tends to be "more additive" than hunting during earlier in the season. Essentially, a hen that has survived until late-February has a better chance of making it til breeding season (May) than a hen in November.
Supplemental feeding – My philosophy on supplemental feeding for quail during winter has always been "if you want to feed, and can afford to feed, then feed;" the pros outweigh the cons.
Nesting concerns – Pursuant to the item above about low breeding capital, we need to make every nest count . . . an impossible goal. But we seek to have nesting success ("hatch rates") above 60%. That requires "indirect" predator control, i.e., an abundance of nesting sites on the landscape in order to shift the odds from predator to prey (see previous newsletters for a discussion of "thimble rigging." Conventional nesting cover (e.g., silver bluestem) may be limited . . . I expect prickly pear to be more important as a nesting substrate this year.
I hope come mid-May we're asking in amazement "where did they (whistling males) all come from?" But we still have 5 months of trials and turmoil before we'll know.

---
Wanted: dead or alive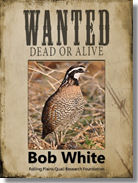 We seek your assistance in providing bobwhites for our research efforts; we'll take them "dead or alive." We need heads (and a wing) from any bobwhites bagged in the Rolling Plains of TX, OK, or other plains states (e.g., KS and NE). We need (permission to trap) live quail for our latest translocation effort in Erath Co.

Quail heads can be dropped off at the following locations, or shipped directly to RPQRR. See our website for additional information. If you wish to participate, save us 10-30 heads from your county (and a corresponding wing from each). Put each head (with wing) in a Zip-loc bag and include the date and county of harvest. See the attached pdf submission form. Contact me (drollins@quailresearch.org) for shipping details. IF you live in the Dallas area, you can drop samples off at Collector's Covey, or if in Houston at Gordy & Sons. Specimens can also be dropped off at the Matador WMA (Paducah), Gene Howe WMA (Canadian), TPWD Inland Fisheries Office (Abilene), or Muse WMA (Brownwood).

We still need to identify 4 (or more) landowners who will let us trap 25 bobwhites from their property. Trapping would take place in mid-March but baiting would require access beginning about 15 Jan. Given the low abundance of quail this year, a "perfect" location would be a deer-hunting property that has quail, but is likely too thick to hunt quail. The closer to Erath Co. the better, but we're prepared to travel further west. Contact me (drollins@quailresearch.org) if you're willing to cooperate.

---
More "blobs" this season?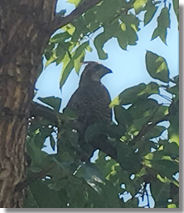 Seems like it. I've had 5 "blobs" reported to me thus far, and given the reduced quail harvest overall, that seems like a "higher" rate of hybridization than what we typically have reported.

Jude Smith is manager of the Muleshoe Nat'l. Wildlife Refuge, and also an avid quail hunter. He sent this picture from near the refuge headquarters in mid-August with these comments. "Been seeing an odd pair of birds up here, I thought blues at first ........then they ran under a trailer and I thought there were a pair of bobs with them. Today I was walking the dog and I saw a pair of blues and thought heck let's see what the girl could do. She pointed them on the motorgrader and as they ran and flushed I was once again confused because they looked like bobs....kind of. We set and flushed them again one landed in a tree and held. The call it makes is very odd....kind of beginning 'bob' with a 'chip chruuu'....kind of reminds me of a Gambel's. I will try and trap them but here are some quick pictures. I have seen one other hybrid but never a pair.......not sure who is what; may be two mules.

---
Song of the Month



Let's Hang On by Frankie Valli and the Four Seasons

---
Word of the month



canorous (adj.); canorous typically describes things, such as church choirs or birds in the spring, that are a pleasure to listen to. It derives from the Latin verb canere ("to sing"). A couple of covey rises would seem canorous to me.

---
RPQRR's Wish List – Can you help?

Our support for quail research comes almost exclusively from private donors. Perhaps you would like to help us help quail. We have need for various pieces of equipment. If you would like to donate, RPQRR is a 501(c)(3) nonprofit foundation, so your donations (cash or in-kind) are tax deductible. Alternatively, if you'd like to make a cash donation and have it earmarked for one of these items that's great too. Here's our current list of needs:

| | |
| --- | --- |
| Item | Need |
| 100-hp tractor | Food plot preparation, shredding |
| 15' batwing shredder | Shredding |
| Shop-style drawer toolbox | Tool storage |
| Sea container | Storage of equipment |
| 12-ft tandem disc | Discing, field prep |
---
Intern diaries
by Theresa Edwards

The last five months that I have spent out at the Rolling Plains Quail Research Ranch (RPQRR) have been incredibly fun and rewarding. I have learned so many lessons and been able to develop several new skills. Not only have I become proficient in radio telemetry, one of my primary reasons for joining the team out at the ranch, I have also had the opportunity to learn to operate a tractor, conduct a helicopter survey, and develop and implement my own research projects. While chasing bobwhites and scaled quail around the ranch, I have been lucky enough to encounter all sorts of other wildlife. Deer, coyotes, snakes, rabbits, turtles, bobcats, and all sorts of different bird species abound out on the property. Even in the winter time, I never went a day without passing by some creature going about its daily routine. This just goes to illustrate the concept of "umbrella species protection," a concept which states that managing and preserving habitat for one species (i.e. quail) results in the conservation of an entire ecosystem in which other organisms are able to make their homes. The amount of life and diversity packed into just 4,720 acres is astounding and is one of the things that make the RPQRR such a special place.

Besides the wildlife, one of the best things about working out on the ranch has been getting to meet and work with so many amazing people. The sheer number of individuals who work, in one way or another, to support the ranch, is quite impressive. From our ranch manager who ensures that the daily operations of the ranch go smoothly; to current and former grad students, researchers, and technicians who volunteer their time and expertise to developing new projects, helping with research efforts, and analyzing data; to donors who help make what we do out here possible, I have yet to meet someone associated with the ranch who is not an incredible individual. And of course, there is Dr. Dale Rollins, the heart and soul of this entire operation, who works tirelessly to keep all of the wheels turning and keep everyone in communication with one another and with the public. He has a way of making everyone feel like a valued member of the team and of easily solving any and all problems that arise. Without him, there would be no RPQRR and the world would be a sorrier place for the lack. Through education and public outreach he has made a huge impact on the hearts and minds of this and future generations, an impact which will hopefully help to secure the future of quail and all of the other organisms who share this world with us.

I sincerely thank everyone who has made my time out here possible. Living and working on the ranch has been a blast and I am so happy to have been a part of fulfilling the mission of this amazing organization. The skills that I have developed out here, the lessons that I have learned, and the friendships that I have cultivated will stay with me for the rest of my life.

---
Stop by Our Booth at Dallas Safari Club convention



Look for us in the "Wingshooter's World" or listen for our canorous song of the bobwhite. Let it be your beacon to our booth.

---
Vol. 11 No. 1
200 - that's the number of bobwhites we hope to translocate to Erath Co. in 2019 in our latest translocation project.
Our top post for December was my birddog Gus' sad wail of "No Quail, No Quail." It garnered some 15,399 views.
Technicians will commence small mammal trapping and implement camera-trapping to measure mesocarnivore trends. Surveillance of radio-marked quail is an ongoing task.
Got a new e-mail address? Please [Click Here] to update your information if you wish to continue receiving e-Quail.
Forwarded from a friend? Please [Click Here] to sign up for the RPQRR e-Quail Newsletters!