Disappointingly average

That's my long-range prediction for the upcoming season. I'll be running my quail forecaster traplines next month and have a more detailed outlook in the September e-Quail so stay tuned. If you have observations/prognostications, but are not on my e-trapline, e-mail me (drollins@quailresearch.org) with your comments.

---
Song of the month

Cool change by the Little River Band. Don't know about you, but my dogs and I are ready for a cool change.

---
Nesting Quails and Czech Sausage

by Brad Kubecka



Growing up, my dad always told me that every good thing must come to an end, and we Czechs are all well aware that a sausage has 2! Likewise, nesting season at RPQRR seems to have met its end for this summer. Our last radio-marked nest was initiated on June 17 and hatched on July 10. On July 12, while on the tractor preparing fire plots for upcoming projects, I flushed a nesting bobwhite incubating 8 eggs. The bird was still incubating as of July 21 suggesting that some birds may still be incubating but most have called it a summer. Should we be fortunate to get a "good" (3 inches plus) rain, nesting might kickstart again, but it's not likely to change our nesting outlook much.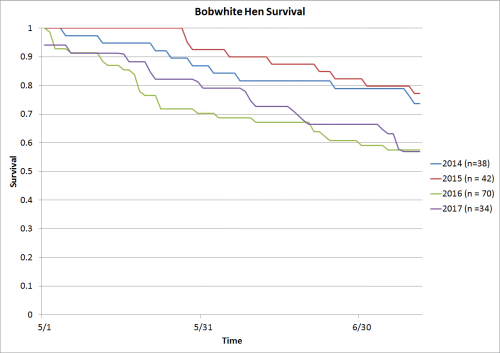 Hen survival rates have been similar to those observed last summer, but lower than previous years. As they say at Tall Timbers Research Station "dead hens lay no eggs."

Nest output this summer was 0.55 nests / hen for bobwhites and 0.65 nests / hen for scaled quail. Generally, these numbers would be considered low rates of nest initiation. Apparent nest success was 42 and 47% for our radio-marked bobwhites and scaled quail, respectively. These are low rates of nest success for RPQRR, but not terrible in the grand scheme of nest efforts. From game camera surveillance, we determined our major nest predators this year were badgers, striped skunks, and Mexican ground squirrels.

Brood counts have also been disappointing this summer. A 21-day flush of brooding hens is conducted to estimate chick survival. Given the low rate of nest initiation and nest success, our 21 day flushes have been quite inconclusive. Three hens were killed before being flushed, 2 were flushed with a single chick, 1 was flushed with 2 chicks, and 1 was flushed with 9 chicks. Other brooding hens await their flush date. Anecdotal observations on the ranch also suggest similarly small brood sizes (< 4 chicks).

---
Knox Co. Blue Quail Restoration Effort update

by Becky Ruzicka



In the next three weeks we will be wrapping up our summer telemetry monitoring of translocated scaled quail on the Knox County study site. The primary pieces of information we gain from telemetry monitoring are hen survival and hen dispersal post release.

Hen Survival: This year's survival doesn't compare favorably to last year. At this time last year our hens were at 63% survival. Currently, 40% of the hens we released in April are still alive. We know from the published literature (and our own observations on RPQRR) that quail survival can fluctuate wildly between years. Published estimates of scaled quail survival during breeding season range from 22% to 80%. Unfortunately, it is difficult to pin point what is driving the decrease in survival. Most of the mortalities where we have been able to determine cause of death were attributed to raptors. That is similar to last year. I speculate that a drop off in the small mammals has caused predators to shift their prey preference and focus more on our quail.

Hen Dispersal: Recently, we were able to fly fixed wing surveys to look for some of our hens that went missing. We were missing 15 out of the 113 hens we released. We were able to find 8 of those birds alive (2 were dead) from the air and got on the ground locations for all but one live bird. Several of the birds that were missing made long distance treks up to 11 miles. Two of the hens crossed US Hwy 82—a busy highway!

We were able to keep up with most of the hens that we released this year, even prior to our flight, a little better than we were last year. Mostly because we are much familiar with the terrain because the hens have been moving more this year than last year. I don't have data analyzed to compare yet, it's just my observation. The only piece of data I have is that our farthest recorded dispersal distance last year was 5 miles compared to 11 miles this year. Incidentally, the longer movements could be contributing to survival. It will be interesting to look at daily survival probabilities as a function of dispersal distance in the future.

---
Competing risks
by Christine Palmer, Research Technician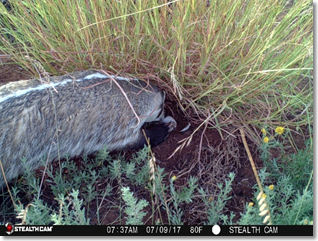 This summer, we placed game cameras on bobwhite nests and "dummy nests" to document nest depredations. Many of us expected our most prevalent nest predator to be coyotes (as we have a healthy population of coyotes), but this was not the case. The most ubiquitous nest predators since the onset of the study have been badgers, striped skunks, and Mexican ground squirrels. In other words, coyotes may not be contributing as much to nest depredations this year as was expected, or their neophobic behavior is playing a part in the results. Neophobic behavior is depicted by a tendency of an animal to avoid unfamiliar objects (e.g., cameras) or situations. However, other studies monitoring bobwhite nests, using infrared cameras similar to ours, noted coyotes as the main nest predator (Rader et al. 2007). Either way, this is beyond the point.

People may contemplate that if badgers are depredating many nests, why not just remove all badgers to spare nests? This would likely be unsuccessful. One reason is due to the concept of competing risks. Many different predators are known to depredate quail nests. The idea behind competing risks is that if you remove one threat, those nests saved from that threat are still just as vulnerable to other threats (Hernandez and Guthery 2012). For example, if 40% of all nest depredations can be attributed to badgers, removing all badgers does not mean that 40% more nests will succeed. Rather, other nest predators will likely fill the role (partially, or completely) of badgers.

The idea of competing risks can be expanded to bobwhite mortality. Errington (1945) proposed that there is a threshold of security for bobwhite populations, and suggested that harvesting quail did not affect their population numbers, (i.e., harvest was completely compensatory) when above this threshold. The number of birds above this threshold were considered a "doomed-surplus." In others words, natural predation would be a competing risk of human-induced mortality. Although many people liked the sound of this theory, few studies were conducted to test the hypothesis. Errington later admitted the threshold concept was erroneous because the threshold varies and is not constant. He considered density dependent factors such as prey availability (less prey, less efficient predation), however, he failed to consider density independent factors such as drought and blizzards. The former is especially important in Texas, where weather is a major driving force in quail production. While there may be competing risk in quail harvest, researchers now believe hunter harvest is not completely compensatory (harvested and unharvested populations would be the same) or completely additive (for every bird shot, there would be one less bird in the population) (Guthery 2000). Predator management and harvest mortality are controversial issues, but the answer to many questions on these topics generally boils down to "it depends".
---
Join us Aug 8 for "Bug Day"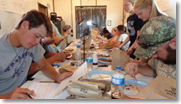 I'll trade you 2 Orthopterans for 4 Coleopterans or a handful of Hymenopterans. Want to learn more about "MRE's for quail", i.e., arthropods? Then join us on Tues, Aug 8 for our annual "Bug Day." We'll be poring through some 1,200 samples of sweepnets and pitfall traps then identifying the insects to Order. Try to be on site by 9 a.m. as it will take most of the day. No experience in entomology required. We'll provide the hamburgers! Contact drollins@quailresearch.org FMI.

---
Statewide Quail Symposium slated for Aug 16-18

Make plans now to attend! For registration details and schedule, see http://statewidequailsymposium.com.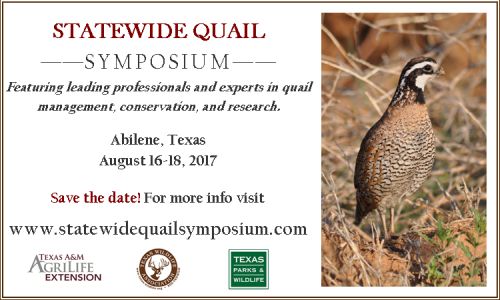 ---
RPQRR's presence at the 8th National Quail Symposiumh National Quail Symposium

Quail 8, a science symposium for biologists around the nation and beyond, was held last week in Knoxville, TN. The symposium featured 94 presentations and posters on various aspects of quail management and research, and attracted 300 quail researchers and biologists from across the U.S. RPQRR's Brad Kubecka and Becky Ruzicka were among those presenters. While there we also conducted a "train-the trainer" workshop on eyeworm screening at the request of colleagues from TN and VA.

I've participated in the last 5 such symposia, and walk away from each thankful that I live and work in west Texas. My hat is off to most of my colleagues who scratch and claw to sustain, or reestablish a quail population (huntable or not) in their states. I ask myself if I'd still be a motivated "Student of Quail" (SOQ) if my quail struggle was always uphill. I remind my colleagues who persevere of Sir Winston Churchill's exhortation to his countrymen during the darkest days of World War II "Never, never, never, never—in nothing, great or small, large or petty—never give in, except to convictions of honour and good sense."

I also walk away from many of the presentations amazed at the level of cutting edge research being conducted, and of the level of statistics and modelling employed by those researchers. Alas, I'm just an old style naturalist who probably puts too much credence in field observations over AIC models. I'm proud of my students (Becky and Brad in this case) though as they have embraced the new technologies while staying well rooted in field biology.

The symposium proceedings is a great compilation of interest to more serious SOQs. Proceedings will be available soon; check https://www.quailcount.org/quail8/home.html for details.

---
SHET flattery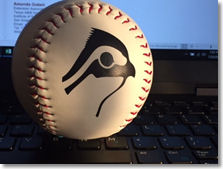 Some 20 years ago I wrote an article called "Play Ball for Bobwhites" in which I described the Softball Habitat Evaluation Technique or "SHET" (be careful with your enunciation here!). It uses the game of slow-pitch softball to describe the features of good quail habitat. Since that time it's become standard issue at Quail Appreciation Days, Bobwhite Brigades, and indeed across several states. You can see the SHET webisode at

While at the Quail 8 Symposium, I was flattered to see how it had been adapted by the Missouri Department of Conservation. Hope to re-Texanize the concept soon via assistance from Texas A&M Agrilife Extension's Reversing the Decline of Quail Initiative. I predict it to be a line-drive hit! Stay tuned.

Several years ago I was flattered when a cowboy at a field day told me "I never really understood what the boss (an absentee landowner) was talking about until you showed us that softball method." How 'bout that: the cowboy-seal-of-approval!

---
Tall Timbers publishes new quail handbook

Hot off the presses is Tall Timbers Research Station's Quail Management Handbook. I perused it pretty well on the flight back form Knoxville and it looks like a winner to me. In the same format as Texas' "Beef, Brush & Bobwhites" (by Hernandez and Guthery) but references TTRS' long-term data sets on various topics and the lessons learned therefrom. A bargain for $30. See http://talltimbers.org/tall-timbers-bobwhite-quail-management-handbook/ for more information.

---
RPQRR's Wish List – Can you help?

Our support for quail research comes almost exclusively from private donors. Perhaps you would like to help us help quail. We have need for various pieces of equipment. If you would like to donate, RPQRR is a 501(c)(3) nonprofit foundation, so your donations (cash or in-kind) are tax deductible. Alternatively, if you'd like to make a cash donation and have it earmarked for one of these items that's great too. Here's our current list of needs:

| | |
| --- | --- |
| Item | Need |
| ¾ ton pickup truck | Pulling trailers, carrying pumper unit for prescribed burns |
| 100-hp tractor | Food plot preparation, shredding |
| 15' batwing shredder | Shredding |
| Flagpole | Demonstrating our pride |
| 12-ft tandem disc | Discing field prep |
| Sea container | Storage of equipment |
---
Quail calendar
August 8, Bug Day; contact d-rollins@tamu for details.
August 14-16, QuailMasters Session 4, Abilene
August 16-18, Statewide Quail Symposium, Abilene; fmi Amanda Gobeli, agobeli@tamu.edu; see more details of the schedule at http://statewidequailsymposium.com/index.html ; it's going to be a great meeting featuring a lot of research updates and 4 topical "point-counterpoint" arguments (I just love these!).
September 29, 10th annual RPQRR Field Day; contact drollins@quailresearch.org fmi.
October 5, first-ever "Urban Quail Appreciation Day"; San Antonio; contact Helen Holdsworth fmi at helenholdsworth@wittemuseum.org.
---
From our Facebook page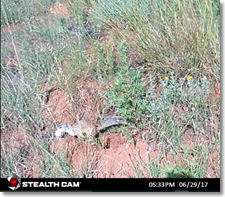 Our most recently discovered nest bandito is the Mexican ground squirrel. See Christine Palmer's picture here for a "caught in the act" photo thereof. Then see Alec Ritzell's summary graph of this June's small mammal trapping effort. While cotton rats declined 99% over the past year, the ground squirrels have enjoyed a great year—their numbers increased 5-fold since last year and are the highest we've ever recorded . . . apparently to the misfortune of nesting quails. Thanks to support from Stealthcam, Texas A&MK Agrilife, and the Cross Timbers chapter of Quail Coalition, we recently purchased 40 new game cameras to deploy for nest depredation research.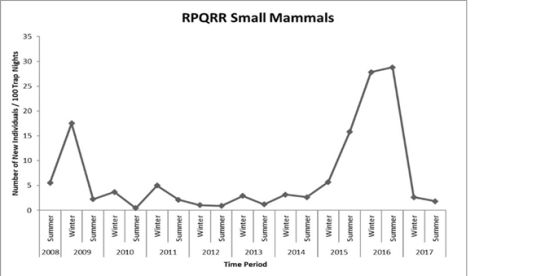 ---
The RPQRR in another time

by Brad Kubecka



Without a doubt the Rolling Plains of Texas is home to some of the finest quail hunting in the world. But the Rolling Plains, ranging over 24 million acres, is home to more than just the RPQRR and exceptional bobwhite populations­— it's the home of "Bob Wills and the Texas Playboys," one of the last known native bison herds in the country, and a strong cattle ranching culture. Before the RPQRR was purchased in 2007, the land where the ranch lies was used for cattle production and farming. A trap, corrals, and working pens mark the middle of the RPQRR. On the south end of the pens, a decrepit dipping vat is a small artifact of the deep cultural history that surrounds the ranch.

The late-1800s in Texas are exactly what people imagine. Cattle drives occurred from deep, south Texas up through the Great Plains (the Rolling Plains ecoregion forms the southern edge). In the late 1800s, the cattle industry was crippled by diseases. Mites, scabies, ticks, tuberculosis, screwworms–you name it, they had it. But one disease in particular seemed to decimate cattle with a higher morbidity and mortality rate than any other, and folks in the Midwest were beginning to notice that the diseased cattle seemed to be brought from Texas. With cattle suffering from ataxia, fever, scours, bloody urine, and mortality rates reaching 90%, the infamous disease soon received the name "Texas cattle fever."

After much investigation by the USDA, it was determined that the disease was attributed to a protozoan pathogen (i.e., an organism eliciting a severe immune response) that was carried by 2 tick species, the cattle tick (Rhipicephalus annulatus) and the southern cattle tick (Rhipicephalus microplus). Collectively, the 2 tick species were given the name "Texas cattle fever ticks."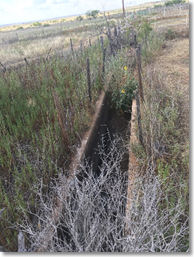 About the same time of investigation in 1888, Robert J. Kleberg of the King Ranch was experimenting with a treatment for scabies, or mites. Mr. Kleberg's idea to get rid of mites was to run the cattle through a deep bath of a sulphur-based concoction. The deep bath was in a trough-like structure recessed about 8 feet into the ground. This structure is known as a dipping vat, and Mr. Kleberg's was the first in the country. During this time, quarantine zones were implemented, but with little success at eliminating the disease.

When Kleberg heard that ticks were the main vector of Texas cattle fever, he felt that his treatment could effectively get rid of ticks as well as mites. He contacted the Secretary of Agriculture and mentioned his idea. In 1893, the Livestock Sanitary Commission [LSC] (now known as the Texas Animal Health Commission [TAHC]) was established to help regulate against disease spread. The LSC was vital in promoting the use of dipping vats and was originally stationed in Quanah, Texas ­– in the eastern edge of the Rolling Plains– but eventually moved to the Fort Worth Stockyards. During the passing years, dipping vats were used extensively to experiment and optimize Kleberg's original solution to kill ticks. In 1911, an arsenic-based solution was developed as the official concoction to kill ticks. Over the next few decades, dipping vats were installed in pert near every cattle ranch in Texas and the ticks were virtually eradicated from the United States. Though cattle are still dipped in areas of south Texas, today it's more common to see the old remnants of a dipping vat than a functional one in the Rolling Plains.

While visiting the dry vat at RPQRR this July and reflecting on a vision of the thousands of cattle treated at that same spot, a brood of bobwhites exploded from the bottom of the vat­…. perhaps an aide memoire that history is still rife with exciting stories.

---
9.18 - (year-to-date rainfall [inches] at RPQRR)
savant (noun); "a person of learning; especially : one with detailed knowledge in some specialized field (as of science or literature)"
Got a new e-mail address? Please [Click Here] to update your information if you wish to continue receiving e-Quail.
Forwarded from a friend? Please [Click Here] to sign up for the RPQRR e-Quail Newsletters!