Opening Weekend: The Heat is on!

It's going to be several weeks (or a month) before we'll know if the highly anticipated 2016 quail season lives up to its billing. Temperatures in the high 80s and gusty winds ruled on opening weekend, with no cooler temperatures in the 10-day forecast. I sat out opening weekend for a day of college football. C'mon fall! Send your hunting reports to me at drollins@quailresearch.org.

---
Safety Rules for Quail Hunters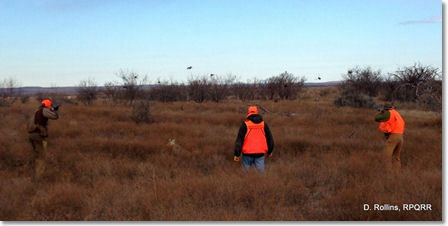 Between now and late-February there will be some 75,000 quail hunters afield (a far cry from the 250,000 about 25 years ago), all carrying shotguns, and most will be accompanied by one or more friends while afield. Herein can lie a serious problem.

If you've hunted quail for a long time, odds are you've been (at least) "sprinkled" by some stray pellets. Nothing to fret about, eh? Au contraire! At close range, there's no firearm more deadly than a shotgun, even if we're talking "bird shot" (i.e., No. 8 shot size). A friend of mine, who doesn't mince words, reckons that "quail hunting with people you don't know is more dangerous than hunting tigers with a spear." Truer words were never spoken. Caveat emptor.

I've probably introduced more "new" (i.e., youth) hunters to the joys of quail hunting than anybody (perhaps 100 over the past ten years). Take that as a challenge and beat my record (and I hope you do). For most of these nimrods, it will be their first quail hunt, perhaps their first hunt of any kind.

Now, you might think that heading afield with such novices would be as a volatile a mix for safety as one could imagine. I beg to differ. My closest calls, and highest anxieties afield, are when I'm with older men, who have likely hunted over fifty years. Sometimes they just get too lax on their gun safety for me. Sometimes they can't hear well. Sometimes they think their age exempts them from accidents. Regardless of why, some of them make me more nervous than a long-tailed cat in a room full of rocking chairs.

If you're the kind to adorn your refrigerator with timely advice and reminders, then tape this column squarely in plain sight. I have copy posted on the kitchen wall at our quail lease. Anytime I'm guiding a Brigades quail hunt, I make all participants recite these basic rules of quail hunting safety. I even make them role-play several of the items below (e.g., Number 5) to ensure we have no lapses in communication. Hunting safety is no accident.

1. Obey all the common rules of gun safety while afield, e.g., always keep the muzzle pointed in a safe direction, especially when unloading.

2. Be mindful of where your hunting colleagues are at all times. Always wear hunter orange, at least a cap, and preferably a cap and vest. Leave your camouflage jacket and Bowie knife in the deer blind.

3. Maintain a straight line when walking. Sounds simple enough, right? You'd be surprised how many times you have to remind your hunters to "straighten up."

4. Scan the ground in front of you for obstacles that may trip you (e.g., a hole or piece of wire). If you sense an impending fall, hold your shotgun "out and up" and hit the ground on your elbows. If you do fall, open your shotgun's action and check to ensure the muzzle did not get plugged with mud.

5. Know your assigned "safe zones of fire" and respect them. If there are more than two in your hunting party, do not shoot at birds that flush behind you. Never shoot at a bird that causes you to shoot across or over your partner(s).

6. When approaching a point, move quickly but safely into position. Walk past the dogs without slowing down. Don't stop, or begin to "stalk" the dogs on point. This is a good time to remember where every member of your hunting party is.

7. Always approach a pointed bird dog with your gun in the "port" position (muzzle pointed up) with the safety "on."

8. Do not shoot at low-flying birds or at any bird if the guide yells "no bird, no bird."

9. If you knock a bird down, mark its location well, but don't proceed towards the downed bird until all shooting has ceased.

10. Locate and pick up your spent shotgun hulls. Never leave any trash in the field.

11. Always unload your shotgun (safely and completely) before getting into the vehicle; leave the action open for easy inspection (I rest much easier when I see an open action). When unloading, make sure the muzzle is pointed in a safe direction at all times (generally upwards and always pointed away from anyone else).

12. Be especially careful when crossing fences or going under or through dense brush. When crossing fences, unload your shotgun and pass it to a partner, or lay it on the ground (on your cap), then cross through and continue hunting.

Share these reminders with your hunters, and don't be afraid to enforce them if you're in charge (or even if you're not!). If they're visual learners require them to view the video at https://www.youtube.com/watch?v=gul75HzG_ro.

Quail hunting is a great sport and there's going to be some really anxious hunters out there this season. There are few experiences more exciting, and unnerving, as a covey rise on a frosty morning—it's what we live for. But remember, there is no quail out there that is worth endangering yourself, your comrades, your guide, or my dogs!

---
Calling All Quail Hunters: Save Those Seeds!

RPQRR is soliciting crop contents of quail harvested across the Rolling Plains (TX & OK) in an attempt to build a comprehensive seed collection of plants eaten by quail. As you clean birds, dissect out the crop and empty the contents into an empty shotgun shell box so they will dry out, then tape the seams with duct tape. Do not put them in a plastic bag as they will mold. At the completion of your season send the box and contents to RPQRR, P.O. Box 220, Roby, TX.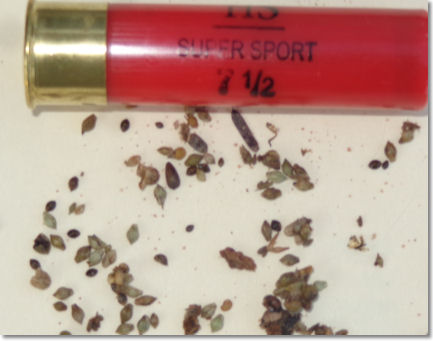 ---
Song of the Month

"Anticipation" by Carly Simon

---
Word of the Month

beatific; (adj.) "of, possessing, or imparting a state of utmost bliss." See, e.g., a February morning with a light fog and 38 degrees, with a brace of Setters on point in beautiful country.

---
New Quail Webisodes available

RPQRR, in collaboration with Texas A&M Agrilife Extension Service and Texas Parks and Wildlife, recently produced a series of 8 new quail webisodes (i.e., 4 to 10 minute videos on YouTube). Topics included impacts on quail from purported pariahs like roadrunners and coyotes on quail, nesting ecology and brood habitat, and "CSI Quail." See them all at www.quailvideos.com.

---
Coffee-shop Quail Talk subject of recent webinar

Texas Wildlife Association's recent Wildlife for Lunch webinar featured Robert Perez (TPWD Upland Game Bird Program Leader) on common myths and misconceptions in quail management. See the webisode at: https://www.youtube.com/watch?v=3NsMfkoORfQ.

---
RPQRR's Wish List – Can you help?

Our support for quail research comes almost exclusively from private donors. Perhaps you would like to help us help quail. We have need for various pieces of equipment. If you would like to donate, RPQRR is a 501(c)(3) nonprofit foundation, so your donations (cash or in-kind) are tax-deductible. Here's our current list of needs:

| | |
| --- | --- |
| Item | Need |
| ¾ ton pickup truck | Pulling trailers, carrying pumper unit for prescribed burns |
| 100-hp tractor | Food plot preparation, shredding |
| 15' batwing shredder | Shredding |
| Grain cart | Bulk purchase/storage of milo |
| Sea container | Storage of equipment |
---
Camera-trapping



A "Coop" on a coop? We've used game cameras on a variety of surveillance applications, not just feeders and waterers. In 2014 we began evaluating translocating wild-trapped bobwhites, and the practice of "sequestering" them in a "surrogator" (this one is a shop-made replica of the commercial variety) for 30 days prior to releasing them in a new habitat. We use a game camera to assess what kind of "visitors" frequent the surrogator. Here, a Cooper's hawk (sometime referred to as a "Coop"), is perched on the unit. Other pictures show the hawk harassing the birds for over 20 minutes. The quail were not harmed. This type of "soft release" has been effective at allowing more translocated quail to survive through the "tough times" associated with raptor migration (e.g., April).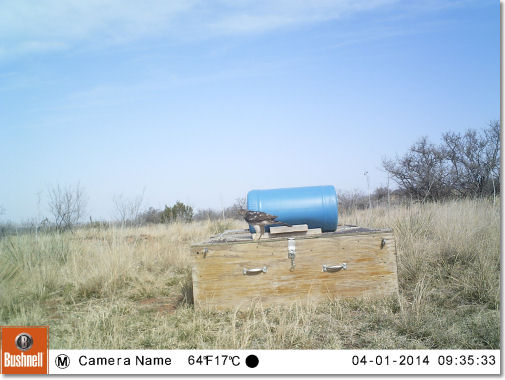 ---
Want RPQRR's printed newsletter?

Quail hunters are, as a rule, an older lot. Older men (aka potential donors!) don't always use the internet for their communications, e.g., e-Quail News. So, we decided to offer a quarterly printed newsletter as a supplement to the e-version. If you'd like to be on the mailing list for the printed newsletter send your name and mailing address to Russell Graves, PO Box 68, Childress, TX 79201.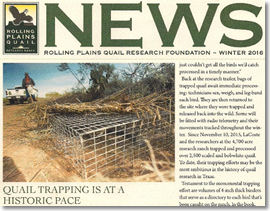 ---
Intern diaries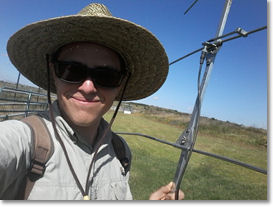 My name is Steven Romo I have been a summer intern here at RPQRR this year. In 2015, I graduated from West Texas A&M with a bachelor's degree in wildlife biology. I was fortunate enough to be able to return to WTAMU last school year to begin working on my master's degree under Dr. Richard Kazmaier. Our plan was to study dietary characteristics of Greater Roadrunners in relation to different variables such as habitat and sex. I knew that my thesis project would prevent me from seeking an internship this summer unless I would be able to get an internship at my study site, Matador WMA. With high hopes I submitted my resume to Matador WMA for their summer internship but never heard back from them. After a few weeks I called discovered that they had tried to contact me but could not get an answer; it turned out that there was a typo in my phone number on the online application.

This twist of fate left me scrambling to make new work plans for the summer. I had gotten multiple tips from different sources that Dale Rollins at the Rolling Plains Quail Research Ranch might be interested in my thesis project. I found that the ranch was also offering a summer internship and because it was relatively near Matador WMA I decided to apply. Literally within 15 minutes after sending my cover letter and resume to Dr. Rollins, I received an enthusiastic reply from him inquiring about my thesis project.

Within the next few weeks Dr. Rollins emailed me to schedule a telephone interview. At that point I was working at a veterinary clinic in Amarillo, and I wondered how I would be able to take time off for an interview. Fortunately, my employers understood and I was able to have my first telephone interview in the cab of my friend's truck in the parking lot outside of my work. I was highly unprepared for some of the questions thrown at me, but I answered what I could honestly. My favorite part of the interview was when Dr. Rollins asked me to describe the differences between Coopers and Sharp-shinned hawks. I was not expecting such a question in an interview for employment but it put me at ease as I was able to "geek out" and ramble about all of the differences between these birds that I have memorized since my early years of birding. I was hoping that my passion for wild birds shined over the telephone and I believe it did. In a few days I was offered the internship and I gratefully accepted.

After school was out, my mother met me in canyon before the drive to Roby Texas. I packed my jeep with all my essentials and loaded my parrot Marty into my mom's car so he could spend the summer with my parents in Dallas. We rolled into Roby and were shocked at its size. I used to think Canyon, Texas was a small town but Roby didn't even have its own grocery store. I was relieved to find a Baptist church in town, and I looked forward to attending as I have with all of the small Baptist churches I've found during previous internships. After a quick bite to eat, my mom and I realized we overshot the ranch and headed back the way we came.

I rolled my jeep into the front gate of the ranch and was overflowing with excitement. I quickly met my fellow intern Anne, the ranch manager Lloyd, wildlife technician Caroline and finally Dr. Rollins. That afternoon Dr. Rollins and his dogs took me on a tour of the ranch in his buggy. It was a surreal experience driving around such a beautiful property with someone who knew the landscape like the back of his hand. I was pleasantly surprised to find that the ranch I'd be working on all summer had topographical relief in the form of an elegant ridge. In Dr. Rollin's words "it gives the ranch character!"

While we were driving through the ranch I found myself in awe of the bird life. Quail would flush in front of the buggy and fly inches from our face, Scissor-tailed Flycatchers, Western Kingbirds, Golden-fronted Woodpeckers, Swainson's hawks and a ton of Greater Roadrunners were just some of the birds seen on my tour. This summer I was able to remain in a constant state of bird watching as I worked outdoors and it has been the most relaxing work environment I've experienced so far. That is one of the great things I've found about internships: at the very least, an internship will tell you if you are headed down the right career path. I'm so glad I'm still doing what I still love.

The people I have been living and working with this summer at the ranch have been amazing. Dr. Rollins always approached his interns with a positive attitude and with much wisdom to share. It was refreshing to be in such a positive work environment this summer. I was pleasantly surprised to learn that Dr. Rollins and I had a similar taste in music with a strong appreciation for the classic bands like Creedence Clearwater Revival. Lloyd LaCoste, the manager here at RPQRR was incredibly fun to work with. I have never seen someone work as hard as he does while maintaining such a sharp sense of humor and respectful attitude. I was happy to find out that Lloyd and his family are active members of the Baptist church in Roby where I visited this summer. I think I speak for all the interns when I say that Lloyd was huge source of positive energy for us while we worked here this summer. This was my first internship where I worked with more than just one other intern, and I am very glad I had more fellow interns to interact with. Brad was our lead intern with the most experience working here. He did an excellent job teaching us how to do our job effectively, and always had some science to share. Stoney was our only male undergrad intern, but that doesn't mean he was inexperienced at all when he came here. In fact, he taught me so many practical skills this summer that I had no idea how to do, such as how to drive a bulldozer. Stoney was always up for whatever challenge came his way this summer, which is the kind of attitude we should all strive for. Alex was our only female undergraduate intern this summer. If anyone got anything out of this internship this summer, it was her. I watched her completely come out of her comfort zone as she led a group of children at Bobwhite Brigade and forced herself to dissect quail heads for eye worms. With the skills and abilities that she has gained this summer, I think that Alex will be a cut above the rest of the undergrads when she returns to her classes in Montana. Anne was our female graduate student intern this summer. She is a woman who has a thirst for knowledge like none I have met before. Throughout the summer I have watched her seize every opportunity to listen to her superiors explain theories, management techniques, and journal articles. Anne had her two young daughters living in Abilene for the summer, so her determination to work at this internship was evident by her willingness to commute every day.

Tracking birds with radio telemetry was my main duty this summer and it was a huge adventure in its own right. Every day tracking birds was a mini expedition and you would never know exactly where these birds would be from day to day. I was also assigned to help a grad student's intern conduct mast surveys to measure fruit abundance for a dietary study on coyotes. The mast surveys were rather difficult, but the activity pushed me to memorize the common woody plants found on the ranch. My minor project was to run the camera trapping research project this summer, and I greatly enjoyed this responsibility. The camera trapping data collection acted as a mid-week pick-me-up as I devoted time out of my work schedule to service cameras and sort through awesome pictures of wildlife. Other duties of the internship included mowing, shredding roads, cleaning the ranch house, and entering data.

The summer was not without struggle. Frustration was common in the Texas heat as I tracked some individual quails who never stayed in the same area. I had a mental list of these birds that always gave me trouble and I would have to budget my time when it came to tracking those birds. I also struggled with learning the roads and pastures of the ranch, and for the first 3 weeks I would often find myself completely lost on the ranch. I am happy to say that as the summer progressed, I overcame these struggles and gained some great new skills. Some of the new feathers in my hat include experience with radio telemetry, operating a GPS unit, setting up trail cameras, operating and servicing a tractor and a bulldozer, and a basic understanding of common range plants in the Rolling Plains of Texas. I was also able to sharpen my skill of raptor identification as I got help with weekly raptor surveys.

These practical skills I gained are a great product of this internship, but just as important is the wisdom I have gained from working at RPQRR. The saying "bad news doesn't improve with age" is a bit of wisdom Dr. Rollins planted in our minds from day one. So if any of us ever made a mistake we knew to report it immediately. One week I had an accident with a quail nest in the field while tracking a bird, and although I reported it to Brad, I failed to inform Dr. Rollins until that evening. Dr. Rollins was very understanding, but was aggravated that I had waited until the evening to tell him. Needless to say I learned my lesson that week.

Another interesting thing I realized this summer is that anyone can be a leader. Before this summer I never thought I could be a very effective leader as my personality is quiet and reserved. However, I was encouraged after a discussion with another intern who stated that they actually related better to leaders with personalities similar to my own. That's when I realized that leaders are made and not born. Now I know that I can learn to be just as effective at leading as could a person with a highly extroverted and outspoken personality; I just have to choose to do so. This internship also taught me a lot about teamwork, as we would all need to have each other's back when work piled up. Any extra projects or assignments beyond our routine duties meant that everyone would have to share the load, even if it meant working after hours. This sense of teamwork was actually sharpened when deadlines were strict, and our team of interns learned to work as a unit to achieve a common goal.

Respect was a major lesson for myself this summer. At each of my previous internships I have made one constant observation: drama happens when people gossip or when people keep emotions bottled up—this internship was no different. Therefore, these are my bits of wisdom that were reinforced this summer: never say anything about someone that you aren't willing to say to their face, reject gossip and opportunities to gossip, treat others the way you want to be treated, consider other's perspectives, filter stereotypes, eliminate prejudice, and seek the good in people.

This internship was incredible and I feel that I have greatly grown as a man and professional while working here. I am incredibly grateful for this opportunity to work, for the excellent leadership exhibited by Dr. Dale Rollins, Lloyd LaCoste, and Brad Kubecka and the encouragement from my fellow interns. I thank you all for an awesome summer.

---
On the verge of what many hope will be a record season, I ask that you keep your eyes open for any "weird" quail. "Weird" could include odd plumage, hybrids of bobs and blues, or diseased birds. As you clean your birds always be mindful of birds that are "noticeably" light in weight, or have livers that are discolored (think pickle-loaf). Keep your camera handy for any plumage abnormalities, and a ziploc bag handy if you find any potentially-diseased quail. Either way, please contact me (drollins@quailresearch.org or call my cell [325-650-0311]) if anything catches your attention. Inquiring minds want to know.
13.0 - The average number of bobwhite coveys heard last month during fall covey call counts at RPQRR. That's only a slight increase over last year's average of 12.7 coveys/point.
Jan 5-8 - Wingshooter's World at Dallas Safari Club Convention
Two special events slated for 2017
QuailMasters-Encore! will be the last opportunity to experience the "adult version" of Bobwhite Brigade. Over a course spanning 4 sessions and 4 months, participants will tour some of Texas' premier quail properties and learn from landowners and professors alike. For more information, contact Clint Faas.

The other effort will be a redoux of the Statewide Quail Symposium on August 16-18, 2017 in Abilene. Details to come.
See my post from Oct. 21 of a covey of blues as they see themselves in a mirror for the first time. I purchased a rectangular mirror at a garage sale and have used it while camera-trapping at our guzzler.
Got a new e-mail address? Please [Click Here] to update your information if you wish to continue receiving e-Quail.
Forwarded from a friend? Please [Click Here] to sign up for the RPQRR e-Quail Newsletters!