Opening weekend brings mixed bag

For once in a long-time the opening day of quail season brought cool temperatures. Anticipation among dogs and hunters was high. Several e-mails to me brought out the hand-wringing that often accompanies the harvest of a high-value crop, be it alfalfa, cotton or bobwhites. Several asked "where did they go?" "Have we experienced an implosion?" Memories of 2010 are still vivid to many of us.

James Lewis of Dickens Co. and Rod Hench of Scurry Co. are both members of our Advisory Committee. Both had expressed their concerns. Lewis offered that "looks like our bird population up here has crashed. We have probably 10-20 percent of what we had last year."

So, I polled several avid hunters and also checked with staff at the Ranch. We've observed no "sudden, dramatic implosion" but our bobwhites and blue quail have experienced "poor" survival all summer long.

Hunting reports ranged from "poor" to "exceeded expectations."

Chip Ruthven reports from the Matador WMA in Cottle County. "About what I expected at the Matador. Some hunters finding decent numbers of birds, other are not. Most coveys I heard moved in a day was 7. Did get some reports of 20+ bird coveys."

Kevin Wheelan of Dallas hunts northeast of Big Spring on the same lease I'm on. He reports "Moved 10 coveys (6 bob 4 blues) in 6 hours. Some bobs were just a pair and my thought was we missed the other birds. Scenting was terrible Kicking up marked down birds the dogs couldn't smell Great cover conditions. No roadside coveys observed. Overall, coveys smaller—largest was 20+ blues."

(In case you're wondering why I didn't proffer a report it's because I had a total knee replacement done last Tuesday—it'll cost me first half quail season, but I'm playing for the long haul here!)

Brad Bates (QM '07) reports for two properties. "SW Borden Co: 3 coveys/hr., 8 to 30 birds per covey, cover is average and food supply is excellent due to grubbing activity and late summer rains. Crops had filaree, greens, broomweed and snakeweed, ragweed, sunflower, croton, few bugs. Central Midland Co: 4 coveys/hr., birds lifting 70+ yards ahead – wild! Cover poor to average. Food supply poor to normal, crops had filaree, snakeweed, croton, cowpen daisy, misc. greens, no insects."

Don Northcutt made the drive out from Longview to hunt his lease in Tom Green Co. "Exceeded our expectations. Put up 13 coveys on Saturday and 16 on Sunday. Not much dog work though. About half the grown coveys were less than 10 birds; several 6-7 bird coveys."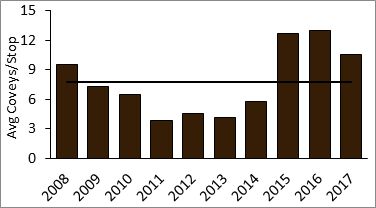 Steve Mayer of San Angelo and is a member of RPQRR's Advisory Committee. "I hunted the golden hour (5:30-6:30 p.m.) on land in Runnels County. We moved 5 coveys and I bagged two roosters. Scenting conditions still difficult even after a 28-degree low."



Neither our Fall covey Call Counts nor our surveillance of radio-marked quail have given any hint of an implosion. But the uncertainty makes our pending helicopter counts (6 Nov) and Fall trapping efforts (after Thanksgiving) even more anticipated. Ditto for several hunts to be conducted over the next 45 days.

---
Song of the Month

Four Walls by Jim Reeves. Not everyone is lamenting a slow start. As I recuperate from knee surgery I can only watch so many episodes of Family Feud and even fewer of the plethora of deer hunting tv shows. My bird dogs feel the same as me.

---
Restoring Wild Scaled Quail Populations: The Ecological Justification for Trying Translocation
by: Becky Ruzicka, Ph.D. candidate, Colorado State University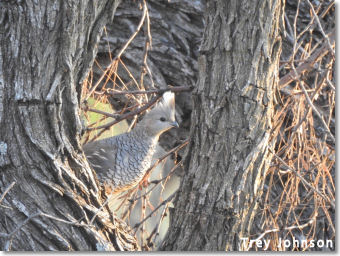 Since 1966 when the Breeding Bird Survey (BBS) was initiated, annual monitoring has documented the range-wide decline of blue quail (or more properly, scaled quail). BBS estimates the decline is around 7% per year on average. A lot of our recent research has focused on improving translocation as a method for restoring these populations. Our interest in translocation stems from a long history of its use in successfully re-establishing gamebird populations. Here, I outline my logic in an ecology-based argument for including translocation as a tool in the proverbially toolbox for restoring wild quail.

Thinking of blue quail decline in terms of overall historic range doesn't tell the full story. Landowners and hunters in the Midland-Odessa area might rightly point out that they have had on average just as many blue quail as they have always had (although perhaps the lows have been lower). The range-wide decline has been coupled with an overall range contraction. In other words, blue quail are absent (or severely depopulated) from areas on the periphery of the range they used to occupy, while populations have remained constant or even increased within the core of their historic range.

One of the most widely recognized and written about (at least in the scientific community) factors contributing to the loss of blue quail in the periphery of their range is habitat fragmentation. A scientific paper published in the Journal of Ecology and Environment (Rho et al. 2015) noted that blue quail decline from 1970-1990 was correlated spatially with a decrease in native rangeland and a tendency toward spatial aggregation of row crops (I interpret that to mean more modern farming techniques). But correlation doesn't equal causation. Having driven tens of thousands of miles across West Texas, it is hard to wrap my head around how habitat fragmentation can play a role in this wide open landscape. I understand how stakeholders west of Dallas-Fort Worth can be so dismissive of the theory. Especially, when coupled with the fact that we know blue quail are capable of dispersing long distances (the greatest distance recorded in the literature is about 45 miles).

In my opinion the term "habitat fragmentation" (as it pertains to this discussion) has become a syntactic crutch and is probably a poor descriptor for communicating the actual ecological processes at work. Habitat fragmentation brings to mind a landscape like you might find in the outskirts of Dallas: small isolated patches of native grass surrounded by seas of coastal bermuda, impenetrable oaks, and concrete. But that is not the situation in West Texas. Out west, for the most part, we have a large rangeland of varying degrees of habitability for quail. Think of your neighbor that hasn't touched his brush since 1962. On a habitability scale of 1 to 10 it's about a 1, but a quail could still disperse through it if it had a mind to. West Texas rangeland is interspersed with row crop agriculture (habitability score of 0 for most of the year). In a good rainfall year, more of the landscape will score higher on the habitability scale – in a poor year, less of it will.

In poor years, quail survive and reproduce at a lower rate, which ultimately leads to a decrease in the population (a phenomenon highly evident this fall). Poorer rangeland conditions increase dispersal costs in terms of lower survival and an increase in the distance required to find quality habitat. Say a fixed percentage of the quail population disperses each year, then lower population sizes also mean fewer birds will disperse. Isolated populations on the periphery of the range are more vulnerable to "winking out" during a string of poor years because they lack an input of dispersing birds and also suffer from survival and reproduction rates that result in negative growth.

So what does any of this have to do with translocation? I would argue that small changes at a landscape scale to the habitat in West Texas have increased dispersal costs for scaled quail to the point where natural dispersal is no longer sufficient to reestablish populations in what was once their historic range. This is especially true after the historic drought of 2011-2012 that reduced core populations back to their smallest extent since we have started monitoring in 1966. It is possible that after enough good years in a row (whatever that may be), scaled quail will fill in their former ranges through natural dispersal. But can we wait that long? Can we depend on enough good years in a row? How many years in the last 20 have been "good?" Translocation of wild-caught quail from core areas where populations are stable can be another tool at our disposal to assist in the recovery and reestablishment of scaled quail populations throughout their range.

Rho, P., X. B. Wu, F. E. Smeins, N. J. Silvy, and M. J. Peterson. 2015. Regional land cover patterns, changes and potential relationships with scaled quail (Callipepla squamata) abundance. Journal of Ecology and Environment 38:185-193.

---
Kubecka fledged

Congrats to RPQRR's Brad Kubecka for successfully defending his Master's thesis last week in Kingsville. Brad has been with RPQRR since 2013: two years as an intern and two more as a graduate student. This young man will go far; he's smart, has a good work ethic, great skill set which includes botany, parasitology, GIS, and he's "better than average" in statistics. Brad will leave RPQRR at the end of the year heading to either University of Florida or University of Georgia to pursue his PhD. He will be missed but we wish him the best. We haven't heard the last from this young man!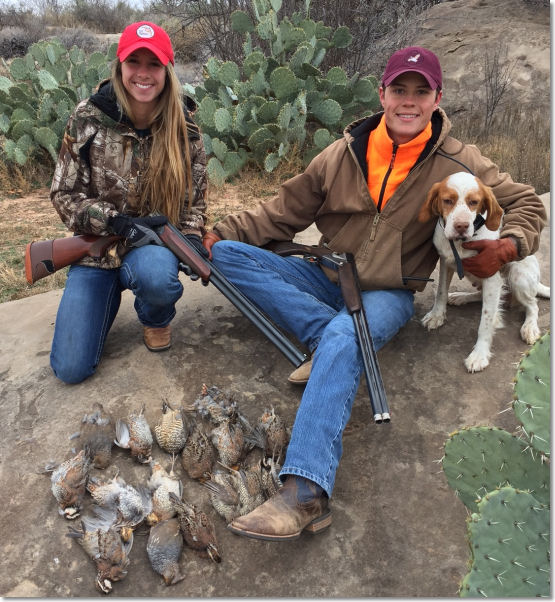 ---
Word of the month

euphony; noun; "pleasing or sweet sound; especially the acoustic effects produced by such words; e.g., "covey rise."

---
Burning prompts ragweed seed production

I often refer to prescribed burning as a "crescent wrench" for wildlife. One of its uses for quail is to increase seed production of desirable forbs, e.g., western ragweed. Research technicians counted seeds of western ragweed last week at various burned and non-burned sites. Some pastures (Doc and Suzie) included burns from spring of 2016 and 2017. Across most sites (not in Ellie for whatever reason) burning increased ragweed seed availability 500 to 800 percent, and the effect lasted into the second year.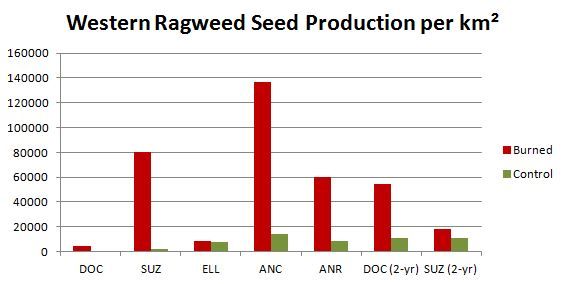 ---
BATR (Back at the Ranch)

Staff will conduct our annual Fall helicopter counts next week, then continue making preparations for our Fall trapping effort, which is due to begin the Monday after Thanksgiving.

---
RPQRR's Wish List – Can you help?

Our support for quail research comes almost exclusively from private donors. Perhaps you would like to help us help quail. We have need for various pieces of equipment. If you would like to donate, RPQRR is a 501(c)(3) nonprofit foundation, so your donations (cash or in-kind) are tax deductible. Alternatively, if you'd like to make a cash donation and have it earmarked for one of these items that's great too. Here's our current list of needs:

| | |
| --- | --- |
| Item | Need |
| 100-hp tractor | Food plot preparation, shredding |
| 15' batwing shredder | Shredding |
| Shop-style drawer toolbox | Tool storage |
| Flagpole | Demonstrating our pride |
| Sea container | Storage of equipment |
| 12-ft tandem disc | Discing, field prep |
---
From our Facebook page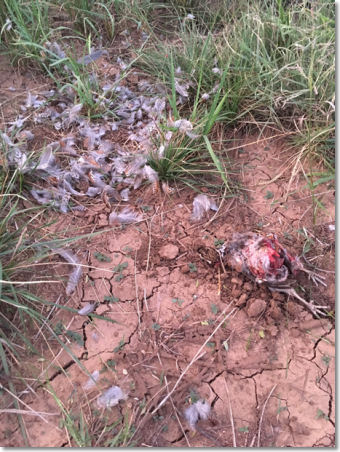 Our top-ranking post for September was my post (10-15) on raptors and bobwhites. "While it's not Halloween yet, October brings more "goblins" to the Ranch, namely in the form of migrating raptors. Brad Ribelin of Aspermont flushed a Cooper's hawk this afternoon and went to investigate; here's what he found. IMO Cooper's hawks are a quail's most-feared predator, i.e., Jason meets Freddy Krueger. Cooper's hawks are F-16s . . . they are designed for air-to-air combat. Ever hear a bobwhite or blue quail being pursued by a "Coop?" They're screaming bloody murder and flying low with the afterburners on. While we have some Coops year-round, October brings in additional winter residents, and also the A-10 Warthogs, i.e., Northern Harriers. Keep an eye out Bob and Blue . . . there's death from above! Better stay close to a really good "quail house" or other "storm shelter."

---
Coming soon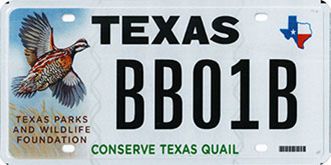 (details to follow soon!)


---
7.8 - the average number of seeds found on a western ragweed plant from burned plots at RPQRR. The average for non-burned plots was 3.83.hat's the number of radio-marked quail killed by rattlesnakes (thus far) this season; our previous record was 4 (in 2009).
Got a new e-mail address? Please [Click Here] to update your information if you wish to continue receiving e-Quail.
Forwarded from a friend? Please [Click Here] to sign up for the RPQRR e-Quail Newsletters!