Got broods?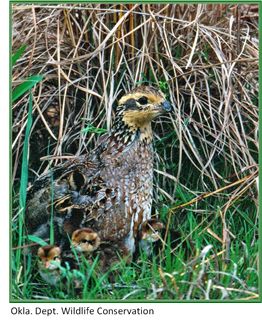 "No more attractive sight has been witnessed by us than a female bobwhite, with feathers fluffed to overflow her nest completely, and the heads of several bright-eyed chicks sticking out here and there. If there be a more beautiful sight in quaildom, it can only be a handsome cock bird, nervous and vastly concerned with new and numerous responsibilities, leading his tottering brood from the nest to some safer spot nearby. It seems impossible that such wee mites can escape the many dangers now confronting them." – H. Stoddard (1931:38)

I saw my first brood of the year on 22 May, a pair of blue quail with 13 chicks. The chicks appeared to be about 3 days old. We're off to a great start on nesting (see next article). If you have brood sightings, please share them with us at drollins@quailresearch.org and stay tuned to our Facebook page (www.facebook.com/rpqrr) for weekly updates.

---
The Life of a Nesting Bobwhite

by Brad Kubecka, Graduate Research Assistant



On April 18, we documented our first nest among the radio-marked sample of quails at RPQRR. On May 8, that first nest initiation became our first hatch— a scaled quail (i.e., blue quail) with 12 eggs. Since, we have documented 18 nests and recorded 11 nest fates (i.e., hatched or depredated). Nest success of the small sample lies at 54.5% (6 of 11). Average clutch size of bobwhites is currently 19 for bobwhites (n = 6) and 12 for blues (n = 4).

In merriment of the onset and duration of nesting season, in this and the next issue of the e-Quail Newsletter I will be telling the story of the nesting bobwhite at RPQRR. I will discuss the processes leading up to nesting, incubation, and brooding as they occur throughout our nesting season. Each discussion will begin with our current status of nesting birds and continue with a description of the various processes and mechanisms therein. I hope you follow along throughout this and the next issue to appreciate a day in the life of a nesting bobwhite.

The process of nesting can essentially be broken down into 7 parts: mate selection, copulation, nest construction, laying, incubation, hatching, and brooding. In this issue I describe the first 3.

As spring begins and the photoperiod (i.e., length of day) increases, coveys begin subdividing. A late frost in March or April may force some birds to temporarily regroup and soon after break up again. The mechanisms driving these processes of covey break-up are due to the photo-sensitivity of the pineal gland located deep in the brain which controls circadian rhythms and therefore behavior. Soon after these processes have occurred we hear the mellifluous "bob-white" song.

As increasing photoperiod affects the pineal gland and the hypothalamus (also light sensitive and located in the brain) begins to produce neurohormones. If you are wondering how light can affect something deep in the brain, it has been suggested that photoreceptors in the hypothalamus are likely 100 times more sensitive than those in the eyes. The cue of increased photoperiod and subsequent release of neurohormones stimulates another gland- the pituitary gland- to release follicle stimulating hormones (FSH) and luteinizing hormones (LH). These hormones are essentially what drive gonadal development. As photoperiod lengthens the ovary expands and the testes increase in size. Perhaps this explains why peak nesting occurs around the longest day of the year (June 21).

Pairing and copulation occur when a female responds to a male's call. The male may then perform a courtship display. With his tail feathers fanned, wings slightly drooped, and head slightly tilted downward, the cock will swagger about 12–18 inches from the hen. If performed by an inferior male, another more dominant cock nearby may attack the subordinate male. If no other male(s) interfere and the hen "likes what she sees" she will submit to the cock in what is known as the "solicitation crouch." The cock will mount the hen grabbing her with his beak at the base of her neck and lift his tail feathers as the hen lifts hers. Copulation in birds is accomplished by what is known as the "cloacal kiss." This occurs when the hen's cloaca (i.e., vent) slightly protrudes and the male firmly presses his cloaca against the hen's for about 10 seconds before dismounting. No post-copulatory display occurs. Sperm is held in the folds of the infundibulum (i.e., in the oviduct) until the hen is ready to lay following nest construction.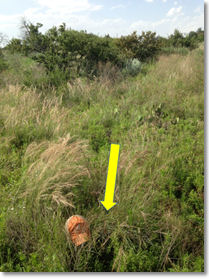 It was once believed that bobwhites were monogamous. With relatively new findings circa 1990s and the use of radio telemetry, we have come to know that females may mate with more than one male and males may mate with more than one female. This form of sexual promiscuity is called "ambisexual polygamy."

Nest construction occurs around the time of copulation and may be built by the male, female, or the pair. Bobwhites nest on the ground, typically constructing their nest at the base of bunchgrasses using residual growth. Occasionally a nest may be built using "other" material or in association with other vegetation, like prickly pear. The nest bowl is typically lined with grass and is about 5 inches in diameter and depressed about 2 inches. The nest is usually covered by some vegetation that imitates a roof (see photo). Nest construction takes 1–5 days to accomplish. Next, egg laying will begin

Tune in to the next e-Quail Newsletter for the rest of the story. If you have any questions or concerns, please feel free to contact me at 325-776-2615 or bradley.kubecka@students.tamuk.edu.

---
Song of the Month

Mule train - by Tennessee Ernie Ford.

---
Quail Coalition funding provides new UTV for RPQRR

We're grateful to the Cross Timbers Chapter of Quail Coalition for funds ($30,000) provided to support RPQRR's efforts. One of our purchases with these funds was this new Mule to update our fleet of UTVs. Equipped with Kevlar tires (to fend off mesquite thorns) and a windshield (to fend off the January wind) it is a welcome addition. Thanks you Cross Timbers QC!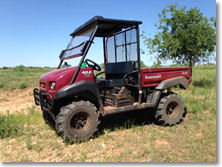 ---
Scaled Quail Restoration to Historic Ranges in the Rolling Plains: Project Update

by Becky Ruzicka, Ph.D. candidate



The past month has been eventful for our Scaled Quail Translocation project. We recorded our first nesting hens and hired a new crew member. Around the last week of April I observed a switch in behavior of our translocated quail from large coveys to pairs. They also tended to be found more in grassy or red dirt open areas rather than the thick cedar brush they had been inhabiting. In the last week of May, we confirmed our first nests – five in total – and I expect to find many more in the coming weeks.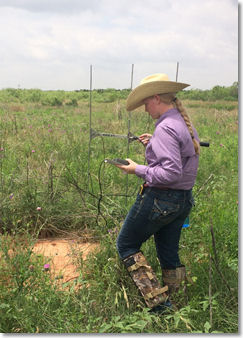 The onset of nesting on our site was about a month later than the radio-collared quail on RPQRR. I attribute this to a couple of factors. First, the translocated quail likely needed to adjust to their surroundings and learn the new habitat before nesting. Second, the weather was much cooler up here in Knox County during April and May. We have also received regular rainfall and the nesting cover is excellent. While the rainfall is welcome for what it does for the habitat, it makes monitoring the quail challenging to say the least. That is why both Drew and I are excited to bring another crew member on board to help us keep up with the 100+ plus radio-collared hens.

On May 23rd we welcomed Bekah Mullen. Many of you may know Bekah, she is a Bobwhite Brigader (Dr. Rollins says the 'poster child for the Brigades'). At 16, she is about 4 years younger than most of our interns, but in her first week she has demonstrated her excellent work ethic and has adapted quickly. Coming from the Brigades gave her a better-than-most understanding of quail biology and how to track radio-collared birds. Drew and I are looking forward to spending the summer with her and I am most definitely looking forward to what she can add to our dataset.

---
Call counts – real time update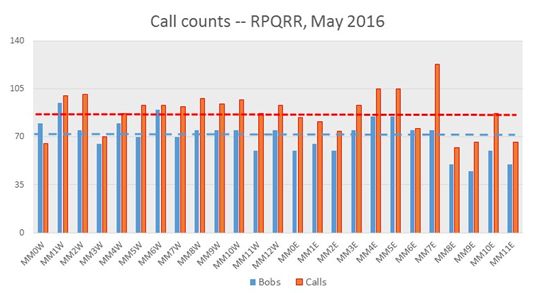 Call counts began at RPQRR on May 24 at 25 "Mile Markers" (12 on East line and 13 on West line). Summer interns were trained in the protocol the previous week. Across two counts to date, the number of different bobwhite cocks hear per stop was 7.1 and the average number of total "bob-white" whistles per stop was 87.7. As this chart suggests the Annie pasture (MMs 3, 4, and 7) show the greatest relative abundance of bobwhites (our helicopter counts last Nov and Mar also suggested this). Another pattern seen is the average number of whistles/cock (which suggests that we can take the number of whistles heard and divide by 10 to estimate the number of cocks heard (r = 0.97). Anytime you're hearing more than about 6 cocks per stop, it's much easier to count only whistles than it is trying to estimate how many/where the roosters are located. Whether this relationship holds on other properties is unknown, but it's been consistent here.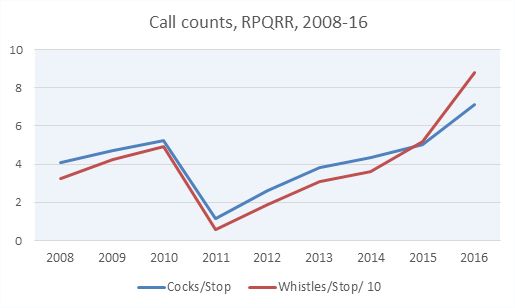 ---
Fire Appreciation Day celebrates role of Rx Fire

"We're not pyromanics, we're pyro-managers" I assured the crowd during my opening comments. And our burning record proves it . . . we've done 70+ burns since 2008 and have a perfect safety record. Thanks to our co-sponsors that included Texas A&M Agrilife Extension Service, Texas Tech's Fire Ecology Lab, Grazing Lands Coalition, Rolling Plains Prescribed Burning Association, Texas Parks & Wildlife, and USDA Natural Resources Conservation Service. Abstracts of the presentations are available at www.quailresearch.org.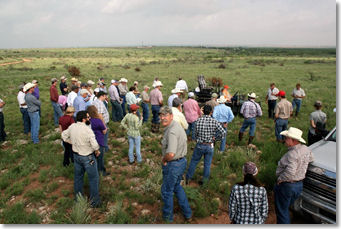 ---
Camera-trapping

Buteos ("broad-winged hawks") can be a challenge to identify. My rule of thumb is that "all buteos are redtails until proved otherwise." So I'll stick with that maxim here. Does he have his eyes fixed on a quail? A cotton rat? A snake? If you get a good game camera picture, please share it with us.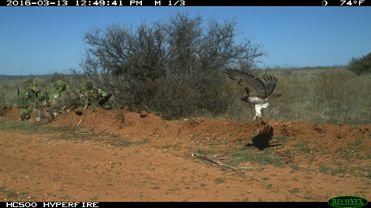 ---
Mark your calendar

11-15 June - Rolling Plains Bobwhite Brigade, Valera;

3-4 Aug - "Bug Days" at RPQRR;

30 Sept - 9th annual field day, RPQRR.

---
Summer interns report for duty

Introducing our Summer '16 crew of interns. Seems like a good bunch and I look forward to working with all of them. They include (L to R) Steven Romo (Dallas), Alexandra Bouchard (Sacramento, CA), Anne Provost (Chicago), and Stoney Newberry (Henrietta, TX). Stay tuned for their weekly Facebook posts as they begin their quail odyssey at RPQRR. Each intern has a "major" and a "minor" assignment, plus keeping track of 30 or so radio-marked quail. We value the efforts of our interns' efforts!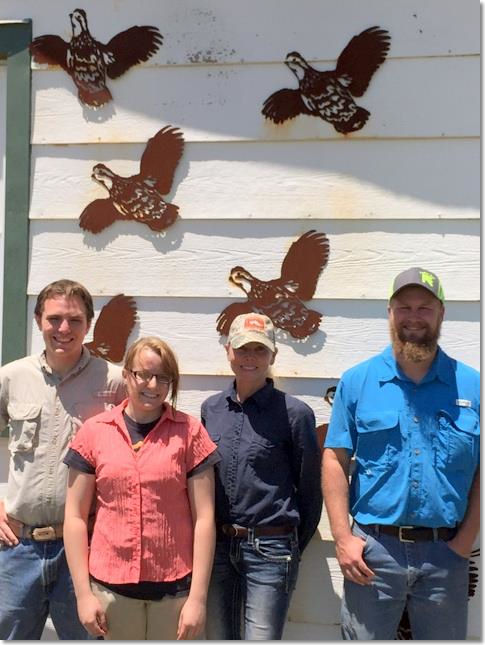 ---
Want RPQRR's printed newsletter?

Quail hunters are, as a rule, an older lot. Older men don't always use the internet for their communications, e.g., e-Quail News. So, we decided to offer a quarterly printed newsletter as a supplement to the e-version. If you'd like to be put on the mailing list for the printed newsletter send your name and mailing address to Russell Graves at PO Box 68, Childress, TX 79201.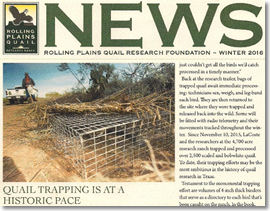 ---
11 - that's the number of radio-marked quail that have been killed by rattlesnakes (and their collars retrieved) in Dr. Rollins' various studies since 2000.
Brad Kubecka's post on May 26 garnered the most attention last month. It was a report on nesting activity.
verdant; adj., "green with growing plants", see for example, West Texas.
Got a new e-mail address? Please [Click Here] to update your information if you wish to continue receiving e-Quail.
Forwarded from a friend? Please [Click Here] to sign up for the RPQRR e-Quail Newsletters!