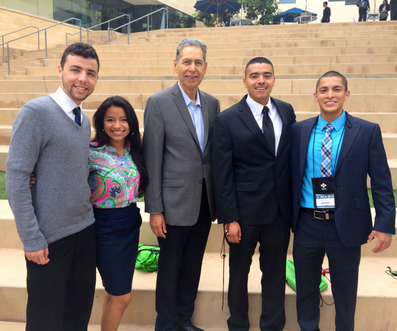 Jessica Perianza (at right in San Diego representing NC State) is one of our scholarship recipients and a B.A./B.S. student in a
dual-enr
ollment program at Meredith College and NC State. Last week she sent us an update on her summer.
"This summer entailed many firsts for me. The most important one of all, was that I obtained my first internship ever. Being a first-generation college student, I couldn't help but feel that not only was I getting my first internship, but so were my mother and my father. I carry them with me each and everyday in everything that I do.
I was able to work with top executives on in-sourcing projects and I presented a proposal that would save the company $130,000 within it's first year. They offered me part-time positions for the fall and spring semesters, as well as next summer.
In mid-August, I had the opportunity to attend the National Institute for Leadership Advancement in San Diego where I represented the N.C. State Society of Hispanic Professional Engineers chapter. I have now started my presidency for the N.C. State SHPE chapter for the 2014-15 year!
While I am constantly juggling 17 credit hours, working part-time, and holding an executive position in a student organization, I love every minute of it! I try my best to wake up everyday grateful for the opportunities that I have in my life. I know that my internship, and even my trip to California, would not have been possible without the aid from The Tomorrow Fund (during the school year). I have been granted an opportunity to further my education, and I plan to take full advantage of it and become not only the best engineer I can be, but also the best citizen of this world that I can be.
When I finally get to cross the stage to receive my B.S. in industrial engineering and my B.A. in mathematics, I will walk with pride, for I was able to arrive there because someone believed in me.
I will never stop thanking everyone that has helped me along the way, and this includes you."