Welcome to Connections, our newsletter specifically for alumni and friends of the Beckman Institute for Advanced Science and Technology at the University of Illinois. Connections is designed to keep you in the loop on the latest happenings around the Beckman Institute. Enjoy!
---

John Rogers Awarded Lemelson-MIT Prize
Beckman Institute researcher John Rogers was recently awarded the Lemelson-MIT Prize for Health and Energy Innovations. He will be awarded $500,000 in recognition of his work that the program says proves "technological entrepreneurship can have groundbreaking impact when inventive concepts stretch across disparate fields."
---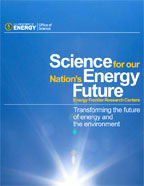 Illinois Research Shines at DOE EFRC Summit
Several University of Illinois researchers participated in the DOE Energy Frontier Research Center (EFRC) Summit in Washington, D.C. Jennifer Lewis reported that work by John Rogers and Ralph Nuzzo on flexible photovoltaics was showcased by Steven Chu (Secretary of Energy) in his Keynote Address. Eric Issacs (Director, Argonne National Laboratory) highlighted work by Jeff Moore, Nancy Sottos, and Scott White. He mentioned their work on self-healing materials for lithium ion batteries in his talk. Congratulations to these researchers for having their pioneering work recognized at the meeting, which included more than 1,000 participants from academia, national laboratories, industry, and federal agencies.
---
Fifth Beckman Institute Postdoctoral Fellow Added to 2011 Class
A fifth Beckman Institute Postdoctoral Fellow has been added to the to class of four that was previously announced on March 3, 2011. Jonathan Fan will be joining the Fellows program from Harvard University where he earned his Ph.D. in Applied Physics in May, 2010 and continued to work as a researcher. Jonathan's research proposal focuses on two complimentary concepts that target improvements in cancer tumor treatment. The other members of the 2011 Beckman Institute Postdoctoral Fellows class are: Kyle Mathewson, Meredith Silberstein, Joseph Toscano, and Thomas van Dijk.
---
Kim Chosen as New Carle Foundation Hospital - Beckman Institute Fellow
Jongsick Kim has been chosen as the new Carle Foundation Hospital - Beckman Institute Fellow. Kim is the second Fellow chosen for the program, which was started in 2008 as a three-year appointment for a recent Ph.D. or M.D./Ph.D. interested in conducting oncology-related research at the Beckman Institute.
---
Help Support the Beckman Institute
Make a secure online gift today to support scientific discovery and innovation. For more information, contact: Tim Montague, Director of Development, via phone at 217-244-2887 or email at tgmontag@illinois.edu.
---
Help Us Keep Your Snail Mail Address Info Up to Date!
We periodically like to send our alumni and friends print invitations and other materials (like our annual report). Please take a minute and check that your contact info is up to date in the University of Illinois Alumni Association database. This is the only way we can make sure you receive news, publications, and invitations to events. As you can imagine, contact info gets stale pretty quickly after you leave campus.
---
Beckman Institute Researchers In the News


Beckman researchers have been making headlines! Check out the following stories from June 1, 2011 - July 31, 2011:

This issue of Connections covers the period of June 1, 2011 - July 31, 2011. For more research news and information about Beckman Institute faculty, staff, and students please visit www.beckman.illinois.edu.
Connect with us online: