Love Your Libraries During our Valentine's Day Maker Breaks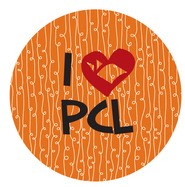 Take a break on Valentine's Day and stop by PCL, the Life Science Library, or Fine Arts Library to make a 1" button. Express your love of a library, your
bibliophilia
, or the love you have for a special someone. The button is yours to keep or gift to your Valentine. We'll have some sweet treats, too. Here's the schedule:
PCL Lobby 11am-12pm
Life Science Library Lobby 1pm-2pm
Fine Arts Library Lobby 3pm-4pm
We hope to see you there!
---
Romantic Recommendations from the Libraries

Love is all around as Valentine's Day approaches. We asked Libraries staff to tell us about their favorite romantic books, DVDs, and CDs in our collections. Have a recommendation of your own? Submit it to
Longhorn Reviews
!
Rebecca by Daphne du Maurier
"Last Night I dreamt I went to Manderley again." So begins du Maurier's 1938 romantic novel, Rebecca. The line also begins the Alfred Hitchcock film version, which was named Best Picture for 1940. This work is usually described as Gothic fiction, but as really good Gothic fiction. Critics credit du Maurier's storytelling skills. Romantics-at-heart should expect to find a good read (or a film of note) in the surprising adventures of the second Mrs. de Winter.
Larayne Dallas
Assistant Engineering Librarian, McKinney Engineering Library
Brokeback Mountain
This masterful adaptation by Ang Lee of the Annie Proulx short story is a landmark in the cinematic depiction of love between men. Two impoverished ranch hands in 1963 Wyoming meet while sharing work and initiate an intimate relationship that informs the rest of their lives. An unlikely love transcends the circumstances of a repressive, homophobic society, even as the characters' lives are ruined by the societal hatred surrounding them. A beautiful, unforgettable cinematic achievement.
Barry Moore
Mail Clerk, Receiving, PCL
Songs from Leonard Cohen's I'm Your Man and Various Positions
I think the most seductive--mood creating songs for anytime but Valentine's Day specifically are without a doubt Leonard Cohen's "I'm Your Man" from the album of the same title followed by his "Dance Me to the End of Love," found on Various Positions. You can see the lyrics for "I'm Your Man" online.
Susan Ardis
Head Librarian, McKinney Engineering Library
Harold and Maude
If you've always hoped to meet that special someone who is the peanut butter to your jelly no matter how eccentric you are, you might enjoy watching Harold and Maude this Valentine's Day. Harold, who stages fake suicides for his mother's benefit and is obsessed with death, is caught off-guard when he meets carefree Maude at a funeral, eventually falling in love. Nevermind that she's 79.
Anna Fidgeon
GRA, Library Instruction Services, PCL
---
Learn About Avoiding Plagiarism During IntegrityUT Week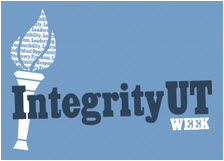 the
Academic Integrity Committee
in the
Senate of College Councils
, is a University-wide event designed to promote the
University Honor Code
and integrity across campus. The week will be filled with events from February 20-24 and all students are encouraged to participate!
The Libraries will be hosting our popular
Avoiding Plagiarism
class on Wednesday, February 22 at 11am in PCL 1.124. This session, designed for undergraduates, covers mistakes that can lead to plagiarism, strategies for avoiding these mistakes and practical techniques for using sources correctly.
---
Library Enhancements We Hope You'll Love
No pen or paper? No problem!

Now you can text yourself a resource's call number from within the library catalog. It takes just three steps: 1. Search the catalog; 2. Select your service provider; 3. Enter your phone number! You'll receive a text with the location of the resource in seconds (Note: normal text message rates apply.)
More electrical outlets + more seats = more productivity!
You asked and we answered. Now there are even more seats, outlets, and places to be productive within the PCL. Take a stroll up to the 6th floor, where you'll find 8 new tables, with 12 outlets per table, for a total of 216 new outlets and 144 more seats!
---
Featured Resource: English Poetry
Whether you're looking for something to analyze for an

English class or are hoping to give someone something extra romantic this Valentine's Day, you might check out the collection of over 160,000 poems in the
English Poetry
database. A search for "love" returns over 64,000 poems and a search for "romance" gives you 1300 poems to choose from. You can also search poets by gender, time period and nationality. So whether you're studying iambic pentameter or the workings of the heart, you're sure to find something that puts your feelings into words.
---
Art:21 Screening at the Fine Arts Library
4pm in DFA 3.200 at the Fine Arts Library
The new season of this PBS series features artists Marina Abramovic, Ai Weiwei, David Altmejd, El Anatsui, assume vivid astro focus, Lynda Benglis, Rackstraw Downes, Glenn Ligon, Robert Mangold, Catherine Opie, Mary Reid Kelley, Sarah Sze, and Tabaimo across four episodes. One of the episodes will be screened and refreshments will be served.
Can't make it? You can check out DVDs from previous Art:21 series from the Fine Arts Library, too.
---
Research + Pizza
Wednesday, April 4
1
2pm in
DFA 3.200 at the Fine Arts Library More info
The April 4, 2012 RESEARCH + PIZZA program will be held at 12pm in the Fine Arts Library and will feature student performers taught by Lyn Koenning (Dept of Theatre & Dance), instructor in musical theatre audition and performance practices, and musical theatre acting and vocal technique. C
ome enjoy a live per
formance by students from the Department of Theatre and Dance as they give a sneak peek of their spring musical theatre revue, "Curtain Up! Hats Off to Broadway" in true
Glee
style. Free pizza from Austin's Pizza while it lasts.
---
Win tickets from the Benson Latin American Collection
Win two tickets for the Austin debut of the Brazilian big band sensation
SpokFrevo Orquestra
at Bass Concert Hall on March 24! Visit the Benson Latin American Collection's
Facebook page
for contest details and the chance to enter.
---
One more chance to win...
Questions? Email us at lib-instruction@utlists.utexas.edu. Thanks for reading; until next time!