Hi Everyone,
Hope you had a nice summer.
What's New?!! Praise God, our last Mission trip to Africa which started in November 2009 and lasted until February of 2010, has been a great success. The African Good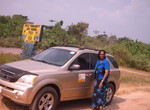 Samaritan Mission continues to take leaps of faith in our mission projects. The good news is that, with gratitude to God, we were able to get our own SUV to travel around the rural areas during this Mission trip, even though we still need funds to pay for it . [See our SUV picture on the right with the President standing by it on one of the rural roads we travelled].
2010 Mission Projects:
During this Mission trip we were able to identify eight students who met the AGSM criteria for sponsorship under our Hope Scholarship fund. It is obvious that education plays a central role in breaking the cycle of poverty. Our scholarship will give poor children who are brilliant, the opportunity to obtain high school education, and dream of a better future.The students and their families were beyond belief, and in the words of a grandmother of one of our students, who was an orphan, "this is a miracle, it is like God sent an angel to answer my prayers!!". Thanks to our generous sponsors who made this possible. We still need more sponsors .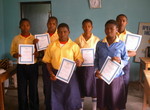 [See the picture of some of our sponsored students below holding their scholarship award certificates].
Our HOPE scholarship stands for Helping Overcome Poverty through Education. Currently the sponsorship for a child costs about $200 per year, and this keeps each child in school by paying tuition, providing books and uniforms. You can see these students and learn more about the HOPE Scholarship on our Website at http://www.agsmission.org/photopage3.html

Textbooks, School supplies and Computer Donation: During our selection process for the HOPE scholarship, we found out that many of the students came to school with no textbooks to read, but rely only on what they are taught in class. Usually we donate school supplies during our gospel interactions with the students, but this time we decided to go a step further. With the minimal funds at hand, we decided to stretch our budget to provide some School Textbooks to be kept in the school library so that students can borrow them. We hope to continue doing more of this to increase the number of the major textbooks in the library in order to allow those students too poor to afford textbooks, an access to those books.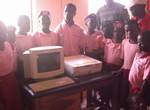 Also we were able to donate an old computer to the rural elementary school, for the students to have the opportunity to learn about computer. Most of the students have never seen a computer in their life. [See picture of students surrounding the donated Computer]
Renovations: Finished products of renovations often bring smiles to everyone. Although we finished the plastering and painting of a school building , and brought smiles to the faces of the children and their teachers last year, we were not able to finish the painting of the inside of the classrooms due to limited funds ,but this time we finished that !!. We attempted to renovate another building in another school , but with minimal funds, we were overwhelmed with how dilapidated those buildings were. Rather than leaving without doing anything, we decided to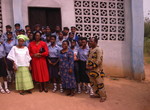 paint the gates for that school, with the fund we had,and even that, was well appreciated by the school children and their teachers. [See the group picture of the students and teachers with the President]
Widows Program: This is a new project being started in response to widows' hopelessness in many African culture. The Widows program will be looking into both the spiritual and social welfare of the widows and their fatherless children. We hope to offer them Godly counsel through Bible study and also provide funds in form of Micro-financing for small business, in order to alleviate the sufferings of the widows and their children.
More of our pictures for the 2010 Mission trip can be seen on our Website on the project page at: http://www.agsmission.org/projects.html
How can you help the African Good Samaritan Mission?
You can donate to help us continue all our our Mission projects and/or decide to sponsor a child . If you can't sponsor a child by yourself you can just contribute to the Hope Scholarship fund. However, if you can sponsor a child for four years of high school, the picture of your sponsored child will be brought to you in Spring of 2011 when I return from our Mission project.
You will be helping to prevent the brilliant children from dropping out of school after elementary school education, due to inability to pay school fees in the High Schools. For more information, please contact us by Email at : info@agsmission.org
Please help us "Spread the Word", and help this Ministry in meeting the needs of some of the poor children in Africa.
For more information about the African Good Samaritan Mission, please visit our Website at:http://www.agsmission.org
Please help to DONATE online or Donations can also be sent by mail to:

African Good Samaritan Mission
(c/o Ms Doyce Hayth),
6700 150th Ave N, #522.
Clearwater. FL 33764.


Looking forward to sharing our progress with you in Spring 2011.
Sincerely
Dr Rosaline Olade
President , African Good Samaritan Mission