Hello, Dazza
Welcome to the third issue of The Digital Beyond's email newsletter. We're a few weeks later than usual, but we've got some good stuff for you today: announcements, news, and some great links from the Web.


Keynote at Library of Congress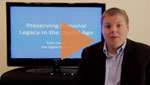 Evan is fresh back from two keynote appearances at the Library of Congress and the annual meeting of the Michigan Archival Association. In his talks, he presented an overview of the emerging digital legacy issue and discussed what individuals, professionals and lawmakers are doing to solve them today. But more importantly, he challenged librarians and archivists to take action by educating the public and designing solutions to tackle these issues.

Watch Evan's Presentation.
---
New Products & Services
---
NSTIC: National Strategy For Trusted Identities in Cyberspace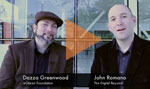 Have you heard about NSTIC? It's a new initiative from the White House and the Department of Commerce to create a trusted, national identity framework. Some folks think it means National ID cards or less privacy, but it's not that at all. Our own John Romano sat down with lawyer and NSTIC expert, Dazza Greenwood at Digital Death Day to help dispel some of these myths. They discussed the core parts of the strategy, how it will be implemented, what users can expect and the next steps for the project.
Watch our video of John and Dazza talking about NSTIC.
---
Event Reports

SXSW Panel
Discussion
The Digital Beyond's John Romano and Evan Carroll led the panel, "You're Dead, Your Data Isn't: What Happens Now?" along with Adele McAlear, Dazza Greenwood, and Jesse Davis. To put it simply, it was a raving success. Despite competing with Senator Al Franken who also spoke in our time slot, a crowd of 150 gathered for our lively discussion. But the biggest success, was the line of folks asking great questions and a stream of positive Tweets.

Digital Death Day
On May 6th we gathered with about 30 folks at the Computer History Museum in Mountain View, CA for Digital Death Day. The event was dedicated in memory of Derek Miller, the blogger who coined the term "digital executor." Derek passed away on May 3rd. Adele McAlear from DeathAndDigitalLegacy.com conducted an hour-long interview with Derek and has posted the full recording.

At the event we covered topics including "Moving the Needle: How do we create critical mass in this industry?" from our own Evan Carroll and "Memorialization" from our own John Romano and Jed Brubaker from a PhD student at UC Irvine.
Some of the event notes are available at DigitalDeathDay.com:

And here are some photos from the event.
---
Good Reading
Latest from The Digital Beyond:

Elsewhere on the Web:

---
If you're wondering how your email came to be on our list, we've met before, either online or in person, and we consider you a friend or you simply signed up at our website. Of course, we won't hold it against you if you unsubscribe, but we want this email to be extremely useful to you. Before you hit the button, consider sending us feedback and giving us one more chance: team@thedigitalbeyond.com.