| | |
| --- | --- |
| IN THIS ISSUE | |
- BIG Value for Small Business

- Alert: 300 Retailers Earmarked for Audit

- How to Avoid HR Disaster in 2014: Tips for Employers, Accountants & Bookkeepers

- Who we help: Subscriber Profile

- Tell us what you think: Subscriber Survey

- Upcoming Events: 20 Xero Roadshows around Australia, AGHA Design Fair Sydney, Young Guns Workshop Broadbeach, Global Business Camp Gold Coast, ICB Conferences in Launceston, Melbourne, Adelaide, Sydney and more.
Come and visit Workforce Guardian at these upcoming events:




XERO ROADSHOW 2014
20 cities across Australia during February - Organised by Xero to provide the latest information on how
accountants and bookkeepers can
use the cloud to save on IT and to streamline their workflow >
More

HOME & GIVING FAIR SYDNEY
15-18 February 2014 -
Sydney Showground, Sydney Olympic Park NSW. Organised by Australian Gift & Homewares Association (AGHA) to provide the gift and homewares industry with the latest products on the market >
More

YOUNG GUNS WORKSHOP
24-25 February 2014 -
Sofitel Gold Coast, Broadbeach, QLD. Designed for up and coming managers and supervisors to develop their knowledge of the business of accounting practices >
More

GLOBAL BUSINESS CAMPS
3-5 March 2013 - Sanctuary Cove, Gold Coast QLD. An intensive three day business program, specifically designed to help small to medium enterprises grow their business and create lifestyle for their owners >
More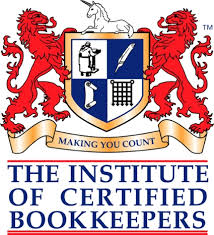 ICB ROADSHOWS
4 March in
Launceston
, 5 March in
Melbourne
, 6 March 2014 in
Adelaide
& 7 March 2014 in
Sydney
. Organised by The Institute of Certified Bookkeepers for their members across Australia.
Each month we'll share with you one of our favourite quotes.

This month it comes from
Aristotle:
"We are what we repeatedly do. Excellence then, is not an act, but a habit."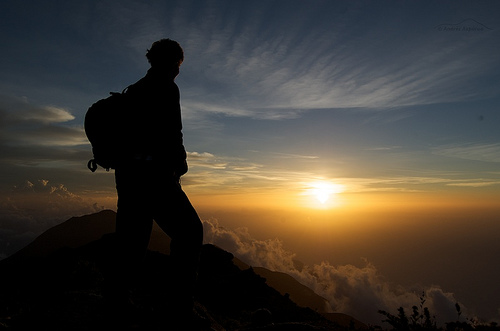 FREE INFO PACKS
Check out our free information packs on useful topics such as:
New Bullying Laws Checklist
HR Knowledge Test
National Employment Standards
Modern Awards
EXPERT BLOGS
Switzer Daily:
The inside word from the best brains in property, shares, superannuation, the economy, the workplace, financial markets and small business > More

Switzer Super Report:
Australia's premium online SMSF advisory source > More


The Workforce Guardian YouTube channel includes:

demonstration videos
how-to videos
educational videos
testimonial videos
media videos
and more.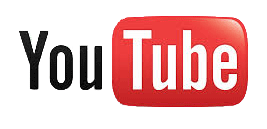 NEED HELP WITH HR?

Phone 1300 659 563
Subscribe Now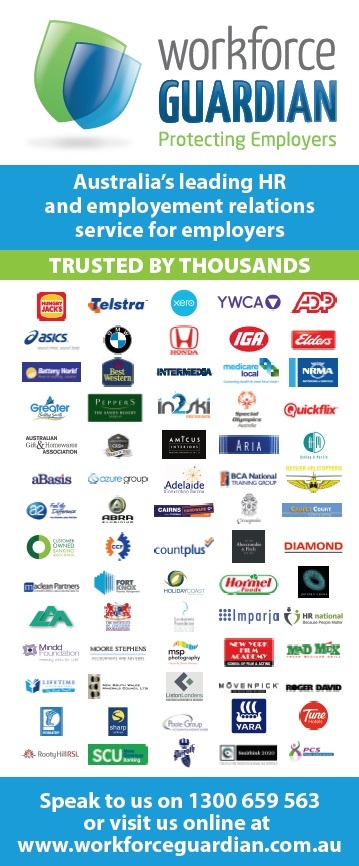 HAPPY NEW YEAR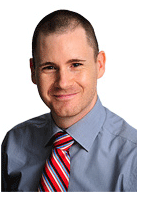 Welcome to the January edition of Workforce Guardian's Newsletter. I hope you, your families and your colleagues all enjoyed a safe and relaxing Christmas.

Well, the new year has begun, and it's certainly going to be a very busy one here at Workforce Guardian. You're going to see some major upgrades to our services, as well as a new look and feel to your Workforce Guardian service that we know you're going to love.

And if you'd like to meet the team, why not come along and say g'day at one of the more than 40 events we're attending with our partners across February, March and April - we'd love to see you!

As always, our friendly HR consultants, Technical Support specialists and the Customer Care team are here to help and support you and your business every day. Thanks again for your ongoing support and here's to a prosperous 2014.
Warm regards,

David Bates BA (Govt) LL.B (Hons)
Managing Director
BIG VALUE FOR SMALL BUSINESS
Recent audit of Workforce Guardian shows HUGE benefits of Cloud HR for SME's such as over $50,000 in value for just $950pa for our HR Essential subscription > More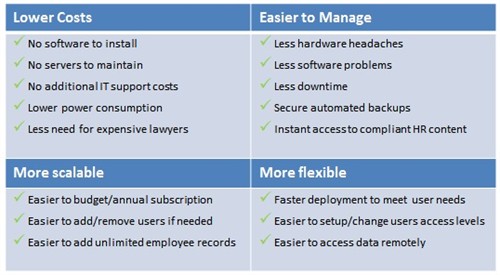 300 RETAILERS EARMARKED FOR AUDIT
Random auditing of up to 300 retail shops across three states is underway as part of the latest Fair Work Ombudsman campaign > More



HOW TO AVOID HR DISASTER IN 2014


HR TIPS FOR EMPLOYERS
As your employees begin returning to work from the holidays, now is the perfect time to take some very simple steps to ensure HR - and business - success during the year ahead >
More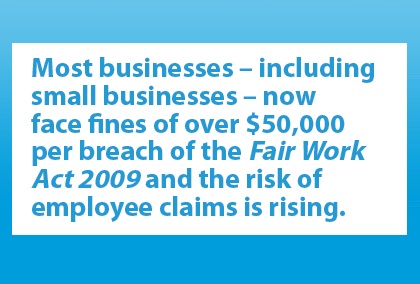 HOW TO AVOID HR DISASTER IN 2014


HR TIPS FOR ACCOUNTANTS & BOOKKEEPERS
If your firm was one of the many that found itself investigated and penalised for breaches of the Fair Work Act in 2013, chances are you're already (painfully!) aware of the most common HR mistakes made by accountants and bookkeepers that result in heavy fines >
More


WHO WE HELP: SUBSCRIBER PROFILE
Everyday, Workforce Guardian helps thousands of employers across Australia effectively manage their employees and ensure compliance with Australian employment laws

This month, we're proud to introduce Maree Schmidt of Greg Wilkins Industries, one of our valued subscribers from Broken Hill in the far west of NSW.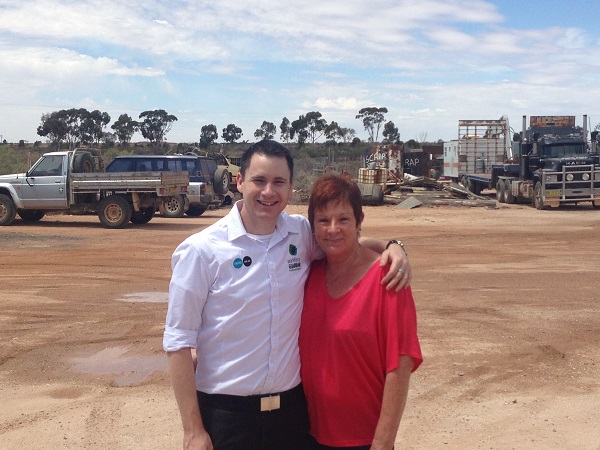 During a recent visit to the area I had the pleasure of calling in to Maree's office and meeting her in person - and I'm so glad I did! Maree is one of those wonderful, down-to-earth Aussies who calls a spade a spade. She warmly welcomed me into her office (thankfully air-conditioned) before taking me on a tour of the site.

This is true outback Australia - red earth, unrelenting heat...and the occasional HR issue! My favourite part of the tour was the visit to her old, un-airconditioned office where I saw the incredible assortment of old paper files now gathering dust thanks to the arrival of the internet.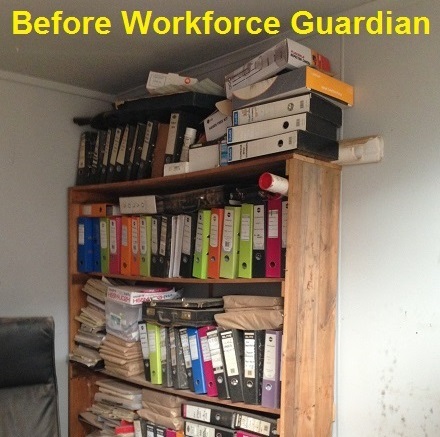 Maree faces some unique challenges out there, and not just from the humans either! During a recent HR Advice call with our team she discovered a large snake was sliding around her office. While a city-slicker like me might panic, Maree calmly and politely asked our consultant to hold the line while she swept it outside - now that's multi-tasking!

So, thanks Maree for reminding why we do what we do here at Workforce Guardian. No matter where you are in Australia, from Broom to the outback west of Broken Hill, Workforce Guardian is there to help protect and support Australia's employers.

> Discover more about who we help
TELL US WHAT YOU THINK: SURVEY
Workforce Guardian is committed to constantly improving our HR systems and support services for our valued subscribers.

You can help us by telling us what you like about our current system and what, if anything, you would like to see improved.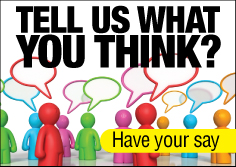 By answering the following questions about your experience you will be providing us with valuable information to assist in prioritising development work over the next 12 months.
The survey only takes a few minutes >
Start the survey now