STAYING CONNECTED TO GRACE...
The rules and regulations are changing and, effective next week, you'll need to sign up anew to continue to receive email newsletters from GRACE Makeup.
It's necessary to opt in again to stay on the email list...
"I don't send newsletters out very often," says GRACE Makeup founder Deborah Williams, whose expertise at making up those in front of and behind the cameras is well known. "But I like to feature a few hints and tips and special offers from time to time. So I hope you'll click
on this link
and sign up to stay signed in—so they don't disappear from your inbox!

"Please note that, even if you're on the list already... that's not enough. Government regulations now require that you sign up again—so please
click here
and signup on the site to stay on the list (scroll to the bottom of the page). I hope you will!"
(You can also hit reply and put yes in the subject line!)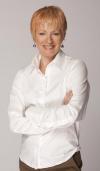 email
Deborah@gracemakeup.com
or call
with your questions or to book your summer makeup refresher or makeover.
www.gracemakeup.com
Please forward this message to a friend

Did you miss it—Why does it help to rethink our makeup for midlife?
"I look 10 years younger and in less than 10 minutes..." wrote Rebecca Eckler in a Post City f
eature article
last month on why having a makeup makeover in your 40s is a great idea.
Read
all about it
More from Deborah on the importance of makeup in your business life...
Call or contact Deborah Williams, founder of GRACE, for your appointment or click below to email to stay on the list!

Deborah@gracemakeup.com

---
416
699 3354