"I think Montgomery County is a
great place to do business...we have
a responsive local government that
has assisted us in every juncture of
our growth."

- Tony Zook, President
MedImmune

(from the 2009 NAIOP Virtual Bus Tour Montgomery County video - click here to view full video)
8(a) Information Session
The Montgomery County Department of Economic Development, in conjunction with the U.S. Small Business Administration (SBA), hosted an 8(a) information session on January 11 for existing 8(a) firms and potential 8(a) firms to help them better understand the current process as well as pending legislation changes. Theodore Holloman, with SBA's Washington Metropolitan District Office, addresses the 160-plus attendees.
Bridget Bean, District Director of the SBA's Washington Metropolitan District Office, was a featured presenter at the 8(a) seminar.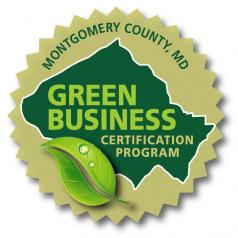 Designed to recognize businesses and other employers that have taken voluntary steps to protect, preserve and improve the environment, the Montgomery County Green Business Certification Program is actively accepting online applications. Once certified, your business will receive the certification seal letting customers and employees know that your business has achieved the Montgomery County Green Business Certification and your business will be placed in the green business directory.
NewsMakers
Montgomery County welcomes companies from Brazil, China and Korea! News Release

Booz Allen Hamilton expands presence in Montgomery County, leasing 85,000 s.f. at Boston Properties' Tower Oaks in Rockville. Read more!

Leggett and Metro Kick Off Search for Development Partners for Wheaton Revitalization! News Release

The Johns Hopkins Carey Business School will launch Innovate!, a new technology commercialization program, at JHU's Montgomery County campus. The year-long program, funded by the National Science Foundation, will kick off next month and is a partnership among NIH, DED and Rockville Economic Development, Inc. Read more!

Meso Scale Diagnostics, LLC of Gaithersburg has won a portion of a $35 million dollar federal contract to measure human radiation levels; the HHS program could reach $400 million in total contracts over five years. Read more!

Bethesda's building moratorium was just lifted, opening the way for more commercial development in one of the County's most desirable business locations. Read more!

Rockville Innovation Center company MobileNOW! was recently awarded its largest U.S. parking pilot project to date with 1,250 parking spaces in downtown Bethesda offering its ParkNOW! Pay by Cell Phone solution. Read more!

Shady Grove Innovation Center incubator company MarkPap lands $13.5 million deal to provide cervical cancer screening kits to rural provinces in China. Read more!
Upcoming Events
Did You Know?
Education Week Magazine certified Maryland public schools as number one in the nation for the second year in a row. View full report!

As part of the American Recovery and Reinvestment Act of 2009, NIH has designated at least $200 million in FYs 2009 - 2010 for a new initiative called the NIH Challenge Grants in Health and Science Research. To date, individual grants totaling more than $35.6 million have been awarded to 31 Montgomery County companies and research organizations. See complete list!
Partner Profile
Latino Economic Development Corporation (LEDC)
The Latino Economic Development Corporation (LEDC) is a community-based economic development organization that works with Latinos and other groups that are underserved and under-represented in the decision-making processes that impact our communities. They help them navigate the US financial system and manage the conditions that impact their financial stability, providing services in three primary fields—small business development, homeownership counseling, and affordable housing preservation.