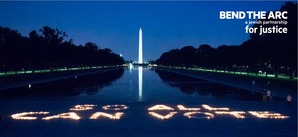 The ability to vote is a cornerstone of American democracy. But it is not a given that we always have access to the ballot box.
In the wake of the Supreme Court's
Shelby v Holder
decision, which dismantled key sections of the Voting Rights Act,
Bend the Arc, the national Jewish advocacy group of which JSPAN is the Philadelphia affiliate, is galvanizing Jewish participation in the national, multi-racial, interfaith and intergenerational coalition working to restore the Voting Rights Act.
The Voting Rights Advancement Act of 2015, introduced by Sen. Patrick Leahy (S. 1659) and Rep. Terri Sewell (H.R. 2867) provides key protections against voting discrimination to compensate for the loss of Section 4 of the VRA, the provision that sets out the formula under which states are covered by the preclearance requirement. Commonsense fixes in the proposed bill include:
○ An annually updated coverage formula to require Department of Justice preclearance for all changes in places with numerous recent voting rights violations.
○ An ability to review voting changes before they are implemented in places that have recently proposed or implemented discriminatory voting changes.
○ Enhanced power for federal courts to stop discriminatory voting changes from being implemented and order a preclearance remedy when needed.
○ Continuation of the federal observer program which is critical to combating racial discrimination at the polls.
○ New nationwide transparency requirements that help keep communities informed by requiring public notification of some types of potential voting changes.

Among the legacies that American Jews are most proud of is our community's contribution to the civil rights movement.
Jews were key founders, supporters and organizers of groups such as the NAACP and the Leadership Conference on Civil and Human Rights.
That's why we join with Bend the Arc in asking you to TAKE ACTION NOW to demand that Congress restore the Voting Rights Act.
Sign the petition below by texting VOTE to (202) 759-7711.
Or go to: vsgoliath.org/action/restorethevra/ Here's the text of the petition:
PETITION TO THE MEMBERS OF THE 114TH CONGRESS: Taking away the right to vote is not American. It is not Jewish. it is not right. And the Jewish community will not stand idly by. In the two years since the Supreme Court gutted the Voting Rights Act, politicians in states, counties, and cities across the country have taken the ruling as a license to discriminate. I urge you to take immediate action to restore the protections of the Voting Rights Act before it's too late.
Jewish Social Policy Action Network
1735 Market Street
Suite A417
Philadelphia, Pennsylvania 19103
US
Read the VerticalResponse marketing policy.