SPOT FIGHTS FOR HER LIFE, AGAIN!
It was about this time last year when Spot was rushed to Atlanta to cure her of hyperthyroidism. Read her story. She did well and was cured. She began to live life to the fullest again. Until now, that is.

Spot has been diagnosed with Chylothorax. Basically, what this means is that her little body cavity fills up with a fatty fluid called chyle. As the fluid amount increases, it crushes the organs and collapses the lungs. Chylorthorax is a serious and potentially fatal disease. There are only two possible cures for this. One is Rutin, an herbal remedy, and periodic draining, or taping, of the fluids. The other is surgery. At this time poor Spot is too small and thin and week to be able to withstand the trauma of surgery, so we are proceeding with Rutin and the taping.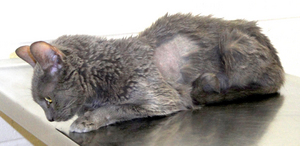 Spot's sides are shaved so the vet can
see where to insert the needle.
Withdrawing the fluids is not without risk. Inserting the needle in her thin little body can cause infection or puncturing of an organ. For that reason, we wait as long as possible before we do this procedure, but it is usually once or twice a week. Miscalculating the severity of her heavy breathing can quickly result in loss of life. This happened just a few days ago when I discovered her on Sunday morning panting for breath and lying outstretched on her side, allowing her lungs to take in as much air as possible. She could not take in very much air at all. I thought she would die in my arms as I rushed her to the Emergency Clinic. And indeed, her temperature was down and her heart rate was very low and the veterinarian warned me that it was indeed very seriously close to the end. After an hour working with her, giving her oxygen to get the lungs going again and withdrawing 360mls of fluids from her little body, she began to feel much better. 360mls is a little more than 1-1/2 cups. How can such a little cat hold so much fluid?! When they brought her back to me, her eyes were clear and she received my caresses with purrs. It took another day for her to breath normally again and show enthusiasm for life.
Spot is a little trouper. She just lays there and takes the manhandling and that big needle so very calmly. You would never know it from her passive behavior during the taping but she HATES taking pills!!!!! So, we grind the Rutin up into a fine powder and mix it into her favorite: wet, juicy canned cat food. No matter what meds she might be on, as long as they are served in wet food she will eat them, and she is happy. And believe me, I count my blessings for that. Have you ever tried to give a cat a pill? And Spot is the absolute worst! Here she is resting after a taping, exhausted.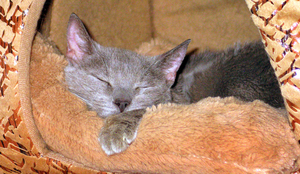 Spot is going through a terrible time, but still she purrs greatfully for caresses and gentle brushing. With God's help, she will get through this and live to a ripe old age.
For more on Chylothorax read http://www.petplace.com/cats/chylothorax-in-cats/page1.aspx
Please help by donating to our Silver's Angels Program.
We are a 501c3 and all donations are tax deductible.
Spot's examinations, testing, xrays, ultrasound and treatment costs have come to over $1,000. We still owe nearly $700 to Grassmere Animal Hospital and the credit card. Your donations will go a long way to help us pay this bill. Donations can be made through:
PayPal to SilverRescue@gmail.com
Using your bank account or PayPal balance, PayPal will not deduct a service fee and Silver Rescue gets your entire donation.
Send a check to:
Silver Rescue
P.O. Box 111888
Nashville, TN 37222
Call in or send your donations directly to:
Grassmere Animal Hospital
615-832-6535
3926 Nolensville Rd.
Nashville, TN 37211
Please mention that it is for Spot.
Thank you for your kindness!

Support Our Rescue
Adoptable Pet Spotlight


BABE


BOO


GEMMA


BUSTER


DARRELL


CALI


PEACHES


HONEY
Interested In Fostering Or Volunteering?
We'd love to have you! Email Karina and let her know how you'd like to help.
Purchase a
Pet JetSetter organizer bag using the code word "Silver" and Silver Rescue will receive a donation.
Donate for Free!
Do you shop online? Choose from over 700 stores through iGive or GoodShop and we will receive a donation.
Support us by shopping at our Zazzle store. New products coming soon!
Commission a digital painting of your pet by Jai Johnson and Silver Rescue will receive a donation.
A BEAUTIFUL BOY,
A BEAUTIFUL FAMILY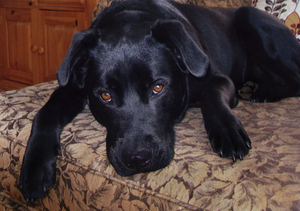 When this cute boy wandered into our lives, scared and hungry, we thought "Oh no, not another black dog." For a myriad of reasons black dogs and cats are the least adoptable, most euthanized, most abused, and most unwanted animals. Here in the south, they are a dime a dozen and because they are the least wanted, they are so very difficult to find homes for. But every so often things go right and this little guy got so very lucky. Not only did his adoptive family want a black dog, they already had two black cats to match. Just look at them!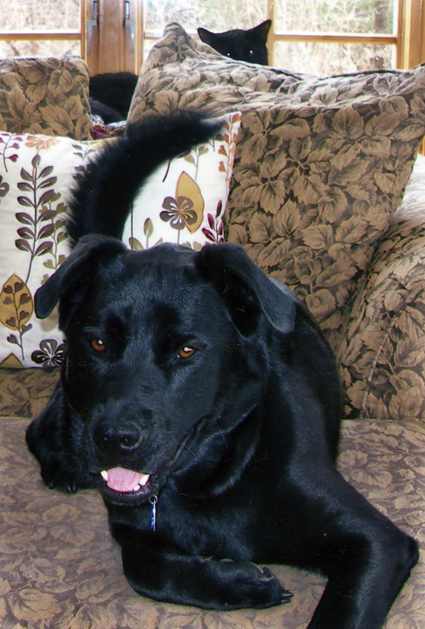 And that isn't all. He also got two human brothers to play with and a most wonderful mom.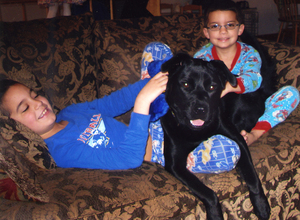 And to top it off, his new neighbor had a dog too, and before long, they were best friends.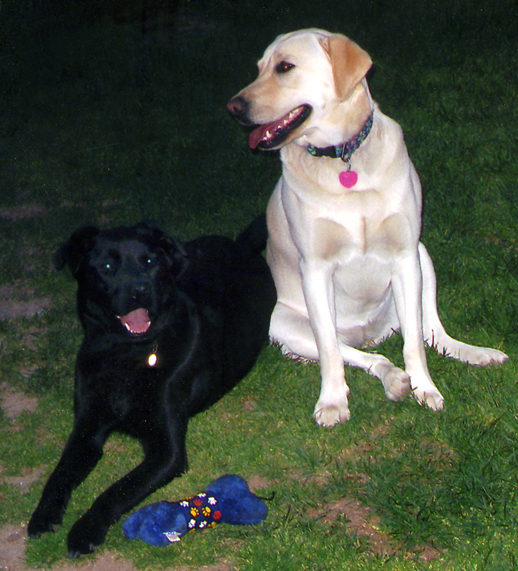 Astro's mom says: "Astro is doing great!! So happy and loving and mischievous!! He loved all the snow we had up here!! Spring has sprung and he and Maggie are romping around. (Maggie is the yellow lab.) Astro has added such a special element to our family, and we couldn't imagine life without him! He is not only best buds with Maggie but also with our cats, Gussy and Onyx! We are blessed to have a beautiful family."
OUR URGENT NEEDS
» We need a tent. Its been 10 yrs since we began our rescue, and now our animal habitat is in much need of repair and upgrading to accomodate our growing family of the old and sick that will live out their lives in sanctuary. We need the tent to store the furnishings and keep them out of the weather while we do the work. A pod is too expensive as it will take us several months to complete the work. The tent Ozark Trail, from Wallmart, is 10 x 13 feet and only costs $59. Can you help us with donations, please? Thank you!
» We need a window AC unit. We have turned our old garage into a new cat habitat. Because the afternoon sun is very unforgiving in the summer and we can't afford to add central heat and air, a window unit will do what we need to keep the kittens safe and cool. We need $180.00 for a Frigidaire 6,000 BTU Window Air Conditioner. Can you help us with donations? Thank you!
AN OPEN LETTER TO MY BIRTH MOTHER
By Mikko McPuppers

Dear Mama Shih-tzu,
After all these years, I've finally found my voice, and I wanted to wish you a Happy Mother's Day. Thanks for giving me life.
I still remember your soft furry belly and the nourishment I took there. I know it was not your fault that we got separated.
I've had an adventurous life with a couple of families, but there were a few too many dogs pushing me around at the last place, and some of my humans had an awful lot of rules.
Fortunately, I found a woman who needed me as much as I needed her. We've been together for five years.
Although she started feeding me bland, boring food about a year ago, I've taught her to supplement it with some of her veggies and bits of her pita pockets. She's very trainable.
She walks at least twice a day, and that's all because of me. I wish you could see me grinning as I write that. I'm very proud of the way I take care of my person.
I'd love to run into you in the park, but I feel I have found my true home. My person assures me I am her love-love and we will be together always.
Love from your son,
Mikko McPuppers
Mikko McPuppers likes snoozing, sniffing, and eating his person's veggies.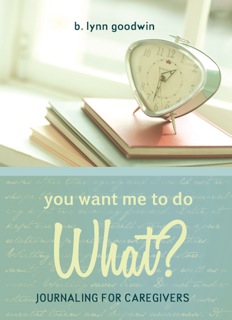 His person, B. Lynn Goodwin, is the owner and editor of Writer Advice, and the author of You Want Me to Do WHAT? Journaling for Caregivers. She writes for StudySync.net and CaregiverVillage.com when she's not walking, feeding, or petting Mikko.