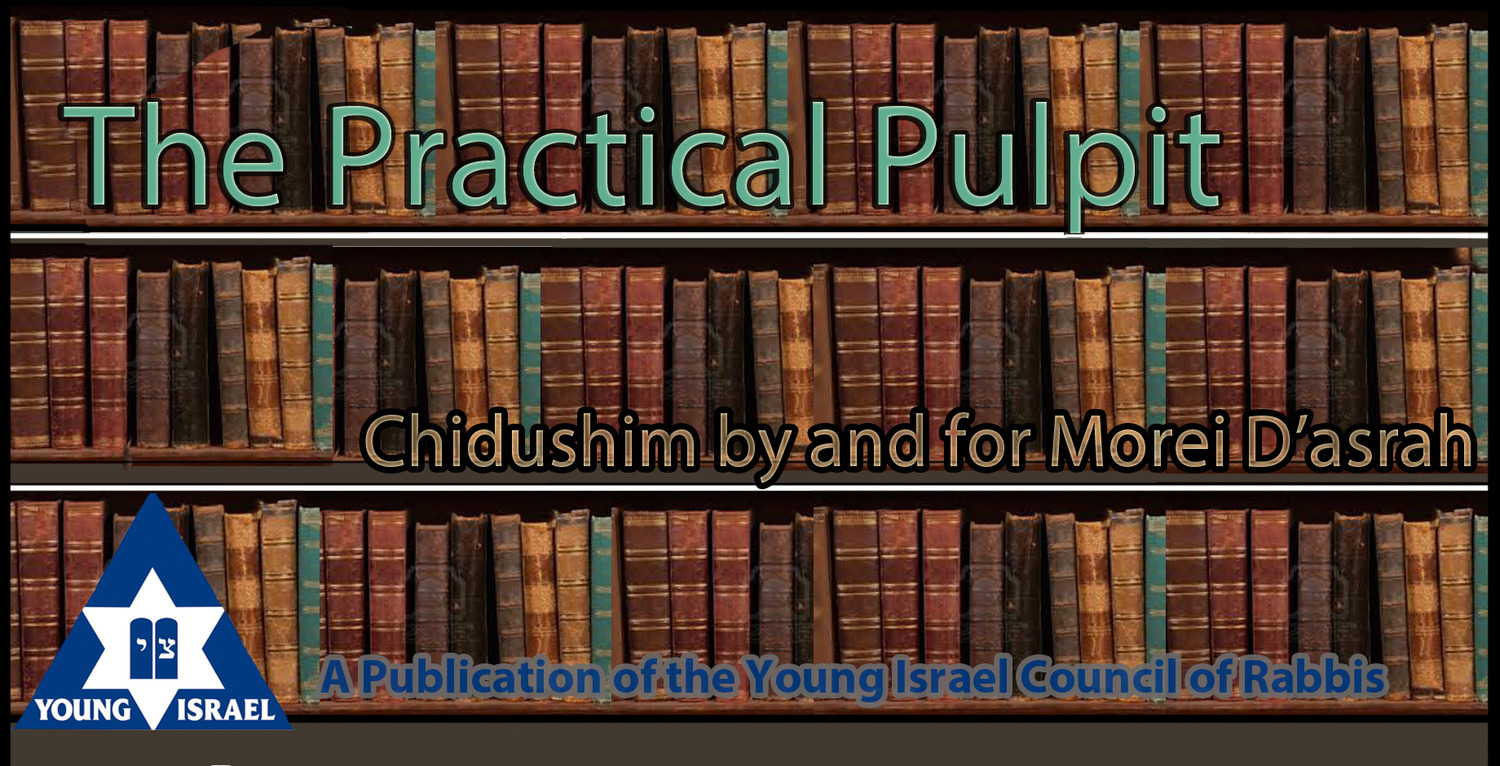 | | | |
| --- | --- | --- |
| Volume 3 | Iyar 5774 | May 2014 |
Rabbanim Chashuvim,

The date and time are set, invitations are out and the replies are trickling in. However, the exact numbers of attendees are not yet known.

The imagery of the chatan and kallah's parents waiting anxiously at their mailbox to see who will participate in their simcha has been communicated by many maggidim. Hashem invites His beloved Klal Yisrael to join Him at the chuppah that is the chag of Shavuot.

And we, his spiritual shadchanim, what are we doing about it? Are we making every effort to reach our bale batim so they should know how much we desire that they should attend? Will our shiurim on Shavuot night be masterfully prepared with great excitement and enthusiasm? Can we picture staying up through the wee hours with our precious congregants attending the chuppah of Matan Torahteinu - expressing great joy through learning Torah?

As we count up to Chag Habikurim, may the flora and fauna with which we bedeck our synagogues remind us of the opportunity for budding growth for each and everyone of our congregants.

Please send me a brief email to share your thoughts and suggestions about this publication.

Chag Sameach!
Rabbi Binyamin Hammer
Director, Rabbinic Services
National Council of Young Israel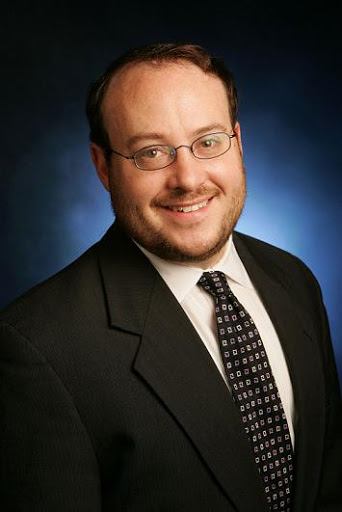 I believe that offering Shabbat sermons, vortlach in shul and divrei bracha at life-cycle events are considered "part of our job" by many of our congregants. To send a strong message of "ki heim chayeinu" to our community, I believe that writing and disseminating divrei Torah is highly effective.

A short Torah thought in the weekly Shabbat announcements sets a tone for the shul and the role of the rabbi. Not everyone may read it, but its inclusion makes a statement about the values of the shul. For several years, each week I included an idea on the parsha related to an annual theme we chose, such as Talmud Torah, emunah or chesed. One could choose a particular meforash each year as your theme as well.

I believe there is great value in writing your drashot. I recognize that different rabbinic mentors have different opinions whether or not sermons should be written down. Some view a text as a crutch that a good orator should not need. Others opine that it demonstrates proper preparation and it forces the rabbi to contemplate and edit his remarks, and not rely on extemporaneous thoughts. I once heard from a rabbi that he writes out his sermons word for word, but leaves it home the day he delivers the drasha. The writing was an aid in composition, not delivery.

There are three long-term benefits to a written drasha. First, it can be shared more easily and far more broadly than word of mouth. Second, it can be stored on a blog or a website for posterity or an eventual book. Third, it can serve as an historical document as you can set the record straight if you are misquoted.

Creating such a blog provides prospective members with a means to perceive the value of Torah learning in the shul (and the messages they would hear as congregants). It also creates a legacy for the rabbi. Especially important for younger congregants is the fact that it shows that the rabbi has joined the 21st century.

In our social media-savvy world, links to these divrei Torah can go viral on Facebook and Twitter. Rabbis are also reaching tens of thousands by posting divrei Torah via aish.com, Chabad.org, YUTorah.org etc.

Short weekly videos are powerful. I posted a weekly two minute thought on prayer that we sent out on Fridays. You can record in Hi-Def w
ith an iphone
and even a rabbi can upload to YouTube.

I remain in touch with dozens of congregants in my previous shul via weekly divrei Torah I email to them. It is not uncommon for some to read it and follow up with me with a question or unrelated shayla
May our dissemination of Torah in multiple venues help raise the centrality of Talmud Torah in our communities.

Making Everyone Feel at Home @Young Israel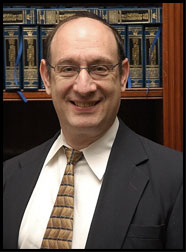 The face of the Young Israel of Houston has changed drastically in the 30 years that I have served as rabbi. When I arrived, the shul was a typical mix of people who had a day school education, baalei teshuva, and a handful of those who had learned in a post-high school yeshiva. Today, a significant percentage of our shul are graduates of a beis medrash or womens seminary. I find my role as Rabbi today to be quite different than I would have ever imagined. I would like to address some of those issues, especially as they relate to my being a teacher of Torah.

When I first arrived, I gave numerous classes on a post-beginners level. The material was understandable even to people with very little Torah background. If I delivered such classes nowadays, hardly anyone would attend. I am fortunate that we have an outreach center in my community and a full-time kollel in my shul. It is important to know who I can personally service in terms of learning and who would be better receiving their shiurim or classes elsewhere.

Nevertheless, there are times (Shabbos Shuva, Shabbos Hagadol, etc.) where I endeavor to reach everyone at the same time by presenting a multi-layer shiur. I do not mean a shiur that shoots for the middle, rather a shiur that has different components for different parts of the crowd. I think it is important for the shul to have such events from time to time.

The dvar Torah that I give on Shabbos morning has evolved many times over. I joke that I spent my first 20 years at the pulpit trying to expunge any vestiges of my yeshiveshe shprach, and I have spent the last ten years trying to put it back in. Indeed, I have had a number of baalei batim complain when I use the English term rather than the Hebrew or Yiddish one.

More importantly, the style and substance of my talk had to change. I believe that our goal whenever we speak is that every person listening should be able to learn something new from what I have discussed. That means that I now have a very broad spectrum that I need to address on a weekly basis. For instance, this past Shabbos I discussed a piece from Rav Hirsch that had a very interesting spin on korbanos. Years ago that would have sufficed. However, in today's Young Israel, I would be giving half the shul much less than they could really handle. Accordingly, at the beginning of my drasha, I compared Rav Hirsh's explanation of the pasuk to the Midrash Rabbah and the Sefer Hachinuch. In this way I feel that I have taught at many varied levels to all of my sub-groups. Of course, that leaves me open to the complaint that my Dvar Torah has gotten too long!

To further the point, I speak every week at both the hashkama minyan and at the regular minyan. The early minyan has a much higher ratio of Bnei Yeshiva. Typically for that minyan, my words are a little more yeshivish and the concepts are said in a slightly deeper fashion. A member once told me that he likes to hear both talks as he enjoys watching how I vary my approach for each minyan.

In conclusion, I would say that in every shul the Rabbi should not think that he can homogenize the disparate levels of background when teaching Torah. Each group needs to be recognized, considered, and attended to. After all, we were taught this lesson by Hakadosh Baruch Hu at Har Sinai, ko somar l'veis Yaakov v'saged livnei yisrael.


Editor's note- We invite you to submit an article about a different demographic group for this series about making everyone feel at home at Young Israel.
I have noticed a major difference between our educational goals with our baal habatim in our shuls and our goals for our students in our high schools (I have the privilege of working in both).

One of our major goals in our mesivtas and yeshiva high schools is to create independent learners. We want them to pick up the vocabulary, terminology and analytic skills which will help them be able to learn Chumash, Gemara, Halacha and Hashkafa seforim on their own.

When designing our adult education programs, we are often content for adults to passively attend shiurim. We may have a Beis Medrash open on weeknights but we don't provide structured communal opportunities for independent learning. To encourage independent adult learning, we have a "Shabbos Kol Torah" once a month at our shul.

On a Shabbos Kol Torah, we turn the shul into a Beis HaMedrash for a half hour after Shabbos morning davening. I say a shorter drasha that morning, we provide special candy for children who stay in the shul and learn with us, and we have a communal kiddush after the learning.

There are members of our community who are still not comfortable learning independently. To include them in our learning, we provide a shiur set off to the side of the shul. When I can find someone else to say the shiur, I learn with our shul's teenagers for the half hour. Both men and women particpate.

Another benefit of using Shabbos morning for learning is that both parents and children are already in shul. There are parents who use this opportunity to learn with their children. There are families who pair up- fathers learning with each other while their sons learn together next to them. It is a truly beautiful to see generations of families sitting next to each other learning on Shabbos morning. As our children get older, my wife or I will make certain to be available to learn with them during this slot.

Even when parents and children learn separately during "Shabbos Kol Torah", having parents modeling this behavior in the presence of their children has great value. Most parents who do learn during the week do so out of sight of their children (daf yomi, Shabbos afternoon shiurim, while commuting, etc.).

For children who are too young to learn with us we provide babysitting starting at age 6 months.

This program takes advantage of a captive audience of children and adults and promotes and models independent learning for all of our members. Try it out!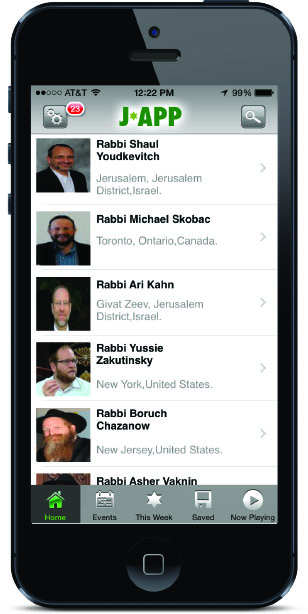 Making Torah a "Status Update"


Using Apps to Create Community Engagement



It's time to start communicating Torah to the "smart-phone generation"! Sharing your knowledge, teachings and Judaic wisdom with your congregation, friends and followers around the world is now easier than ever! The National Council of Young Israel is excited to share a fantastic tool for harbatzas haTorah with our rabbanim.
J-APP is a new, completely free smartphone and tablet app. As a Rabbi, J-APP allows you to upload video, audio and textual content using a very simplified and easy to navigate website. Uploading files to J-APP is even easier and more efficient than loading them to any website or home page. It is SO simple that you can do it yourself in minutes! With J-APP, you remain in complete control of all of your content and can delete and add files at any time 24/6.
If your synagogue is holding an event or if you are speaking at or taking part in an event anywhere in the world, you can let that specific Jewish community know instantly using the "events" feature. This means more buzz surrounding your events and potential for better turn out.
The messaging feature on J-APP will allow you to send alerts directly to the phones of the people you want to reach individually or by location. This allows you to keep up to date and connected with your friends and followers from around the world in the easiest way possible. You can even share your content on Facebook, Twitter, or Email with one simple click.
This is the smartphone generation! People are using their mobile devices and tablets for everything from entertainment to learning to staying connected with friends and family. So why not use them for Torah and Jewish learning as well? J-APP's vision is to make accessing Jewish knowledge and teaching easy and readily available to everyone for free! Nowadays, CDs, websites and even paper reading materials are all quickly going out of date. J-APP makes it possible to keep up with the vast change in the passing of information from teacher to student in the absolute most simple, time efficient way with no cost whatsoever!
No need for sifting through emails or missing out on lectures one is unable to attend. Now with J-APP everyone has the ability to hear from the Rabbis of their choice on a platform that supplies them with all the information they want and need to explore and deepen their Judaism from the comfort of their chosen surroundings at any time of day!
There is even an opportunity to benefit financially! Anyone who listens, watches or reads your content has the option to help out your synagogue by making an optional donation. Millions of dollars are spent this way using phone applications to give tzedaka to an organization with a simple click.
To be a part of this amazing innovation in Judaism, download J-APP from
iTunes
or
Google Play
.
To create your profile as a content provider as a member of the National Council of Young Israel contact
Ari Matityahu
. For more information about J-APP, links for download, and individual and organizational sign up, visit us at
www.j-app.me
,
or
email
or call us at 646.397.3765.
Gabbai2Gabbai
Conference Calls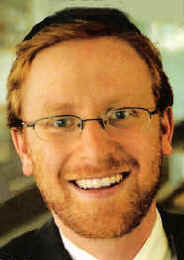 Our first two "Gabbai 2 Gabbai" conference calls have been very well received!

Rabbi Dovid Heber of the Star K covered a number of topics in the first call including A
veilim and Yahrzeits – Who has Kadimah? Determining Yartzeit Dates; Zmanim – Daily and Year Round Issues; Tachanun - Yes or No? When, Where and How?; and Laining/Aliyot Issues – What to Read and Who to Call Up. Listen to it at your leisure.

Rabbi Moshe Taub of Young Israel of Greater Buffalo answered 18 questions from gabbaim nationwide in his "Everything about Cohanim" call. Listen to it or forward the link to the gabbai in your life!
What topics would you like to see covered next? Do you have gabbaim we should add to our email list? Please e-mail gabbais@youngisrael.org with suggestions.

Sponsorships for our next call, in honor of a loved one, a yartzeit or just a local branch are available for $54; please contact bhammer@youngisrael.org to make arrangements.
You Have Shailos, Ask The Posek!

Rabbi Willig Answers
Your Shailos

Rabbi Mordechai Willig will conduct his next conference call B"eH on Wednesday May 14 from 3:00pm to 4:00pm EST.

Questions to be answered include mikvah in the Carribean Sea; aveilim & kiddushim; potted plastic tree 4.5 foot tall mechitza; should shuls keep yoshon; choleh she'ein bo sakanah on Shabbos issues such as is it allowed via shinui; co-ed zemiros and a Yichud-related question.
Rabbi Willig, a Rosh Yeshiva at RIETS, Member of the Beth Din of America, Member of the National Council of Young Israel Vaad Halacha and in his 40th year serving as the Rabbi of Young Israel of Riverdale, is uniquely qualified to answer the questions of rabbonim in the field.
Recordings of the first ten conference calls are available by emailing Rabbi Hammer. Topics covered have ranged the gammet of halachic and hashkafic issues throughout all four chelkei Shulchan Aruch.
---
Join Us Live or Get the Recordings
Professional Development
for the Busy Rabbi
Join us this Thursday, May 15 for the next to last session of this year's Rabbinic Training Program at Lander College for Men, 75-31 150th Street, Room 216, Kew Gardens Hills. From 5:10 – 7:20pm, Rabbi Ronald Greenwald, internationally renowned askan and Director of Camp Sternberg will speak about Common Sense and the Aspiring Rabbi. Following dinner, the highly entertaiuning and informative Rabbi Chaim Wasserman, President of the Council of Young Israel Rabbis in Israel and Rabbi Emeritus of the Young Israel of Clifton-Passaic will speak about Rabbinic Time Management and The Rabbi and His Library from 8:00-10:00pm.
Recordings and source materials from this year's Young Israel Rabbinic Training Program seminars are available by emailing Rabbi Hammer. Topics this year so far have included Curriculum for Teaching a Choson, Making Congregants with Physical Challenges Feel at Home, Siddur Kiddushin, Mikvah Construction, Establishing a Chevra Kadisha, Domestic Abuse, and The Rabbi and His Finances.
Over thirty aspiring rabbis are participating in this year (our 19th year)'s program. These trainees (who hail from a cross section of yeshivot) are available to intern at your shul.
published by
The National Council of Young Israel