BREAKING: Now that Super Bowl 50 is behind us, join us for a special Jan. 11 teleconference with Major League Baseball!

Register now to join us for a free conference call regarding Major League Baseball's summit of minority business procurement opportunities, co-hosted by the Arizona Diamondbacks

The MLB Diversity Business Summit is a groundbreaking collaborative opportunity for career networking and procurement. At the forefront of diversity advocacy, this unique event provides job seekers and entrepreneurs with unparalleled access to Major and Minor League Baseball industry representatives as well as to sponsorship and affiliate partners.

To learn more about the MLB Diversity Business Summit, to be held in Phoenix, Arizona from March 8 to 9, sign up for our free Jan. 11 conference call.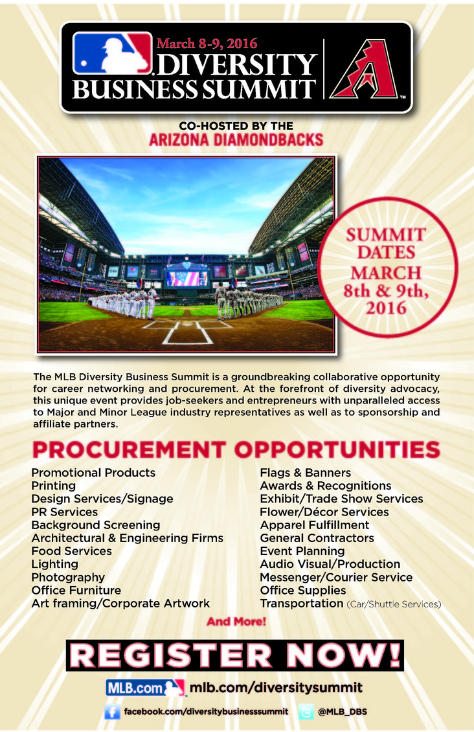 Minority Business Centers host tech event in state capital

Fifty minority entrepreneurs gathered in Sacramento, California for yet another successful training and networking event held by the Minority Business Development Agency's Northern California Business Centers, operated by ASIAN, Inc.

Coordinated by San Jose MBDA's Siew Yee Lee, the "Discover Your Next Big Opportunities in the Tech Industry in 2016" event demonstrated the Minority Business Centers' focus on strategic business development in various technology sectors. Lee has been a pioneer of the Northern California MBDA Business Centers' expansion of service into the Sacramento area. For the past year, Lee has been busy promoting the Centers' services and establishing ties with the many business resources in Sacramento.

The tech workshop was held at the offices of California Capital Financial Development Corporation, signatory to a Strategic Partnership memorandum of understanding with ASIAN, Inc. This event was a result of the collaborative effort of this MOU, with generous support from sponsor Cathay Bank.

Guest speakers from the California Community Colleges, Sacramento Municipal Utility District and Cathay Bank provided information regarding innovation and tech transfer grant funding, high-tech financing and other key resources for minority entrepreneurs wishing to broaden their tech horizons. Presentations were followed by a panel discussion moderated by the Small Business Administration's Regional Deputy Director. The session was joined by angel investors, U.S. Army Corps of Engineers, U.S. Export Assistance Center and Vista IP Law Group.
You may qualify for a chance to buy a home at 72 Townsend

Prospective first-time homebuyers can start the new year off right by looking into the latest below-market-rate (BMR) homeownership opportunity in San Francisco.

Seventy2 Townsend is a brand new complex in San Francisco with seven units at BMR prices. To learn more about this opportunity, visit asianinc.org/bmr.

Our First-Time Homebuyer workshops, taught in Cantonese, will help prospective homeowners qualify for an opportunity to buy a property at Seventy2 Townsend. Our workshops are now back at the building where we are headquartered, 1167 Mission Street in San Francisco, in a new state-of-the-art community room graciously shared by our newest building occupant, Local 21. To learn how to sign-up for a workshop, visit asianinc.org/housing/first-time-homebuyer.

Like what you've just read? Our dedicated staff spends hours putting this monthly newsletter together. Please help defray the cost by making a donation today.

ASIAN, Inc. is a 501(c)(3) non-profit organization, federal tax ID #94-1753170. Your donation to ASIAN, Inc. and/or the MED Week Coordinating Committee is tax-deductible to the extent allowed by law. Please click below to donate: