ASIAN, Inc. publishes its first iBook; redesigns site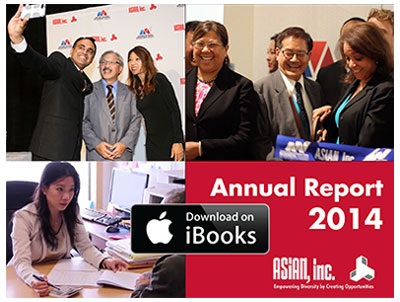 We are constantly striving to stay ahead of the curve by embracing new technology. With the dawn of the new Year of the Ram, we've released our 2014 Annual Report as an Apple iBook. On a PC or Android device, the report is also accessible via Flash on our website.

Speaking of our website, we're also unveiling a complete redesign of the asianinc.org site. The new site employs a scrolldown template that should be much more visually appealing on desktop and mobile devices.
Our counselors help families through tax season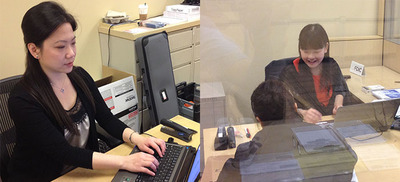 Thanks to the generosity of the Silicon Valley Community Foundation, Wells Fargo Bank and the United Way of Silicon Valley, we are able to provide valuable tax preparation and asset building services to low- to moderate-income households. On March 7, Wells Fargo hosted an ASIAN, Inc.'s tax preparation clinic at its Civic Center branch, in the heart of San Francisco
.
Now through April 15, households earning an income of $53,000 or less may receive exclusive, one-on-one in-language tax preparation and financial literacy sessions with our counselors. We are still taking appointments at our San Francisco office headquarters. To schedule an appointment, please call us at (415) 928-5910 x135.
San Jose MBDA clients meet Brig. Gen. Mark Toy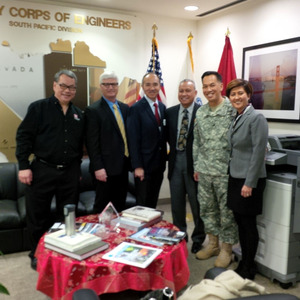 Clients of our Minority Business Development Agency (MBDA) Business Center in San Jose had the privilege to meet the recently promoted Brigadier General Mark Toy of the U.S. Army Corps of Engineers' (USACE) South Pacific Division (SPD) at the inaugural USACE San Francisco District Business Opportunity Open House. The event was held on February 3 at the District office on Market Street and was well attended by business owners who had the chance to cross-network with SF District Division staff.

Pictured (from left to right): Stan Lee of U.S. Army Corps of Engineers South Pacific Division (SPD); Guy Waldren of GEMS Environmental Management Services, Inc.; Clyde Wong of CE2 Corp.; Richard Camacho of GEMS Environmental Management Services, Inc.; Brig. Gen. Mark Toy U.S. Army Corps of Engineers, South Pacific Division (SPD); Lili Tarachand of LTD Global, LLC.


Thank you to our funders in 2014!*

East West Bank
HomeownershipSF
Taproot Foundation
The San Francisco Foundation
Union Bank
Gold ($15,000+)
Comerica Bank
Silicon Valley Community Foundation
​
Silver ($10,000+)
Comcast
Pacific Gas & Electric Company

​Bronze ($5,000+)
Asian American Architects & Engineers
Cal Pacific Plumbing Systems
Northeast Community Federal Credit Union

​Rising Tide ($2,500+)
Asian American Contractors Association
Beneficial State Foundation
Build Bayview
East Bay Municipal Utility District
Empire Engineering & Construction
GEMS Environmental Management Services
Paragon Commercial Brokerage
Recology
San Francisco Association of Realtors
​
Individual
Art Design Carpets & Windows
Bay Area Mechanical & Engineering
California Bank & Trust
Livermore Auto Group
Metro Locksmiths
New Solar
Pacific Auxilary Fire Alarm Company
Real Estate Revolution
Skanska Shimmick Herzog
Super Bowl 50 Host Committee
Tom's Metal Specialists
Transmetrics

*partial list



Like what you've just read? Our dedicated staff spends hours putting this monthly newsletter together. Please help defray the cost by making a donation today.

ASIAN, Inc. is a 501(c)(3) non-profit organization, federal tax ID #94-1753170. Your donation to ASIAN, Inc. and/or the MED Week Coordinating Committee is tax-deductible to the extent allowed by law. Please click below to donate: