Hello Lily,
We hope you'll enjoy the new look and pared down format of our electronic newsletter. Please let us know how we're doing in terms of content and length.

Norman
Editor NormanMould@Shaw.ca
In this issue
Upcoming Events
Canadian Symposium on Arts and Learning
December 2 -4, 2009
Ingrid Whyte will be responding to the keynote address by Alain Pineau CEO of the Canadian Conference for the Arts in Ottawa Read More

ISME North American Regional Conference
March 25-26, 2010
An important planning meeting will be held for all North American music education leaders, in Anaheim, California. Read More
ORFF to Manitoba
April 29-May 2, 2010
Unite 2010 - the 21st National Conference of Carl Orff Canada will include many Canadian and International Orff Clinicians. Read More
Resources for Ontario Educators
CentreVisits helps students build appreciation of Canadian composers Read More
The Artists in Education Roster and the Aboriginal Artists in Schools Roster at the Ontario Arts Council (OAC) brings professional artists into your schools. Why not invite some inspiration and hands-on experience into your classrooms.
Read More

---
Forward this email to a friend
Countdown to Music Monday
May 3, 2010
As winter comes upon us in full swing, it's also time to start warming up with ideas for Music Monday. We already have 258 schools registered. Make sure you Click Here to register and get in on the early bird draw. We've posted some ideas to get you started.
This year, we are launching a Music Monday Channel on Youtube. We've already uploaded highlights from last year. Feel free to send us any we may have missed out on.


Planning for a "signature event" in Vancouver is now underway. Watch this space for more details as they become finalized.

In the meantime, it is wonderful to learn that for the third consecutive year NAMM will host Music Monday in the United States and feature it as the kick off event for its "National Wanna Play Music Week." Read More.

In early October, details were released of a proposed new framework for Arts and Music Education in Alberta. Roberta Baril, a member of the Coalition Board explains:

Among other things, the new framework proposes:
• Replacing the sequential/spiral skill and
concept development between Junior and
Senior High School music programs with
staggered entrance into arts programs.
• A change from "discipline based" to "self
discovery" music education with the potential
permanent elimination of large performing
ensembles.
• The development of a generalist rather than a
specialist approach to arts education
• A change from 5 credit (125 hour) music
courses to 1 credit (25 hour) music courses.

Calgary educator Kevin Wilms became aware of the proposed changes and quickly disseminated this information throughout the province, mobilizing colleagues, parents, students, musicians and administrators into action.

Please visit saveourfinearts.ca to join in the dialogue and take action.
For more details on this, Read More
Linda Ronstadt Joins our Panel of Champions for Music Education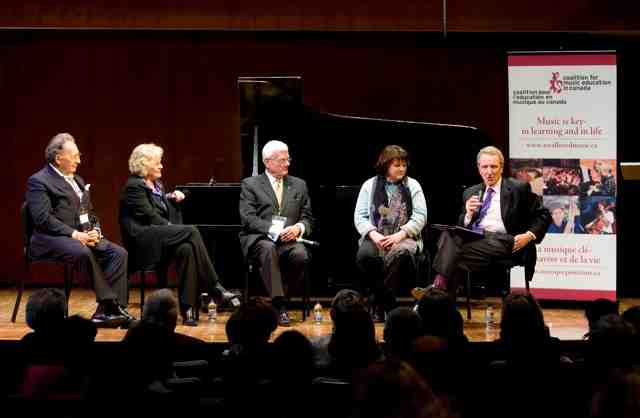 We were so pleased to have Linda Ronstadt, in addition to Boris Brott, Dr. Heather Ross, and Senator Tommy Banks sit on a discussion on the importance of Music Education hosted by the Coalition at the Promise of Music Symposium in Toronto. Read More for highlights.

Gift Idea
Why not send a Coalition membership or donation as a gift to a music lover this year?
Click Here to renew your membership or to donate. If you haven't renewed your membership of late, please do so to support the many efforts being made to keep music in our schools.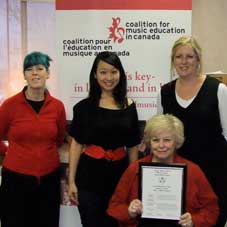 Note from Ingrid

Thanks to the Ontario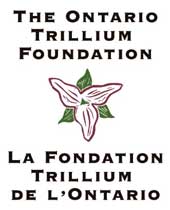 Trillium Foundation, we are happy to welcome Jill Battson as Partnership Development Coordinator, and Lily Cheng as Communications Coordinator (shown in the photo next to our valued Office Administrator Lyla Ricciardelli and me).
Already we're feeling the impact of their contribution and they are certainly keeping me on my toes! We'll be striving to make an even greater impact in the community in the year to come.

It's that time of year where music is in the air everywhere! As you prepare to usher in the holidays, on behalf of our Coalition team and our Board of Directors, I'd like to wish everyone a safe and happy holiday season. See you on the flip side!
Warm Regards,
Ingrid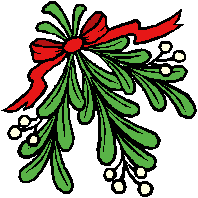 National Survey:
On The Way
The Coalition's 2010 survey of the state of music education across Canada is currently being piloted. Due to be conducted in the Spring of next year, it will build on the picture established in our 2005 benchmark study.

The survey will be conducted by Hill Strategies with support from Business for the Arts and Musicounts.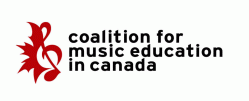 phone: 416.298.2871
fax: 416.298.5730
info@coalitionformusiced.ca