Spring 2010
Dear Scott,
Happy Spring (it's not quite summer yet, even if it feels like it)! We have so many exciting things to share with you, it has been a long winter since our last newsletter but rest assured there has been a lot going on. Be sure to read all the way to the end for a special sneak peak at the future.
In this issue:
---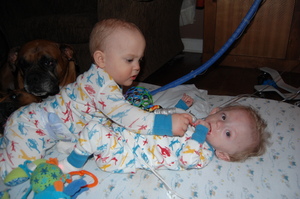 Chase and his twin brother Trevor were born January 1, 2009, and by October 2009, Chase had spent nearly 167 days in and out of the hospital. Chase's medical team believed he would not survive past Christmas 2009, but my husband Kevin and I disagreed with this, and felt that a different approach was needed. We knew that while there was no cure for mitochondrial disease, living in a hospital away from his family did not give Chase the quality of life he deserved to have. This is when Connor's House took an active role in our family's life. Because comfort and quality of life was, and continues to be our main priority for Chase, Connor's House provided us with the resources we needed to connect us with a Palliative Care team to benefit our entire family (read more).
---



The CHALLENGE is on:

Support Connor's House by running or walking the Philadelphia Marathon or Half Marathon. Walkers must maintain a 16 minute per mile pace.

First, sign-up for either the Philadelphia Marathon or Half Marathon. Second, sign-up for the Philadelphia Challenge either online or by mail. Third and most importantly, set-up your online fundraising page.

Make it more fun by recruiting a team to run/walk with you.




Registration:


$25 per runner/walker. Does not include the cost of registration for the marathon or half marathon.

Step 1:
Sign-up for the Philadelphia Marathon or Half Marathon




Step 2:
Sign-up for the Philadelphia Challenge

_________________________

Event Sponsors:

Would your company be interested in being promoted within the Philadelphia community and throughout the Connor's House community of families and supporters? Consider becoming a SPONSOR! There are still sponsorship opportunities available.

Fundraising:


By participating in this race, you are helping us raise awareness and funds for our programs. If you want to do more ask everyone you know to sponsor your efforts and then see if your employer has a matching gift program.

We are asking every participant in the Philadelphia Challenge to raise a minimum of $250. The following is a list of awards for each milestone you reach in your fundraising efforts.

$250 - Connor's House eco-friendly re-usable shopping bag

$500 - Connor's House eco-friendly bag and embroidered knit hat

$1500 - Connor's House eco-friendly bag, embroidered knit hat and long sleeve t-shirt

$2500 - Connor's House eco-friendly bag, embroidered knit hat and fleece hoodie

All Philadelphia Challenge participants will receive a 2010 Connor's House Philadelphia Challenge Race Shirt
---
Tastefully Simple Virtual Party:
Support Connor's House by eating really good food (it doesn't get much better). Come to our Tastefully Simple Virtual Party any time between now and the end of June! Tastefully simple offers a wide selection of convenient, easy-to-prepare gourmet foods designed to help people spend less time in the kitchen and more time enjoying the rest of their lives. 15% of the party proceeds go to Connor's House.

The party is being held at: www.tastefullysimple.com/web/cmcinnes
Enjoy checking out all the delicious foods!

Instructions for making purchases:

When checking out, you'll see: "Find Host/Event" on the lower right side of your screen. Click on it, and type in the following information to be sure your order gets credited to Connor's House!
First Name: Deb
Last Name: Millard
State: NJ
Date of Party: 6/1/2010
Then click "Select"
Continue with your purchase.
Thanks so much for your generous support of Connor's House and enjoy your yummy items from Tastefully Simple!!!
---
One Hundred Women Making a Difference: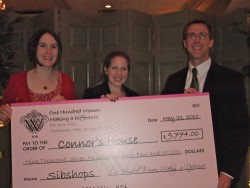 On May 21st Connor's House recieved a grant from One Hundred Women Making a Difference to fund the first year of our sibling support program. We will be utilizing an internationally recognized program called Sibshops, specifically tailored to deal with the issues faced by siblings of children with complex health care needs. The grant funding will be used to host a Sibshops training event which will be open to other local community organizations, in addition to the Connor's House sibling support team, and will also provide for the first year of program funding.
---
Connor's Courageous Kids Bookfair: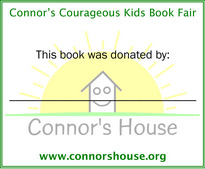 The 3rd annual Connor's Courageous Kids Book Fair was held on February 27 - March 2, 2010. The fair was a huge success. Total Sales increased by 17% compared with the 2009 fair. Over $2,600 in books and other educational resources were donated directly from the book fair to hospitals and children with complex health care needs; over 1400 books were donated to national literacy programs by Scholastic; and over $1,200 was raised to provide support services through Connor's House. A special thanks to Celebrate the Children and the Donnelly family for their support of this year's book fair. Save the date now for next year's fair which will be held February 27 - March 1, 2011.
---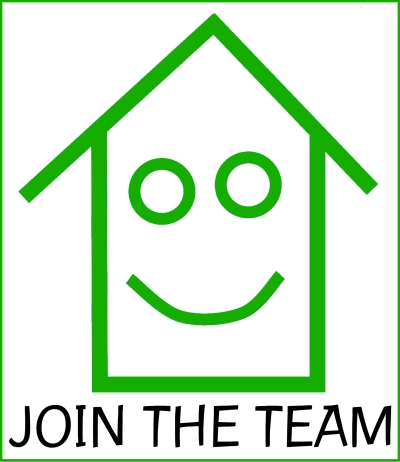 Never underestimate the difference a large group of committed people can make when we each do a small part. If each person who recieves this newsletter commits to donating as little as $10 a month to Connor's House we can hire two family support workers. All you have to do is meet Chase to understand the type of impact we can have on families of children with complex health care needs with your support! Please consider making a donation today either online or by mail.
---
Sneak Peak:
Your reward for reading all the way to the end... A sneak peak at some of the conceptual designs for Connor's House. We would like to acknowledge BCK Architects for their tremendous support, giving shape to our dream.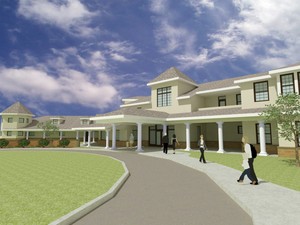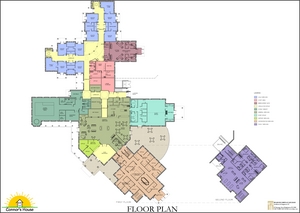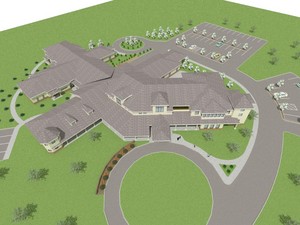 ---
Connor's House, Inc. is a tax exempt 501(c)(3) non-profit corporation. Learn more at www.connorshouse.org

---
---
Connor's House
P.O. Box 42
Landing, New Jersey 07850


Read the VerticalResponse marketing policy.