Message from the NCSM President
I hope your new school year is off to a successful one. The past couple of months have been extremely busy for many of you with beginning implementation of the CCSS. NCSM wants continue to be your one-stop for information regarding the effect of leadership on individuals.
Recently I attended the CMBS Common Core State Standards Forum in Reston, VA in an effort to continue our presence as a major stakeholder in the implementation of the CCSS. This is evidenced by our participation in the MC3-Mathematics Core Curriculum Coalition (
http://mathcommoncore.org
). The MC3 works to provide expertise and advice on issues related to the effective implementation of the Common Core State Standards for School Mathematics.
NCSM Election 2012 is now happening. You should have received your bright green postcard containing pertinent information about the upcoming election. Since NCSM's election is conducted online, you have the privilege to vote when it's convenient for you—day or night. Your vote is your voice and your voice makes a difference…it would be awfully quiet without you!!! The voting period is September 15, 2011 – October 15, 2011.
The voting instructions are very easy:
1) Have your postcard handy (astro-bright green postcard announcing the candidates for the 2012 NCSM election). If you have not received your postcard or misplaced it, call NCSM Member and Conference Services Monday through Friday from 9:00 am to 5:00 pm MT at (303) 758-9611 or email office@mathedleadership.org)

3) Review the candidate statements for each of the open positions by clicking on the links at the top of the page

4) When you're ready to vote, click on the "Vote on-line here" link

5) Click on the appropriate region in which you live or "none of the above" to access the online ballot

6) Vote once for the candidates of your choice

7) Type in the numeric code from your postcard in the verification box

8) Review your selections.

If you are finished with your ballot, click the "submit" button once. (If not, make changes or click on "clear" button and cast your votes again.)
---
2011 NCSM
Fall Leadership Seminars
Tools and Strategies for 
Implementing the Common Core State Standards
Plan to attend this exciting one-day leadership seminar. Choose among:
* Atlantic City on October 19th
* St. Louis on October 26th
* Albuquerque on November 2nd

The NCSM Leadership Seminar is designed for leaders like you—mathematics education leaders, teachers, coaches, and administrators—who want to lead their school and district toward student success and the CCSS vision.
You will leave the leadership seminar with practical, research-based, inspired insights, tools, and strategies to continue your work to implement the CCSS. Learn more at
http://mathedleadership.org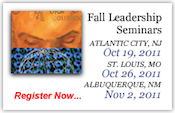 ---
Quote
"The leaders who work most effectively, it seems to me, never say "I." And that's not because they have trained themselves not to say "I." They don't think "I." They think "we"; they think "team." They understand their job to be to make the team function. They accept responsibility and don't sidestep it, but "we" gets the credit…. This is what creates trust, what enables you to get the task done."
---
Subscribe to eNEWS
All NCSM members are automatically subscribed to NCSM's eNEWS. Anyone can subscribe to this new electronic newsletter (members and non-members).
Encourage others to subscribe. Forward this issue to your friends and colleagues who work in or have an interest in mathematics education leadership – or send them to our website,
www.mathedleadership.org, where they can subscribe themselves.
eNEWS Editor
Mike Hall is NCSM's eNEWS Editor. Please feel free to contact Mike at
mhall@astate.edu
with news, feedback, or suggestions.
Welcome!

Welcome to this edition of the NCSM e-Newsletter. In this edition, you will find continuing information regarding the Common Core State Standards and Mathematics Leadership. You might have noticed the eNews arriving to you every other month. This is to better inform you of current happenings and information regarding issues of importance. In this edition, look for up-to-date news regarding the Common Core State Standards, happenings at NCSM, leadership tidbits and a message from President, Dr. Suzanne Mitchell. New to this edition of the eNews is section titled Tech Tips. Check it out for ideas for recent or novel technologies. I hope you enjoy the e-news and if you have any ideas to add, please feel free to contact me at mhall@astate.edu.

Does Everyone Need a Coach?
At the CBMS Forum conducted in Reston, VA in earlier this month, much discussion was given to the ideas of professionalism in our profession. Coincidentally, at the same time, the article Personal Best: Top athletes and singers have coaches. Should You? (
http://www.newyorker.com/reporting/2011/10/03/111003fa_fact_ gawande
) was published in the New Yorker. This overview of the importance of allowing others to give feedback on personal performance in an effort to continually improve is an excellent introspective into what it means to be a leader in the mathematics community. I highly recommend it as required reading. Mike Hall
---
Partnership Possibilities
NCSM invites state, regional, and provincial mathematics leadership organizations that meet a set of criteria to become an affiliate of NCSM by completing the affiliate application process to join NCSM. The deadline to complete the process for the 2011-2012 year is January 31, 2012. The NCSM Board will consider applications and will present charters for membership at the April 24, 2012, NCSM annual business meeting in Philadelphia, PA.
The application process is simple and begins by submitting a memo of application to the NCSM Affiliate Coordinator (below) and completing the other items listed on the Affiliate Application Process page. Your organization will be notified in early February of your acceptance as an affiliate so that someone who represents your organization can attend the business meeting and accept the Charter.
We look forward to working with you individually and as a mathematics leadership organization. We hope that you will consider this opportunity to work more closely with NCSM and to gain benefit from the association. Please feel free to contact me, or the Affiliate Coordinator, Cheryl Avalos (
randca@roadrunner.com
) for more information.
---
Tech Tips
Common Core State Standards -- The Android App and the Apple App
Are you looking for that special app that will give you a list of the Common Core State Standards for any grade level? The best list may be on your phone or tablet if you download the free Common Core State Standards App from Mastery Connect. It even features both the traditional and the integrated mathematics pathways for middle and high school grades.
What is the Policy about iPads, iPods, and Tablet Computers in your District or State?
This year schools are faced with an amazing array of electronic devices that will run spreadsheets, calculators (from basic to graphing), play educational videos, practice basic skills, and offer research from powerhouses like Wikipedia. Some simple steps may help you to enhance technology-based learning. First, set up a techie team to investigate the types of applications and programs out there. You may want to have one team exploring Android Devices, one working on the Apple Applications and anther team just looking at PC programs. The amount of free and powerful mathematics resources is growing exponentially! Second, you may want to establish a way to suggest appropriate technology for the classroom. The Third is to establish the financial team to implement those resources that offer real improvements in teaching and learning. That third team must have the responsibility to ensure that equity in opportunity is provided for all the students as much as is financially possible.
Highlight the Successes
You undoubtedly have some teaches who are making great uses of technology. It may be special lesson, a YouTube video, a podcast, perhaps a special research competition. Publicize the successes of your teachers! It appears popular to attack education lately and the public should have some fun links to the real stories and to the amazing work that American Education is producing.

---
Common Core State Standards
-For the latest news and notes on the Common Core State Standards, check out the CCSS homepage at
http://www.corestandards.org/
where updates are continually added.
-PARCC is seeking public input on the Common Core State Standards:
Public Input Sought on Draft Model Content Frameworks
---
Leadership Corner
This is my first message as the copywriter for the Leadership Corner. Our topics will focus on CCSS, CCSSO, and Past Presidents of NCSM.
Coincidently, Tim has two blog entries on CCSS and CCSSO. Here is a quote by Tim that should motivate you as leaders: "This blog is dedicated to the improvement of K-12 school mathematics Teaching and Learning as well as the leadership growth and development of K-12 School educators and leaders. Primarily focused on ideas that support the growth of teacher and administrator learning teams and the ideals of professional learning communities - that understand the magnified impact on student learning caused by the meaningful and research affirmed work of PLC teams."
-- Jerry Cummins, Leadership Corner
---
Resources & Opportunities
Call for Papers!
Research Based Undergraduate Science Teaching
Research in Science Education 2012 (Volume 6)
RISE volume 6 focuses on best practices in teaching undergraduate science and engineering and their short- and long-term impacts on student outcomes.
Volume goals are selected to promote dialogue in the research community for:
A. Sharing research on teaching conducted in different disciplinary fields in undergraduate science contexts.

B. Addressing the complexities and issues associated with conducting research in undergraduate science teaching. 

C. Research methodologies for investigating undergraduate science teaching and learning. 

D. Interventions for reducing course attrition and sustaining science and engineering majors in their disciplinary fields.
Volume manuscript topic areas may include faculty professional development in teaching undergraduate science and engineering, effective teaching practices in undergraduate science, interventions designed to enhance undergraduate learning, models for improving and sustaining collaborative development and research within and between science, engineering, and science education communities, differentiating instruction to meet to meet a variety of contextual settings, and curricular models and technological applications that promote science learning.

Chapter manuscripts are being solicited for inclusion in Volume 6. To be eligible for selection a manuscript must focus on four elements: (1) each chapter will include a significant review of research along with a report of the author's original research study, (2) address themes relevant for the teaching and learning of undergraduate science or engineering, (3) include original research addressing the major theme of the chapter, (4) bridge the gaps between theory and practice and/or research and practice, and (5) address the concerns and needs of college and university administrators, faculty and students. Manuscripts to be considered must be submitted by November 20, 2011.
---
Win Sum-Thing!
Win a classroom set of A+ Tiles simply by trying your hand at an Illuminations lesson. In the lesson Do You Notice Sum-Thing?, students are asked to consider patterns that occur when various tiles are placed on a hundreds board. For a chance to win a full classroom set of the tiles or an individual set of A+ Tiles, try the lesson with some students and then do one of the following:
Submit a picture (or link to a gallery of photos) of students participating in the lesson.

Share a link of student work from the lesson.

Post a link to a video of students participating in the lesson.

Submit a write-up of things your students discovered during the lesson.

Create an extension for the lesson.
Share your picture, video link, or write-up on our Facebook page, "NCTM Illuminations." The link or photo that receives the most "likes" by 5pm ET on Thursday, October 6, will receive a classroom set of hundreds boards provided by A+ Compass. Additionally, ten other randomly selected entries will win an individual set of A+ Tiles. 

Entries should be uploaded to our Facebook page, NCTM Illuminations. Or, you can submit to Christa Koskosky, ckoskosky@nctm.org, who will post any emailed entries to the Facebook page.
---