Message from the NCSM President
Welcome to a World of Leadership Challenges and Opportunities this summer!
As you prepare for the opening of school in the fall, remember that NCSM has many new products and tools to make your work easier, effective and efficient. As leaders, we are in the people business and our job is to help others succeed. Be sure to visit the NSCM website, www.mathedleadership.org, to update your profile and renew your membership. The purpose of your leadership is to maximize people's strengths and minimize their weaknesses.

Effective leaders employ the ABC's of leadership:
A-

Analyze the assets of your organization and build upon these.
B-

Become people focused and learn about the skills and attitudes of the people with whom you work.
C-

Connect talent with obvious needs.
If you are looking for leadership development for yourself and/or a team of leaders, consider the two NCSM Leadership Academies that are available this summer:
June 25-27, 2012 in Pittsburgh, PA and July 31-Aug 2, 2012 in Sonoma County, CA. Go online to find registration information
(
www.mathedleadership.org
).
---
NCSM
Happenings
Advance registration
is still available for our summer NCSM Leadership Academy:
Mathematics Leadership at Working: Moving the Common Core State Standards from Vision to Action
in Santa Rosa, California: July 31st – August 2nd. Online registration is open until July 17th. Visit
http://mathedleadership.org
to register.
OUR ACADEMY WILL FOCUS ON:
The 8 CCSS Standards for Mathematical Practice including the application of the NCSM Instructional Materials Analysis Tool Kit
The CCSS Content including domain, learning trajectories, grade level and course sequencing ,and course design score and sequence
Assessment with formative cycles including how we begin to develop meaningful assessment loops using high quality summative assessments and design sessions with PARCC/Achieve/Smarter Balance
TELL YOUR COLLEAGUES AND JOIN US for SUMMER LEARNING!
---
Quote
"
One of the most common ways to overcome resistance to change is to educate people about it beforehand. Communication of ideas helps people see the need for and the logic of a change. The education process can involve one-on-one discussions, presentations to groups, or memos and reports.""
---
Subscribe to eNEWS
All NCSM members are automatically subscribed to NCSM's eNEWS. Anyone can subscribe to this new electronic newsletter (members and non-members).
Encourage others to subscribe. Forward this issue to your friends and colleagues who work in or have an interest in mathematics education leadership – or send them to our website,
www.mathedleadership.org, where they can subscribe themselves.
eNEWS Editor
Mike Hall is NCSM's eNEWS Editor. Please feel free to contact Mike at
mhall@astate.edu
with news, feedback, or suggestions.
Welcome!


Now that the 2011/12 school year has ended, the real work of transitioning toward the Common Core State Standards is in full effect. At the 2012 NCSM Annual Conference help in Philadelphia, PA in April, many mathematics leaders conducted and attended sessions that focused on the implementation of the CCSS and the role of math leaders in that implementation. Over the summer, there are multiple opportunities for you to continue learning about CCSS curriculum implementation.
This edition of the eNews contains the message from President, Dr. Suzanne Mitchell, and as always, the Leadership Corner as well as the most up-to-date information regarding CCSS. New to this edition of the eNews is section titled Tech Tips. Check it out for ideas for recent or novel technologies. I hope you enjoy the e-news and if you have any ideas to add, please feel free to contact me at
mhall@astate.edu
.

Common Core State Standards
- PARCC is seeking public input on the Common Core State Standards:
Public Input Sought on Draft Model Content Frameworks
---
Implementing the Standards for Mathematical Practice
As classroom teachers begin thinking about implementing the Common Core State Standards, they tend to focus on the content standards. Questions such as, "What changes need to be made?" and "Will I have the appropriate resources?" are fundamentally important. As leaders, we need to ensure that the Standards for Mathematical Practice play a pivotal role.
The Standards for Mathematical Practice are t
he means to the end of improved student achievement. By experiencing rich, demanding mathematical tasks, students build their ability to reason, model their thinking, use structure and repeated reasoning; students engage in thinking
mathematically.
A chart that has been adapted from Bill McCallum's website,
math.arizona.edu/~wmc
, is a great visual representation of the connections of the Standards for Mathematical Practice.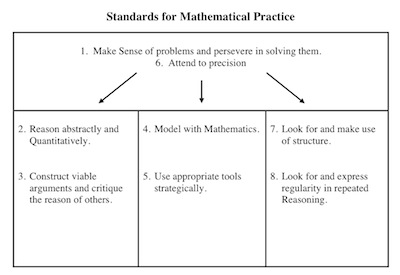 The Standards for Mathematical Practice begin with problem-solving. All of the other standards develop as a result of students experience meaningful and rigorous tasks. This chart reminds teachers to think about these Standards for Mathematical Practice as they collaborate to identify learning targets and plan lessons.
For more information, go to:
---
Resources & Opportunities
---
- Triangle Coalition
The Triangle Coalition is an advocate for the improvement of science, technology, engineering, and mathematics (STEM) education in the United States. Headquartered in the DC metro area, the Triangle Coalition is comprised of member organizations that represent business, education, and STEM societies nationwide. More information and valuable resources can be found at
http://www.trianglecoalition.org/
.
Check out the latest news and notes from the Triangle Coalition at
http://www.trianglecoalition.org/tceb-info/current-issue
---
NCSM Website
You should begin to notice a change in the NSCM website (http://mathedleadership.org) over the coming months. These changes can be attributed to the addition of Shawn Towle as our webmaster.
Visit us 24/7 at
mathedleadership.org
to explore ways to actively engage with NCSM.