2010 NCSM Annual Conference
This year's conference will be held in San Diego, California, April 19-21, 2010. Whether you are a first-timer or a veteran of many NCSM annual conferences, plan to join mathematics education leaders from around the world at the conference.
Immerse yourself in three days of exciting sessions led by practitioners, researchers, experts, distinguished presenters and speakers, including those at the forefront of effecting change in mathematics education leadership.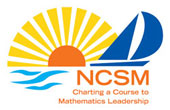 Enlarge your network of colleagues who can assist you in building and supporting your local mathematics program.
Meet new friends who share your interest and love of mathematics education.
See you in San Diego!
NCSM Board of Directors Elections
NCSM is proud to introducde the following newly-elected Board Members:
Suzanne Mitchell – President-Elect
Denise Walston – 2nd Vice President
Ted Hull – Southern 2 Regional Director
Valerie Mills – Central 1 Regional Director
Mari Muri – Eastern 1 Regional Director
Congratulations to the new officers. They will be inducted at the 2010 NCSM Annual Conference in San Diego.
Common Core State Standards
Thank you to all who commented on the March 10, 2010 standards draft. Your feedback will make the final version a stronger foundation for providing all students with mathematics curriculum, instruction, and assessment that will prepare them for college and work. Visit our website, to read NCSM's statement about the March 10 draft.
Leaders of the initiative will present several sessions at our Annual Conference, including a Special Interest Group discussion on Wednesday afternoon. The final version of the standards and model high school pathways are expected to be released in late May.
For Elementary Mathematics Specialists
The Association for Mathematics Teacher Educators (AMTE) is hosting an Elementary Mathematics Specialist (EMS) Certification Conference, June 22-23, 2010 in Louisville KY for state teams interested in adding state-level certification for EMS professionals.
Conference information and application forms, as well as the Standards for Elementary Mathematics Specialists: A Reference for Teacher Credentialing and Degree Programs are available on the AMTE website, http://www.amte.net
Have you been to the NCSM website?
NCSM's website now features:
New look, navigation, and functionality
Increased access to information and resources
Increased visibility of important opportunities
Increased opportunities to network
Visit, explore, and be an active part of our new online home.
Share our website with your colleagues.
Become A Member of NCSM
The National Council of Supervisors of Mathematics (NCSM) is a mathematics education leadership organization. From its origins as an organization of urban mathematics supervisors, NCSM has evolved to become an organization for mathematics education leaders in all positions at all levels.
When you become a member, you:
join a growing network of committed mathematics education leaders;
gain access to current information on initiatives in mathematics reform;
have access to more ways of developing leadership skills; and
have opportunities to share ideas with other mathematics educators and to influence policy and practice through professional participation.
Learn more about the benefits of NCSM membership.
Renew your membership or update your membership information

Member Benefits
Receive the 2010 Summer NCSM Newsletter.
Meet the Ross Taylor/Glenn Gilbert awardee
Read about balancing support and challenge when coaching teachers to bring about transformational learning
Explore one of Ralph's Problems.
Receive the 2010 Spring NCSM Journal of Mathematics Education Leadership. Read about:
how districts think about curriculum adoption
what it means for teachers to step into math leadership roles
what principals need to think about in order to support math teaching and learning in their buildings
the story of one district's leadership team charged with developing a district-wide Math Plan
the Critical Issues article on assessment, which raises provocative questions about current assessment practices in many districts and states and imporant issues of equity