Message from the NCSM President
A new school year always brings the opportunity for the hot days of summer to change to cooler days of fall. Greatness as a leader comes to those who are open to change and envision opportunities where others see a problem. Take advantage of the moment to make huge strides in your organization and in yourself. Seek leadership mentors and coaches who will help you rise to your best self. This means sculpting an organizational culture that encourages healthy achievement, sets high expectations, and appreciates diversity. Take time every week to try new techniques of working smarter, planning better, and honing the tools that will help you be successful.
Become a mathematics leader with influence by changing some of your habits. As you begin a new school year, the National Council of Supervisors of Mathematics (NCSM) is the professional organization that can provide you with leadership resources to help you succeed as a mathematics leader.
Some resources that NCSM has to offer can be found on the NCSM website at
www.mathedleadership.org
:
* The PRIME Leadership Framework: Principles and Indicators for Mathematics Leaders toolkit
* Curriculum Materials Analysis Tools with a Facilitator's Guide
* Coaching Corner
* Illustrating the Standards for Mathematical Practice
* Great Tasks
* The NCSM Journal of Mathematics Education Leadership
* Four quarterly NCSM Newsletters
* Ten Position Papers with a Facilitator's Guide
* Archived copies of eNews
* Marshall Memos – for current research and leadership opportunities
* Job Board
* Common Core State Standards resources
* Webinars, Podcasts and Videos
* Regional Directors Contact Information
* Information about fall 2012 Leadership Seminars and the 2013 Annual Meeting and summer Leadership Academies
---
NCSM
Happenings
If you only have one day to spare for your professional growth, spend a day with NCSM. Seminar presenters actively engage participants and guide them through adaptable research-informed practices, strategies, models, and concepts that effective mathematics education leaders need to know and integrate into their work. Leave the seminar with practical and inspired ideas and actions that will prepare you to lead and support others throughout the year.
Have you registered for the fall NCSM Leadership Seminars?
There are 3 great locations. Each of these one-day seminars is conveniently scheduled prior to an NCTM Regional Meeting near you!.
October 10 -- Dallas, Texas: Meeting the Challenge of Rigorous State Assessments: Overcoming Resistance to Change
October 24 -- Hartford, Connecticut: Understanding the Myriad of Assessments that Accompany the Implementation of the CCSS for Mathematics
November 28 -- Chicago, Illinois:
Leadership Tools and Teacher Strategies for Implementing the
Common Core State Standards in a Professional Learning Community
Registration is now open and includes a full day with research-informed practical strategies, seminar materials, continental breakfast, and lunch!

---
Quote
"To lead people, walk beside them ... As for the best leaders, the people do not notice their existence. The next best, the people honor and praise. The next, the people fear; and the next, the people hate ... When the best leader's work is done the people say, 'We did it ourselves!'"
---
Subscribe to eNEWS
All NCSM members are automatically subscribed to NCSM's eNEWS. Anyone can subscribe to this new electronic newsletter (members and non-members).
Encourage others to subscribe. Forward this issue to your friends and colleagues who work in or have an interest in mathematics education leadership – or send them to our website,
www.mathedleadership.org, where they can subscribe themselves.
eNEWS Editor
Mike Hall is NCSM's eNEWS Editor. Please feel free to contact Mike at
mhall@astate.edu
with news, feedback, or suggestions.
Welcome!


The 2012-13 school year is an exciting time to be a mathematics leader. With the implantation of the Common Core State Standards, leaders are in more demand and than ever and NCSM is here to help. In this edition of the eNews you will find information regarding our upcoming Leadership Academies as well as a plethora of useful information that can assist you on a daily basis.
I hope you enjoy the e-news and if you have any ideas to add, please feel free to contact me at
mhall@astate.edu
.
Voting is Now Open!
NCSM Election 2013 is now happening.
You should have received your bright yellow postcard containing pertinent information about the upcoming election. Since NCSM's election is conducted online, you have the privilege to vote when it's convenient for you—day or night. Your vote is your voice and your voice makes a difference…it would be awfully quiet without you!!! The voting period is
September 15, 2012 – October 15, 2012.
Please see the website at
http://mathedleadership.org/about/elections
for more details.
---
Tech Tips
Common Core State Standards
The Center for Digital Education provides resources for teacher leaders regarding educational technology. More information can be found at
http://www.centerdigitaled.com
What is the Policy about IPADs, IPods, and Tablet Computers in your District or State?

This year schools are faced with an amazing array of electronic devices that will run spreadsheets, calculators (from basic to graphing), play educational videos, practice basic skills, and offer research from powerhouses like Wikipedia. Some simple steps may help you to enhance technology-based learning. First, set up a techie team to investigate the types of applications and programs out there. You may want to have one team exploring Android Devices, one working on the Apple Applications and another team just looking at PC programs. The amount of free and powerful mathematics resources is growing exponentially! Second, you may want to establish a way to suggest appropriate technology for the classroom. The Third is to establish the financial team to implement those resources that offer real improvements in teaching and learning. That third team must have the responsibility to ensure that equity in opportunity is provided for all the students as much as is financially possible.
Highlight the Successes

You undoubtedly have some teaches who are making great uses of technology. It may be special lesson, a YouTube video, a podcast, perhaps a special research competition. Publicize the successes of your teachers! It appears popular to attack education lately and the public should have some fun links to the real stories and to the amazing work that American Education is producing.
---
Common Core State Standards
Triangle Coalition

The Triangle Coalition is an advocate for the improvement of science, technology, engineering, and mathematics (STEM) education in the United States. Headquartered in the DC metro area, the Triangle Coalition is comprised of member organizations that represent business, education, and STEM societies nationwide. More information and valuable resources can be found at
http://www.trianglecoalition.org/
.
---
Equity in Mathematics Education
Check out the latest news on equity from the Education Trust at http://www.edtrust.org
- For up-to-date information regarding equity in mathematics education
, please check out the TODOS homepage at
http://www.todos-math.org
for all of your equity needs.
---
Leadership Corner
Attributes of Leadership

If you are a leader who can be trusted, then those around you will grow to respect you. To be such a leader, there is a Leadership Framework to guide you:
BE KNOW DO

* BE a professional. Examples: Be loyal to the organization, perform selfless service, take personal responsibility.
* BE a professional who possess good character traits. Examples: Honesty, competence, candor, commitment, integrity, courage, straightforwardness, imagination.
* KNOW the four factors of leadership — follower, leader, communication, situation.
* KNOW yourself. Examples: strengths and weakness of your character, knowledge, and skills.
* KNOW human nature. Examples: Human needs, emotions, and how people respond to stress.
* KNOW your job. Examples: be proficient and be able to train others in their tasks.
* KNOW your organization. Examples: where to go for help, its climate and culture, who the unofficial leaders are.
* DO provide direction. Examples: goal setting, problem solving, decision making, planning.
* DO implement. Examples: communicating, coordinating, supervising, evaluating.
* DO motivate. Examples: develop morale and esprit de corps in the organization, train, coach, counsel.
---
Resources & Opportunities
Ross Taylor / Glenn Gilbert National Leadership Award
Nominate a colleague who has made significant contributions to mathematics education. Nominations must be received by November 1, 2012. Download the nomination form at
http://www.mathedleadership.org/about/awards1.html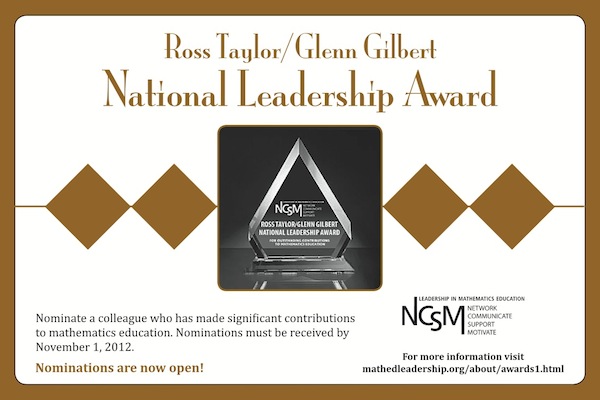 Iris Carl Grant for Travel
You or your new math colleague may be eligible for this grant to attend the upcoming NCSM Annual Conference. Applications must be received by December 1, 2012. Download the nomination form at
http://www.mathedleadership.org/about/awards3.html
.