Message from the NCSM President
Mathematics Leadership Matters!! As effective and efficient mathematics leaders, we must learn to "pass on" the leadership skills we have honed and sharpened to help the next generation of leaders. The "pass it forward" spirit is one that we must all develop on a daily basis. In fact, one of the best ways to sharpen your leadership skills is to attend the 44th NCSM Annual Conference which is fast approaching. I hope to see all of you in Philadelphia, April 23-25, 2012 to celebrate "Life, Liberty, and Mathematics for All: NCSM Leads the Way"
Many of you are ready to lead your districts or schools this summer in choosing curriculum materials. Be sure to look on the NCSM website for the
Curriculum Materials Analysis Tools
and the professional development module that supports the tools. The members-only section of the website is now a reality. If you are a member of NCSM, be sure to update your profile and begin to explore and use the valuable resources you will find to support your leadership work (
www.mathedleadership.org
).
---
NCSM
Happenings
In November NCSM President, Suzanne Mitchell, in conjunction with NCSM Past-President, Diane Briars, presented a webinar titled Implementing the Common Core State Standards for Mathematics: The CCSS Curriculum Materials Analysis Tools. The webinar has been archived and may be viewed at
http://www.mathedleadership.org/
events/webinars.html
.
---
Quote
"
The way a team plays as a whole determines its success. You may have the greatest bunch of individual stars in the world, but if they don't play together, the club won't be worth a dime."
---
Subscribe to eNEWS
All NCSM members are automatically subscribed to NCSM's eNEWS. Anyone can subscribe to this new electronic newsletter (members and non-members).
Encourage others to subscribe. Forward this issue to your friends and colleagues who work in or have an interest in mathematics education leadership – or send them to our website,
www.mathedleadership.org, where they can subscribe themselves.
eNEWS Editor
Mike Hall is NCSM's eNEWS Editor. Please feel free to contact Mike at
mhall@astate.edu
with news, feedback, or suggestions.
Welcome!


As we transition into Spring and a period of testing for everyone, it is a great time to reflect on changes that have been implemented in curriculum in the past year, and look forward to the challenges that lie ahead. The opportunity to use all of our leadership skills to shepherd in changes that will, in the end, be beneficial to student learning should serve as motivation for how important mathematics leaders are in their individual roles.
As with every edition of the eNews, you will find the most up-to-date information regarding the Common Core State Standards and Mathematics Leadership. In addition, look out for information regarding the 44th NCSM Annual Conference, leadership tidbits and a message from President, Dr. Suzanne Mitchell, and as always, the Leadership Corner. I hope you enjoy the e-news and if you have any ideas to add, please feel free to contact me at
mhall@astate.edu
.
2012 NCSM Annual Conference:
"Life, Liberty, and Mathematics for All:
NCSM Leads the Way"
April 23-25, 2012 

Philadelphia, Pennsylvania
TELL YOUR COLLEAGUES AND JOIN US!
Our 44th annual conference will provide you with a rich professional
development experience that meets your personal leadership needs.
Over 200 sessions by a variety of speakers will address current issues
related to equity and access, leadership of curriculum, teaching & learning,
and assessment.
A major focus of the conference is the implementation of the Common Core
Standards. A second focus is the importance of teacher leaders, mathematics
coaches, and elementary mathematics specialists and the work they do to
support and encourage teachers for education reform.
Whether you're a first-timer or a veteran of NCSM annual conferences, join us for three
exciting days in Philadelphia focused on important issues for leaders in mathematics
education. For details see the NCSM website at http://mathedleadership.org.
Common Core State Standards
-
-In Fall 2011 a small group of the NCSM board attended the CBMS Forum on CCSS. The following is a result of these conferences:
With support from the National Science Foundation, three conferences were held in 2011 to identify actions needed to ensure successful implementation of the Common Core State Standards for Mathematics (CCSSM). These conferences dealt respectively with curriculum, professional development and assessment. Each conference resulted in a report specifying priorities and action items. In subsequent work, leaders of the conference projects collaborated to produce a common set of priority recommendations spanning the three conference themes. These actions are intended to inform the broad mathematics education community as well as agencies, foundations and other interested parties regarding important steps to achieve the goals of the CCSSM initiative, namely to improve mathematics learning opportunities for all students. 

The recommendations can be found at
http://www.mathismore.net/resources/index.html
-C-TAP's (Committee on Teachers as Professionals) application to pilot the precursor of the CCSSM Implementation Toolkit can be found at:
http://ime.math.arizona.edu/2011-12/betatoolkit.html
. Dr William McCallum's group at the University of Arizona has done a tremendous amount of work on CCSS implementation and can serve as a valuable tool for math leaders.
For the latest news and notes on the Common Core State Standards, check out the CCSS homepage at
http://www.corestandards.org/
where updates are continually added.
- The NCSM website (
http://www.mathedleadership.org/ccss/index.html
) has recently been updated to include the very latest information in regards to CCSS overviews, implementation and leadership.
- PARCC Releases ITN To Develop New Assessments. More information can be found at
http://myflorida.com/apps/vbs/vbs_www.search.criteria_form
- PARCC is seeking public input on the Common Core State Standards:
Public Input Sought on Draft Model Content Frameworks
---
Leadership Corner
Kit Norris is our leader of the month for our Leadership Corner. Kit is currently an educational consultant focusing on systemic, professional learning opportunities. Kit works with districts locally and nationally supporting the teaching and learning of mathematics. Formerly a middle school mathematics classroom teacher, department chair and administrator, Kit was honored to receive the Presidential Award for Excellence in Teaching Mathematics. She co-authored a graduate school methods textbook, "Teaching Today's Mathematics in the Middle Grades" and she is a frequent speaker at national and regional conferences.
Implementing the Standards for Mathematical Practice
As classroom teachers begin thinking about implementing the Common Core State Standards, they tend to focus on the content standards. Questions such as, "What changes need to be made?" and "Will I have the appropriate resources?" are fundamentally important. As leaders, we need to ensure that the Standards for Mathematical Practice play a pivotal role.
The Standards for Mathematical Practice are t
he means to the end of improved student achievement. By experiencing rich, demanding mathematical tasks, students build their ability to reason, model their thinking, use structure and repeated reasoning; students engage in thinking
mathematically.
A chart that Kit has adapted from Bill McCallum's website,
math.arizona.edu/~wmc
, is a great visual representation of the connections of the Standards for Mathematical Practice.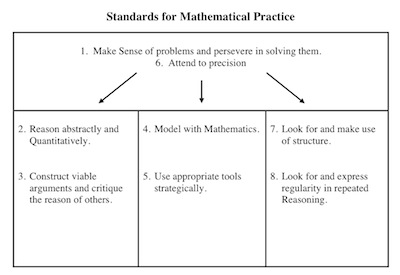 The Standards for Mathematical Practice begin with problem-solving. All of the other standards develop as a result of students experience meaningful and rigorous tasks. This chart reminds teachers to think about these Standards for Mathematical Practice as they collaborate to identify learning targets and plan lessons.
For more information, go to:
-- Jerry Cummins, Leadership Corner
---
Resources & Opportunities
A certain amount of student anxiety about tests is normal and even helpful to performance, says SUNY/New Paltz professor Spencer Salend in this Kappan article. But between 25 and 40 percent of students experience severe test anxiety – they are extremely nervous and apprehensive, have physical symptoms (perspiration, nausea, rapid heartbeat, dizziness), have difficulty concentrating, and engage in negative self-talk – all of which has a serious impact on their ability to perform well and harms their development and feelings about themselves and school.
Salend distinguishes test anxiety from the more generalized "trait anxiety", which applies across a wide range of situations. A number of factors can produce test anxiety, including:
Anxiety, attention, or obsessive-compulsive disorders;
Perfectionist tendencies and unrealistic expectations;
Negative self-esteem, self-statements, and procrastination;
Stereotype threat;
Inadequate study and test-taking skills;
Poor performance on previous tests;
Pressure from family, teachers, and peers;
Unfavorable testing environments;
Invalid, flawed, and timed tests;
Ineffective teaching that leaves students unprepared to handle a test.
One or two of these factors can snowball to others, working a student into an anxious and unproductive mental state.
Salend suggests a number of strategies to alleviate test anxiety. These are helpful to all students, not just those with extreme test anxiety.
• Make tests student-friendly.
This includes crystal-clear test directions, using questions that relate to students' lives, giving students choices, and spreading tests out so students aren't over-tested in any one time period.
• Maximize validity.
It's important for teachers to know the topics, concepts, vocabulary, and skills that upcoming tests are going to assess so they can align the curriculum accordingly. The number of test items for each area should correspond to the amount of instructional time spent during the year. Some aspects of the curriculum may lend themselves to observations, clickers, performance assessments, and portfolios rather than paper-and-pencil tests.
• Make tests graphically accessible.
This includes clear layout and format, clear transitions from item to item, not too many test items on a page, grouping similar types of questions, and providing students enough space to respond.
• Enhance readability.
This means using as few words as possible in short sentences; using comprehensible vocabulary, sentence structure, and voice; avoiding pronouns, double negatives, abbreviations, acronyms, and parentheses; using readable type fonts and sizes; not putting too many words per line; and avoiding right-justification.
• Foster motivation during testing.
This includes embedding prompts at strategic points in a test to help students stay focused, remain calm, and succeed.
• Teach anxiety-reduction strategies.
This might include advising students not to arrive early for a test (to avoid tense conversations with peers); using meditation, prayer, yoga, smelling fragrances, deep breaths and breaks; and using positive self-talk, guided imagery, and focusing on past successes.
• Teach test-taking strategies.
These include developing and reviewing study guides, using effective study techniques (e.g., spaced practice, self-testing), getting students working in collaborative study groups, using memory strategies, using educational games to prepare, thinking through possible test questions, doing a memory dump at the beginning of the test, scanning the whole test before beginning, budgeting time efficiently, and highlighting key words in the directions. Students whose IEPs entitle them to accommodations should take full advantage of them.
"Teaching Students Not to Sweat the Test" by Spencer Salend in Phi Delta Kappan, March 2012 (Vol. 93, #6, p. 20-25),
http://www.kappanmagazine.org