Be it done unto me according to thy word.

Dear Friend of Montserrat,


During the month of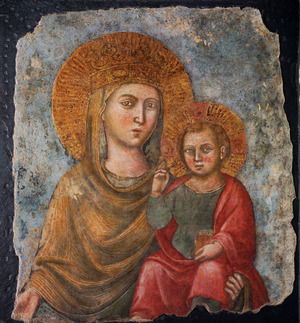 May, we ​celebrate in the Church, Our Lady in a very special way, as the Queen of Heaven and Earth. We are constantly reminded of her ultimate "fiat," her "yes" to God. She encourages us to perpetually say, "yes" to Jesus and to give our lives to Him. We look to her not as a guide to Jesus and remember her directive at the Wedding Feast of Cana, "Do whatever he tells you." (John 2:5)
As a reminder, there will be no Saturday of Renewal for the month of June, as we will be hosting the Five and Eight Day Directed Retreats. We look forward to seeing you in July. On behalf of the Jesuits and Staff of Montserrat, we will continue to pray for you and your families.


God's Blessings,

Joseph Hamaty
Director of Development and Communications

(The above image is of Our Lady of the Way. Her Feast Day is celebrated by the Society of Jesus on May 24th. It is at the Chapel of Our Lady of the Way or Santa Maria della Strada in Rome that St. Ignatius first headquartered the Society of Jesus.)
---
| | |
| --- | --- |
| There is no Saturday of Renewal in June. | |
---
---
Attention All Captains
If you are a Captain of Montserrat or would like to become a Captain of Montserrat, we are holding a Captain Training and Meeting on July 16, 2016 at Montserrat Jesuit Retreat House. We are in need of individuals who have a desire to share the spiritual renewal they have experienced on retreat with others. Consider becoming a Captain today. If you will be attending the training, please RSVP at
www.montserratretreat.org/captains
. If you have any questions, you can call the office or email
captain@montserratretreat.org
.
---
What Retreatants Say About Montserrat:
Montserrat is a spiritual home for many and provides a transformative experience to countless retreatants. Consider making a tax-deductible donation to Montserrat Jesuit Retreat House, so we may continue to offer financial assistance to those who desire a deeper relationship with the Lord but cannot afford it, to help us renovate St. Ignatius Chapel and continue to provide a sanctuary where retreatants can reflect on God's Love and Mercy, and to provide for our operational costs, so we may continue to keep the grounds as beautiful as ever. To make a contribution to our Annual Giving Campaign, you may call the office at 940-321-6020 or donate online.
---
Attention All Volunteers
If you are interested in volunteering your time and talent to Montserrat, we are in need of individuals who are willing to offer an hour to help us prepare for retreats, perform office duties, and complete other tasks at the Retreat House. Please contact Anthony at Volunteer@MontserratRetreat.org.