"For freedom Christ has set us free." Gal. 5:1

Dear Friend of Montserrat,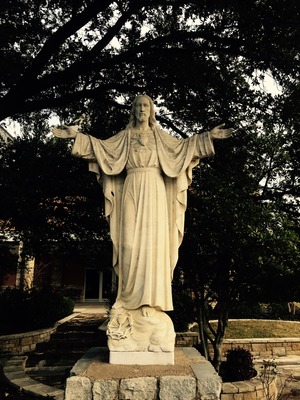 On the first Saturday of June, we celebrated in a very special way, the Sacred Heart of Jesus. Made known to St. Margaret Mary and her Confessor, St. Claude de Colombiere, S.J., the image of the Sacred Heart reminds us of the Lord's burning love for us. As St. Claude de Colombiere experienced the Spiritual Exercises and a greater love for Christ, he declared, "I see that I absolutely must belong to him." St. Claude de Colombiere's example of total gift to Christ is what calls us to a greater friendship with Christ and to be able to say as St. Claude, "I have a free heart."

This upcoming Saturday of Renewal on July 2nd, Fr. Anthony Borrow, S.J. will be discussing Freedom. He will be discussing freedom in terms of what the Catechism of the Catholic Church teaches: what it is and how it helps us to understand how to respond to the gift of freedom in the way that we live our lives. Register today to join us for the July Saturday of Renewal: Choosing to be Free.

As a reminder, if you haven't registered for your retreat, there is no better time than the present to experience the Lord's freeing love and mercy.


God's Blessings,

Joseph Hamaty
Director of Development and Communications
---
Saturday of Renewal:
July 2nd, 2016
Choosing to be Free

What does the Church teach us about freedom and how does it help us understand the way we are to respond to the gift of freedom in the way we live our lives?

Montserrat Jesuit Retreat House was featured on the Guadelupe Radio Network on June 2nd with a live broadcast from Montserrat. If you missed the broadcast, you can listen to it here. We were also featured on May 21st and you can listen to that interview here.
---
---
Attention All Captain
s and Anyone Interested
If you are a Captain of Montserrat or would like to become a Captain of Montserrat, we are holding a Captain Training and Meeting on July 16, 2016 at Montserrat Jesuit Retreat House. We are in need of individuals who have a desire to share the spiritual renewal they have experienced on retreat with others. Consider becoming a Captain today. If you will be attending the training, please RSVP at
www.montserratretreat.org/captains
. If you have any questions, you can call the office or email
captain@montserratretreat.org
.
---
What Retreatants Say About Montserrat:
Montserrat is a spiritual home for many and provides a transformative experience to countless retreatants. Consider making a tax-deductible donation to Montserrat Jesuit Retreat House, so we may continue to offer financial assistance to those who desire a deeper relationship with the Lord but cannot afford it, to help us renovate St. Ignatius Chapel and continue to provide a sanctuary where retreatants can reflect on God's Love and Mercy, and to provide for our operational costs, so we may continue to keep the grounds as beautiful as ever. To make a contribution to our Annual Giving Campaign, you may call the office at 940-321-6020 or donate online.
---
Attention All Volunteers
If you are interested in volunteering your time and talent to Montserrat, we are in need of individuals who are willing to offer an hour to help us prepare for retreats, perform office duties, and complete other tasks at the Retreat House. Please contact Anthony at Volunteer@MontserratRetreat.org.