"The fruit of the Spirit is love, joy, peace, patience, kindness, generosity, faithfulness, gentleness, self-control. Against such there is no law." (Galatians 5:22-23)
Dear Friend of Montserrat,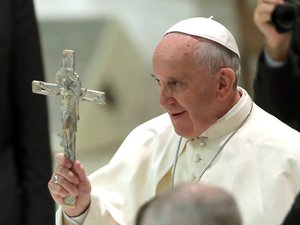 During the last Saturday of Renewal, Fr. Chris discussed, "Why does dry prayer happen to good people?" In case you missed it or would like to share it with someone who might benefit, we have posted the presentation on our YouTube page.

This upcoming Saturday of
Renewal we will be discussing the topic of discernment. Discernment? What's that? When Pope Francis was elected as the first Jesuit pope he was asked, "What element of Ignatian spirituality helps you live your ministry?" Pope Francis said, "Discernment is one of the things that worked inside St. Ignatius. For him it is an instrument of struggle in order to know the Lord and follow him more closely."

For many, discernment is associated with a vocation, a calling in life, however, we are challenged by Pope Francis to constantly discern the will of the Lord in our lives. Pope Francis shares with us that "The wisdom of discernment redeems the necessary ambiguity of life and helps us find the most appropriate means, which do not always coincide with what looks great and strong."

In our everyday lives, we are challenged by many decisions put in our way, whether regarding family life, participation in different ministries in our parishes, work, finances, and many others. It is difficult to constantly discern the will of God in our lives, but we are invited to a deeper relationship with Jesus and in that relationship to invoke His divine assistance with our day to day activities. The U.S. Conference of Catholic Bishops in the document Forming Consciences for Faithful Citizenship invites us to invoke the Holy Spirit and enter into discernment as we approach the elections this November and fulfill our civic responsibility. This is just one way of many we are called to use discernment in our lives.

This upcoming Saturday Renewal on September 3rd, Fr. John Payne, S.J. will be discussing Pope Francis' use of discernment in the topic of "Is the Pope Catholic?" Register today to join us for the September Saturday of Renewal.

As a reminder, if you haven't registered for your retreat, there is no better time than the present to experience the Lord's freeing love and mercy.
God's Blessings,

Joseph Hamaty
Executive Director