"When you're all dead and gone, I will be here and my generation will be here...but I don't know if the wolves will be here. So let's welcome the wolf back into California and protect them."
~ Grant McComb, Project Coyote Youth Outreach Associate (quoted in the Ventura County Star)
Important Update 04/23/2014
Dear Friend of Wildlife,
Last Wednesday's Fish & Game Commission meeting in Ventura brought California one-step closer to a ban on predator killing contests! The Commission voted 3 to 2* to notice a proposed rule that would make it unlawful to offer prizes or other inducements as a reward for the taking of any mammalian predator in an individual contest, tournament, or derby. Read more about the outcome of the hearing below our action alert.

**********
SPEAK UP FOR CALIFORNIA'S WILDLIFE!

WHAT YOU CAN DO TO HELP:
1. Join Project Coyote at the next Fish and Game Commission meeting in Fortuna, CA on June 4th. Two important issues will be deliberated that day: a proposed ban on predator killing contests and the listing of wolves under the California Endangered Species Act (CESA). The Commission will be accepting public testimony on both issues.
What: California Fish and Game Commission meeting
When: Wednesday, June 4th @ 8:30am
Where: River Lodge Conference Center, 1800 Riverwalk Dr., Fortuna, CA

More information to be posted here.

2. If you are unable to attend the Commission meeting, please submit comments favoring the predator killing contest ban (see talking points below) and the listing of wolves under the CESA.
(Please submit separate letters for each issue.)

Contact:
California Fish and Game Commission

P.O. Box 944209

Sacramento, CA 94244-2090

fgc@fgc.ca.gov



Please cc your letters to California Department of Fish & Wildlife Director, Charlton H. Bonham at director@wildlife.ca.gov and to Project Coyote at info@projectcoyote.org as we are tracking letters sent.

3. Please sign our Change.org petition in support of banning wildlife-killing contests here.

4. Help keep these issues in the public eye by submitting Letters to the Editor to your local paper(s). Use the talking points below and tips and tools for writing LTE's on our website.

Talking Points:



Ban Predator Killing Contests:
Predator killing contests are ethically indefensible events allowing participants to kill wildlife to win prizes. They are ecologically reckless, not only harming individual animals, but also altering predator-prey dynamics, disrupting the social dynamics of predator species, and increasing threats to public safety. They have no beneficial management purpose but simply promote gratuitous violence against wildlife.

1. Predator killing contests, "derbies" and "drives" are conducted for profit, entertainment, prizes and, simply, for the "fun" of killing. This is not about sport or fair-chase; animals are often baited and lured with distress calls of wounded young, placing wildlife at an even greater and unfair disadvantage.

2. No evidence exists showing that indiscriminate killing contests control problem animals or serve any beneficial management function. For example, coyote populations that are not exploited (that is hunted, trapped, or controlled by other means) form stable "extended family" social structures that naturally limit populations through defense of territory and the suppression of breeding by subordinate female members of the family group. Indiscriminate killing of coyotes disrupts this social stability resulting in increased reproduction and pup survival.

3. Predators have been shown to provide ecosystem services that benefit humans, including the control of rodents and rabbits, which compete with domestic livestock for forage and which are associated with diseases such as plague, hantavirus, tularemia and Lyme disease.

4. Predator killing contests perpetuate a culture of violence and send the message to children that life has little value and that an entire species of animals is disposable.

5. Predator killing contests put non-target wildlife, companion animals, and people at risk.

Protect Wolves under CESA:
Urge the Commission to grant wolves the protection they need by listing them under the California Endangered Species Act (CESA). With the U.S. Fish and Wildlife Service proposing to remove federal Endangered Species Act protection from wolves, it is critical that wolves have the strongest protections under state law.

1. The California Department of Fish and Wildlife recently recommended against listing wolves by arguing that there are no wolves currently in the state. However, Wolf OR-7 has made California part of his range. Scientists agree that it's highly likely that more wolves from Oregon will come to California. The Commission and the Department should be preparing for the inevitability of wolves recolonizing California and proactively putting protective measures in place to promote recovery.

2. The California ESA does not require that a population of a species be present in order to list it. 


3. Scientists report that there are hundreds of thousands of acres of suitable wolf habitat in California.

4. Wolves need protection under the CESA as threats against wolves exist in California, including wildlife killing contests and predator night-hunting.

More on April 16th Fish and Game Commission Hearing:

Predator Killing Contest Ban
Project Coyote and supporters provided compelling testimony before the Commission. In addition to an Op Ed by Camilla Fox that ran in the Sacramento Bee the morning of the hearing ("The Case for Banning Wildlife-Killing Contests," which you can read here), we presented the Commission with a letter signed by more than 35 scientists countering claims made by contest supporters that killing contests provide a legitimate means for managing wildlife. Read more about the outcome of the hearing here.

The Commission will continue to accept comments via email through August 6th, when it will take a final vote at its public meeting in San Diego. If you haven't already written, please urge the Commission to permanently ban predator-killing contests statewide! It's time we reform and modernize predator management in California by moving toward ethical wildlife stewardship.



(*Commissioners voting in support of a ban on predator killing contests: President Michael Sutton, Vice President Jack Baylis and Richard B. Rogers. Voting in opposition: Jim Kellogg, Jacque Hostler-Carmesin.)
The Listing of Wolves Under the California Endangered Species Act (CESA)
In addition to banning predator-killing contests, Project Coyote rallied and testified for wolves, voicing our support for protecting gray wolves under the California Endangered Species Act. After hearing from approximately 70 speakers, the majority in favor of listing, the Commission voted to delay it's decision for 90-days during which time the Commission will continue to accept public comments. Read more about the outcome here.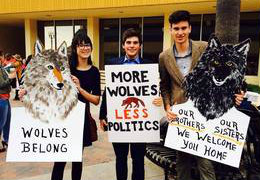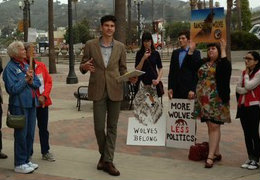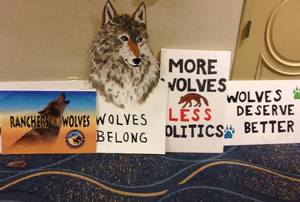 Project Coyote Youth Outreach Associate Grant McComb (tall guy!)
and friends rally for wolves and wildlife before the CA Fish & Game Commission meeting in Ventura
(signs courtesy CBD/Amaroq Weiss)
A special teleconference meeting will be scheduled in July, when a final decision will be reached. If you haven't already written, please urge the Commission to list wolves as endangered under the CESA.
**********


Thank you for speaking up for wildlife,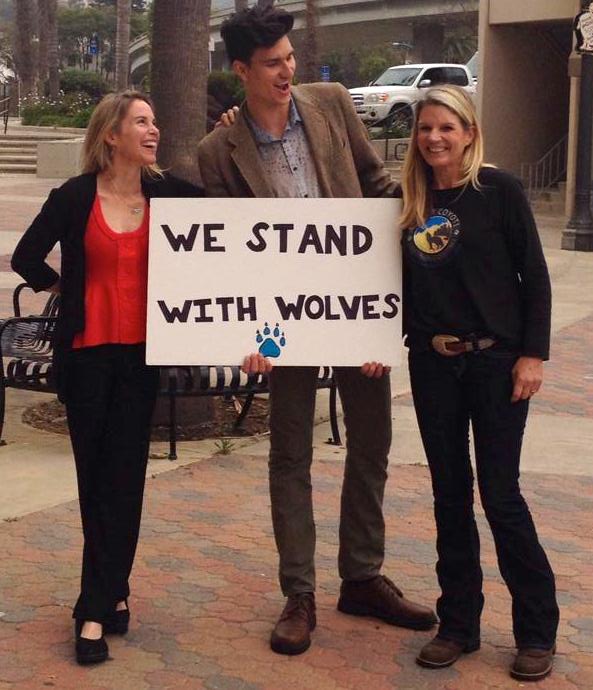 PLEASE SHARE THIS ALERT WITH OTHERS!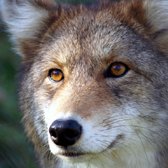 Our Mission:



Promoting
coexistence between people and wildlife
through education, science and advocacy.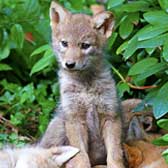 Follow us on Twitter
**********
Coyote Killings Under Review
Chico News & Review
by Allan Stellar

Game Commission Chair Cashes in at Coyote Killing
Albuquerque Journal
by Thomas Cole

Game Commission Chair Cashes in at Coyote Killing
Albuquerque Journal
Letters to the Editor