"WELCOMING THE STRANGER" WORKSHOPS ON THE EAST END
Our next workshop for clergy and lay leaders on how to help your congregation and community to become more welcoming of immigrants will be Wednesday, June 6, at 6 p.m. at the Queen of the Most Holy Rosary on Montauk Highway in Bridgehampton.
A similar workshop is being scheduled on the North Fork at Sacred Heart Church in Cutchogue on Depot Lane and Main Road.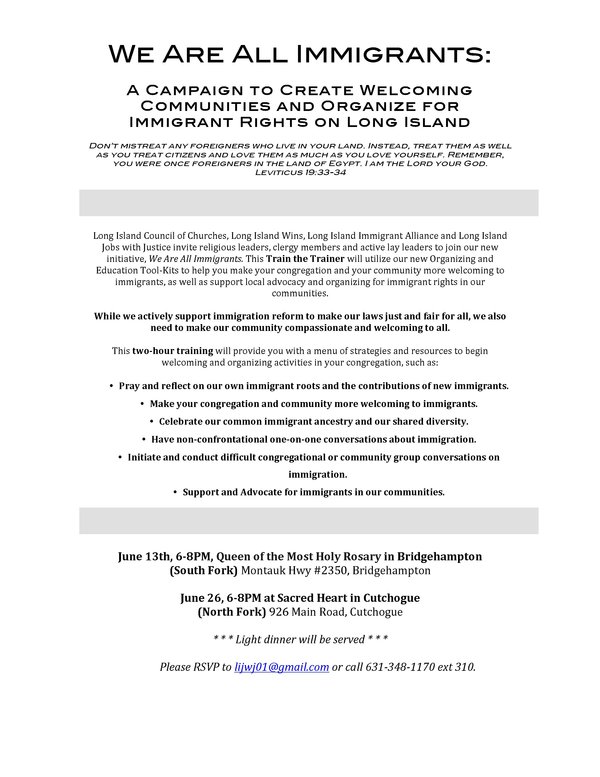 Public comment under way for proposed immigration reform

The U.S. Citizenship and Immigration Services is encouraging public input over the next 60 days on a proposed law that would allow illegal immigrants with immediate family members who are U.S. citizens to remain with their family longer while seeking permanent residency. For more information on the proposed law, go to uscis.gov. A 60-day public-comment period began Monday for a proposed policy that would allow illegal immigrants who are immediate family members of U.S. citizens to remain with their families longer while applying for permanent residency. People can submit their input on U.S. Citizenship and Immigration Services' proposal at regulations.gov through June 1. The rule would allow illegal immigrants, through a provisional waiver, to remain with their families longer if they could demonstrate that separation would pose an extreme hardship on their spouse, parents or children. The government expects the rule to reduce the financial and emotional hardship for families of illegal immigrants and also increase efficiencies in processing visas. HELP FOR IMMIGRANT WORKERS The State Department of Labor has a host of free programs designed to help immigrants break into the workforce. The New York State Department of Labor is addressing the language/employment barrier with a new program designed to help immigrants navigate the working world and learn English as well. Immigrant workforce counselors are set up at the State Labor Department's one-stop centers in the Bronx, Brooklyn, Flushing, Patchogue, Yonkers, Buffalo, Syracuse and Utica and they can provide assistance in a wide variety of languages. They also refer clients to English as a Second Language (ESL) classes. All of the Immigrant Workforce Project programs are free. For more information, visit http://www.labor.ny.gov. INTERRELIGIOUS VISITS The LICC's Dialogue Committee wants to encourage inter-denominational and inter-religious visits to houses of worship, which is one way to create communities that welcome immigrants. When Christians meet local Sikhs, Bahais, and Jains, they are reminded that not all recent immigrants are from Latin America. And Latinos often find they need a little help in understanding Long Island's astonishing religious diversity. If a picture is worth a thousand words, someone remarked once at a meeting of the Long Island Multi-Faith Forum, a visit is worth a thousand pictures. Would your church, synagogue, mosque, gurudwara, temple or fellowship welcome interfaith visitors? If so, what are good times to come and whom should we list as a contact for visits? Is there anything you would like visitors to know about where they should sit, what they should wear, and what you would prefer that they do or not do? You might also consider hosting the Forum's "Building Bridges" program or its "What's My Faith?" game show. Both are great ways to help your congregation or community group to understand your immigrant neighbors. The Rev. Thomas W. Goodhue Executive Director Long Island Council of Churches 1644 Denton Green Hempstead, NY 11550 516-565-0290 ext. 206 (voice) 516-565-0291 (fax) tomgoodhue@optonline.net http://www.liccny.org


---
---
LI Council of Churches
1644 Denton Green
Hempstead, New York 11550
US


Read the VerticalResponse marketing policy.