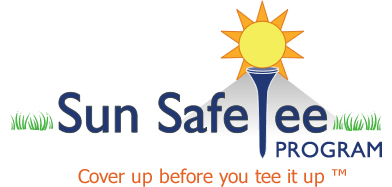 Hello Everyone,
For the best viewing of this newsletter, please click above on "view this email in a browser".

'Tis the Season For Giving
It is hard to believe the end of the year is just around the corner. As this year draws to a close, many people look to make charitable donations. The opportunity to do something good is what motivates most. Getting a tax deduction is an added benefit.

With potential changes in the tax code that could eliminate charitable deductions, this year in particular, the value of making a donation and getting that deduction becomes even more significant.

In order to continue doing the work that we do, we need your support. Please make a donation to the Sun SafeTee Program. Sun SafeTee is a 501(c)(3) non profit organization, meaning that under the current tax code, your donation is deductible as allowed by law.
To donate to Sun SafeTee please go to our website and click on the donate button. THANK YOU and HAPPY HOLIDAYS to you and your family!
---
Sun SafeTee Tip For A Healthy New Year


Every year more skin cancers are diagnosed than breast cancer, lung cancer and prostate cancer combined. One person dies of melanoma every hour. Even though skin cancer is the most prolific form of cancer, it is also the most curable. Early detection is the key.

So here is the tip....see your dermatologist at least once a year and more often if you have a history of skin cancer or precancerous lesions. Catch any potential problems early and avoid bigger problems down the road. Also, once a month give yourself the once over and look for any new lesions or changes to existing ones. As someone once told me..."Check yourself before your wreck yourself".


---
Sun SafeTee Provides Skin Cancer Screenings to the Golf Coaches Association of America (GCAA)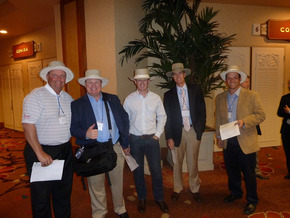 The men's collegiate golf coaches from around the country attended the Golf Coaches Association (GCAA) National Convention in Las Vegas. For the third consecutive year, Sun SafeTee provided sun protection education and skin cancer screenings to the coaches at the convention.
Since the coaches are in the sun for extended periods of time, it is important to educate them on sun protection and provide them with an opportunity for the early detection of skin cancer. Additionally, by "teaching the teachers" the coaches can take our message back to their schools and provide their players with good sun protection skills.

Over 70 coaches and staff were screened. Approximately 20% of those screened had suspicious lesions and were encouraged to see a dermatologist for follow up when they returned home. We received many compliments and the group was extremely appreciative of our program. In the picture above, some of the coaches show off their new wide brim hats courtesy of Coolibar and Sun SafeTee.

A BIG THANK YOU to Dr. H.L. Greenberg and Physician Assistant Joe Gurule from Las Vegas Dermatology for conducting the screenings. Dr. Greenberg and Joe also supported this event last year. They enjoy working with the coaches and are big supporters of Sun SafeTee.

---
Sun SafeTee Meets with Women Golf Coaches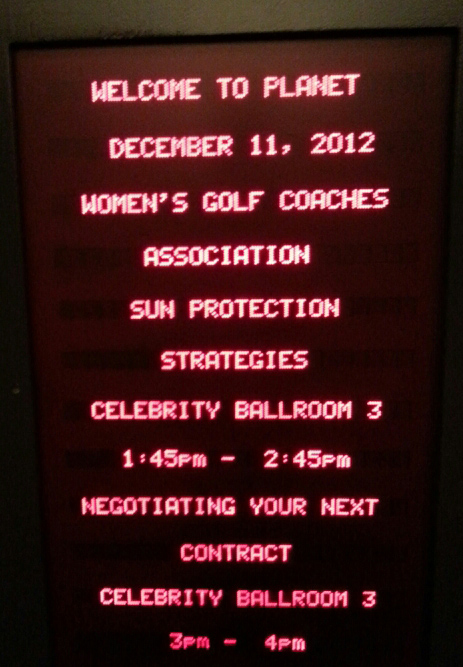 The Women's College Golf Coaches Association (WGCA) also had their annual convention in Las Vegas. Sun SafeTee was invited to attend the conference held at Planet Hollywood to speak to the coaches. Approximately 200 coaches of women's college golf programs attend the meeting.

We had the opportunity to present sun protection information and skin cancer prevention strategies. They were an attentive and interested group.

We were humbled by the number of coaches that came up and shared their personal experience with melanoma and other skin cancers. A few of the coaches even had pictures of their surgeries on their phones! It really drove home the importance of our program.

---
Looking for a Golf Friendly Sunscreen?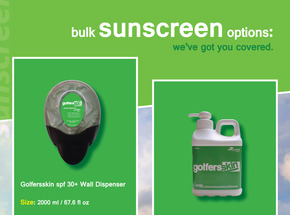 Sun SafeTee Sponsor
Golfersskin Sunscreen
manufacturers a golf friendly sunscreen.
Golfersskin not only provides excellent broad spectrum coverage, but since it does not contain any oils, it does not leave a greasy residue on your hands, so you can maintain a good grip on your clubs. That is especially important when you reapply at the turn! Golfersskin is also a very durable sunscreen.
Golfersskin was developed in New Zealand where they test sunscreen to an even higher standard than we do here in the U.S. In addition to traditional tubes of sunscreen, Golfersskin also provides their product in economical and convenient bulk packaging (pictured above).
The proof of how "golf friendly" Golfersskin is, can be found in the number of Tour players that use their product. Currently over 150 professional tour golfers are using Golfersskin!
Golfersskin supports Sun SafeTee, please support Golfersskin and purchase their product.
---
Do You Know Someone Who Has Had Skin Cancer?
If you or someone you know has had skin cancer, basal cell carcinoma, squamous cell carcinoma or melanoma, Sun SafeTee would like to talk with you. We are looking to put together some personal stories and experiences of people who have had melanoma or other skin cancers to help reinforce our message with golfers.
If you would like to share your story, please contact Mark Wishner mwishner@sunsafetee.org


---