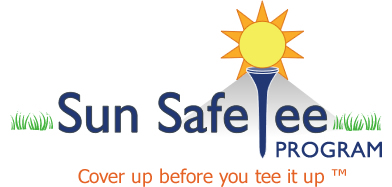 Hello Everyone,
For the best viewing of this newsletter, please click above on "view this email in a browser".
Sun SafeTee Joins with The Entertainment Industries Council to Fight Skin Cancer
The Sun SafeTee Program is pleased to announce that we have a new partner, The Entertainment Industries Council (EIC). The EIC (
www.eiconline.org
) uses the power and influence of the entertainment industry to affect a variety of health and social issues. Sun protection and skin cancer prevention are issues that the EIC sees as being important and they have developed sun protection initiatives in the past through their Sun Safety Alliance.
Our new partnership will dramatically increase the messaging and outreach for Sun SafeTee and will give us the ability to take our efforts to the next level and beyond. By our becoming a program of the EIC, this will not only bring new opportunities for our messaging, but will give us the ability to attract new sponsors and donors, which is critical to our growth.
We are excited and looking forward to working with the EIC to shape attitudes and influence sun protection behaviors in the golf community.
Please check out the EIC at www.eiconline.org along with their Sun Safety Alliance at www.sunsafetyalliance.org

---
Sun SafeTee Tip

A sunscreen with a SPF of 30 blocks 97% of UVB rays. There is no need to spend a lot of money on a product with a very high SPF as it can at the most only provide a few percentage points of additional coverage. Use a sunscreen with a SPF of 30 and apply it liberally and apply often (every two hours). Don't Burn...Reapply at the Turn!
For more information on sun protection visit our website
www.sunsafetee.org
---
Sun SafeTee Brings Skin Screenings to the Golf Industry Show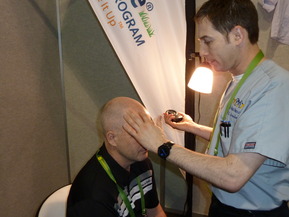 For the third year in a row, Sun SafeTee was invited to the Golf Industry Show to provide sun protection education information. This year we also provided skin cancer screenings for the attendees.
The Golf Industry Show is a combination of the Golf Course Superintendents Association (GCSAA) and the National Golf Course Owners Association
(NGCOA). Each year their annual meeting attracts over 12,000 people
We were fortunate to have the assistance of Las Vegas Dermatologist H.L. Greenberg and his Physician Assistant Joe Gurule, there to provide the screenings.
The GIS is a GREAT organization whose leadership genuinely cares about their members and is very supportive of our work.
---
Sun SafeTee Provides Skin Cancer Screenings at the Western Intercollegiate Golf Tournament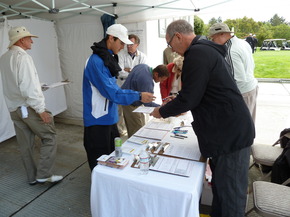 The Western Intercollegiate Golf Tournament (WI) is quickly becoming one of the nation's premier college golf tournaments. In addition to attracting some of the best college golf teams in the country, the tournament included the recent Low Amateur at the Masters, Patrick Cantlay along with the #1 player in the World Amateur Golf Ratings, Texas freshman Jordan Spieth.


The weather was significantly different for our return to the WI at Pasatiempo Golf Course in Santa Cruz, CA.
Last year we had beautiful weather and clear skies, while this year's weather was more like coastal Ireland. However that did not "dampen" spirits for our second annual skin screening for the college players, amateur participants and club members. With the help and support of the Santa Cruz Cancer Benefit Group, the participants in the Western Intercollegiate Invitational had the opportunity to learn about sun protection and receive a free skin cancer screening.
---
Sun SafeTee Invited to the Magic Kingdom

Walt Disney Parks and Resorts teamed up with the EIC's Sun SafeTee Program to make everyone's day at Disneyland magically fun and healthy!
Included in their Earth Day Celebration, Disneyland was promoting children be active, get outside and exercise. Disney sees the value of teaching children to use proper sun protection when being active and invited Sun SafeTee to participate. The organizers estimate 12-15,000 people attended the event at Downtown Disneyland on April 22nd.

Given our recent inclusion in the Entertainment Industries Council, this was a great opportunity to bridge our message with an event associated with two leaders in the entertainment field, Disney and the EIC.
---
Look for Sun SafeTee at These Events
April 27-29 Haggin Oaks Demo Weekend Sacramento, CA
May 13 NAIA Women's Golf Championships Greeneville, TN
June 19 AJGA ClubCorp Desert Junior Rancho Mirage, CA
July 11-12 The First Tee PLAYer Advanced Academy Dallas, TX
Sun SafeTee Events
Please Support the Sun SafeTee Program

As we grow, we need your help and support.

If you would like to make a tax deductible donation, please go
to our website
www.sunsafetee.org
and click on the donate button. Thank you!!

If you know a company that would be interested in becoming a Sun SafeTee Sponsor (a great marketing opportunity), please let us know. You can contact Mark Wishner at mwishner@sunsafetee.org
Have an idea or suggestion for us? Please forward them to info@sunsafetee.org