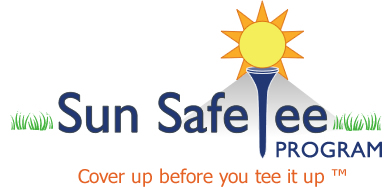 Hello Everyone,
For the best viewing of this newsletter, please click above on "view this email in a browser".
This Month's Sun SafeTee Tip:
Summer is here and ...
It is "Raining" Sunshine

During the course of the day, many people do not even think about protecting themselves in the sun, yet if it was raining, they would have a plan to protect themselves in the rain.
One of the more interesting ways to put sun protection into perspective is to compare it to rain protection. If you were heading out to the golf course and it was raining, you would break out your rain gear; probably a hat and your foul weather gear to cover as much of your body as possible. Basically you would protect yourself from the elements.
It is no different on a sunny day... Imagine that it is "Raining Sunshine" and that you need to protect yourself from the elements (just like on that rainy day). The way to do that is to follow the Sun SafeTee slogan "
Cover Up Before You Tee It Up™
". Put on a hat and sunglasses, wear UPF rated clothing over as much of your body as possible and apply sunscreen every two hours.
If you change your thinking from only covering up when it is raining, to also covering up when it is "raining sunshine", in a short period of time you will see your habits change and you will automatically start engaging in good sun protection habits.
---
David Leadbetter Fundraiser for Sun SafeTee Rescheduled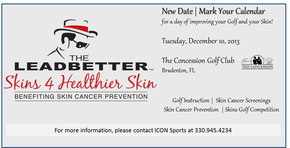 David Leadbetter, who has graciously offered to host a fundraiser to benefit the Sun SafeTee Program has a new date for the event. The
Skins 4 Healthier Skin
fundraiser will be held on
Tuesday December 10, 2013.
David is a sun protection advocate (as evidenced by his trademark wide brim hat) and will host the tournament at the Jack Nicklaus/Tony Jacklin designed
Concession Golf Club in Bradenton, FL.
The Concession has been ranked as a "Top 100 Golf Course" by Golf Digest Magazine and has been chosen to host the 2015 NCAA Championships for both Men and Women.
The purpose of the Skins 4 Healthier Skin tournament is to raise funds and awareness for sun protection and skin cancer prevention within the golf community. Sun SafeTee is excited to be designated as the tournament beneficiary. In the December issue of
Golf Digest
, David listed Sun SafeTee as his favorite cause!
If you are interested in playing in the tournament or would like to be a sponsor of the event
,
please contact Mark Wishner mwishner@sunsafetee.org or Vicky Palmer VPalmer@iconsportsinc.com
Leadbetter Skins 4 Healthier Skin
---
Dryrainge Becomes a Sun SafeTee Sponsor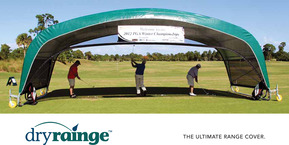 With a product that makes so much sense for golfers and golf instructors, we are excited to announce that Dryrainge Range Covers has become a sponsor of the Sun SafeTee Program.
Dryrainge makes a range cover that blocks UV rays protecting students and instructors from the sun and on rainy days allows students to continue to practice and teachers to teach.
As an organization that teaches sun protection and skin cancer prevention for golfers, we feel a product like Dryrainge is a must for any practice range or teaching facility. Why spend hours on end teaching and being exposed to dangerous UV rays? Sun exposure is cumulative and years of teaching or practicing golf unprotected in the sun will take its toll. Dryrainge provides a practical solution for teaching pros and students.
Link to Dryrainge
---
Sun SafeTee Returns to The Palmer Cup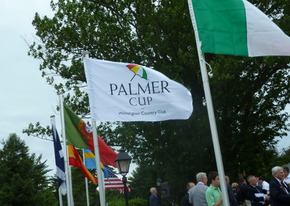 Sun SafeTee is honored to have been invited to participate in the 17th Annual Palmer Cup at Wilmington Country Club in Wilmington, DE. Considered to be the Ryder Cup of Collegiate Golf, The Palmer Cup is truly a unique event.
Named for golf legend Arnold Palmer and run by the Golf Coaches Association of America (GCAA), the Palmer Cup attracts the best collegiate golfers from the USA and Europe.
This year was no exception with the field including the number one college golfer in the country and three of the participants in this year's tournament qualified for and played in the U.S. Open!
Congratulations go out to Team USA which won the Palmer Cup tournament.
---
Sun SafeTee Provides Skin Cancer Screenings at the TransAmerica Western Intercollegiate Golf Tournament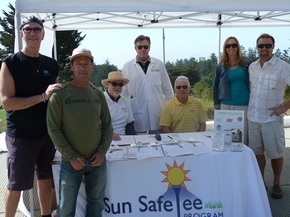 For the third time, Sun SafeTee was at the Pasatiempo Golf Course in Santa Cruz, CA to support the TransAmerica Western Intercollegiate Golf Tournament (WI).
The WI always attracts a great field and this year was no exception with 4 of the top 10 teams in the country playing in the tournament. As is often the case with the WI, the tournament went right down to the wire.

With the support of the Santa Cruz Cancer Benefit Group and Dr. James Beckett, the group's Skye Tent was set up along side of the clubhouse and approximately 70 players and coaches were screened for skin cancer. We distributed our "Sun SafeTee Tips" cards and Golfersskin sunscreen was provided.

We received many acknowledgements of appreciation and we would like to acknowledge the Santa Cruz Cancer Benefit Group for their continued support of Sun SafeTee.


---
We Need Your Support

As we grow, we need your help and support.

If you would like to make a tax deductible donation, please go
to our website
www.sunsafetee.org
and click on the donate button. Thank you!!

If you know a company that would be interested in becoming a Sun SafeTee Sponsor (a great marketing opportunity), please let us know. You can contact Mark Wishner at mwishner@sunsafetee.org
Link to Sun SafeTee website

---