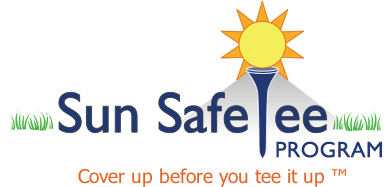 Hello Everyone,
For the best viewing of this newsletter, please click above on "view this email in a browser".
This month's Sun SafeTee Tip:
FDA Establishes New Guidelines for Labeling of Sunscreens

In an attempt to reduce confusion when shopping for sunscreen, the FDA has revised the labeling guidelines that sunscreen manufacturers can use. This is the first time in almost 30 years, the FDA has set new labeling guidelines for sunscreens. Originally set to go in effect in June of 2012, the launch was delayed until December of last year.
Here are some of the significant changes:
Maximum SPF labeling is set at SPF 50+.
Products must pass a rigorous test to be labeled "Broad Spectrum Coverage" for protection against UVA and UVB rays.

Sunscreens that are not broad spectrum or have an SPF under 15 must state that they are only indicated for the prevention of sunburn and do not protect against skin cancer or premature aging.
If over SPF 15 and provide Broad Spectrum Coverage, these products can indicate that they protect against sunburn, skin aging and skin cancer.
Sunscreen manufacturers will be prohibited from marketing their product as "waterproof" or "sweatproof," Products can be marketed as "Water Resistant" depending upon how long they protect (40 or 80 minutes) based on water resistant testing.
Manufacturers can no longer use the term "Sunblock".

To learn more and see all of the new regulations go to the FDA website .

---
David Leadbetter to Host Fundraiser for Sun SafeTee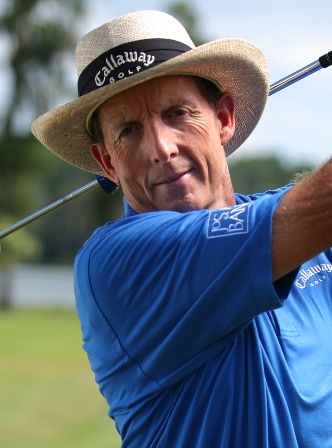 David Leadbetter, often referred to as the "Father of Modern Golf Instruction" and an ambassador of the Sun SafeTee Program, will be holding a charity golf tournament in which Sun SafeTee is the beneficiary.
David, who has been a sun protection advocate as is evidenced by his trademark wide brim hat, will host the tournament May 14th at the Concession Golf Club in Bradenton, FL. The tournament titled "Skins 4 Healthier Skin" will feature a clinic with the golfing icon. The purpose of the tournament is to raise funds and awareness for sun protection and skin cancer prevention within the golf community. In the December issue of
Golf Digest
, David listed Sun SafeTee as his favorite cause!
As you can imagine, everyone at Sun SafeTee is excited to have the involvement and support of David.
If you are interested in playing in the tournament or would like to be a sponsor of the event, please contact Mark
Wishner mwishner@sunsafetee.org or Vicky Palmer
---
Sun SafeTee Provides Skin Cancer Screenings at the Golf Industry Show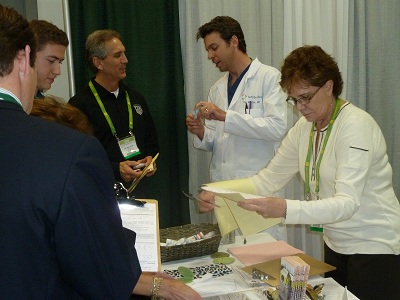 Meeting in San Diego, the National Golf Course Owners Association (NGCOA) and the Golf Course Superintendents Association (GCSAA) came together to put on the Golf Industry Show (GIS). Approximately 15,000 individuals from the golf industry attended the GIS.
Sun SafeTee was on the exhibit floor providing sun protection education to the attendees and each afternoon of the show, we provided free skin cancer screenings. We received many compliments and offers of thanks for our service. Of the individuals screened, 54 were referred to their local dermatologist for follow up or biopsies. Our message was made even more poignant as a former superintendent who died of melanoma was honored and his sister spoke to the group.

One of the most rewarding moments since the start of Sun SafeTee came at the screening when one of the golf course superintendents told us that "we saved his friends life". It seems his friend attended one of our previous screenings and a suspicious lesion was detected. That person was told to immediately see his dermatologist when he went home and the lesion was a melanoma. By his own admission, the melanoma patient acknowledged that he would have ignored the lesion if he had not attended our screening.

Helping with our the screenings at this years GIS were Drs. Lee Miller, Curt Littler and Andrew Krakowski. We were also fortunate to have the assistance of staff members Judy Plis R.N. and Suzette Trussel from the Scripps Department of Mohs and Dermatologic Surgery. Dr. Hugh Greenway from Scripps was instrumental in coordinating our staffing.

---
Sun SafeTee Part of The First Tee's National Network Meeting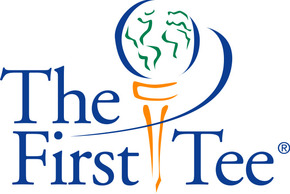 The First Tee invited Sun SafeTee to participate in their biennial Network Meeting in Nashville, TN. More than 700 First Tee Coaches gathered for the 3 day meeting held at the Gaylord Opryland Hotel.
Sun SafeTee was included in the Nine Healthy Habits section of the meeting and we had some great interaction with the attendees. We received many thanks and compliments for the work that we do educating junior golfers on sun protection. It was very illuminating to be involved with The First Tee at this level. They are truly an amazing organization and provide so many wonderful opportunities for young people.
The meeting ended with a spectacular Gala held on Saturday night. The event was hosted by country recording artist Vince Gill (scratch golfer). President George W. Bush was there to accept an award on behalf of his father, Olympic Skater Scott Hamilton and PGA Tour Commissioner Tim Finchem were also present.
Link to The First Tee

---
Do You Know Someone Who Has Had Skin Cancer?
If you or someone you know has had skin cancer, basal cell carcinoma, squamous cell carcinoma or melanoma, Sun SafeTee would like to talk with you. We are looking to put together some personal stories and experiences of people who have had melanoma or other skin cancers to help reinforce our message with golfers.
If you would like to share your story, please contact Mark Wishner mwishner@sunsafetee.org


---
Please Support the Sun SafeTee Program

As we grow, we need your help and support.

If you would like to make a tax deductible donation, please go
to our website
www.sunsafetee.org
and click on the donate button. Thank you!!

If you know a company that would be interested in becoming a Sun SafeTee Sponsor (a great marketing opportunity), please let us know. You can contact Mark Wishner at mwishner@sunsafetee.org
Link to Sun SafeTee website

---