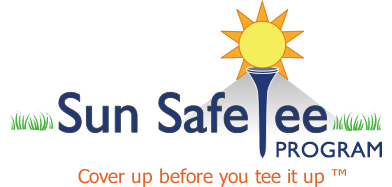 Hello Everyone,
For the best viewing of this newsletter, please click above on "view this email in a browser".
Fall is here. Time to put away your sunscreen and sun protective clothing...? Not so fast!
Many people think that once summer is over, they no longer have to pay attention to sun protection. As explained below, good sun protection strategies are important year round.

The sun's damaging ultraviolet (UV) radiation can harm your skin, regardless of the temperature or the time of the year. While it is true that there are less of the skin burning Ultraviolet B (UVB) rays during the non summer months, the majority of the UV rays that reach the earth are Ultraviolet A (UVA) rays. UVA rays are present in equal intensity throughout the year and that means that sun protection should be a year-round commitment.
Skin cancer is not the only risk of over exposure to UV rays. UVA rays have long been referred to as the "Aging" rays and UVB referred to as the "Burning" rays. UVA is called the "Aging" rays, because they can cause wrinkles and premature aging of the skin in addition to contributing to skin cancer. UVA rays penetrate deeper into the skin than UVB rays and UVA can cause cosmetic and DNA changes to the skin as well as contribute to collagen loss. When you see someone who has excessive wrinkles, brown spots or "liver spots" those are a result of UVA exposure. For some people, preventing wrinkles is more important than protecting against skin cancer. Whatever your motivation...protect yourself throughout the year.

So how do you protect yourself? Follow our Sun SafeTee Tips and use a good sunscreen that offers both UVA and UVB protection, wear that wide brim hat, wear sunglasses and UPF rated garments. www.sunsafetee.org

The difference between a grape and a raisin is the raisin has spent more time in the sun. Don't become a raisin, use our Sun SafeTee Tips year round!
---
We Have a New Sponsor


Sun SafeTee is pleased to announce that Golfersskin Sunscreen is our newest sponsor.
Golfersskin is a sunscreen designed specifically for golfers. It goes on easy, does not leave a greasy residue and is very durable. Golfersskin was developed in New Zealand which is very proactive in regard to sun protection and was tested in some of the harshest elements. They even have a

Hands Free

Sunscreen stick

!
You can purchase Golfersskin at a 30% discount by using the
Promo Code SST30
. Golfersskin will also make a donation to Sun SafeTee for sunscreen that is purchased with that code.
Golfersskin link
---
Volleyball Players Hold Sun SafeTee Fundraiser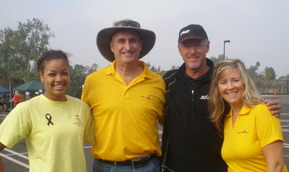 Sun SafeTee is very pleased to let you know that we are the beneficiary of a fundraiser held on our behalf by Saint Monica's School in Los Angeles.
Erin Barnhill, a teacher at Saint Monica's, learned about Sun SafeTee and made us the charity beneficiary of their 7th annual volleyball tournament. Yes a volleyball tournament!. It was a great event and present at the tournament were former and current professional volleyball players
Sinjin Smith, Peter Bigler and Tanya White
.
WE APPRECIATE THE SUPPORT OF ERIN BARNHILL and SAINT MONICA'S SCHOOL.
Pictured left to right are, Pro Volleyball Player Tanya White, Sun SafeTee Founder Mark Wishner, former Olympic and professional player Sinjin Smith, Saint Monica's Erin Barnhill
---
Facebook and Twitter

Sun SafeTee is part of the world of Social Media. You can follow us on Facebook and twitter. Tell your friends and family as well.
Facebook Link
Twitter Link
---
Sun SafeTee on site with SCPGA and Fall Teaching Summit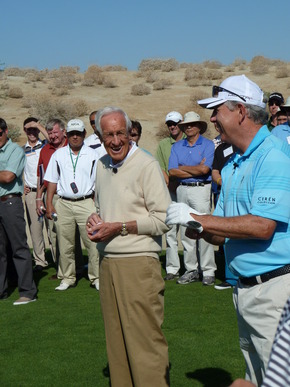 For the second consecutive year, we were invited to participate in the Fall Teaching Summit held by the Southern California Section of the PGA of America.
It was a great opportunity to talk with PGA professionals about the importance of sun protection and the work that Sun SafeTee does in the golf community. They were a very attentive and interested audience. It was a real pleasure to participate in the two day summit and we appreciate the SCPGA including us.
The main event was a teaching seminar with Jim Flick, Phil Blackmar and Hale Irwin. It was a fantastic learning opportunity and everyone said they got a lot out of it. This was a first class event, put on by a first class organization.
Jim Flick and Hale Irwin pictured above.
---
We Need Your Help

As we grow, we need your help and support.

If you would like to make a tax deductible donation, please go
to our website
www.sunsafetee.org
and click on the donate button. Thank you!!

If you know a company that would be interested in becoming a Sun SafeTee Sponsor (a great marketing opportunity), please let us know. You can contact Mark Wishner at mwishner@sunsafetee.org
Have an idea or suggestion for us? Please forward them to info@sunsafetee.org
Upcoming Events

November 9 National Council on Skin Cancer Prevention Washington, D.C.

December 5,6 National Golf Coaches Association Convention Las Vegas, NV

December 12 Total Golf Adventures Annual Convention Phoenix, AZ

December 26 Patriot Invitational Golf Tournament Phoenix, AZ

Link to our website